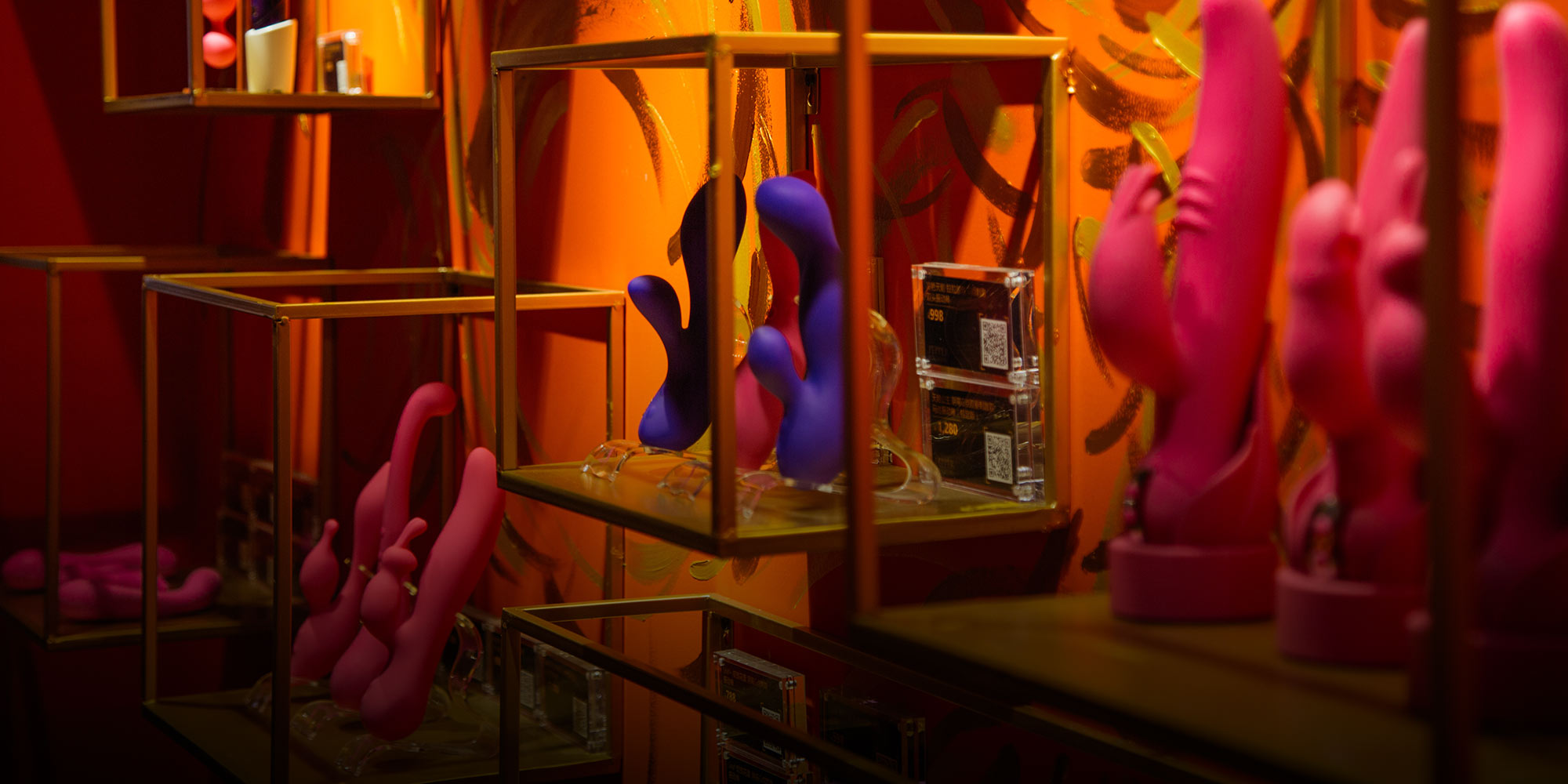 FEATURES
China Has a Problem With Bad Sex Advice. Can a New Exam Fix It?
Officials want to clean up China's often-chaotic market for sex-related products and services. The solution? Testing workers on sexual theory and technique.
Guo Yun finally found the courage to step into a sex shop last year to buy a dildo for her birthday. Before long, however, she retreated back to the streets of downtown Shanghai, confused and disappointed.
"It was one of the most elegant sex shops I've seen in the city, and I thought they'd have professional sales assistants as well," says Guo. "But instead, they just kept promoting the most expensive products."
The final straw came when the 26-year-old asked why the deluxe versions would suit her needs, and the staff replied: "With dildos, the bigger, the better." "I'm no expert, but instinct told me that's not right," says Guo.
Guo's experience reflects those of countless others in China who are throwing off decades of sexual conservatism and becoming more experimental in the bedroom, but are often receiving poor advice from vendors with little understanding of the products and services they're selling.
Demand for sex toys has skyrocketed in recent years, with tech giants including Alibaba promising door-to-door dildo delivery at 30 minutes' notice. China's online market for sex products is predicted to exceed 60 billion yuan ($8.5 billion) by 2020, up 250% compared with 2017, according to consulting firm iiMedia.
But the boom is taking place in a society where sexual knowledge tends to be low. Sex education at most Chinese schools is extremely basic, and parents and teachers often oppose moves to provide students with more practical advice. Sexual content in the media and online, meanwhile, is strictly controlled. 
The result has often been widespread confusion. Industry insiders tell Sixth Tone companies are regularly misleading customers, from beauty firms making fanciful claims about the benefits of their vaginal oils, to staff at "delay spray" producers not realizing their intercourse-prolonging products are different from anti-impotence drugs like Viagra.
Now, the government is stepping in. This past November, the China Health Care Association — a national-level industry organization backed by the Ministry of Health — launched a standardized training program for a newly identified profession: sex health counselor.
The new program defines sex health counselors as any professionals involved in aiding consumers with their sex lives, including intimate masseurs, sex coaches, and sex shop owners, as well as staff inside China's vast family-planning regime. Its ultimate goal is to provide every "counselor" in the country — around 12 million people — with a thorough grounding in the birds and the bees.
According to its organizers, the training scheme will bring order to the rapidly growing sex products market, as well as support the Chinese government's wider push to boost the nation's reproductive health.
"The next 10 years will be an important period for the development of China's sexual and reproductive health industry," says Zhao Jing, deputy secretary-general of reproductive health at the China Health Care Association. "Training professional specialists is urgent and essential."
The program enrolled its first batch of around 200 students — a mix of reproductive health care workers, sex product vendors, and beauticians specializing in vaginal treatments — in late 2019. 
Over 30 online classes, the participants received lectures on sexual values and minorities, pleasure skills, sexual disorders, and sexual and reproductive health, among other topics. In late December, they sat a test. Three-quarters passed.
Recruitment of a second batch of students kicked off Feb. 19, and Zhao says the association also plans to launch a more advanced course in June. The higher-level training will focus more on sexual techniques and will be targeted at beauticians.
"At present, there are many nonstandard practices in the domestic beauty industry, so we hope to invite experts to provide technical guidance … to better regulate the market," says Zhao. "Over 35% of the junior certificate holders have already asked us how they can get the intermediate one."
Yang Fan was among the first people to sign up for the entry-level course, which is currently voluntary. He has run a sex shop in the northwestern city of Xi'an since 2015, but he often feels out-of-his-depth when customers ask him how they can spice things up at home.
"I wish to provide them with more professional advice — especially women, because women here are still embarrassed to discuss sexual problems," says Yang. "But the more professional I am, the more open they'll be."
According to Yang, the training program has inspired him to hold sharing sessions at his shop to promote his business and teach people what he's learned. He hopes this strategy will win out over the aggressive tactics used by most of his competitors, who often pressure new visitors into buying pricey, multifunction dildos unsuited to their needs.
"They're new to this, and they use high-end products and freak out," says Yang. "Bad advice like this prevents people from coming back for more."
He Miao, a worker at a Xi'an-based delay spray manufacturer, has also found the course beneficial. In the past, she received a lot of complaints from customers claiming the firm's products didn't work, but now she's learned how to help people make better use of them, she says.
"Before, I thought only sprays could help men last longer, but now I can share with my customers that a combination of products and techniques works better," says He. "It's just like if you were sick — buying medicine by yourself and taking it under a doctor's guidance will produce different results."
For others, the course's main attraction is the chance to gain an officially recognized qualification. Zhang Bimin, 28, is a sex coach who teaches women how to pleasure themselves via online tutorials on social media app WeChat. She says it's important the government recognizes her profession.
"After the relevant department issued the certificates to us, I felt more confident in my work," says Zhang, who's based in the southern megacity of Shenzhen.
Cheng Jingjing, a Shanghai-based stay-at-home mom, took the online classes while also studying to become a certified psychological counselor, listening to the lectures while cooking or at the beauty salon. She feels the certificate will help her build a career advising clients on sexual health online.
"I figured people are more comfortable talking about sex online," says Cheng. "And having a certificate will make me look more professional and trustworthy."
The course helped Cheng on a personal level, too. She says the LGBT and BDSM classes were particularly eye-opening. "I also learned a lot about men's confusion and anxiety about sex, which has improved my relationship with my husband," she adds.
Cheng hopes to use the knowledge she's gained to help her friends and relatives, many of whom stopped having sex after they had children. Yet this is proving to be an uphill battle.
"They complain about their husbands and shout at their children … mainly due to their unsatisfying sex lives," says Cheng. "But unfortunately, every time I start a conversation (about this), they just avoid talking about it."
For Yang, the main obstacle to sharing his newfound knowledge with the public is, ironically, the government. After posting videos about sex culture and products on a few popular online platforms, his accounts were blocked — a fact he blames on the authorities' strict rules against so-called vulgar content.
"Due to a lack of publicity, many people don't know these toys can play a role in improving their sex lives, making their marriages more harmonious," says Yang. "We're posting positive content online and should have been supported by the government."
Like most of the certificate holders who spoke with Sixth Tone, however, Yang believes the training program should eventually be made mandatory. This is the only way, they feel, that the public will come to accept sex health counseling as a profession.
"It's the same as psychology," says He, the delay spray worker. "At first, people were opposed to it, feeling that those who see a therapist are neurotic. But then they saw psychologists were licensed and the industry seemed regulated, and they understood it's normal to have psychological problems and seek professional help.
"One day, people will feel the same about sex health counseling," He adds.
Editor: Dominic Morgan.
(Header image: Sex toys are displayed at a sex shop in Shanghai, March 28, 2018. Wu Huiyuan/Sixth Tone)