Update: Shortly after this story published, The Lancet retracted the article, saying the authors had contacted the journal and said their account was not firsthand, as they had claimed, and they therefore wished to withdraw the piece.
In response to an article titled "Chinese medical staff request international medical assistance in fighting against COVID-19," published in the influential British medical journal The Lancet, the emergency medical team dispatched from Guangdong to Wuhan, the epicenter of the outbreak, issued a statement Wednesday saying the two authors, who claimed to be among the first medics from the southern province to arrive at the front lines, were never part of the team and the information in the article is false.
"We demand that the authors retract their article in The Lancet, clarify the real situation, and publicly apologize," the team said in a statement published by the influential newspaper Southern Metropolis Daily. However, for reasons that remain unclear, the statement was later deleted.
In The Lancet's article Monday, the two authors, Zeng Yingchun and Zhen Yan, recounted the challenges they say they encountered in Wuhan, including shortages of protective equipment, physical exhaustion, and mental fatigue. "Like everyone else, we feel helplessness, anxiety, and fear," they wrote. "We need much more help. We are asking nurses and medical staff from countries around the world to come to China now, to help us in this battle."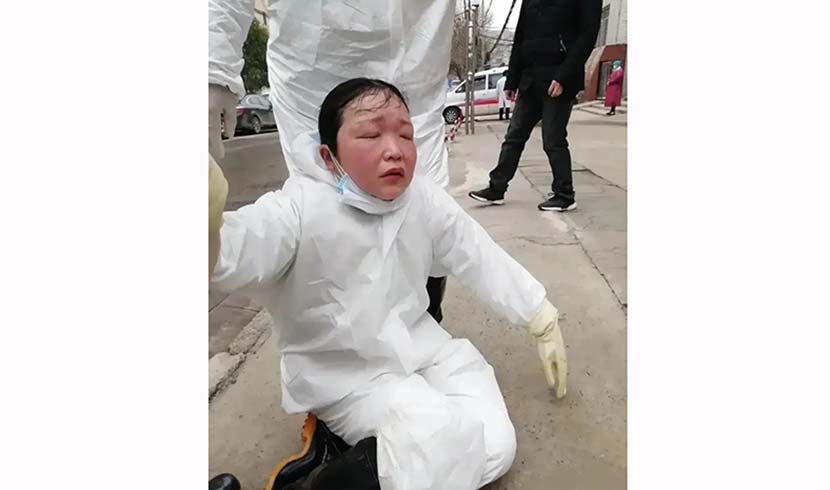 A medical worker faints from exhaustion outside a hospital in Hanchuan, Hubei province, February 2020.
The first group of 128 medical workers from Guangdong set out for Wuhan on Jan. 24. The names of the two supposed nurses do not appear on the full list of dispatched staff.
One of the authors, Zeng, is a gynecological disease researcher at the Third Affiliated Hospital of Guangzhou Medical University. When Sixth Tone called the hospital on Thursday, a staff member from its scientific research department said Zeng had not been part of the medical team dispatched to assist with the epidemic control efforts in Wuhan.
"She has never been a clinical nurse, either. The hospital is at a loss as to why she submitted this article to The Lancet — she was never at the front line, so there's no way she could have shared those so-called firsthand experiences and feelings," he told Sixth Tone. He added that Zeng is currently away from work on a training session, and the hospital has been unable to reach her.
The other author of the Lancet article, Zhen Yan, is a nurse in the acupuncture department of Sun Yat-sen Memorial Hospital, also in Guangzhou. When Sixth Tone reached her department on Thursday, a colleague said Zhen had not shown up for work that day. "She was here working with us on the first two days of the week," the colleague said. "I have no idea why she didn't come in today."
By Monday, over 2,000 hospital staff from Guangdong had arrived in Wuhan to help meet the city's growing need for medical expertise. Nationwide, over 30,000 medical workers — around three-quarters of them nurses — have been sent to the front lines from elsewhere in the country.
Though people in China can only speculate about the authors' motivations, their article has sparked debate among Guangdong medical staff who are now in Wuhan. Some say the article cannot represent the voices of all frontline medics, whose work, they argue, has settled into a normal routine after the initial chaos of the early stages of the epidemic. Others, meanwhile, suggest the work of frontline nurses is more physically demanding than that of doctors, and that they therefore deserve a long break.
"I can understand their difficulties — almost all of the (frontline) nurses are women, and most are very young, in their 20s," said a Guangzhou-based doctor who was dispatched to Wuhan Union Hospital earlier this month to treat patients in critical condition.
"I'm not familiar with the two authors, but I think even if they genuinely wanted to seek help, The Lancet is not the right platform," he said, speaking to Sixth Tone on condition of anonymity because of the sensitivity of the matter.
The doctor admitted that some of his colleagues were under immense pressure, both physically and mentally, after arriving in Wuhan. "We were worried about our own safety and had to deal with a lack of oxygen under all the thick protective equipment," he said. "But after two weeks, most of us have adjusted well enough to our new work environments."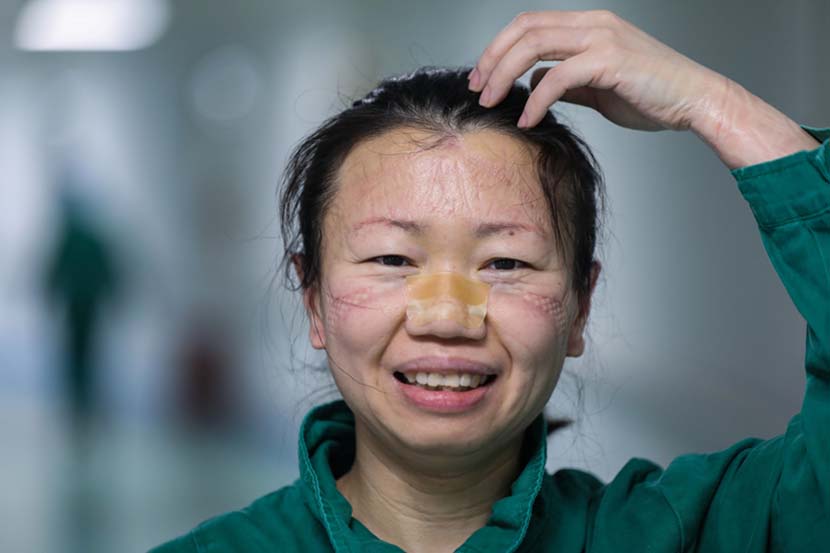 Impressions left from a nurse's protective face mask at Jinyintan Hospital in Wuhan, Hubei province, Feb. 17, 2020. Yuan Zheng for Sixth Tone
The head nurse of the respiratory disease ward at Third People's Hospital of Hubei Province, surnamed Zhou, told Sixth Tone that the ward's 36 nurses work three shifts a day — a six-hour morning shift plus eight-hour evening and night shifts — to take care of 34 COVID-19 patients.
"Nurses on the morning shifts shoulder the most duties, including administering treatment to patients and disinfecting the facilities — that's why their working hours are shorter," Zhou said. "But regardless of which shifts they're working, all nurses receive three days off each week."
After three nurses in Zhou's department became infected with the novel coronavirus in January, hospital management arranged for nurses from other departments to help fill in. "The hospital is mobilizing all of its resources and staff to treat COVID-19 patients," she said.
By Zhou's recollection, the most difficult time for her team was around two weeks ago, after the central government mandated that all COVID-19 patients be hospitalized for treatment. "At that time, our ward experienced an influx of patients in very serious condition. My team was under enormous pressure," she said. "But patients are now being admitted and treated in a timelier fashion, so the situation in the ward has improved dramatically."
In Zhou's ward, the most physically demanding jobs for nurses include mopping floors and moving heavy oxygen canisters. "There are no male nurses in my ward," Zhou said. "Almost all of the nurses on my team are in their 20s. Despite them being young, I'm confident that, based on our current work arrangements, the team can continue to work sustainably."
Editor: David Paulk.
(Header image: The Lancet's retraction of the article "Chinese medical staff request international medical assistance in fighting against COVID-19." Sixth Tone)