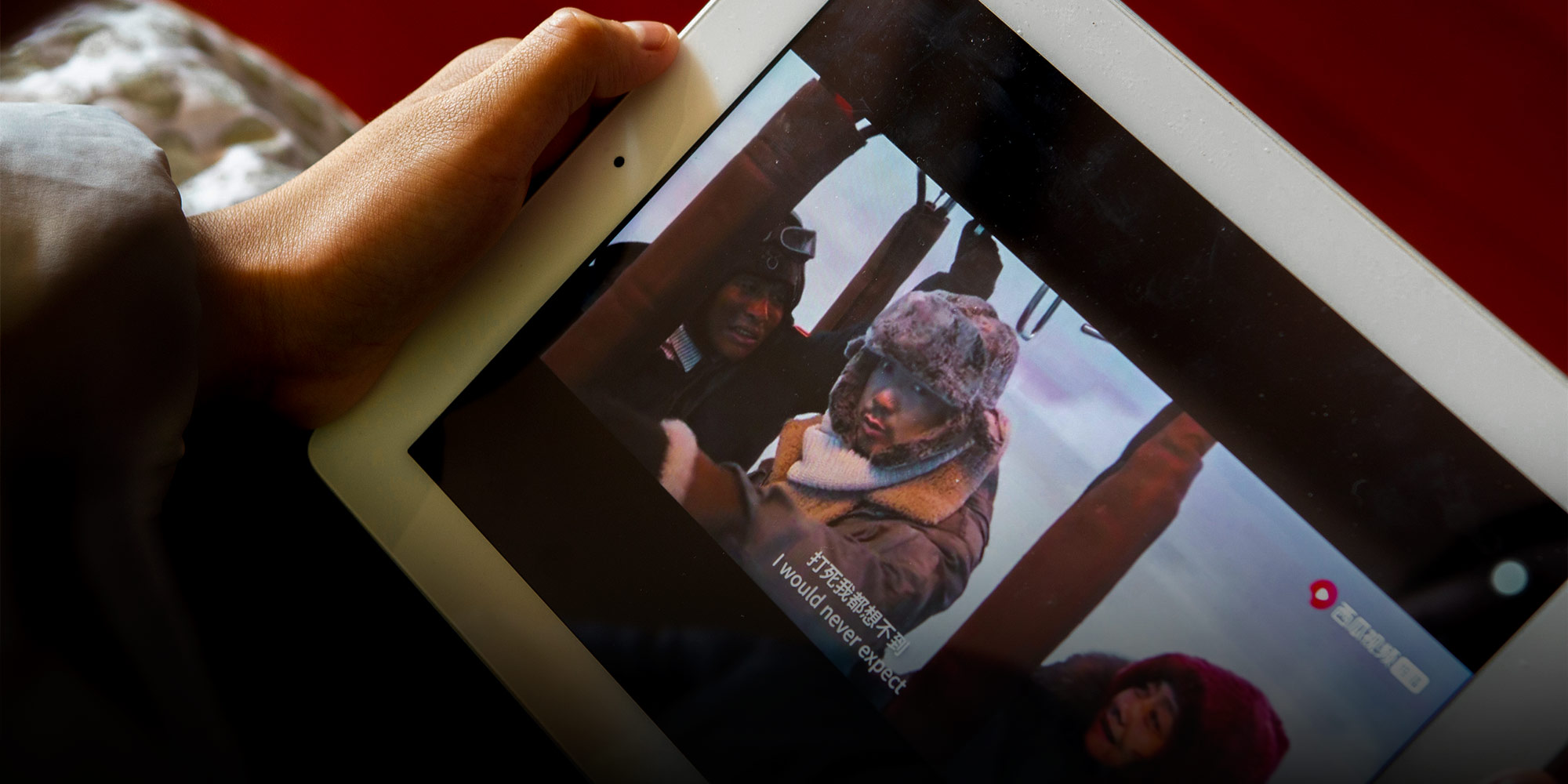 VOICES & OPINION
'Lost In Russia' and the Search for a Chinese Netflix
Chinese movie theaters complained when the film's producers inked a deal with TikTok owner ByteDance, but the agreement isn't likely to pose a threat.
The Lunar New Year has traditionally been China's biggest annual box office bonanza. Last year was a difficult one for the country's film industry, but studios still raked in more than 6.47 billion yuan ($970 million) over the seven-day break in 2019, and three of the seven films released that week went on to finish the year in the domestic box office top 10.
This year was supposed to be more of the same, as analysts expected a slate of family-friendly flicks to pull in more than 7 billion yuan. But that was before COVID-19. The viral epidemic, in addition to killing 2,700 and sickening more than 75,000 more in the country as of Feb. 26, has ground life in China to a virtual standstill. With most public places, including movie theaters, essentially shut down for the past month and every holiday movie pulled from the schedule, some media outlets have estimated the industry's overall losses for February alone could be as much as 13 billion yuan — or more than 20% of last year's gross receipts.

Amid all this bad news, however, one film appears to have escaped relatively unscathed. On Jan. 24 — Lunar New Year's Eve — Chinese tech behemoth ByteDance paid 630 million yuan for the rights to the planned holiday release "Lost in Russia," the latest by-the-numbers entrant in a popular series of comedy movies. The next day, the company premiered the film across its portfolio of popular apps, most notably TikTok. With much of the nation effectively under quarantine and stuck in their homes, the move was a hit: ByteDance claims "Lost in Russia" was streamed 180 million times in its first three days of release.
Not everyone was thrilled to see the film succeed, however. After the producers of "Lost in Russia" sold the rights to ByteDance, a group of 22 cinema chains, including major players like Wanda Cinemas and Dadi Cinema, published an open letter accusing the agreement of undermining "the current Chinese film industry and distribution system." Their statement implied a fear of a "Chinese Netflix" — a streaming company with the ambition and resources to move beyond their traditional TV turf and upend the way films are made and screened. But if China's movie theaters are in any mortal danger, it's not likely to be from "Lost in Russia." The country's filmmakers will likely remain dependent on theaters for the foreseeable future.
"Lost in Russia" wasn't the first major Chinese film to float an online premiere. In 2015, Le Vision Pictures, a subsidiary of LeEco, decided to stream its film "The Vanished Murderer" to owners of LeEco brand televisions the day before its theatrical release.
Cinemas quickly retaliated. A number of prominent chains announced that, if the company went through with the ploy, they would cut screenings and offer customers full refunds. Soon enough, Le Vision backtracked. More recently, in 2018, an app called Smart Cinema offered viewers the chance to watch the latest movie releases on their smartphones. Within three days, however, cinema protests had forced the app to pull a number of popular films.
The size and robust growth of China's box office in recent years mean theaters wield tremendous financial leverage over producers and filmmakers. Even after deducting ticketing platform fees, China's box office took in 59.4 billion yuan in 2019, nearly 30% more than in 2015.
Given the size of this market, the stakes are high for any prospective blockbuster. Producers of the year's highest-grossing film, the animated hit "Ne Zha," took home over 1 billion yuan of the film's roughly 5 billion yuan gross earnings. That number dwarfs what any streaming service would have paid. Industry leader iQiyi spent just 10.3 billion yuan total on content in the first half of 2019; "Ne Zha" alone would likely have cost one-tenth that amount.
Spending big on films doesn't fit the Chinese streaming business model. ByteDance's godfather offer for the rights to "Lost in Russia" was partly a product of special circumstances. The cash-flush company saw an opportunity to promote its apps and buy some good publicity during the epidemic. And even then, producers only agreed because the deal guaranteed them the cut of sales they'd been banking on for a now-moot holiday release, thereby ensuring a huge payout at a troubled time for the industry.
It should also be noted that the 630 million yuan headline figure was not just for "Lost in Russia." ByteDance also secured the rights to "several new movies and online dramas," according to the official announcement. It's series, not films, that Chinese streaming services really crave. Compared to a 30- or 80- episode drama, movies offer far less in the way of audience retention — and fewer opportunities to run ads, which even many subscription-based services still rely on.
There are scant signs that this business model will change any time soon. Unlike Netflix, which has poured billions of dollars into original content — $15 billion in 2019 alone — half-hearted production efforts by tech giants Alibaba and Tencent have made little headway over the past five years. ByteDance, meanwhile, only started building an in-house long-form video team in February 2018. Previously, its focus was entirely on short, often user-generated videos ranging from 15 seconds to five minutes. Even if it does decide to commit to the format, the company will need years to accumulate the experience, money, and determination necessary to produce high-quality long-form video content.
None of this is to say China's theaters are unassailable. Chains have invested heavily in expansion in recent years, outpacing audience growth and sparking fierce pricing wars. And while no Netflix-level competitor has emerged, the sheer number of streaming sites operating in the country is putting pressure on the industry.
Nevertheless, Chinese filmmakers will likely remain reliant on theaters for some years to come: Streaming simply can't match the commercial clout or cultural cachet brought by a theatrical release. "Lost in Russia" may have found a new release model, but I can't see many other films being willing to follow it off the beaten track.
Translator: David Ball; editors: Cai Yineng and Kilian O'Donnell.
(Header image: "Lost in Russia"  plays on a tablet, Feb. 13, 2020. IC)