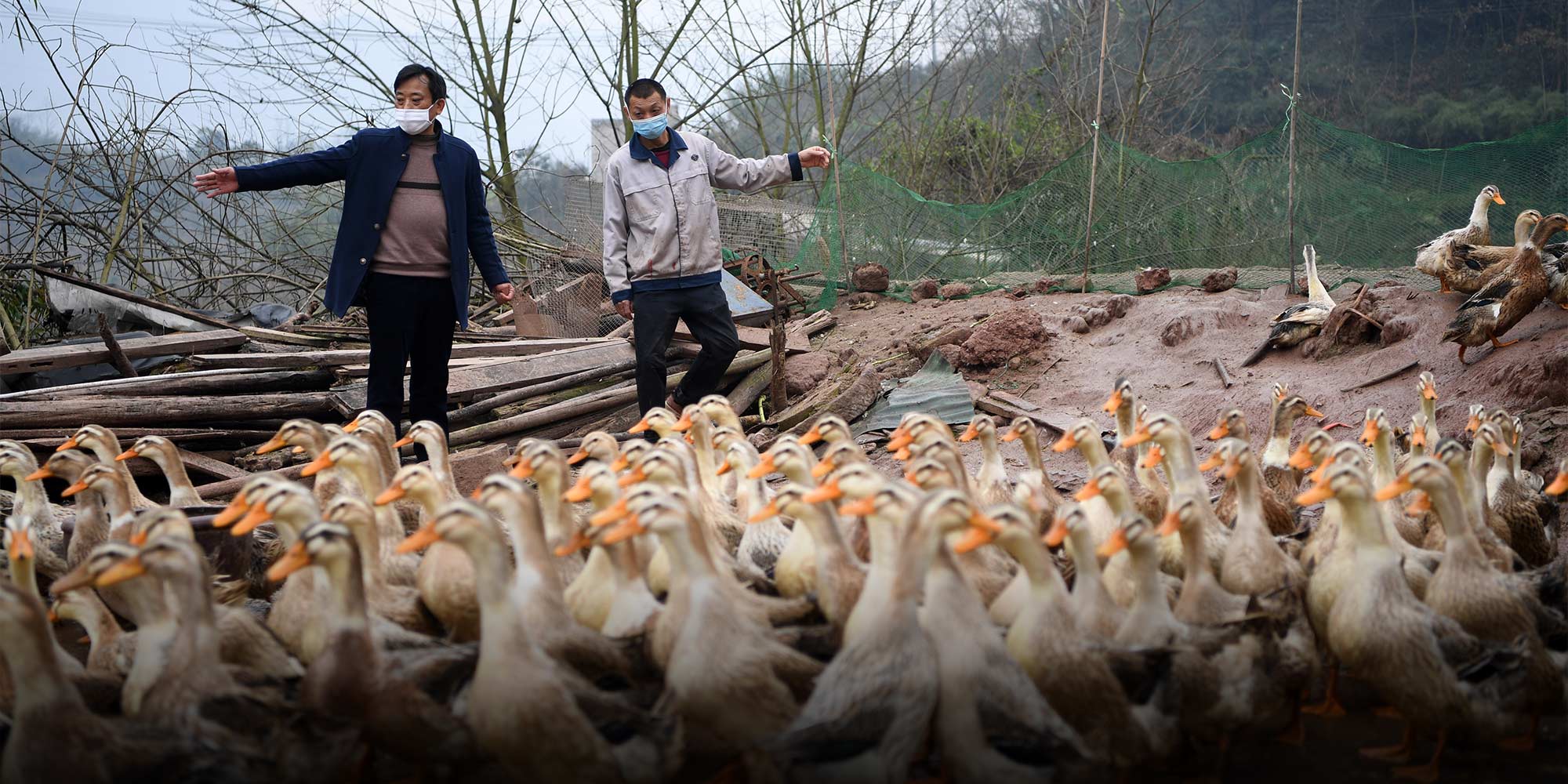 NEWS
China's Farmers Worried as COVID-19 Stifles Domestic Agriculture
Experts say the novel coronavirus epidemic will hit small-scale animal farms the hardest, and could have a lasting impact on the industry.
Farmers in China are facing a daunting year ahead as unprecedented quarantine measures to contain the spread of the novel coronavirus have disrupted much of the country's food supply chain, long before meals reach the table.
By Monday, COVID-19 had killed around 2,600 people in China and sickened nearly 80,000 worldwide. With China going to great lengths to bring the virus under control — including sealing off the epicenter and imposing strict restrictions on people's movements within the country — farmers are among the many groups to be broadsided by the virus' ripple effects.
Roads into villages have been blocked with barricades, and poultry and livestock markets remain shuttered. Xinfadi, the largest farmer's market in Beijing, said in its latest weekly report that only 13 slaughterhouses in four northern provinces have resumed operations because so few workers have returned from their hometowns after the Lunar New Year holiday.
"The epidemic has created a situation where people can't move and products can't circulate," Yang Jinghua, a researcher at the Beijing-based Chinese Academy of Agricultural Sciences, told Sixth Tone.
For smaller farms, the agricultural trade has effectively ground to a halt. With villages resorting to self-imposed isolation and looking inward to feed themselves, the pressure is mounting on poultry farmers as they cope with feed shortages and slackened demand.
Chickens, for example, have shorter life cycles than other farm animals, reaching their market weight in as little as 40 days, so they must be sold and replaced more often. But the epidemic has disrupted the supply chain, cutting off sales channels and keeping past-their-prime chickens cooped-up at farms. Peng Jin, who manages a rural cooperative of over 50 livestock farmers in Dajing Township, in the central Hunan province, said he and his fellow farmers are left with more than 20,000 chickens that they're having a hard time getting rid of.
"The feed can't come in, and the chickens can't be shipped out and sold — they're all stuck at home," Peng told Sixth Tone. If the 20,000 chickens remain at their farms for much longer, Peng is worried the co-op won't have sufficient resources to breed the next batch of hatchlings. "Then we must be prepared for half a year's blank period," he said.
A farmer in the northern Hebei province said that roadblocks in his village had made it difficult for him to sell eggs, which he would previously collect from fellow villagers and take elsewhere to sell. "The price is quite low," said the farmer, surnamed Li. "Now, my earnings are basically just enough to cover costs."
Prices for both chickens and eggs have been noticeably lower this year compared with 2019. If the poultry industry can't be restored to normal soon, the effects are likely to linger into the second and third quarters, an official from China's agriculture ministry said last week.
The central government has been calling for efforts to invigorate the domestic agriculture industry and prevent the epidemic from further disrupting the spring planting and aquaculture seasons. To reverse slowing sales of agricultural products, local governments have encouraged farmers to use the services of e-commerce giants Alibaba and Pinduoduo, including promoting products through livestreaming. Meanwhile, companies in the southern Guangdong province are being offered subsidies to collect unwanted poultry and aquaculture products left untended in pens and pools.
Experts argue that the containment measures being implemented in places where there are little or no new cases each day have been counterproductive. "These policies are too simple, too rough," said Fu Wenge, an agricultural economics professor at China Agricultural University, referring specifically to road restrictions. "They're one-size-fits-all: 'I'll not let you pass, just to be on the safe side.'"
The impact on China's food supply is already being felt, and could have a larger knock-on effect than the SARS epidemic 17 years ago, according to market research firm Bain & Company. "With a wider scope of impact and stricter containment measures than SARS, we believe China's agriculture and food industry will suffer a greater blow in the short term," the firm said.
Even farmers with larger, more established operations are struggling to cope with the current market situation.
Bai Shengxin, who owns a livestock farm and tree-planting business in the northwestern Gansu province, said he had expected a bumper year after inking deals with contractors in other regions to plant saxaul — a leafless shrub that's widely used in China to prevent desertification. But with the epidemic, he says he stands to lose around 500,000 yuan ($71,000).
"I'm worried. I get up early every day to check the latest updates about the epidemic," Bai told Sixth Tone. He's anxious because it's already tree-planting season in northern China, where he is contracted to work. Even if many local roadblocks are removed now, interregional travel is still restricted, Bai says, making it hard to resume business and hire workers.
Yang, the researcher, is worried about farming operations that don't have the financial resources to last much longer: If they go under, supply could shrink and drive up the prices of some staple foods.
The country's suffering catering industry will need time to recover after the epidemic has been brought under control, according to Professor Fu. And the poultry industry, one of the hardest-hit subgroups of the agriculture sector, could experience major setbacks akin to China's pork industry being decimated by African swine fever over the past year and a half, Fu said.
"The impact on small-holders will be the greatest," said the professor. "It will hasten the exit of small- and medium-scale farms."
Editor: David Paulk.
(Header image: A chicken farm in Huai'an, Jiangsu province, April 3, 2018. Zhao Qirui/IC)