Yao Tong, a quality inspector at Foxconn's factory in Shenzhen, never expected his Lunar New Year holiday to drag on for 44 days when he headed home to the central Hunan province in January. Like most of China's millions of migrant workers, he thought it would be just another weeklong family celebration.
In the following weeks, however, the novel coronavirus epidemic that hit Wuhan City in the neighboring Hubei province quickly spread across the country, forcing authorities to freeze public transit and extend holidays to contain the illness. Economic activity ground to a halt in much of China as COVID-19 sickened more than 75,000 people by Feb. 24.
Despite the fight against the viral epidemic being far from over, China now faces a titanic challenge getting the world's second-largest economy back into operation. On Feb. 6, a central government office overseeing efforts to control the spread of COVID-19 called for an orderly resumption of business as the virus situation outside Hubei showed signs of stabilizing.
But it's becoming clear that a full recovery will take some time. With China's production system relying on millions of migrant workers, factories are struggling to simultaneously repopulate factory floors and limit the risks of contagion. Some, including Apple's largest supplier Foxconn, are competing for workers by offering bounties while also putting returning employees in quarantine.
Meanwhile, disrupted supply chains are holding down production. Some enterprises have had to stop accepting new business as global customers cancel orders. Companies face soaring costs and plunging revenue even as authorities do what they can to jump-start the economy, which was already slowing before the epidemic.
"Overall economic activity remains sluggish," said Wang Tao, chief China economist at UBS. Wang added that the next one to two weeks will be crucial, and the epidemic's actual impact on the economy will depend on how China can balance disease control efforts and resumption of production. The central government, she said, is likely to expand fiscal spending on health care and infrastructure to support recovery and allow higher budget deficit.
Idled production lines have sent jitters through global supply chains. Last week, Apple Inc. warned it might miss its revenue guidance for the March quarter because of work slowdowns by suppliers. Foxconn's Zhengzhou plant alone produces nearly 40% of all iPhones.
Foxconn — the world's largest electronics manufacturer with nearly 1 million workers in Shenzhen, Zhengzhou, and other Chinese cities — shut down its factories amid the epidemic. It was not until Feb. 15 that Yao in Hunan and his colleagues across China received word to come back to work. All workers except those at the heart of the epidemic in Hubei province were told to return to factories by Feb. 19. But before they could resume work, most workers were told to stay in remodeled factory dormitories for a 14-day quarantine, according to Yao.
"The food is good, with milk and apples," Yao said, adding that he was pleased with the life in quarantine.
Foxconn employees arrive at the factory after the company sent shuttle buses to pick them up to return to work, Taiyuan, Shanxi province, Feb 22, 2020. Hu Yuguang/IC
On Feb. 11, Cong Liang, a senior official at the National Development and Reform Commission (NDRC), urged industries "critical to the national economy and people's livelihoods," to resume work.
"Although the restart of business poses a risk of further spreading the virus, continued suspension of production will affect the supply of medical material in the short term and pose shortage risks to people's livelihood in the long run," Cong said. "The target of defeating the epidemic will not be reached."
In response to urging from the central government, local authorities have moved to clear the way for business resumption by easing restrictive measures such as traffic bans as well as special government approvals for business operations installed for disease control.
Provinces including Sichuan, Shaanxi, and Gansu recently pledged to resume intercity passenger transportation that had been suspended since late January. Other places — including the eastern Jiangxi province and the cities of Chengdu and Hangzhou — have simplified administrative procedures for local businesses to resume operations.
Businesses in many parts of the country have reopened since Feb. 10, but the pace of recovery remains slow. Research institutions' studies based on power consumption, passenger flow, and other indicators showed that only about 30% of migrant workers may have returned to their places of work since the extended Lunar New Year break, and about 40% of industrial production capacity has come back online.
China's coal consumption for nonresidential power generation stands at 56% of its normal amount, according to Zhongtai Securities Co., indicating that less than 60% of overall economic activity has resumed. Zhongtai predicted that a full recovery of the economy will come no earlier than mid-March, given constraints including workforce, transportation, and restrictive local policies.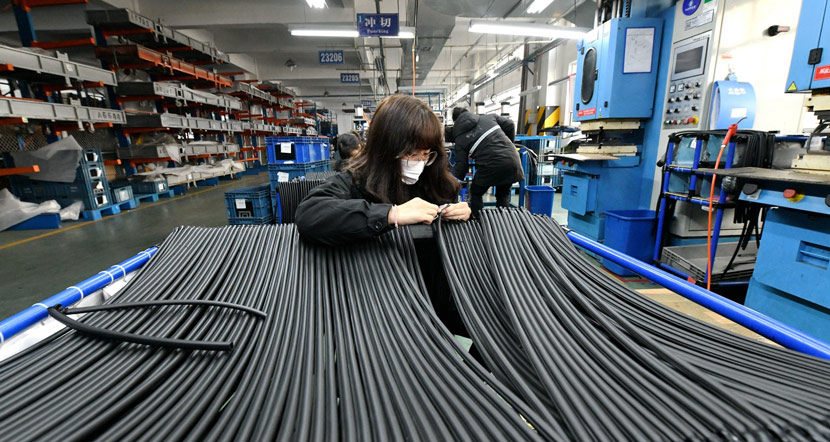 A worker wears a face mask while working at a factory in Taizhou, Zhejiang province, Feb. 21, 2020. Wang Huabin/IC
Staffing Factory Floors
Many manufacturers are finding their biggest challenge to be simply staffing factory floors. Data from the Ministry of Transport showed that as of Feb. 14, China's total passenger turnover after the Lunar New Year break was 283 million trips, down 82.3% from the same period last year. Liu Xiaoming, vice minister of transport, told media Feb. 15 that fewer than 30% of migrant workers who went home for the holiday have returned.
Factories are competing to recruit enough workers by offering payments. In Zhengzhou, Foxconn offered workers a 3,000 yuan ($427) bonus to return to posts on time. But a rival company in neighboring Chongqing promised a 4,500 yuan bonus, forcing Foxconn to raise its offer to 5,250 yuan.
"At this moment, the company that can quickly gather enough workers to ensure production will win clients," an industry source said.
Some local authorities took early steps to help companies get back on their feet. In eastern China's economic hub Zhejiang, the provincial government issued guidelines Feb. 3 ordering enterprises to stay closed at least until Feb. 9 while preparing for resumption. Officials in Yiwu, Zhejiang's merchandise center, quickly approved six companies as the first batch to resume production after reviewing their conditions.
"(The government) meeting was held on (Feb. 3), and we started preparation on (Feb. 5) while informing workers to return," said Lou Zhongping, chairman of Soton Daily Necessities Co., the world's largest producer of drinking straws. "Everything was ready around (Feb. 8 and 9)." But the return of enough workers became the biggest challenge, as many localities imposed travel bans.
To help people return to work, city and county governments in Zhejiang organized shuttle buses and even charter flights. The Yiwu city government provided subsidies to companies and workers for transit costs.
For all that, rounding up enough workers is still difficult, as a large number of migrant workers live in inaccessibly remote countryside locations. Small counties and villages in underdeveloped regions often imposed more aggressive restrictions to prevent people from both leaving and entering for disease control, two Zhejiang factory owners told financial news outlet Caixin.
In southern China's Fujian manufacturing hub Putian, businesses are also struggling to fill factory floors. Many companies offered double pay and free transit to attract workers, while the city government provided living subsidies for workers and businesses. But the "progress of production resumption is not very good," said a local shoe factory owner.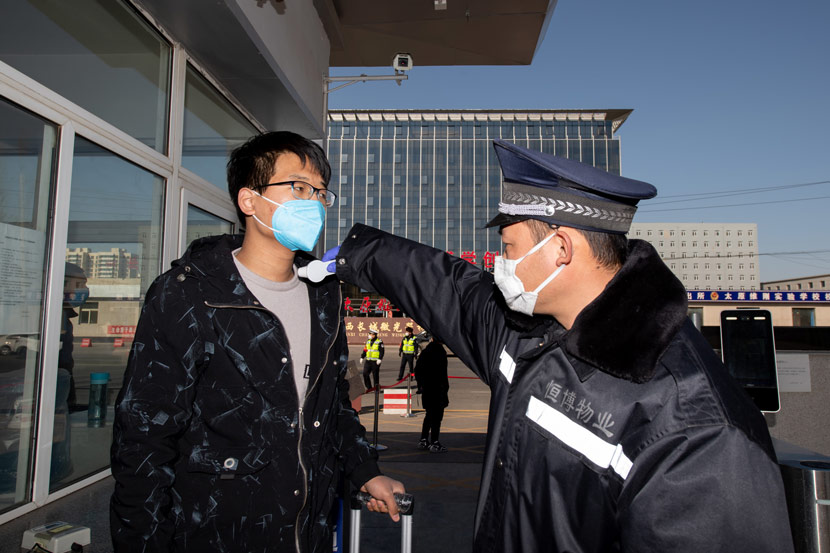 A guard tests an employee's temperature at the entrance of a factory in Taiyuan, Shanxi province, Feb 22, 2020. Hu Yuguang/IC
Balancing Act
While encouraging workers to come back, companies found themselves facing imminent challenges to safeguard workers from the virus. Recent COVID-19 infection cases among workers reflected how difficult that could be.
One of the most serious cases happened at a mineral unit of Pangang Group in Chongqing. The municipal government disclosed last week that a plant making titanium oxide, a mineral often used as a coloring agent, was shut down completely, idling hundreds of workers, after a cluster of at least three infections occurred at the facility.
The closure could cause a huge loss for the plant as a sudden halt of the chemical production line could damage the equipment, an industry analyst said. A long-term closure means the company will have to pay hefty costs for equipment maintenance to resume production on top of workers' salaries and lost revenues, another industry source said.
Risks of the epidemic have forced companies to be prudent in reopening factories. Most of them adopted rolling quarantines for as long as 14 days for returning workers. Fujian New Yifa Paper Products Co., a maker of diapers and hygiene products in Putian, told workers who live in or had visited Hubei and Zhejiang, provinces hit hard by the virus, not yet to return to work. Those from other regions were subject to a 14-day quarantine before going back to work. The company pays for accommodations and catering for returned workers under quarantine in addition to their full salary.
The costs for disease control can't be avoided, said Shen Shengyuan, a senior executive at New Yifa.
In Guangzhou, some companies paid for nucleic acid tests, a primary diagnosis method of COVID-19, for workers to ensure safety. Luxvisions, a maker of camera modules, required all workers returning from outside the city to stay in isolation in a designated hotel for three days and then take nucleic acid tests. Workers with a negative test result could resume work.
The cost of nucleic acid tests is about 200 yuan per person. So far, about 70% of Luxvisions' workers have returned, according to Pang Chao, a vice president.
An increasing number of companies in southern hub Guangzhou have voluntarily provided the test for their workers, according to a city commercial official. For those companies, the extra cost for prevention measures are less than the costs of a production halt if infection occurs, the official said.
A bus picks up Foxconn employees returning to work from other provinces at Kunshan South Station in Kunshan, Jiangsu province, Feb. 20, 2020. Zhou Zhou/IC
Back on Track
According to the NDRC on Feb. 19, more than half of large industrial enterprises in Guangdong, Shanghai, Jiangsu, and other major industrial provinces resumed operations. Data from the Zhejiang provincial government showed that more than 50% of industrial companies and 20% of service companies in the province reopened. But overall business capacity in operation is only one-third of last year's.
Reopening factories is only the first step in companies' long struggle for business recovery as disrupted supply chains have yet to be restored.
"Large companies need supplies from small and medium enterprises (SMEs) while SMEs need supplies from micro businesses," said Lou of drinking straw-maker Soton. A large number of smaller companies haven't been able to meet the reopening conditions. Soton faces problems procuring the raw materials it needs from across the country for production, Lou said.
On Feb. 18, the Yiwu International Trade City, the world's largest small-commodity market, reopened with about half of vendors in business. More than 16,000 people visited the market complex during the day. Several vendors at the market, mainly small raw-materials suppliers, said they expect business to fully recover around mid-March.
Many manufacturers are under pressure from canceled orders or problems delivering. Lou said some of Soton's clients in the European Union canceled orders shortly after the outbreak because of safety concerns.
More manufacturers are worried about the effects on their global businesses of unfilled orders and logistics disruptions from the production halt.
"Production in January and February is mainly for spring and summer clothing, but (we) can't make deliveries, and many orders are backlogged," said a garment manufacturer in Yiwu.
New Yifa's Sheng said the company's production line for hygiene wipes has remained closed as most workers at key positions live in COVID-19 epicenter Hubei. The company has had to cancel orders with clients and stop accepting new orders. In January, New Yifa sold about 60 million yuan of products to clients in 60 countries.
Some local governments have stepped up efforts to help companies counter the risks and bolster the economy. The Putian city government established a special insurance fund to cover companies' losses related to disruptions. It also provided subsidies to companies to resume by the end of February.
Nationwide, the State Council — China's Cabinet — Feb. 18 announced temporary exemptions of companies' social insurance contributions, with a total value expected to reach more than 500 billion yuan. The council also granted local governments greater borrowing quotas to spur growth, including an additional 290 billion yuan of special-purpose bonds and an early allocation of 558 billion yuan of general bonds.
Experts expect more pro-growth measures to offset the damage from the epidemic. A report published by China Wealth Management 50 Forum, an academic think tank, said China should allow a higher budget deficit ration at 3.5% of GDP to allow more proactive fiscal policies to boost the economy. The report also suggested the issuance of more than 1 trillion yuan of special treasury bonds to fund investments.
"As the outbreak fades, the government will gradually release a batch of easing policies to boost investment and consumption," said Lu Ting, chief China economist at Nomura International Ltd. But because of limited policy leeway, Lu said, there is unlikely to be large-scale stimulus after the outbreak.
This is an original article written by Yuan Ruiyang, Luo Guoping, Zheng Lingke, Sun Ziliang, and Han Wei of Caixin Global and has been republished with permission. The article can be found on Caixin's website here.
(Header image: Foxconn staff members line up to board shuttle buses to the factory in Taiyuan, Shanxi province, Feb 22, 2020. Hu Yuguang/IC)