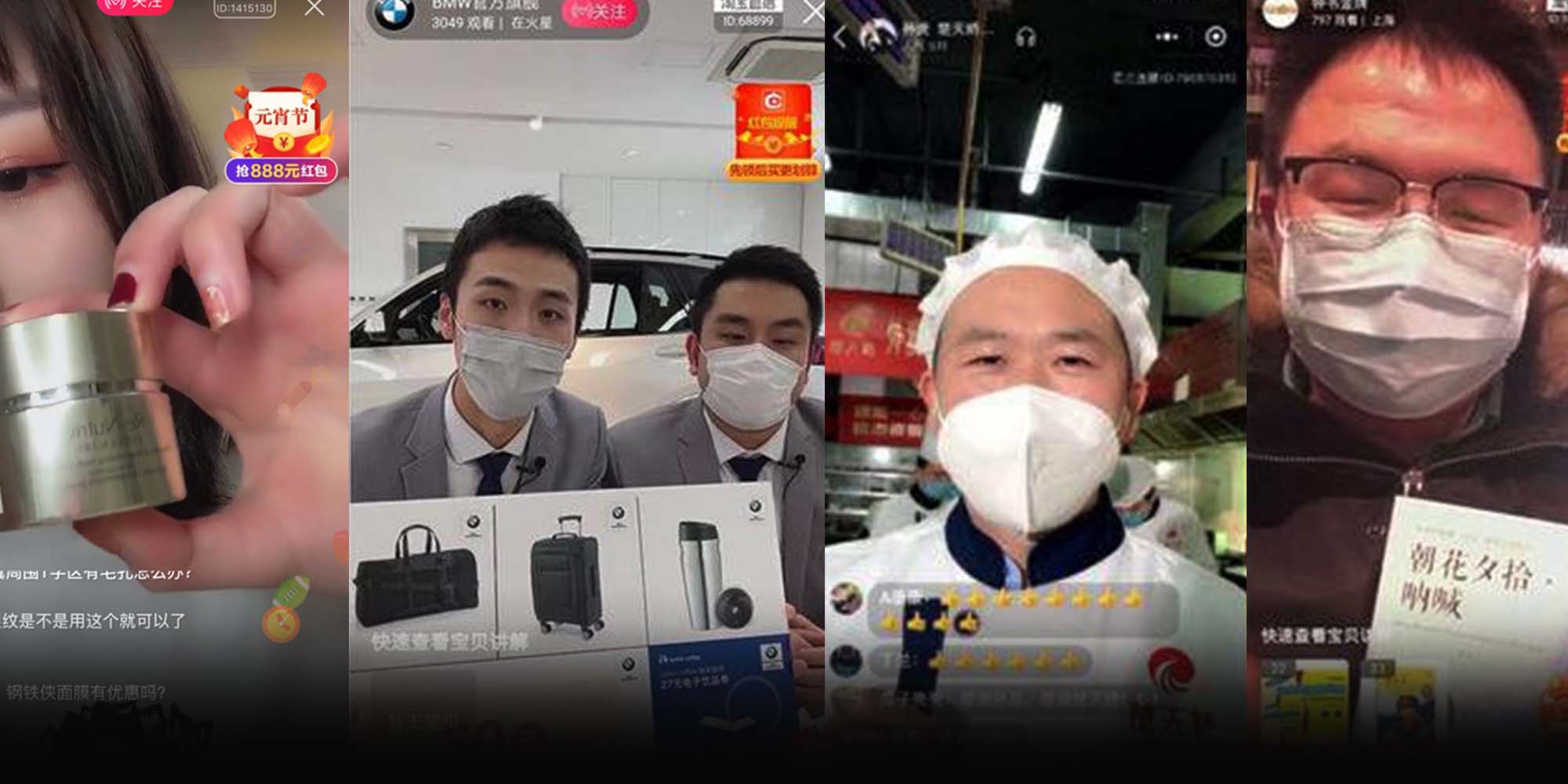 FEATURES
Epidemic Accelerates China's Commercial Livestreaming Boom
With both staff and customers quarantined at home, brick-and-mortar businesses are going online to promote their products to eager viewers.
For the past two decades, Sun Laichun's business acumen has served him well. Unfortunately, circumstances beyond his control have dealt the most crushing blows to his commercial ventures.
The 46-year-old is the owner and chief executive of Forest Cabin Cosmetics, a Chinese beauty and skin care brand with over 300 stores nationwide. However, over this year's Lunar New Year holiday — a time when small- and medium-sized businesses typically rake in a large portion of their annual revenue — nearly half of Sun's stores have been closed because of the ongoing COVID-19 epidemic. Those that have remained open rarely see customers, leaving him perilously close to declaring bankruptcy.
The sting of Sun's current predicament is especially strong because another coronavirus doomed his previous cosmetics company: In 2003, Sun's Malaysian business partner put an end to their joint project, failing to see a future in a Chinese market ravaged by SARS.
"The Spring Festival was supposed to be the busiest and most profitable time for us, with the big e-commerce companies suspending their delivery services and consumers having both the time and money to go shopping," Sun tells Sixth Tone. "But this year, each morning when I open my eyes, I've lost 1 million yuan ($142,000). My cash flow will dry up soon. By March, I might be bankrupt."
Amid a rising number of COVID-19 infections, Forest Cabin's sales had dropped 90% by the end of January. With desperate times calling for desperate measures, Sun logged onto a livestreaming platform, turned on his webcam, and put on the new hat of a yun gui jie, or "cloud beauty adviser."
Livestreaming has been at the center of China's booming entertainment industry for years, but only recently has it become so commercialized, with the most popular online influencers attracting millions of viewers eager to buy their idols' promoted products. China's commercial livestreaming industry reached 433.8 billion yuan in 2019 and is expected to double this year. According to data from financial services firm Zhongtai Securities, the average number of people tuning in to livestreams on Alibaba-owned e-commerce site Taobao increased by 43% over a two-week period ending Feb. 7 , which coincided with tens of millions of people across China being self-quarantined at home.
Sun wasn't exactly new to commercial livestreaming. He had previously collaborated with arguably the biggest name in the business — the "lipstick prince" Li Jiaqi — on several occasions, including for last year's Singles Day online shopping bonanza. Li's salesmanship had left Sun slack-jawed: "We provided him with our full stock of 70,000 travel sets, and they sold out in seven seconds."
Yet despite Li's impressive demonstration of commercial livestreaming's power, Sun still values bricks and mortar over high-speed internet connections. For him, the face-to-face and hand-to-hand service that takes place in physical shops is irreplaceable.
"My dream is to establish a nostalgic, classic brand, and I hope my stores will be centuries old like the ones for historical handcrafted items in Japan," says Sun.
It wasn't until 2017 that Sun finally gave in to technological temptation and took his business online. Since then, digital sales had come to account for around one-quarter of his company's total sales.
"Everyone knows livestreaming is an emerging e-commerce trend, but we never thought of it as urgent," Sun says. "The epidemic pushed us to embrace this innovative channel."
For the 470 or so employees Sun enlisted for his new venture, the beginning was rough. At first, Sun's colleagues, most of whom had little-to-no prior experience with commercial livestreaming, were each only reaching a handful of viewers.
When one of them, 30-year-old Zhang Juanjuan, saw that only 13 people were tuning in to watch her livestreams, she couldn't help but feel upset. "And that was including my father, my mother, my cousins, and my friends!" she tells Sixth Tone with a wry smile.
Two months ago, Zhang landed a job as a beauty adviser at a newly opened Forest Cabin store in Jiading, a quiet, residential suburb of Shanghai. Before she was able to develop relationships with frequent customers who might ensure her continued employment, the epidemic hit the city, keeping prospective buyers indoors. Stuck at home herself, Zhang decided livestreaming might be the only way to attract new buyers and meet her sales targets.
"With livestreaming, one of my colleagues successfully sold around 10,000 yuan worth of products in several days," says Zhang, an amount she adds was nearly half of what she had managed to sell in all of January. "So whenever one more person shows up to watch me livestream, I feel more excited and confident," she says. "As long as I persist, the rising number of viewers will definitely lead to more transactions."
Forest Cabin is just one of millions of brick-and-mortar businesses to have been severely affected by this year's unconventional Spring Festival. Intime Department Stores has asked about 50,000 employees to stay home during and after the Lunar New Year and encouraged nearly 1,000 beauty advisers to try their hands at livestreaming until the epidemic blows over.
With all 31 provincial-level administrative regions on the Chinese mainland declaring Level 1 emergency responses from late January on, people have been reluctant to leave their homes — if they're allowed to at all. Many shopping malls, restaurants, cafés, and shops have stayed closed because of the virus. According to a report from business services provider Van Sound Club, around half of the shopping malls on the Chinese mainland are closed, and nearly all the rest have adjusted their hours of operation. Zhu Min, head of the National Institute of Financial Research at Tsinghua University, recently estimated that China's consumption will decrease by 1.38 trillion yuan in January and February.
"If the epidemic were to last for three months, only a few (companies) could survive," Ding Liye, the senior vice president of Vanke, China's leading real estate conglomerate, said in an interview earlier this month. "Especially for commercial properties," Ding continued. "They have to confront a sharp decrease in customers, reduced rent from merchants, and pressure to repay loans."
Many real estate developers have instituted special policies to reduce the leasing and property management fees paid by their tenants. On Jan. 28, Wanda, which owns over 300 shopping plazas across the country, became the first major developer to announce that it would suspend all such fees for one month beginning Jan. 24, at an estimated cost of over 3 billion yuan.
Even enormous efforts like this don't relieve much of the epidemic's strain. As more industries seek opportunities online, China's large internet companies have taken steps to help offline businesses, too. Major livestreaming and e-commerce platforms including Taobao, JD.com, Douyin, Kuaishou, WeChat, and Suning have all lowered entry barriers for merchants looking to take their sales online. Besides cloud beauty advisers, there are now "cloud real estate agents," "cloud chefs," "cloud reality shows," "cloud concerts," and even "cloud clubbing." 
Xiaolongkan, a popular chain of hot pot restaurants, has kept only 57 of its 800 or so shops open over the Lunar New Year holiday — when the company had expected to make 15% of its revenue for the entire year. "Many stores prepared quite a lot of ingredients and food in advance, but now they have to come up with solutions for getting rid of it," says Bai Jie, who works in Xiaolongkan's e-commerce department and came up with the idea of "cloud chefs."
On Feb. 16, a Xiaolongkan chef made his first foray into livestreamed cooking, teaching viewers how to enjoy a decent hot pot with their families at home while selling hot pot seasonings and "self-heating hot pots" on the side. In 10 minutes, the chef had sold more than 10,000 self-heating hot pots.
"It (livestreaming) has greatly helped our company by relieving the stress of food stocks and funding," Bai tells Sixth Tone.
For internet giants like Alibaba, the epidemic has accelerated the merging of online and offline business. "The concept of 'cloud chefs' is to make the public notice the restaurants' and companies' efforts to save themselves," an Alibaba employee who helped plan the cloud chefs campaign tells Sixth Tone.
On Valentine's Day, Sun of Forest Cabin decided to make his solo debut as a commercial livestreamer. Wearing a white shirt and a pair of glasses, he peddled his cosmetic wares for around two and a half hours on Taobao using just a phone, a computer, and a lamp. "There was one comment that read, 'Look! The boss is livestreaming all by himself to sell products? You should just give up and go bankrupt,'" Sun recalls.
Negativity aside, Sun appears to have had the last laugh: During his first livestream, tens of thousands of viewers spent around 400,000 yuan on his company's products.
"Actually, giving up is easy," Sun says. "I've already earned enough money for the rest of my life. I could choose to fire my employees and stop running the business — but I want to fight against the epidemic, and I hope I can survive."
Correction: A previous version of this story used an incorrect surname for the employee from Xiaolongkan's e-commerce department.
Editor: David Paulk.
(Header image: During the novel coronavirus epidemic, businesses are turning to commercial livestreaming to sell their products online. From @新浪科技 on Weibo)