The day before the central Chinese city of Wuhan went into lockdown, Ye Bing received an ominous message from the hospital where his father-in-law was being treated for tuberculosis: He would have to leave.
"They were forcing all of the patients to leave the hospital, saying the government had ordered the wards to be cleared out to treat coronavirus patients," Ye told Sixth Tone just over a month after Hubei's provincial capital restricted the movement of some 14 million people to contain the spread of COVID-19.
Ye said Wuhan Pulmonary Hospital didn't even suggest what to do with his father-in-law after he was discharged. They didn't know which hospital to visit next, or what treatment to seek.
The COVID-19 epidemic that originated in Wuhan late last year has choked the city's health system, killing over 2,600 people and infecting nearly 80,000 worldwide. To cope with the overwhelming number of patients infected with the coronavirus, the city has converted many of its general and specialist hospitals, as well as public venues, into facilities for treating COVID-19 cases.
Wuhan Pulmonary Hospital was one of the first to be repurposed, and there are currently 48 medical facilities in the city that have been designated for treating coronavirus patients. However, with the focus concentrated on containing the epidemic, patients with other diseases say they have struggled to get medical attention, becoming "invisible victims" of COVID-19.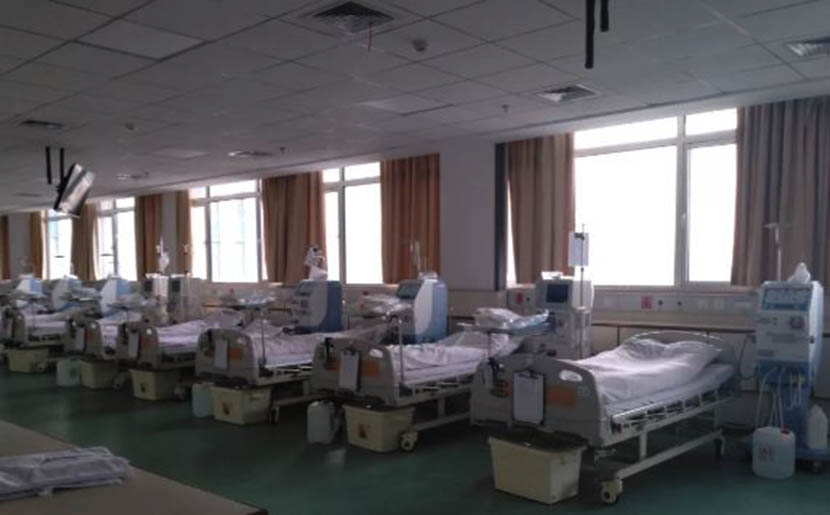 An empty dialysis room at the Hanyang branch of Wuhan Hospital of Traditional Chinese Medicine, Hubei province, Jan. 28, 2020. From @新京报 on Weibo
After Wuhan Pulmonary Hospital told Ye to make alternative arrangements, he tried to contact other hospitals in the city, but to no avail. Some told him they had run out of beds, while others said they were unable to treat his condition.
"We tried everything — calling an ambulance, begging doctors, asking friends and relatives for help, seeking help on social media," Ye said. "Nothing worked."
With no alternative, Ye took his sick father-in-law home, where he is now hooked up to a respirator. He hasn't eaten for the past five days, and his condition is deteriorating.
"We cannot do anything but wait at home for him to die," Ye said. "I feel so helpless. I don't even know what to do if he dies. It's like there's no way to live, and there's no way to die."
Also caught in the coronavirus crossfire are people with HIV. With the ongoing restrictions on movement, many are holed-up in their homes, unable to access antiretroviral therapies that would help them enjoy longer, healthier lives.
Huang Haojie, director of the Wuhan LGBT Center, told Sixth Tone that the center has received a flood of messages from concerned individuals. "The sudden lockdown in Wuhan has made it extremely difficult for HIV patients to get medicine," he said.
In China, HIV medications are only accessible in specific hospitals where individuals are registered. Many living with HIV refrain from seeking help from family and friends due to the stigma associated with the disease.
"People are afraid of going without the medicine, but they are more afraid of (their disease) being discovered by their family," Huang said, adding that some people with HIV were visiting their families for the Lunar New Year and are likely still with them.
Though China's National Center for AIDS/STD Control and Prevention temporarily allowed patients to get their monthly dose of HIV medication without registering, Huang said such a "quick response" to the epidemic doesn't completely address the problem. For many in rural areas, a total shutdown of transportation during the lockdown means they cannot travel to get their drugs.
"One HIV patient from the countryside told our center that he set off from his village at 6 a.m. and returned home at 6 p.m. — he walked all day to get the medicine," Huang said.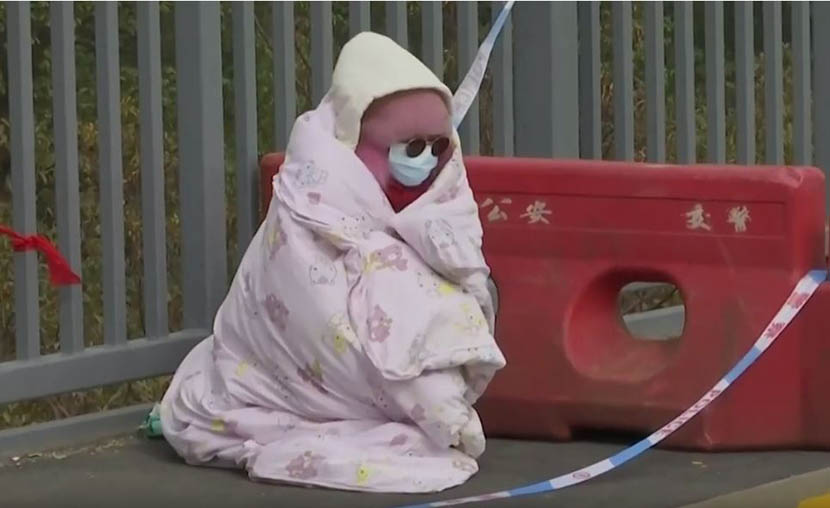 A screenshot from a video about a mother trying to leave Hubei province to get chemotherapy for her daughter, who has leukemia, February 2020. From Reuters' YouTube channel
Earlier this month, a video of a mother frantically trying to take her daughter out of Hubei for treatment made headlines in China, underscoring the plight of people who feel helpless as they struggle to take care of sick family members. In the video, the woman is seen pleading with police, saying her daughter with leukemia isn't able to get chemotherapy because of the surge in coronavirus patients.
To address the needs of patients other than the ones diagnosed with COVID-19, the Hubei provincial government announced a list of hospitals for such patients last week. The 50 hospitals in Wuhan have been designated for critically ill patients, pregnant women, infants, and those who require dialysis.
Li Hua, who asked to use a pseudonym to protect her privacy, told Sixth Tone that the coronavirus epidemic has been a "nightmare" for her as she tries to get treatment for her mother, who was diagnosed with late-stage lymphoma in early January. Though the provincial government's designated hospitals have made it easier to secure a bed at the Hubei Cancer Hospital, she is still uncertain how long they'll be able to stay there.
Before her mother was hospitalized Thursday, Li said they were turned away by two hospitals, both of which had been reserved for coronavirus patients. She's worried because lymphoma patients need continuous chemotherapy, and her mother may not be able to physically get to the next chemotherapy session.
"I don't know what tomorrow will hold," said the 26-year-old, who spends much of her time online these days searching for treatment-related information. "You have to depend on yourself. Medical resources are in dire straits."
"I don't know how long the lockdown is going to last," she said. "I can only hope our family can get through this period safely."
Editor: Bibek Bhandari.
(Header image: IC)