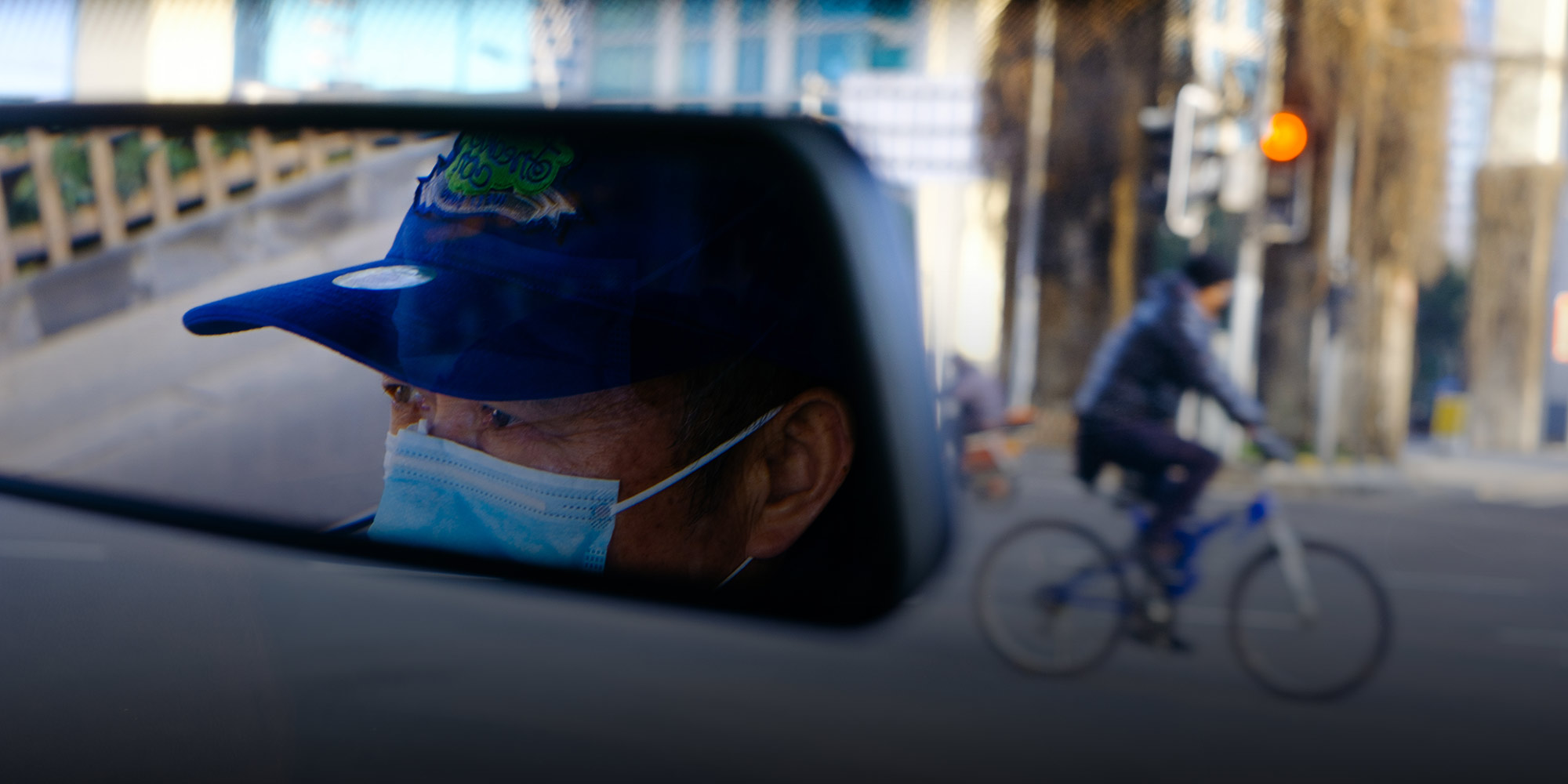 NEWS
Coronavirus: Latest Updates (Feb. 1-15)
Rolling coverage of the novel coronavirus that has infected tens of thousands of people in China and growing numbers abroad.
For daily updated figures on infections, deaths, and suspected cases in China and abroad, see Sixth Tone's digital infographic here.
Feb. 15, 2020
Hospitals in Wuhan are urging patients who have recovered from COVID-19 to donate their blood, as it may contain antibodies capable of fighting the coronavirus.
At apress conferenceThursday, Zhang Dingyu, the director of Jinyintan Hospital, said the facility was in the process of collecting plasma from recovered patients after a preliminary experiment showed encouraging results.
"The recovered patients have a large number of integrated antibodies against the virus," Zhang said. "I hope that patients who have recovered will donate plasma and help patients who are still struggling with the disease."
In its latesttreatment planreleased Feb. 8, China's National Health Commission had also recommended plasma therapy for patients in severe or critical condition.
In astatementThursday, China National Biotech Group said it had developed natural plasma products for treating patients in critical condition. More than 10 critically ill patients in Wuhan have already received plasma therapy, with their symptoms improving 12 to 24 hours later, according to the company.
China Releases First Figures for Infected Medical Workers
At apress conferenceFriday, the National Health Commission's Vice Minister Zeng Yixin said that as of Tuesday, 1,716 confirmed cases of medical staff becoming infected with the novel coronavirus had been reported nationwide, accounting for 3.8% of all confirmed cases in the country. Six of the infected medical workers had died, Zeng said.
The central Hubei province — where the outbreak's epicenter of Wuhan is located — had reported the most infections among medical workers, with the province's 1,502 cases accounting for 87.5% of the total. Wuhan alone has 1,102 infected medical workers, according to Zeng.
This is the first time Chinese health authorities have made information about infections among health care workers public. A week ago, the death ofLi Wenliang, a doctor who was punished for trying to raise the alarm about a mysterious pneumonia that he would ultimately contract himself, sent a shockwave of sorrow and anger across the country.
Baidu Unveils Code for Keeping Tabs on China's Maskless Masses
Baidu on Thursday released an open-source code that the Chinese internet company claims can use artificial intelligence technology to pick out and identify people who aren't wearing face masks in public, as is now widely required.
According todomesticmedia, companies and individuals may use Baidu's AI model for free to develop their own software. The model is said to be capable of identifying maskless people in crowded public areas with 96.5% accuracy.
In a bid to contain the COVID-19 epidemic, many Chinese cities havemandatedthat people must wear masks in public places, as the virus is believed to spread between humans through coughs, sneezes, and other bodily functions that release contaminated droplets into the air that others might breathe in.
Feb. 13, 2020
Mayor of Shanghai Replaces Hubei's Top Official
The Central Committee of the Communist Party of China has tapped Shanghai's mayor to become the top government official in Hubei province, the state-run Xinhua News AgencyreportedThursday.
The province's former party secretary, Jiang Chaoliang, will "no longer" hold that position, and will be replaced by Shanghai Mayor Ying Yong, according to Xinhua. It wasn't clear, however, if Jiang had been dismissed, and no specific reason was given for the reshuffle.
"The adjustment is a thorough and careful decision made by the Central Committee based on the needs of the epidemic prevention and control work and the leadership team in Hubei province, in consideration of the overall situation," said Wu Yuliang, deputy minister of the central committee's Organization Department.
Since the COVID-19 outbreak, Hubei government officials have faced severe public criticism over their handling of the public health crisis.Earlier this week, two top officials from Hubei's health commission were alsoremovedfrom their posts. And in late January, the director of the health commission in the province's city of Huanggang wasdismisseddue to "negligence on local epidemic prevention and control" after failing to answer a reporter's question about the situation.
Chinese Schools To Go Online As COVID-19 Delays Classes
China's education ministrysaidWednesday that it will launch an online teaching program, as schools nationwide have pushed back the start of the new semester due to the novel coronavirus outbreak.
The online program, which covers teaching resources from primary to high school, will be accessible starting Feb. 17, according to the ministry. The education authority will also launch a television channel the same day to reach more students in rural parts of the country, where computers may not be easily accessible.
Earlier this month, education officials across China had announced plans to delay the start of the semester to mid-February or March. Officials alsosaidthat they're currently "researching" whether the college entrance exams —gaokao— should take place as scheduled in June.
Coronavirus-Stricken Hubei City To Impose Wartime Rules
A city in the central Hubei province, the heart of the COVID-19 epidemic, will implement wartime measures in one of its districts to contain the spread of the virus,accordingto an official announcement Wednesday.
Shiyan's municipal district of Zhangwan went into full lockdown mode at midnight Thursday and will remain under lockdown for at least two weeks, depending on how the outbreak situation develops. Under the new regulations, all buildings will be temporarily locked, and the district's 415,000 residents — with the exception of medical workers and government officials involved in public service — will not be allowed to leave their homes.
It is unclear why such strict measures are only being enforced in Zhangwan District.
"From now on, let's all stay at home for another 14 days," said Xiao Xu, the district's deputy head. "Let's avoid long-term pain by taking short-term pain … and continue to achieve the ultimate victory in the fight against the epidemic."
According to the announcement, the local government will regularly distribute supplies on a "fixed-type and fixed-price" basis for the district's residents, and all private transportation in the district has been banned.
Shiyan, which is about 440 kilometers from the provincial capital of Wuhan and borders the provinces of Henan and Shaanxi, as well as the municipality of Chongqing, has 562 confirmed cases of COVID-19. As of Thursday, only one person in the city had died from the illness.
Feb. 12, 2020

Novel Coronavirus on the Chinese Mainland: Official Data
The Novel Coronavirus Gets a Name: COVID-19
Two months after the first coronavirus infections, the World Health Organization on Tuesdayannouncedthat the illness caused by the virus will be called COVID-19.
"We had to find a name that did not refer to a geographical location, an animal, an individual or group of people, and which is also pronounceable and related to the disease,"saidTedros Adhanom Ghebreyesus, the WHO's director-general.
"Having a name matters to prevent the use of other names that can be inaccurate or stigmatizing," he continued. "It also gives us a standard format to use for any future coronavirus outbreaks."
On Saturday, China's National Health Commissionsaidit had provisionally named the illness novel coronavirus pneumonia, or NCP. Based on the virus' qualities, the International Committee on Taxonomy of Viruses had also referred to it asSARS-CoV-2, or Severe Acute Respiratory Syndrome Coronavirus 2.
New Test Claims To Diagnose Coronavirus in 22 Minutes
A new test kit developed in the southern Chinese city of Shenzhen claims it can tell whether a person has the novel coronavirus in just 22 minutes, according todomesticmediareports.
Jointly developed by Shenzhen University, Shenzhen Third People's Hospital, and Shenzhen Tisenc Medical Devices Co. Ltd., the test is currently awaiting fast-tracked approval from the National Medical Products Administration.
The new diagnostic tool requires a blood sample rather than a mucus sample, reducing the risk of medical staff becoming infected, according to reports. Processing the tests in a lab is also said to be simpler than for previous products.
The current widely used nucleic acid tests require samples of a person's mucus, taken from their upper respiratory tract. Because the novel coronavirus can be spread through coughing and sneezing, among other transmission routes, there is a high risk of medical staff becoming infected while administering the current tests. Meanwhile, getting results can takeover an hour.
In many cities, there are far more patientswaiting to be testedthan there are test kits available — and the current tests may not be foolproof. Zhao Jianping, the director of Tongji Hospital of Huazhong University of Science and Technology in Wuhan, hassuggestedthat a negative result from a nucleic acid test does not necessarily mean the person isn't infected.
Guangzhou May Requisition Private Properties To Cope With Coronavirus
The government of the southern Chinese city of Guangzhou has the authority to commandeer people's homes for the purpose of preventing the spread of the novel coronavirus, local authoritiessaidTuesday.
Private property — including homes, vehicles, and most anything else — can be "legally requisitioned" by the government for coronavirus prevention and control, according to a notice approved by Guangzhou's top policymaking body, the standing committee of the city's people's congress.
"Compensation for requisitions should be disbursed according to the law," the notice said. "Once it has been used, property should be returned in a timely manner."
Local and provincial governments across China have had to think creatively to cope with shortages of hospital beds during the current epidemic. Wuhan, the epicenter of the outbreak, built two pop-up hospitals in as many weeks, and has converted several public venues such as exhibition centers into "shelter hospitals" for patients with relatively mild symptoms.
Student dorms at four Wuhan universities have also been turned into quarantine sites for patients in stable condition. Some of these schools have beenaccusedof failing to give students enough time to clear out their belongings.
Confirmed Coronavirus Cases Aboard Diamond Princess at 175
Another 40 people, including a quarantine officer who was surveying passengers on the Diamond Princess cruise ship, have tested positive for the novel coronavirus, Japan's health ministry said intwostatementsWednesday. There are now 175 total cases aboard the vessel.
"Out of 53 new test results, 39 people were found positive," local mediaquotedJapan's health minister, Katsunobu Kato, as saying. "At this point, we have confirmed that four people among those who are hospitalised are in a serious condition, either on a ventilator or in an intensive care unit."
The cruise ship with at least 2,500 passengers on board has been under quarantine in the port of Yokohama for a week after an 80-year-old passenger was diagnosed with a coronavirus infection on Jan. 25 upon disembarking in Hong Kong.
Feb. 11, 2020
Novel Coronavirus on the Chinese Mainland: Official Data
High-Ranking Hubei Health Officials Dismissed
Two top officials from Hubei's health commission have been dismissed from their posts as the death toll of the coronavirus epidemic originating in the central Chinese province surpassed 1,000, state broadcaster CCTVreportedTuesday.
The commission's director, Zhang Jin, and party secretary, Liu Yingzi, were dismissed during a meeting of the Hubei standing committee, the province's top policymaking body, on Monday. CCTV's report did not give a reason for the dismissals.
Both Zhang and Liu were appointed to their positions in November 2018. Since the coronavirus was exposed as a public health emergency, Liu has attended just one press conference, while Zhang has made virtually no public appearances,accordingto the Southern Metropolis Daily newspaper.
As of Tuesday, the novel coronavirus had killed over 1,000 people and infected at least 42,000. Since news of the outbreak first surfaced in early January, Hubei government officials have faced mounting criticism for their handling of the crisis, from failure to disclose the public health risk early to failure to stop the virus from spreading beyond Wuhan.
Zhang and Liu aren't the first Hubei officials to face punishment. On Jan. 30, the director of the health commission in Huanggang, a city in Hubei with one of the highest infection rates outside Wuhan, wasdismissedafter failing to answer a reporter's question about the city's epidemic situation. Meanwhile, officials in other provincial-level administrative regions including Hebei, Tianjin, Hunan, and Zhejiang have also been punished for misconduct stemming from coronavirus-related duties.
Infections Aboard Cruise Ship Quarantined in Japan Rise to 135
Another 65 people on the Diamond Princess cruise ship tested positive for novel coronavirus pneumonia on Monday,accordingto Japan's health ministry, bringing the total number of infections about the vessel to 135.
Japan has so far tested 439 passengers and crew, yielding an infection rate of just over 30%. If the Diamond Princess were a sovereign state, it would have the most coronavirus cases of any country other than China.
While the high infection rate is cause for concern, Japan's chief cabinet secretary, Yoshihide Suga,saidit would be difficult to test all of the passengers and crew, so elderly people and those who have the virus will be prioritized for medical attention. Over2,500 passengerswere aboard the Diamond Princess, according to media reports.
On Jan. 25, an 80-year-old passenger from Hong Kong was diagnosed with a coronavirus infection, leading to the ship being quarantined at the port of Yokohama since Feb. 3. Barring extenuating circumstances, the quarantine is expected to be lifted Feb. 19, according to Japan's health commission.
All passengers who remain quarantined in Yokohama will receive full refunds, tour operator Princess CruisessaidSunday.
Feb. 10, 2020
Novel Coronavirus on the Chinese Mainland: Official Data
China's Cities Return To Work After Extended Spring Festival Holiday
Business in China's largest cities including Beijing, Shanghai, and Chongqing resumed Monday following an extension to the weeklong Lunar New Year holiday because of the coronavirus epidemic.
Ahead of the work week, local governments imposed regulations to prevent the coronavirus from spreading through their urban centers. On the Shanghai subway, for example, temperature checks and masks are mandatory: A man wasdetainedFriday for rushing into a station without the required facial protection.
Office buildings have also imposed stricter checks to avoid infections. At the Yinghua International Plaza, an office space in Shanghai, anyone entering the premises must register their name, travel history, and government-issued ID number. Individuals with temperatures above 37.3 degrees Celsius or recent travel history to Hubei province, where the coronavirus originated, are not allowed to enter the building,accordingto Sixth Tone's sister publication The Paper.
On Sunday, Shanghai officialsencouragedemployers to stagger and reduce workers' office hours, as well as allow people towork remotely.
Meanwhile, the Ministry of Industry and Information Technologyannouncedseveral measures aimed at helping small- and medium-sized businesses stay afloat during the epidemic-induced downturn, including encouraging local governments to allocate special financial assistance funds and reducing interest rates on loans.
17 Chinese Companies Working To Develop Coronavirus Vaccine
Seventeen member companies of the China Association for Vaccines are working toward developing a vaccine for the novel coronavirus pneumonia that has so far killed over 900 people globally.
In astatementSunday, the association said the companies had begun researching a vaccine but gave no further details, such as budget or timeline.
While Chinese health authorities have recommended certain antiviral drugs to mitigate the novel coronavirus' symptoms, there is currently no officially approved treatment or vaccine. Last week, the country's National Health Commissionexpressed hopesthat effective treatments could come from a combination of Western and traditional Chinese medicine.
Also last week, the head of coronavirus vaccine research at Imperial College Londonannouncedthat his team is expecting to start early animal testing and then proceed to human studies "in a period of few months."
In mid-January, the Coalition for Epidemic Preparedness Innovations, an Oslo-based global partnership for preventing and containing infectious disease outbreaks, announced the launch ofthree programsto develop vaccines for the novel coronavirus. The coalition's CEO, Richard Hatchett, said that the group hopes "to bring a new pathogen from gene sequence to clinical testing (of a new vaccine) in 16 weeks."
Feb. 9, 2020
Novel Coronavirus on the Chinese Mainland: Official Data
As of Sunday, the novel coronavirus has killed more people than the SARS epidemic of 2002-2003.
Chinese Health Experts Confirm Aerosol Transmission
Health and epidemic prevention experts have determined that aerosol transmission is among the ways the novel coronavirus can be spread, Zeng Qun, the deputy head of Shanghai's civil affairs bureau, said at anews briefingSaturday.
Aerosol transmission entails tiny droplets of a pathogen becoming suspended in the air and inhaled, and can occur even if an infectious person is not in close proximity.
In itslatest treatment planissued Feb. 4, China's National Health Commission said that, while confirmed transmission routes included droplet transmission — when large droplets from an infected patient's sneezes or coughs are inhaled — and contact with contaminated surfaces, aerosol transmission had not been confirmed.
Health experts have also suggested the possibility of neonatal transmission. On Wednesday, Sixth Tone's sister publication The Paperreportedthat the day-old child of a mother carrying the novel coronavirus had tested positive, too.
However, some experts argue that it's still too early to confirm aerosol transmission. In aninterviewSaturday with The Paper, Shen Yinzhong, director of the Shanghai Public Health Clinical Center's medical department, said that while the coronavirus can become attached to aerosols "in theory," confirming this as a means of transmission requires further research.
Previously, the U.S. Centers for Disease Control and Prevention hadrecommendedthat medical staff treating coronavirus patients "use caution when performing aerosol-generating procedures" such as intubations.
"When a patient is out of breath and noninvasive oxygen provision fails, we must apply intubation," Peng Zhiyong, an ICU doctor at Zhongnan Hospital of Wuhan University,told Caixinin an interview. "The procedure is dangerous, as the patient may vomit or spit. Medical staff are likely to be exposed to the danger of infection."
China Gives the New Coronavirus a Temporary Name
In a press conference Saturday, the National Health Commissionsaidthe illness that has now killed over 800 people in China has been provisionally named "novel coronavirus pneumonia," or NCP.
Last month, the World Health Organizationrecommended"2019-nCoV acute respiratory disease" as the interim nomenclature. The International Committee on Taxonomy of Viruses — the body responsible for giving a new virus its formal name — has yet to weigh in.
In the absence of an official name, some online still refer to the pathogen as the "Wuhan coronavirus" or "China virus," indirectly contributing toalready-pervasive stigmassurrounding people from Wuhan and Hubei domestically, and Chinese people internationally. Earlier this month, the Chinese Embassy in Germanycriticizedthe German news magazine Der Spiegel for running a front-page graphic with the words "coronavirus made in China."
Feb. 8, 2020
Novel Coronavirus on the Chinese Mainland: Official Data
On Friday, 558 new coronavirus cases were confirmed in areas outside the central Hubei province, a fourth consecutivedecreasefrom the previous day. Meanwhile, in the outbreak's epicenter of Wuhan, the mortality rate hasdroppedfrom 4.9% to 4.1% — still far higher than elsewhere in Hubei, where the mortality rate is down to 1.3%.
Hospital Director Says Negative Tests Don't Rule Out Possibility of Infection
Zhao Jianping, the director of Tongji Hospital of Huazhong University of Science and Technology in Wuhan,saidFriday that positive nucleic acid tests likely account for just 30-40% of all coronavirus cases, and that negative test results should not preclude the possibility of infection.
"When the lymphocyte level in a patient's blood drops and pneumonia sets in, these patients must be treated under the assumption that they have the novel coronavirus," Zhao said at a press conference. "Once these patients are admitted (to a hospital), they will not be overlooked because of a negative test."
US Citizen Dies in Wuhan As State Dept Announces Emergency Aid for China
An American citizen died Thursday in Wuhan, according to the U.S. Embassy in Beijing. Though little has been disclosed about the victim apart from their age — around 60 — people familiar with the mattertold The New York Timesthat she was a woman with underlying health conditions.
The following day, U.S. Secretary of State Mike Pompeo announced that the country would spend up to $100 million to combat the novel coronavirus in China and other affected countries. According to anofficial statement, the U.S. State Department has already sent 17.8 tons of donated medical supplies — including masks, gowns, gauze, respirators, and other vital materials — to China.
The announcement comes after days of complaints from China'sforeign ministryandstate-owned mediaabout the U.S.'s alleged inaction in helping China fight the coronavirus. However, a New York Times report Fridayrevealedthat repeated offers from the U.S. Centers for Disease Control and Prevention and the World Health Organization to send expert teams to China to observe and assist with the coronavirus treatment and containment efforts have gone unheeded by Beijing.
In a phone call Friday with U.S. President Donald Trump, China's leader Xi Jinping said the country has been making an "all-out effort" to fight the coronavirus, and that "WHO and other experts" had been invited to conduct "field visits" in Wuhan.
Hospital-Related Infection Suspected in 41% of 138 Patients, Study Says
A novel coronavirus study at Zhongnan Hospital of Wuhan University said that nosocomial — or hospital-acquired — infection was suspected in 41% of 138 patients evaluated.
Thepaper, published Friday in the prestigious Journal of the American Medical Association, also found that around one-quarter of the 138 patients required intensive care. Just over one-third were discharged after a median hospital stay of 10 days, and 4.3% died — roughly in line with previously estimated mortality rates in Wuhan.
The median age of the 138 patients was 56 years old, and 54.3% were men. Their most common symptoms were fever, fatigue, and dry cough.
"Presumed hospital-related transmission was suspected if a cluster of health professionals or hospitalized patients in the same wards became infected and a possible source of infection could be tracked," wrote the 14 authors, all physicians at Zhongnan Hospital.
Peak in Coronavirus Cases Still To Come, Scientists Say
At a press conference Friday, renowned epidemiologist Zhong Nanshan, one of the leaders behind China's efforts to contain the coronavirus,saidthat the current epidemic has yet to reach its turning point, and that the key moving forward will be to aim for "early detection and early quarantine." This is the second time Zhong has walked back his own predictions of when the epidemic will reach its peak.
"I think it will be a few days before this turning point comes," Zhong said, adding that new cases are the "most critical" indicator. "Now, it seems that the number of new cases is not continuing to increase significantly, which is a good thing. The number of new cases will not rise too much, but Wuhan may be different from other places."
On Jan. 28, Gao Fu, the director of the Chinese Center for Disease Control and Prevention, hadtoldstate broadcaster CCTV that he expected the situation to improve by the Lantern Festival holiday on Feb. 8, based on "current prevention and control measures."
Feb. 7, 2020
Novel Coronavirus on the Chinese Mainland: Official Data
Coronavirus Whistleblower Dr. Li Wenliang Dead at 34
Li Wenliang, an ophthalmologist who is believed to be one of eight people reprimanded by police in early January for "spreading rumors" about a new SARS-like virus, died early Friday morning at the age of 34.
"During the fight against the pneumonia, Li unfortunately became infected with the novel coronavirus," read anannouncementfrom Wuhan Central Hospital, where Li worked and was receiving treatment. "An all-out rescue failed. He passed away at 2:58 a.m on Feb. 7, 2020."
An outpouring of grief from the Chinese public followed, with people online expressing their gratitude to Li for trying to warn others about the outbreak, as well as their anger over Li facing punishment in the first place.
Many have implored the Wuhan government to apologize for the way the doctor was treated, and to see that his elderly parents, who were hospitalized in January with pneumonia-like symptoms, and pregnant wife are taken care of.
"I hope there are no official reprimands in heaven. R.I.P., hero," read one representative online comment.
Li announced that hewas infected with the coronavirusin a Feb. 1 post on microblogging platform Weibo. In the comment section below the post, Zhang Ruoyun, an actor in a popular TV drama Li had been watching, wrote that he wished the doctor a speedy recovery.
Li's lighthearted reply belied the gravity of his condition. "Thanks! I'm really looking forward to Season 2," he wrote.
61 Aboard Quarantined Cruise Ship Test Positive for Coronavirus
Sixty-one people on a cruise liner have tested positive for the novel coronavirus, Japan's health ministrysaidFriday. The Diamond Princess, currently docked at Yokohama, reportedly has around 3,700 passengers on board.
An 80-year-old passenger from Hong Kong was diagnosed with a coronavirus infection on Jan. 25 after disembarking from the vessel, prompting Japanese authorities to impose a full quarantine when the ship reached the country on Feb. 3.
A total of 273 people who either showed symptoms or had close contact with the sick Hong Kong patient were checked by Japanese medical staff. The cruise staff and tourists will remain quarantined aboard the vessel for 14 days.
Japan had reported 25 confirmed cases of coronavirus as of Thursday, but the recent diagnoses on the cruise liner would bring the new total to 86 — the most of any country outside China. However, Japan's health minister Katsunobu Kato said that the 61 cases will not count toward the national total, as the sick passengers tested positive before arriving in Japan, according tolocal media.
The infected passengers will be treated at hospitals in several Japanese cities. None of the 41 patients are believed to be in critical condition.
Pangolins May Be Intermediate Hosts of Novel Coronavirus
The pangolin has been identified as a potential intermediate host of the novel coronavirus that has so far killed more than 600 people in China and infected over 31,000 more, according to a new study from South China Agricultural University.
At apress conferenceFriday, the research team explained that full genome sequencing of a coronavirus found in pangolins had revealed that it was 99% identical to the virus responsible for the current epidemic among humans.
Pangolins holdLevel 2protected status in China and are listed ascritically endangeredby the International Union for Conservation of Nature. Said to be the most trafficked animal in the world, the pangolin is often killed for its scales, which are sometimes used in traditional Chinese medicines, as well as for its meat.
Anyone who kills a pangolin in China can face between five and 10 years in prison, or even harsher penalties in severe cases, according to the country's criminal law.
In Shanghai, Hiding Symptoms and Travel Histories Punishable by Blacklisting
Anyone concealing coronavirus-related information should expect to be blacklisted, Shanghai's top policymakerssaidFriday.
According to an announcement from the Standing Committee of the Shanghai People's Congress, failing to disclose one's history of illness, travel, or personal contact, as well as attempting to avoid quarantine, may be reported to the city's online personal credit platform, in addition to possible legal punishment.
Several governments including those ofHenan,Shandong, andFujianprovinces have summoned people who concealed their health or travel histories from authorities seeking to assess coronavirus risk.
Elsewhere in China, the high court of the northeastern Heilongjiang provincesaidon Jan. 31 that people "who intentionally transmit the coronavirus pathogen" may face the death penalty, and that those who refuse to be quarantined or treated can face up to seven years in prison.
Feb. 6, 2020
Novel Coronavirus on the Chinese Mainland: Official Data

ICU Doctor Says Wuhan's Initial Diagnostic Criteria Were Too Strict: Caixin
A frontline doctor said the diagnostic criteria health authorities set in early stages of the novel coronavirus epidemic were too stringent and "endangered society," financial news outlet CaixinreportedWednesday.
Peng Zhiyong, an intensive care unit doctor at Zhongnan Hospital in Wuhan, the epicenter of the coronavirus outbreak, was one of the first doctors to voice epidemic concerns to local health authorities.
Peng's hospital admitted its first infected patient on Jan. 6 and established a quarantine area. The number of infected patients then rose to 16 within four days — so quickly that Peng and his colleagues suspected human-to-human transmission and reported this to Wuhan's health commission.
According to Peng, the criteria the commission had set in order to confirm a new case — exposure to the South China Seafood Wholesale Market, fever, and a positive nucleic acid test — were too strict.
"Very few people would get diagnosed based on those criteria. The head of our hospital told them this multiple times during this period. I know other hospitals were doing the same," Pengtold Caixin. "You had to meet all three criteria in order to be diagnosed. The third one was especially stringent. In reality, very few people were able to test for a virus."
Wuhan's health commission maintained that there was no evidence of human-to-human transmission until Jan. 21, at least three weeks into the epidemic, when renowned scientist Zhong Nanshan told state broadcaster China Central Television that such transmission was "definite." On Jan. 31, Ma Guoqiang, Wuhan's party secretary, said in aninterviewthat he felt "guilty and ashamed" for how the outbreak had been handled.
"If I had been decisive and taken strict measures earlier, the results would have been better than they are now," Ma said.
The number of confirmed coronavirus cases in Wuhan did not rise until a second team of infectious disease experts from Beijing visited the city and changed the criteria, Peng said.
Dali Confiscates Masks En Route to Chongqing, Hurts Its Neighbor's Feelings
Authorities in Dali, a city in the southwestern Yunnan province, have apologized for confiscating face masks that were en route to Chongqing to protect against the spread of coronavirus there.
In astatementThursday, Dali's health authority said it had intercepted the shipment of 598 boxes of masks "in order to meet the urgent need" of its own residents. The health authority has paid 990,300 yuan ($142,000) in compensation, according to its statement, and will return the withheld masks. The intended recipient of the masks in Chongqing remains unknown.
The Dali government's actionsmade headlinesafter a photo of a Feb. 2 notice to confiscate the masks went viral online. On Thursday, the Yunnan provincial government published anoticereprimanding the Dali city government, saying the requisition had "seriously affected our brother province's epidemic control work and hurt the feelings of our brother province's people."
Newborn in Wuhan Tests Positive for Coronavirus
A day-old infant has tested positive for the novel coronavirus, Sixth Tone's sister publication The PaperreportedWednesday. The baby — whose mother carries the virus — returned a positive nucleic acid test at Wuhan Children's Hospital.
"We want to advise the public of a possible new means of transmission for the coronavirus, that being neonatal transmission," Zeng Lingkong, chief physician at Wuhan Children's Hospital, told The Paper.
"Our hospital has delivered many newborns from infectious mothers: Some of them tested negative for the nucleic acid, while two cases have tested positive," Zeng said. The nanny of the other infected newborn, now 18 days old, is believed to have transmitted the virus to the baby's parents, though it is unclear how the infant got sick.
All of the newborns and their mothers are in stable condition, according to Zeng.
The possibility of neonatal transmission had been suggested by medical professionals prior to these cases. Chen Zhimin, a specialist physician at the Zhejiang University medical school's children's hospital,saidin a press conference Jan. 31 that neonatal transmission of the coronavirus could not be ruled out.
On Jan. 31, the child of an infected woman was born healthy in the northeastern city of Harbin, testing negative for the coronavirus, according tolocal media.
Feb. 5, 2020
Novel Coronavirus Kills 490 in China as Infections Top 24,000
At least 65 people in China died Tuesday of the novel coronavirus, bringing the death toll in the country to 490, according toofficial data.
Outside of the Chinese mainland, two more deaths have been reported in Hong Kong and the Philippines, while confirmed coronavirus infections have been reported in some two dozen countries worldwide.
More than 3,800 people on the Chinese mainland tested positive for the virus on Tuesday alone, bringing the total number of infections to 24,324. As of Tuesday, 892 people had recovered, while over 23,000 suspected cases are still awaiting diagnosis.
China's Official Coronavirus Mortality Rate Is 2.1%
The mortality rate of the novel coronavirus on the Chinese mainland stands at 2.1%, a top health official said Tuesday.
Jiao Yahui, deputy head of medical administration at the National Health Commission, said during apress conferenceTuesday that, although the national fatality rate had dropped from 2.3% in the early stages of the epidemic, casualties remain higher where the infections are most concentrated.
In the epicenter of Wuhan, the mortality rate is 4.9% — higher than elsewhere in Hubei province, where the central city is located. So far, 97% of all coronavirus deaths in China have been in Hubei. If the province were to be excluded from national data, however, the coronavirus' mortality rate would be less than 1%.
It's still too early in the epidemic to put much stock in preliminary mortality data, however, and there are concerns that the death toll in China may be misleading since patients with coronavirus-like symptoms who die before being tested arenot countedtoward the official total.
"The reason the fatality rate in Wuhan is so much higher than in the rest of the region (of Hubei) is because, in the early stages of the outbreak, there were only three designated hospitals with 110 beds for patients who were critically ill, which was far from sufficient," Jiao said. "This led to some critically ill patients being treated in 20 additional hospitals … some of which lacked professional medical teams specializing in critical care."
Deliberately Transmitting Coronavirus Punishable by Death, Chinese Court Says
People who "intentionally transmit the coronavirus pathogen" may face the death penalty, according to a court in China's northeastern Heilongjiang province.
In anoticeMonday, the Heilongjiang High People's Court also said that individuals who "refuse to be tested, quarantined, or treated" may be sentenced to up to seven years in prison, while those who "fabricate or intentionally spread rumors" could receive up to 15 years' imprisonment.
According to the court, the announcement is intended to help contain the spread of the novel coronavirus that has killed nearly 500 people and infected over 24,000 others in China. The punishments are consistent with the country's criminal law, the court said.
On Wednesday, police in the eastern city of Weifangsummoneda person surnamed Zhang for "deliberately hiding travel history and contact with infectious people." Zhang had traveled outside Weifang to meet with several people but did not disclose these details with doctors and community workers after testing positive for the coronavirus.
A total of 68 medical staff, as well as 49 people who were in contact with Zhang in Weifang, have been quarantined. Zhang, too, has been quarantined, and police said they have "taken relevant measures" against the suspect, without elaborating.
Feb. 4, 2020
Novel Coronavirus: 425 Dead, Over 20,000 Infected in China
At least 64 people in China died of the novel coronavirus on Monday, bringing the death toll in the country to 425, according toofficial data.
On Tuesday morning, Hong Kong's hospital authorityconfirmedthe city's first coronavirus death, with a 39-year-old male patient becoming the second casualty outside the Chinese mainland. A 44-year-old Chinese man had died from the novel coronavirus in the Philippines on Feb. 2.
As of 11 a.m. Tuesday, there were 20,472 people in China infected with the novel coronavirus plus over 23,000 suspected cases nationwide, according to the National Health Commission. After China, Japan, Thailand, and Singapore have themost confirmed cases.
Wuhan To Convert Stadium, Exhibition Centers Into 'Shelter Hospitals'
Authorities in Wuhan are planning to convert three of the city's large venues into temporary medical facilities, similar to measures taken during past national emergencies such as earthquakes, local mediareportedTuesday.
The so-called shelter hospitals at Hongshan Stadium, Wuhan International Conference and Exhibition Center, and the "Wuhan Livingroom" cultural complex are expected to receive coronavirus patients who are in relatively stable condition, according to the report. Together, they will aim to provide beds for many of the city's 6,000 confirmed cases.
Meanwhile, Huoshenshan Hospital — a temporary quarantine hospital built in just 10 days — accepted its first group of coronavirus patients from other hospitals on Tuesday morning. Construction on another temporary quarantine facility, the 1,600-bed Leishenshan Hospital, is expected to finish Wednesday.
In addition to the three makeshift facilities announced Monday, at least three more shelter hospitals are expected to be organized soon to cope with the increasing number of coronavirus infections in Wuhan,accordingto local media.
Hubei Receives $2.5 Billion in Donations To Combat Coronavirus
Individuals and companies have donated over 17.2 billion yuan ($2.5 billion) to fight the coronavirus that has killed more than 400 people and infected over 20,000 others, Sixth Tone's sister publication The PaperreportedMonday.
The vast majority of the amount came from around 1,000 donors, according to the report, which cited data from the China Charity Alliance, a government-backed nonprofit. Donations from companies in the country accounted for 14 billion yuan, social organizations contributed 1.6 billion yuan, and the remaining amount came from individuals and other small-scale donors.
Hubei's provincial governmentsaidthat as of Saturday, it had received over 6.9 billion yuan, of which nearly 3 billion yuan had been specifically allocated for Wuhan, the epicenter of the coronavirus outbreak. The province has also received millions of items of donated medical equipment including face masks and disposable coveralls.
Despite such charitable efforts, hospitals in Wuhan and surrounding cities have said they still lack necessary protective gear and are appealing for more online donations.
On Tuesday, the discipline inspection commission of Hubei, where Wuhan is located,dismissedthe deputy head of the provincial Red Cross Society for "misconduct" after the groupreportedlydistributed 3,000 protective masks to a frontline hospital and 18,000 masks to hospitals not treating coronavirus patients, and then offered an unconvincing explanation as to why.
Mounting Int'l Travel Restrictions Amid Coronavirus Epidemic
As China attempts to contain the novel coronavirus that, since originating in the central city of Wuhan, has spread to around two dozen countries, several foreign governments have introduced travel restrictions to contain the spread of the virus that so far has infected over 20,000 people.
Hua Chunying, a spokesperson for China's Foreign Ministry,saidMonday that the "excessive measures" imposed by some countries, especially the United States, were an "overreaction" to the epidemic, and ran counter to the recommendation of the World Health Organization.
On Jan. 30, the WHO haddeclaredthe novel coronavirus epidemic a global public health emergency, though its chief said the organization "doesn't recommend any travel or trade restriction (involving China) based on the current information available."
TheUnited States,Australia, andSingaporewere among the first countries to respond to the coronavirus crisis with travel advisories, warning their citizens not to travel to China and banning foreigners from entry if they have been in China in the past 14 days.
In Asia,JapanandSouth Koreahave said they will bar foreign nationals who have visited Hubei province, the epicenter of the virus, from entering the country.
From Friday,Taiwanwill ban all non-residents who have visited the Chinese mainland in the last 14 days.
Meanwhile,the Philippineshas prohibited all foreigners arriving from the Chinese mainland, Hong Kong, and Macao, as well as anyone who has visited these places in the last 14 days.
Indiais cancelling visas already issued to Chinese nationals and to other foreigners who have visited China in the last 14 days. India is also suspending its e-visa application for Chinese citizens and foreigners in China.
Mongolia,Russia, andNorth Koreahave sealed off their land borders with China.
Israelhas issued a blanket ban on all foreigners entering the country by land, sea, or air.
As of Tuesday, over 30 airlines hadsuspendedflights to or from China due to the coronavirus epidemic, according to Reuters.
Coronavirus Can Survive 5 Days in Moderate Conditions, Expert Says
The Chinese team researching the novel coronavirus has learned more about the pathogen that has killed over 400 people and infected thousands worldwide.
Jiang Mengrong, a member of the expert team assembled by the National Health Commission, said during Monday'spress briefingthe team had discovered that the novel coronavirus can survive for up to five days in conditions of 20 degrees Celcius and 40% humidity.
Jiang reiterated that the coronavirus can be transmitted by touching infected surfaces such as door handles and elevator buttons. A test Monday of the door handle of an infectious patient's roomrevealed2019-nCoV nucleic acids, indicating the presence of the virus.
Qiu Haibo, another member of the team of experts, said there are several outcome scenarios for people with the virus. Those with robust immune systems may "self heal," while other patients might develop upper respiratory problems without necessarily showing symptoms. Still others may experience only mild symptoms such as fever and fatigue.
"Only a small proportion of patients will end up in critical condition," Qiu said.
Feb. 3, 2020
Coronavirus Death Toll at 361, With Over 17,200 Infected in China
At least 57 people in China died of the novel coronavirus on Sunday, bringing the death toll in the country to 361, according to official data. The number of deaths caused by the novel coronavirus now exceeds the number of deaths on the Chinese mainland from the 2002-2003 SARS epidemic.
On Sunday, Zhong Nanshan — the renowned scientist who helped expose the scale and severity of SARS and is among the leading experts tasked with managing the current novel coronavirus response —toldthe official Xinhua News Agency that the coronavirus epidemic would reach its peak in 10-14 days, backtracking from hisprevious predictionon Jan. 28 that the epidemic would peak 7-10 days from then, or sometime this week. He did not say why he had revised his projection.
Meanwhile, the coronavirus' suspected means of transmission have expanded from air droplets and close contact to include thefecal-oral pathway, and possibly others.
As of Sunday, a total of 17,205 people in China had tested positive for coronavirus infections, with 2,296 of them in "severe condition,"accordingto the National Health Commission. The commission also reported that 475 people have made have made full recoveries after becoming infected.
Children and Pregnant Women Susceptible to Coronavirus
Groups susceptible to the novel coronavirus include children and pregnant women, China's central governmentannouncedSunday. Gao Fu, the director of the Chinese Center for Disease Control and Prevention, had previouslysaidduring a Jan. 22 press conference that children were less likely to contract the virus.
On Monday, a 7-month-old baby was diagnosed with coronavirus in Shanghai,accordingto the city's health commission. A week earlier, a 9-month-old girl in Beijing became infected with the virus after her mom was diagnosed. Beijing mediareportedSunday that both the mother and her baby are in stable condition.
While such cases of babies and pregnant women becoming infected are concerning to many, there has not yet been evidence of neonatal transmission. On Jan. 31, the child of an infected woman was born healthy, testing negative for the coronavirus, according tolocal media.
In its statement Sunday, the central government called for greater attention to the two at-risk groups, and recommended that women with the coronavirus avoid breastfeeding their children.
First Pop-Up Hospital Completed, Handed Over to Military
Construction of Huoshenshan Hospital wascompletedSunday and handed over to the People's Liberation Army, China's military. The facility — located in the central city of Wuhan, where the coronavirus originated and remains most concentrated — will begin admitting patients from Monday.
The new 34,000-square-meter hospital with 1,000 beds will exclusively treat coronavirus patients. Its amenities include air conditioning, TVs, and air purifiers, according to official reports. Patients will be assigned to different wards of the hospital depending on the severity of their symptoms.
Online, some are worried that the hospital could pose an infection risk to residents living nearby, but local authorities have tried to assuage these fears, saying that the hospital is downwind from the city center of Wuhan, and that any exhaust or fumes being released from the facility will be disinfected.
To cope with the shortage of medical resources, China in late Januaryannouncedplans to build two temporary hospitals to accommodate Wuhan's growing number of coronavirus patients. The other facility, the 1,600-bed Leishenshan Hospital, is still under construction, though it is slated to be completed in two days.
International Scientists Lend Expertise to Coronavirus Crisis
As China grapples with the novel coronavirus that has infected over 17,000 people in the country, top scientists from around the world are contributing their expertise to help resolve the crisis.
Professor W. Ian Lipkin of Columbia University is known as one of the world's leading "virus hunters." On Jan. 29, helandedin the southern megacity of Guangzhou, where he was received by his Chinese counterpart, Zhong Nanshan, the leading figure behind China's coronavirus containment strategy.
This is the second time Lipkin has traveled to China at the invitation of the central government. The previous instance was during the height of the SARS epidemic in 2003.
A collective of Nobel Prize winners is also lending support to China's fight against the coronavirus. Since Jan. 24, Roger Kornberg, chairman of the World Laureates Association has been in contact with the world's top virus laboratories — including the Scripps Research Institute in California, Stanford University's biology department, and the medical sciences division at Oxford University — to share and collaborate on coronavirus research.
Feb. 2, 2020
Novel Coronavirus: 304 Dead in China, First Death Reported Abroad
At least 45 people in China died of the novel coronavirus Saturday, bringing the death toll in the country to 304, according to official data.
A 44-year-old Chinese man also died Saturday in the Philippines, becoming the first novel coronavirus casualty outside China, according tomedia reports. The man had traveled with his partner — the Philippines' first confirmed coronavirus case — from Wuhan on Jan. 21.
As of Sunday morning, there had been 14,380 confirmed coronavirus infections in China, with 2,110 patients in "severe condition," the National Health Commissionsaid. There are now nearly 20,000 suspected cases in the country.
A total of 328 people have made full recoveries after becoming infected, according to the commission. Some 163,844 close contacts of infected people have been identified so far, with around 137,594 of them under medical observation.
As of Saturday, 9,074 cases of novel coronavirus had beenreportedin the central Hubei province, including 4,109 in Wuhan, where the outbreak originated. An additional 1,002 cases have been identified in Huanggang, some 75 kilometers east of Wuhan, which has the second most cases of any city.
Outside the Chinese mainland, Hong Kong, Macao, and Taiwan have reported 30 cases in total. Globally, at least 140 cases have been reported in around two dozen countries.
Cities Enforce Rules for Keeping Residents Homebound
Authorities in at least two Chinese cities are taking drastic action to keep residents indoors and reduce the risk of infection.
To "minimize the flow of people, control the spread of the epidemic to the greatest extent, and ensure the life and health of the people," the city of Wenzhou in the eastern Zhejiang province has, since Saturday,requiredhouseholds to designate just one person who may go outside and purchase any essential items, such as groceries.
Until Feb. 8, anyone else is forbidden from leaving their home except to receive medical treatment or for other extenuating circumstances, city authorities said.
As of Saturday, 661 cases of pneumonia had beenreportedin Zhejiang, with Wenzhou having the most such patients of any city in the province. Similar movement restrictions have also beenimposedin Huanggang, the city in Hubei province with the most coronavirus infections after Wuhan.
Fecal-Oral Transmission of Coronavirus Confirmed
The novel coronavirus can infect people through fecal-oral transmission, in addition to air droplets and close contact, according tonew researchfrom Renmin Hospital of Wuhan University and the Wuhan Institute of Virology.
On Saturday, Shenzhen No. 3 People's Hospital in the southern Guangdong provincerevealedthat it had detected the 2019-nCoV nucleic acid in the feces of some pneumonia patients.
The novel coronavirus was also found in the feces of the first case confirmed in the United States, according toBloomberg.
Feb. 1, 2020
Novel Coronavirus: 259 Dead, Nearly 12,000 Infected in China
At least 46 people in China died of the novel coronavirus on Friday as the death toll in the country climbed to 259, according to official data.
As of 10 a.m. Saturday, there have been 11,791 confirmed cases, with 1,795 of them in "severe condition," the National Health Commissionsaid. There are currently 17,988 suspected cases in the country.
A total of 243 people have fully recovered after becoming infected, according to the commission. Some 136,987 close contacts of infected individuals have been identified so far, and 118,478 of them are under medical observation.
Outside of the Chinese mainland, Hong Kong, Macao, and Taiwan have reported 29 cases in total. New cases have been confirmed inRussiaand theU.K., giving at least 127 confirmed cases in 23 countries other than China.
'Rumormonger' Doctor Who Raised the Alarm Says He Has Coronavirus
A doctor in Wuhan who is believed to be one of the eight whistleblowers police reprimanded in early January for "spreading rumors" about a mysterious pneumonia has become infected with the coronavirus that causes it.
"Today's nucleic acid (novel coronavirus) test came back positive," Li Wenliang, an ophthalmologist at Wuhan Central Hospital, wrote Saturday morning on his Weibo microblog.
On Dec. 30, Li had examined the medical report of a patient whose condition seemed strikingly similar to SARS, also caused by a coronavirus. He decided to share this discovery with his former medical school classmates so that they might take appropriate precautions. In their class WeChat group, he sent a message that read: "Seven cases of SARS confirmed."
"After I sent the message, the police found me and made me sign an official letter of criticism," Li recounted in a Weibo post. According to a photo of the letter, the police chastised him for "making untrue comments" that had "severely disturbed the social order."
On Jan. 1, the Wuhan police announced on Weibo that eight people had been summoned and punished for "spreading rumors" about the city's pneumonia patients. However, after China's state broadcaster reported on Jan. 9 that a new type of coronavirus was responsible for the unusual number of pneumonia cases, people began to question whether the "rumormongers" had been unjustly punished. Then on Tuesday, the Supreme People's Court criticized the Wuhan police for reprimanding the whistleblowers.
Over the past week, Chinese netizens have heaped praise and encouragement on Li and the other whistleblowers, as well as scorn and criticism on the Wuhan police for trying to silence them in the early stages of what is now an international public health crisis.
The Wuhan Pneumonia Patient Trapped Between Despair and Hope
Zhang Chi is sick: His last CT scan showed that his pneumonia has spread from one lung to both. Since developing a fever and visiting a hospital on Jan. 21, Zhang still doesn't know what's wrong with his body. With each new hospital he visits, he is examined, prescribed medication, and told to go home.
The 39-year-old's requests to be tested for the coronavirus are repeatedly rejected: There's a shortage of test kits, and his comparatively mild symptoms make him a low-priority patient.
To avoid infecting his young daughter, Zhang moved out of his home and into a hotel. For over a week, he has been caught in a cycle of hospitals and community health centers, of high temperatures and normal temperatures. Now back at home with double pneumonia, Zhang is being looked after by his elderly parents.
On his last visit to a hospital on Jan. 30, Zhang received the same response as usual: "The doctor didn't tell me when I should come back for another CT scan or how long the recovery might take," he says. "I have no idea what's going on."
While it's difficult to estimate how many people in Wuhan are facing the same challenges as Zhang, he is almost certainly not alone.
Shanghai Asks Residents To Sign Up for Orderly Mask Distribution
Many people in China are struggling to obtain new face masks, with demand driven up by the novel coronavirus that has spread to every provincial-level region, as well as dozens of other countries. Authorities have strongly urged — and in some cities compelled — people to cover their noses and mouths with a mask as a precaution against the virus.
Last week, Chinese health experts said disposable masks should be worn daily and changed every two to four hours, in accordance with a new guideline from the Chinese Center for Disease Control and Prevention. However, amid dwindling supplies, some local disease control and prevention centers have recommended that people reuse disposable masks if they aren't "wet or dirty."
To alleviate the mask crunch, Shanghai's city government has been collaborating with local mask manufacturers and pharmacies since Jan. 28, aiming to ensure that the supply chain to residents is not disrupted. From Saturday, the city temporarily suspended the sale of masks at pharmacies in a bid to prevent crowds and chaos. Instead, would-be customers must now register with their neighborhood committees to receive vouchers for picking up masks from designated pharmacies beginning Monday.
People Flock To Buy TCM Syrup Alleged To 'Contain' Coronavirus
An influential state-run media outlet has urged Chinese consumers to think rationally after two medical institutes suggested that a common traditional Chinese medicine syrup could help "contain" the novel coronavirus, resulting in masses of people rushing to buy the product.
Shuanghuanglian, commonly used to treat sore throat and fever, does not "prevent" or "cure" the novel coronavirus, People's Dailywroteon its Weibo microblog, suggesting that people should refrain from falling for hyped-up but dubiously effective products during public health crises.
The buying frenzy started after the Shanghai Institute of Materia Medica and Wuhan Institute of Virologyreportedlytold the official Xinhua News Agency on Friday that Shuanghuanglian, with its antiviral, bacteriostatic, and immunity-enhancing components, could "contain" the novel coronavirus.
The following morning, people in Wuhan were seen lining up outside pharmacies to buy the syrup,accordingto Sixth Tone's sister publication The Paper. On Saturday, one box of Shuanghuanglian was selling at 35 yuan ($5) — a 10 yuan increase from the previous day — and customers were limited to five boxes each. The product was also sold out at many online stores.
According to the World Health Organization, there are currently no medical products that can prevent or treat the novel coronavirus. Scientists around the world, including in China, are currently studying the virus and working to develop a vaccine for it, though the process could take anywhere froma few monthstoover a year.
Epidemiologist Suggests, Without Evidence, Pets Are Coronavirus Vectors
Li Lanjuan, an epidemiologist and academician of the Chinese Academy of Engineering, raised a few eyebrows Wednesday when shesaidthat people should keep their pets away from "virus sources," as the novel coronavirus is transmitted between mammals, in an interview with state broadcaster China Central Television.
However, in a post the same day on microblogging platform Weibo, the World Health Organization, stated that there is noevidenceof the coronavirus being carried or transmitted by dogs or cats.
Nonetheless, some communities across China are tightening control on pets in public for fear that the animals might cause panic.
Several districts in the city of Weifang, in the eastern Shandong province, have issued ablanket banon dog-walking in public to "effectively prevent and control the epidemic, cut off the transmission path of the virus, prevent the spread of the epidemic, and ensure the health and personal safety of the people."
Meanwhile, a district in Taiyuan, a city in the northern Shanxi province, is requiring that all dogs be kept either indoors or tethered outside from Friday on, forbidding owners from taking them for walks at any time.
As International Airlines Suspend Service, China Sends Planes To Bring Hubei Residents Home
The Civil Aviation Administration of China sent chartered flights to Thailand, Malaysia, and Japan to pick up stranded Wuhan residents and return them to the city, state broadcaster China Central TelevisionreportedFriday.
The third flight, from Tokyo, was scheduled to land at Wuhan Tianhe International Airport at 5:50 a.m. Saturday. The three chartered flights repatriatedover 300passengers from Wuhan.
As of Friday evening, over 30 international airlines — including major U.S. carriers Delta, United, and American — hadsuspended flightsto China because of concerns over the coronavirus epidemic.
Our earlier coronavirus coverage can be found here.
(Header image: A taxi driver wears a face mask in Shanghai, Feb. 12, 2020. Wu Huiyuan/Sixth Tone)