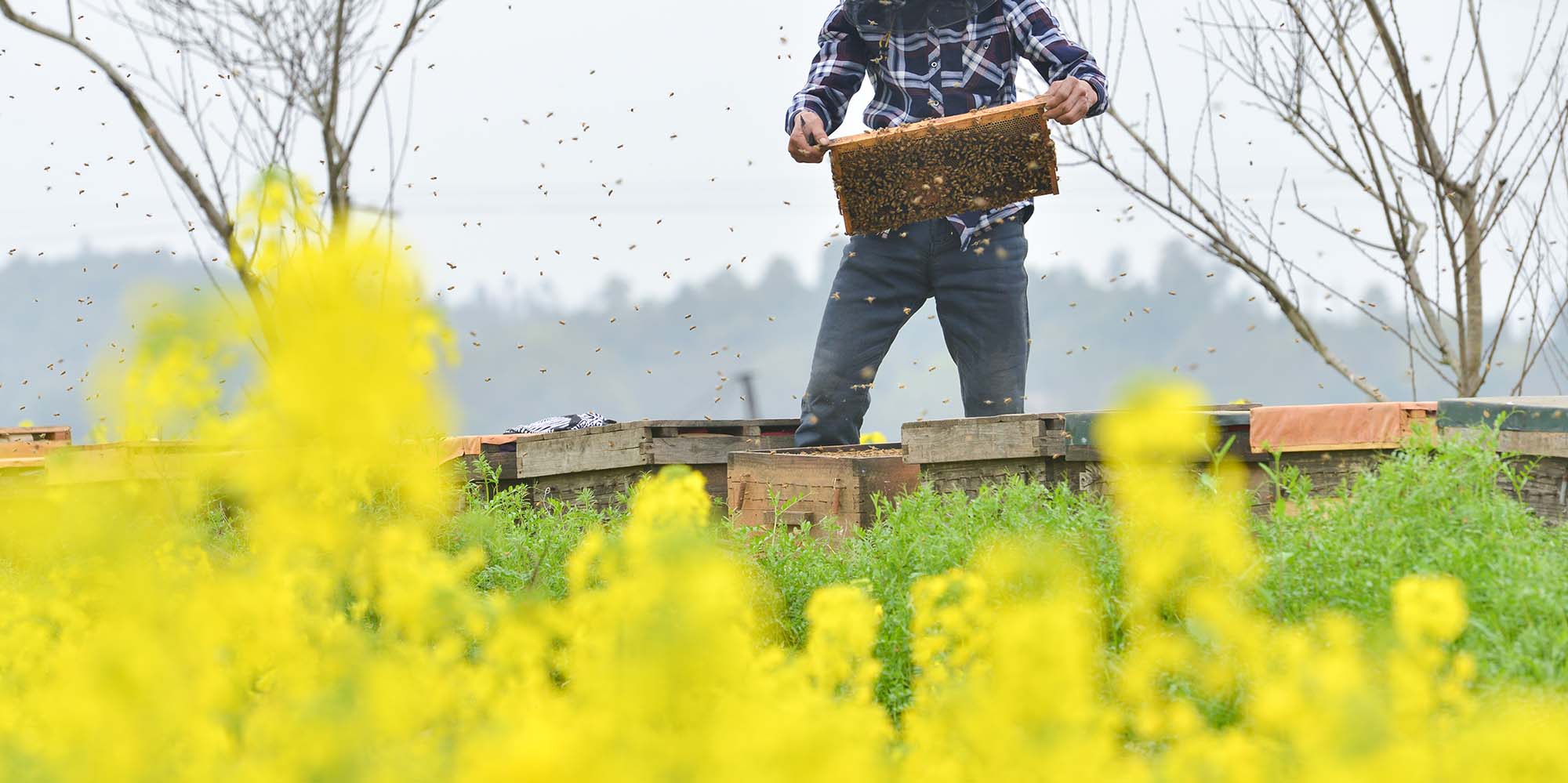 NEWS
China's Beekeepers Feel the Sting of COVID-19 Epidemic
The novel coronavirus and the movement restrictions being enforced to contain it are bad news for bees.
The novel coronavirus that had killed over 2,100 people in China as of Thursday is also gradually claiming another victim: China's beekeeping industry.
In a notice Feb. 15, the country's top beekeeping body, the Apicultural Science Association of China, mourned the death of a beekeeper who reportedly killed himself after all of his bees died of starvation in the southern Yunnan province, as local travel restrictions had made it impossible to buy feed for the colony or relocate it to an area where they could feed naturally.
To control the spread of the coronavirus, regions across China have imposed strict restrictions on the movement of vehicles and people, including sealing off roads and implementing approval systems for interregional transportation. Some "hardcore" containment measures have also include shutting down public spaces and barring residents from leaving their homes, sometimes literally.
But the epidemic prevention measures have also stopped many beekeepers — including the late Liu Decheng — from moving their colonies to new nectar sources to keep them nourished, according to the apicultural association.
"The bees are chasing flowers and honey," Wang Jianmei, the association's deputy general secretary, told Sixth Tone. "Many flowers in Yunnan are gone now, so he (Liu) had to move the bees to other areas — otherwise they were going to starve."
With the flowers near his colony not yielding sufficient nectar and many of his bees poisoned with pesticide, Liu was unable to keep his 100 or so beehives nourished after attempts to buy feed and relocate them were thwarted by local virus containment measures, Wang said.
Liu has two children and is the primary breadwinner for his family of six in Xichang, a rural area of the southwestern Sichuan province. After his death, some of his fellow beekeepers launched fundraising campaigns to help provide for his family, according to Wang.
China's central government has implored local authorities not to impose extreme controls on transportation channels in the name of epidemic containment. Since Feb. 15, bees and other "life necessities" including feed ingredients, poultry, livestock, and aquatic products have been eligible for a special green transport channel, according to an official guideline.
But the policy came too late for Liu. The 45-year-old was declared dead by local police in Yimen County on Feb. 13, an official surnamed Li from Liu's neighborhood committee told Sixth Tone. According to a leaked photo purportedly of Liu's death certificate, his body was found at an apiary. A team has been assembled to investigate the beekeeper's death, a spokesman surnamed Bai from the county publicity department told Sixth Tone.
China has over 9 million managed bee colonies, making it the world's largest beekeeping industry. In 2018, the country exported 542,500 tons of honey.
According to Wang, even after the green channel policy came into effect, some villages and townships were still taking hardline positions on people's movements, presenting potential headaches for beekeepers attempting to carry on an already-precarious tradition.
Zhang Ming, a beekeeper in Xiangxi Tujia and Miao Autonomous Prefecture in the central Hunan province, told Sixth Tone that because of the epidemic, he is now keeping his bees mainly in one place, even though this may affect the quality of their honey.
"Beekeeping is hard," the 35-year-old said. "This year it's especially hard."
Editor: David Paulk.
(Header image: Xinhua)