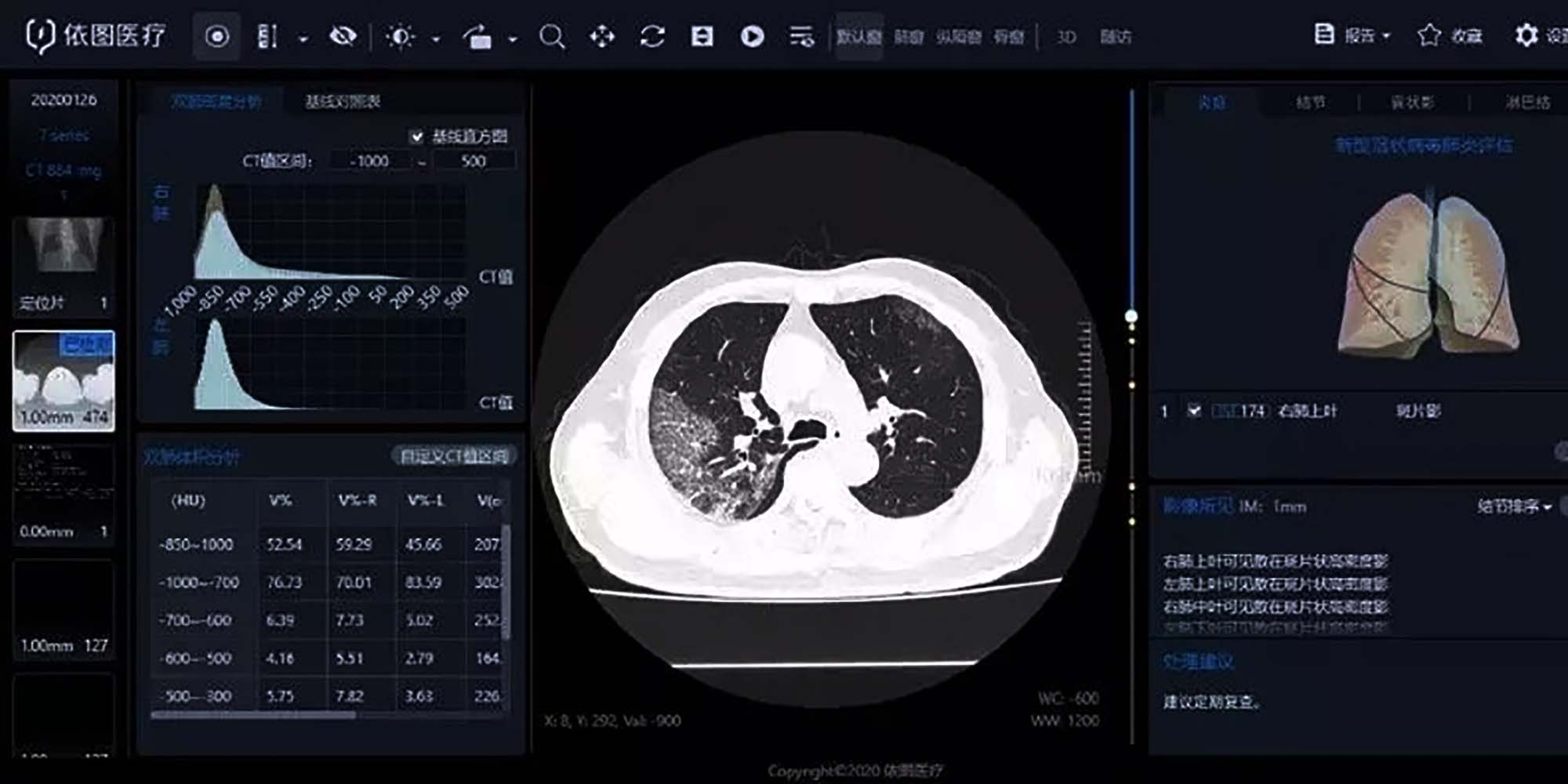 NEWS
Scan-Reading AI Systems Are Helping Doctors Diagnose COVID-19
One company says its system can detect viral pneumonia with 99% accuracy, but experts are skeptical of a similar product from Alibaba that claims to diagnose COVID-19 specifically with 96% accuracy.
Artificial intelligence is helping China's medical workers read COVID-19 patients' radiographic imaging in seconds rather than minutes. With higher processing speeds and calculation abilities, these machines can reduce doctors' workloads and dramatically speed up the diagnostic process, experts say.
"AI can reduce the time we spend analyzing a case by half," said Shan Fei, a senior radiologist at Shanghai Public Health Clinical Center. "But doctors will still be the ones making the diagnostic decisions."
According to the current national guidelines for diagnosing COVID-19, chest scan results are a key diagnostic marker. The CT scans of infected patients often show shadows over their lungs, a phenomenon called ground-glass opacity. Based on the size and position of these shadows, doctors can tell how far the disease has progressed.
But reading the scans isn't always straightforward. Each patient might have 300 to 400 scans, Shan told Sixth Tone, and analyzing them might take up to 10 minutes. Moreover, the process relies heavily on a doctor's experience because they have to eyeball the proportion of shadow relative to lung tissue for lack of a better tool, Shan said.
"During this epidemic, AI has been helping us evaluate disease progression and recovery," Shan said. "It can also discover minor pathological changes in the lungs at very early stages of the disease."
Since the beginning of the outbreak, Shanghai Public Health Clinical Center has collaborated with Yitu Technology, a locally based tech company, to develop an AI-equipped diagnostic assistant called the Intelligent Evaluation System of Chest CT for COVID-19.
Yitu has been working on an AI system for diagnosing lung cancers and tuberculosis using CT scans, according to Fang Cong, vice president of Yitu Healthcare's product team. So it took the company only a few days to build the pneumonia evaluation system and train it with COVID-19 data from the clinical center.
The system was rolled out at the center on Jan. 28. After letting it learn by processing a week's worth of extra data and receiving initial feedback, Yitu distributed the system to several hospitals in Wuhan, including Wuhan Union Hospital and Renmin Hospital of Wuhan University, two of the designated facilities for treating COVID-19.
"Radiologists, especially those at the epicenter, are reading thousands of scans every day," Fang told Sixth Tone. "One of their priorities is to quickly identify those who are in critical condition, and our system can do that in three seconds. As we're continuing to receive data and feedback from doctors, the system is becoming more sensitive and more accurate."
Reading CT scans isn't a challenging task for an AI system, and it's possible to train one within a very short period of time, according to Yang Yang, an AI expert at Shanghai Jiao Tong University. "There's a lot of research in the field of computer vision, so it's a relatively mature technology," Yang told Sixth Tone. "If you have a large amount of data, it's not impossible to train and develop a system that can read scans more accurately than doctors can."
Yitu isn't the only company that has created a scan-reading AI system. According to Shan, the Shanghai Public Health Clinical Center is also using another system developed by United Imaging, a local tech company. Shan said he and the team are still comparing the two systems to see which works better.
While Fang says Yitu's system can achieve 99% accuracy in detecting viral pneumonia, tech and e-commerce giant Alibaba claims that its own scan-reading AI can diagnose COVID-19 specifically with 96% accuracy.
However, experts are skeptical of such a high accuracy rate for COVID-19 pneumonia, as it has yet to be supported with evidence.
"COVID-19 is one type of viral pneumonia," Gong Xiangyang, a radiologist at Zhejiang Provincial People's Hospital, told Sixth Tone. "So on CT scans, COVID-19 can look identical to other kinds of pneumonia, such as the flu. We can't diagnose patients based on CT scans alone — we have to analyze the case using scans, epidemiological evidence, and nucleic acid tests. This 96% sounds like a PR gimmick."
Alibaba had not responded to Sixth Tone's interview request by time of publication.
The surge in AI products for fighting the novel coronavirus followed a Feb. 4 proposal from China's Ministry of Industry and Information Technology that urged AI organizations and companies to supply products capable of assisting national epidemic prevention and control efforts.
Two weeks later, the Shanghai AI Development Alliance on Feb. 16 published a list of nearly 300 AI systems that companies had suggested to support medical staff and help fight the virus, including cleaning robots, temperature-screening systems, and health chatbots.
"Technology is a double-edged sword," Gong said. "I'm glad to see how much it's helping doctors during this crisis. But we shouldn't rely on it too much, as some of our younger doctors are already doing. It's like how we got so used to navigation apps that we no longer trust our own judgement. Machines, as powerful as they are, still make mistakes — and the mistakes here are human lives."
Editor: David Paulk.
(Header imag: An AI system is used to analyze CT scans at the Shanghai Public Health Clinical Center, Feb. 6, 2020. From @知未科技 on Weibo)