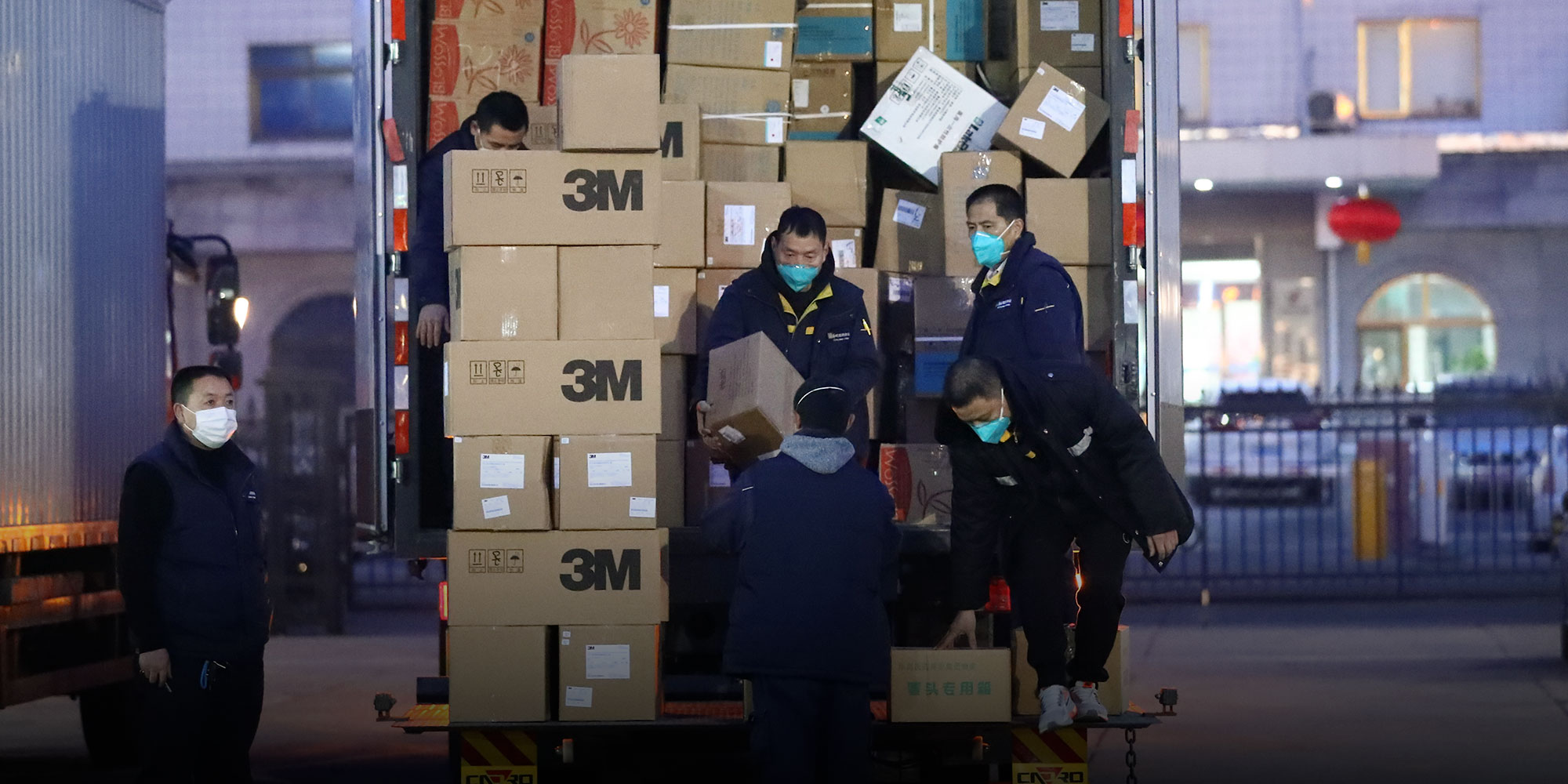 VOICES & OPINION
Civic Groups Want to Help Fight COVID-19. So Why's It So Hard?
Chinese social organizations have played important roles in past disaster relief efforts. Why were officials less receptive this time?
This Lunar New Year's Eve wasn't a particularly festive occasion. Although the annual televised Spring Festival Gala was as extravagant as ever, many people I know spent the night glued to their phones, swiping through a seemingly endless stream of photos and videos emanating from the central city of Wuhan: exhausted medical staff, overcrowded hospitals, and desperate patients begging for help.
That night, Chinese all around the world banded together to form volunteer groups dedicated to fighting the COVID-19 epidemic. In the weeks since, a number of people have told me they had never in their lives felt so urgently needed by their country. Many found it unbearable to stand by and watch.
Unofficial and grassroots voluntary organizations have been a critical component of China's disaster relief and reconstruction efforts for years. Over the past few weeks, these groups have been celebrated for rushing urgent supplies and assistance to areas in need — often faster than some more slow-footed official aid distribution channels.
Yet, perhaps because of the unique dimensions of the current crisis, not everyone has welcomed their efforts. Especially in the early days, there was noticeably less cooperation between the state and grassroots groups than during past disasters. Instead of proactively working with civil groups to fill gaps in response efforts, some local governments preferred to go it alone.
To understand why, it helps to know a little about the recent history of post-disaster state-society cooperation in China. The year 2008 is generally seen as a turning point for Chinese civil society, in part because of the crucial role social forces played in rescue and reconstruction work after the devastating Wenchuan earthquake in the southwestern Sichuan province that May. In the ensuing years, the country gradually seemed to recognize that the government cannot always handle everything on its own, and the state began cooperating more closely with social organizations — at least when it came to disaster response.
This was especially true in Sichuan, which experiences frequent earthquakes. After the 2013 Ya'an earthquake, officials in the province set up a center to coordinate grassroots groups and sought to bridge the gap between the government's requirements and social organizations' proposals. It also marked the first time that the national Ministry of Civil Affairs loosened rules requiring donations to be channeled through officially sanctioned groups, giving donors greater choice in where to allocate their resources.
By 2018, there were 817,000 registered social organizations in China, up from 266,000 at the time of the SARS outbreak in 2003. Many of these have now been operating for years, and organizers have cited their past experiences working in disaster rescue and reconstruction efforts elsewhere as a key reason for their quick responses this time.
Zhang, a 38-year-old Wuhan resident and member of a local driving club, told me he first got involved in social relief work after the Wenchuan earthquake and has spent much of the past decade helping organize rescues of stranded drivers. So when the COVID-19 epidemic broke out in his city, he had a firm idea of what was both needed and feasible given his resources. Mobilizing 200 members of his car club to provide rides to doctors and nurses, he set up a headquarters in a car dealership, established a management and registration system to arrange rides, and began offering disease prevention training.
Zhang's experience isn't unique. As the virus spread, other volunteer networks responded by offering psychological counseling services online — long before the national health authorities acknowledged the need for them. Organizers didn't have to wait for the official go-ahead: They knew from past disaster relief efforts the risks posed by stress and anxiety.
Compared with their state-affiliated counterparts, voluntary organizations tend to be more flexible and sensitive to unique or minority needs. Aid distributed through official channels is generally allocated from top to bottom, with big cities and top hospitals receiving priority.
As a result, staff at second- and third-tier hospitals — not to mention those in smaller towns — are often left scrambling for supplies, even though they are also at high risk of infection. Other important but lower-priority causes, like providing protective gear to funeral homes or hygienic products to female doctors on the front line, have an even harder time getting state attention and often go unresolved.
This leaves grassroots groups to fill in the gap. But with cities sealed off and traffic links cut, transporting aid requires close collaboration.
The fact that members have managed to successfully cooperate is a testament to their high levels of mutual trust. For example, alumni groups have played a significant role in the current crisis, in part because the members buying and shipping goods to hard-hit areas trust those in charge of distribution to make sure the aid gets where it's needed.
This stands in stark contrast to, say, public faith in many state-affiliated charities, some of which have been battered by scandals in recent years. Yet, in a step backward from Ya'an, officials initially required all donations to be routed through one of five nationally designated charity organizations. In a few areas, these charities simply requisitioned supplies collected by civic groups.
One potential reason for the state's frosty reception of grassroots aid is the fact that the current crisis is still unfolding — and there remains a real risk of infection. Previous examples of successful state-civil cooperation have generally come after the disaster was over.
To further complicate matters, natural disaster relief efforts are generally led by local or national civil affairs departments, which are used to dealing with civil society groups. The public health authorities are far less familiar with this kind of cooperation.
In a February article, Zhang Qiang, a risk analyst at Beijing Normal University, noted that the country's public health emergency response system was clearly less practiced at collaborating with social forces. "Public health emergency response systems are not just a government matter; they should engage all citizens," Zhang wrote.
Over the past three months, the state has also shown a clear preference for unified, centralized logistics. Such methods fit with the seemingly resurgent belief that a centralized state is best positioned to manage emerging problems.
But the state cannot manage everything on its own. The inefficiency of official channels was widely criticized in the early days of the crisis, as Wuhan struggled to get the virus under control. In particular, the five officially designated donation channels came under fire for how long they took to get donated medical protective gear to hospitals.
This has since led some local officials and state organs at the outbreak's epicenter to start forging closer links to volunteer groups. In Wuhan, the officially designated Hubei Charity Federation has been working with unofficial driver organizations since mid-February to distribute protective materials, in part because they are more efficient. And Huanggang, a small city that is among the hardest-hit areas in the country, is collaborating with an online volunteer group to provide residents and patients with psychological counseling and medical advice.
The services provided by volunteer and grassroots groups are often imperfect. But in the initial absence of an effective and quick official response, these organizations have played a key role in meeting residents' needs and allocating aid — thereby helping keep the crisis from spiraling out of control. The government should recognize social forces' value, and do what's necessary to encourage, utilize, and cooperate with them.
Editor: Kilian O'Donnell.
(Header image: Workers transfer medical supplies onto a plane bound for Wuhan, in Beijing, Jan. 27, 2020. Zhang Yuwei/Xinhua)