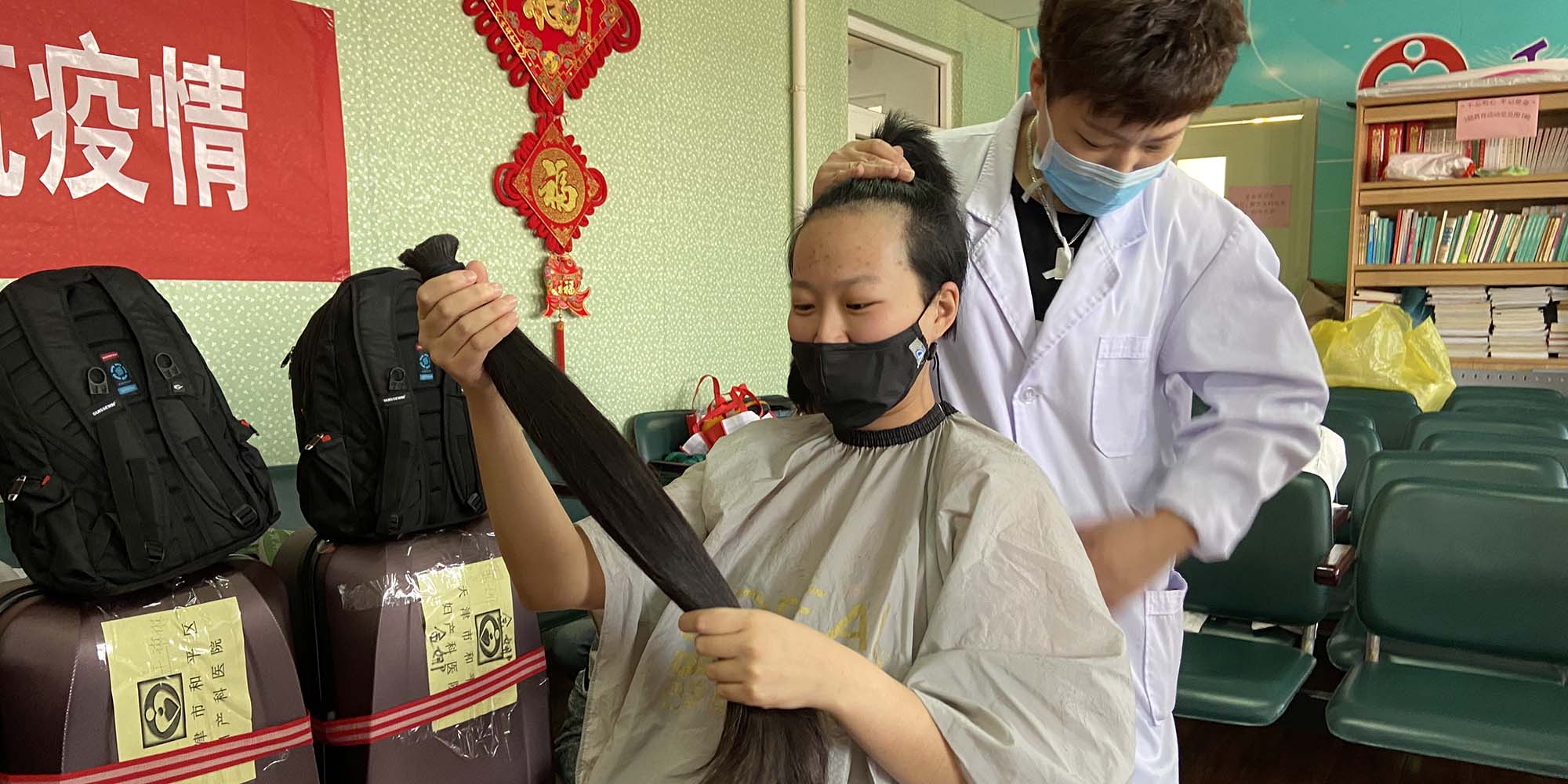 NEWS
Head-Shaving Video's 'Self-Sacrifice Rhetoric' Sparks Backlash
Women should not be used as propaganda tools in the fight against the coronavirus, critics say.
A video of female medical workers crying while having their heads shaved has sparked backlash on Chinese social media, with netizens slamming it as a shameful attempt to channel the sacrifices of the country's frontline medical staff to serve a political purpose.
In the now-deleted video first published by local media, 14 female staff from the Gansu Provincial Maternity and Child Care Hospital are seen having their heads shaved before being dispatched to Hubei province and the front lines of the novel coronavirus epidemic.
Because short hair is believed to be more practical for anyone wearing protective headgear or a hazmat suit all day, some hospitals have provided haircuts for their doctors and nurses by enlisting the services of volunteer barbers.
However, because some of the women in the head-shaving video are visibly crying, netizens have questioned whether they consented to the procedure, or whether it was forced upon them.
On social app WeChat, a scathing commentary titled "Please Stop Using Women's Bodies as Propaganda Tools" has been viewed over 100,000 times, the maximum number the app displays.
"It is understandable that the frontline situation is hard and having long hair may be inconvenient, but is there really no better solution? Why don't you just let them choose a short hairstyle that they want?" the article said. "Their tears were used to reach an audience. … I guess that's what the publicity officials want."
When reached by phone Tuesday, a staff member from the hospital's publicity department declined to comment, and calls to the leader of the medical aid team went unanswered.
Cai Bozheng, a barbershop owner in the southern city of Haikou, told Sixth Tone that he and his staff have given haircuts to over 1,000 medical workers who were on their way to Hubei province to assist with the COVID-19 treatment and containment efforts. Not one woman asked to have her head completely shaved, the barber said.
"Yesterday, some of the female medical workers told me they thought they might need to shave their heads and asked me whether they would have to cry like those women in the news did," Cai said. "I told them there was no need — that in addition to not shaving their heads, we would give them beautiful short hairstyles."
Cai said that although long hair can be inconvenient for working on the front lines, he believes completely shaving heads is unnecessary. Instead, he and his staff have come up with several short hairstyles for the female medical workers to choose from.
Sun Baihui, a researcher at Communication University of China in Beijing, believes this kind of publicity stunt demonstrates a failure to apply media ethics. People's criticism of the video isn't only about the women's heads being shaved, but also about them being used to achieve an ideological goal, she said.
"In the beginning, we were touched by these stories because they were authentic and real," Sun told Sixth Tone. "The problem is, after those videos, our media started seeking out those kinds of stories, which completely changed their nature."
Sun also believes such videos point to a bigger problem. The real issue, she says, is the patriarchal logic behind the "self-sacrifice rhetoric" that some Chinese media outlets are so eagerly appropriating.
"Some of our media really like the 'self-sacrifice' trope … with the logic being the use of sacrifice to make the aim seem noble," Sun said. "The video suggests the most important value for a woman is her hair — which symbolizes beauty and sex appeal — rather than her professional capacity as a medical worker."
This is not the first case of female frontline medical workers being treated inappropriately. Last week, Sixth Tone wrote about hospitals and health authorities overlooking women's needs for feminine hygiene products, and there have also been reports of pregnant women being summoned to Hubei, as well as frontline women being given progesterone to delay menstruation.
Editor: David Paulk.
(Header image: A nurse has her head shaved before leaving to serve on the front lines of the coronavirus epidemic, Tianjin, Feb. 9, 2020. Zhang Yuqi/Xinhua)