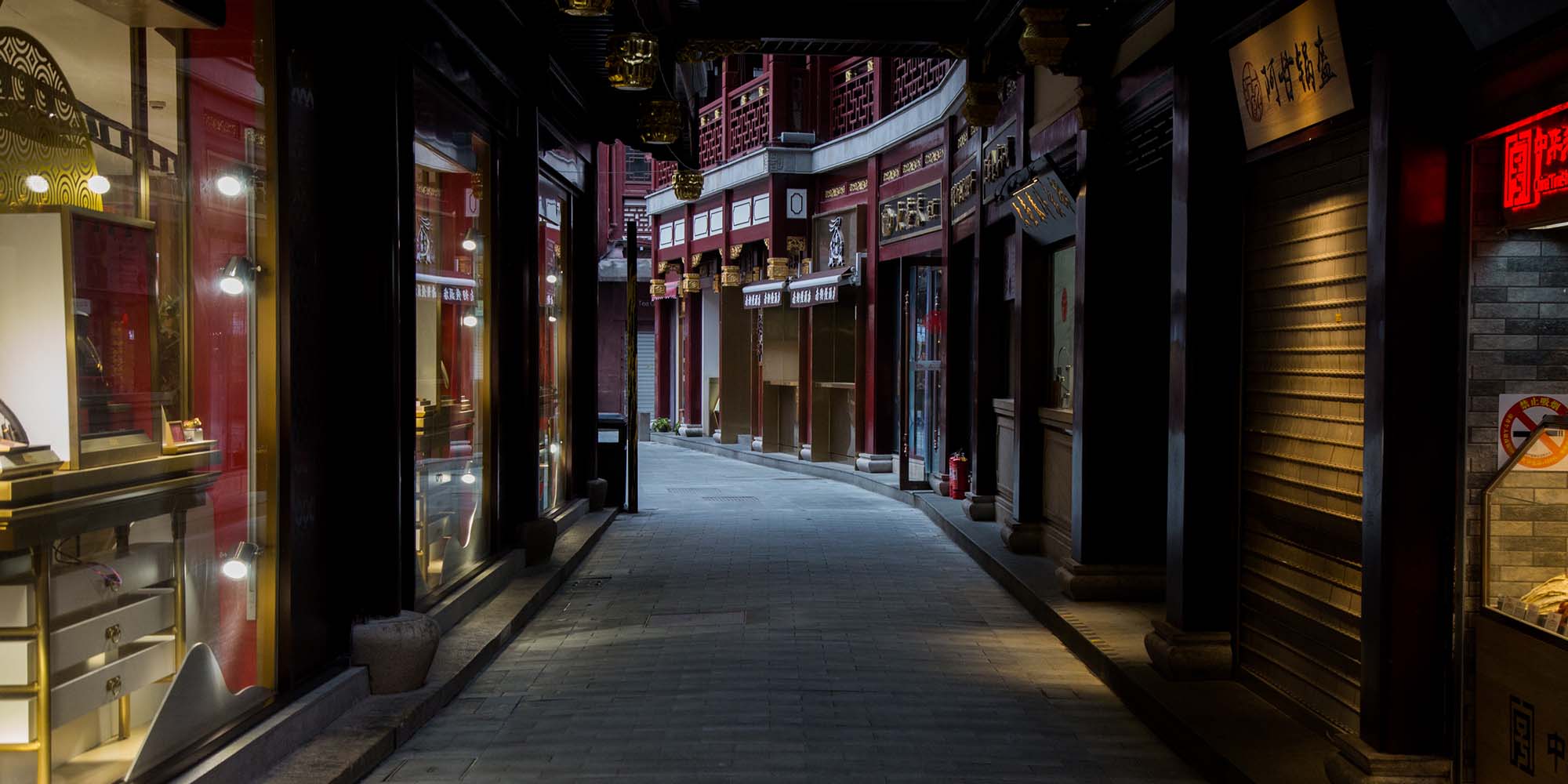 FEATURES
Epidemic Leaves China's Already-Frail Small Businesses Gasping for Air
The country's small- and medium-sized businesses are being hit hardest by the coronavirus, and experts worry that delayed work could have a lasting impact on the domestic economy.
Zhang Liang'en, the owner of a home appliances sales company in southern China's Guangdong province, had a roller coaster of a Monday. It began with the frustrating realization that his business might not qualify to resume work because it did not have enough face masks on hand to meet a strict local approval standard.
As China apprehensively returns to work after an unusually long Lunar New Year holiday, concerns over the COVID-19 epidemic — which by Tuesday had killed over 1,800 people in the country and infected more than 72,000 worldwide — are presenting unresolved obstacles for businesses hoping to resume their normal operations, with small- and medium-sized firms especially vulnerable to a protracted crisis.
The central government has suggested that businesses may be "held accountable" if their employees contract the coronavirus at work. Before businesses could open Monday morning, the government of Zhongshan, where Zhang's company is based, asked them to prepare enough health supplies — disinfectant and face masks, among other items — to pass a required inspection and ensure safe working spaces for their employees, according to Zhang.
But face masks and disinfectant products are in short supply and difficult to buy in bulk. Given that Zhang's business could be unable to reopen without these essential items, his 15 or so employees face an existential threat.
"(We) had originally planned to resume work on Feb. 1, then get new stock shipments one after another from mid-February," Zhang told Sixth Tone. "Now, our 'food' is about to run out."
Before Zhang could sort out how to appease the inspectors, however, the authorities had a change of heart: That afternoon, he was informed that the approval requirements had been relaxed, meaning he would be able to open his shop after all.
With the go-ahead secured, Zhang is hurriedly making arrangements to resume operations, though there is some uncertainty about whether his suppliers will also be permitted to start working again.
Zhang has other lingering concerns, too. Crippled logistics networks have resulted in a shortage of raw materials, and with many city governments in China still restricting people's movements to varying degrees, small- and medium-sized companies like his that don't have substantial reserves of products to sell are left to fend for themselves. 
"Even if you find another supplier, it's useless because the logistics networks are disrupted," Zhang said.
Many small businesses in China are facing similar predicaments. In a survey of 1,079 domestic companies published Saturday on social app WeChat, researchers from Tsinghua and Peking universities found that small firms and startups were most at risk during the COVID-19 epidemic. And over 80% of small companies — which the poll defined as having with less than 300 million yuan ($42.8 million) in total assets — said they expected to generate less revenue in 2020 than in the previous year due to the current challenges.
While essential and state-dominated sectors like energy have largely gone back to work, local governments' restrictive reopening policies for private businesses have left some owners unsure of their next steps. Smaller firms in industries that rely on a floating labor force — China's millions of migrant workers — have found it particularly hard to resume operations.
Some cities and villages have imposed so-called hardcore quarantine measures aimed at containing the virus, from shutting down public spaces and putting up roadblocks to barring nearly all residents from leaving their homes. Such draconian policies have only made it harder for people to return to their regular jobs.
Shen Chaowen, who owns a home appliances manufacturing company in Lianjiang, another city in Guangdong, doesn't know when he'll be able to reopen his business. He has asked his 130 or so employees to remain in their hometowns until further notice and is worried the current situation won't remain tenable for long.
"It'd be best to start back up at the end of this month — otherwise we won't be able to afford our turnover," Shen told Sixth Tone, referring to raw materials and other expenses.
Shen's company is a rising star in Lianjiang, with its products exported as far as Brazil. But his business has been completely disrupted by the epidemic. With work undone and cargo undelivered, Shen has been forced to ask his business partners to let him delay delivery on their orders until March. Shen is also negotiating with his employees, most of whom are still at home, to be paid reduced salaries for at least a month.
"Yeah, I'm worried — it's impossible not to be," Shen said. "But worrying doesn't help. All you can do now is wait and talk patiently with the government."
For China's private firms, tight cash flow is a constant concern, and the COVID-19 epidemic has only exacerbated this problem. More than 40% of private companies don't have the financial resources to last longer than three months without continued income, according to a survey published Monday by the University of International Business and Economics in Beijing. The survey found that, on the other hand, more than half of China's state-owned enterprises could survive solely off of their coffers for over a year.
To ease the cash crunch on businesses, the Lianjiang government is allowing them to defer payment of their taxes and utilities until further notice, and banks have granted business owners like Shen a grace period on interest rate payments. "Of course this helps a lot," Shen said. "When you can't resume business, where is the money to pay the bills?"
Shen's suppliers of raw materials like steel plate are also hoping his company will open its doors soon. "The upstream suppliers are all looking at us. When we start, they can start," he said.
China is the world's leading consumer and manufacturer of home appliances, and small- and medium-sized companies like Zhang's and Shen's prop up the highly competitive sector. According to market research firm Gartner, the major consequences of the COVID-19 epidemic in China — labor and raw material shortages, restrictions on travel and logistics, and less-positive consumer demand — could impact the global supply chain.
Experts are also worried about the epidemic's potential ripple effects on China's economy, as interconnectivity brings inherent risks to the supply chain.
"Businesses are all in the same boat," Huang Shaoqing, associate professor of applied economics at Shanghai Jiao Tong University, told Sixth Tone. "If production is not resumed as soon as possible, it is likely that, on the macroeconomic level, the external shock could bring about a considerable decrease in this year's total output."
Warning signs of the long-term risks are already beginning to show. In early February, Hyundai closed all of its car plants in South Korea due to a shortage of parts from its China-based suppliers. The automaker has only recently begun reopening them, relying heavily on shipments from Southeast Asia.
"It (the disruption) could be unfavorable to China's businesses," said Hu Xiaohui, associate professor of economic geography at Zhejiang University of Finance and Economics. "Major international firms could go to other places like Southeast Asia to support their supply chains, leaving small- and medium-sized manufacturing firms already at the lower end of the global value chain with little chance of survival."
"In order to prevent an isolated phenomenon (some suppliers leaving the country) from becoming a megatrend and a very common phenomenon, the Chinese government at all levels must actively help (businesses resume work)," said Huang.
Such concerns have compelled the authorities to take action in helping domestic companies stay afloat. Restrictions on transportation have been eased in several cities and waived entirely in the eastern Jiangxi province, where returnees from areas less severely affected by the virus are no longer subject to compulsory quarantine. Less-developed provinces like Guizhou, meanwhile, are arranging chartered vehicles to help people return to the cities in which they live and work. And in the coastal city of Fuzhou, returnees are being tested for COVID-19 to dispel concerns of local infection.
Chinese state media also reported that mobile payment giant Alipay has developed a color-coded health monitoring system to ensure that returnees to urban areas resume work safely: Green means "healthy," yellow means "low risk" (up to one week of quarantine), and red means "high risk" (two weeks' quarantine). The service is being used throughout Zhejiang after a trial in its provincial capital of Hangzhou, and could soon be expanded nationwide.
Huang, the economics professor, believes such moves could be useful in managing the ongoing back-to-work period.
"The battle against the coronavirus has been turned into one of political correctness," Huang said, referring to some governments' extreme containment measures. "Now that we know small- and medium-sized companies are under tremendous pressures (to survive), officials in these places should take note."
Editor: David Paulk.
(Header image: An empty alley at Yu Garden during the Lantern Festival holiday in Shanghai, Feb. 8, 2020. Shi Yangkun/Sixth Tone)