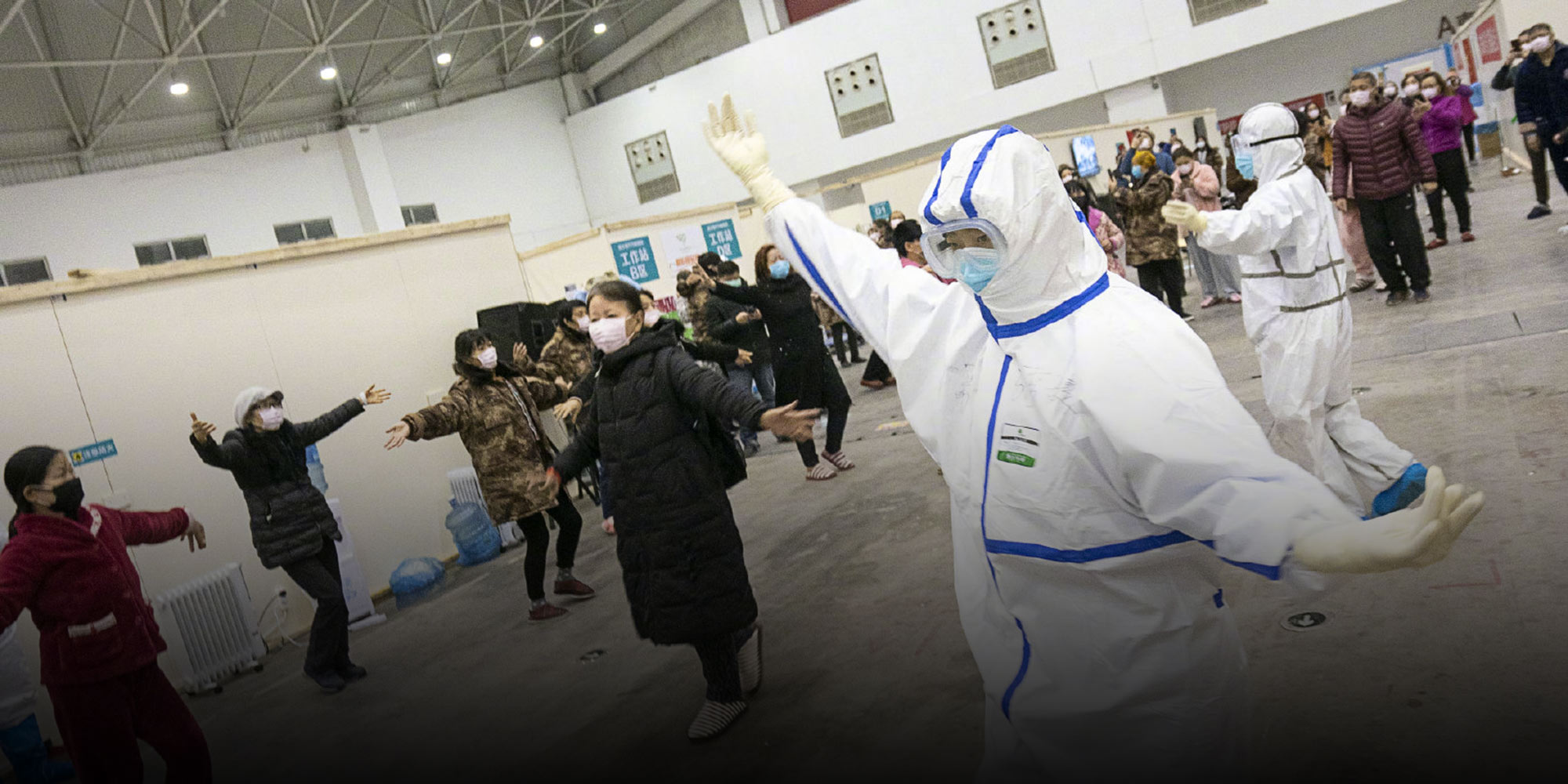 NEWS
To Cope With Anxiety, Coronavirus Patients Do the Safety Dance
Medical staff at Wuhan's "shelter hospitals" are coming up with creative ways to buoy the spirits of their bored and homesick patients.
Videos of masked coronavirus patients square dancing with their doctors in full hazmat suits were widely circulated on Chinese social media this week, shedding light on how patients and medical workers are finding psychological solace amid the ongoing coronavirus epidemic.
As of Friday, COVID-19 had killed over 1,300 people in China — most of them in the central Hubei province, where the coronavirus outbreak originated — and infected over 60,000 worldwide.
Given the shortage of mental health professionals, other medical workers have had to think creatively to cope with the sometimes-grim reality. At several of Wuhan's fangcang — exhibition centers, stadiums, and other public venues that have been converted into temporary "shelter hospitals" — patients have embraced square dancing and tai chi to stay healthy in mind and body.
"The patients feel heavy-hearted being quarantined at the hospital, so our staff have arranged for them to dance for half an hour after dinner," said Zhou Junhui, head nurse at Zhongnan Hospital of Wuhan University. "Square dancing cheers them up and improves their immunity, which in turn helps them recover."
Because of a dire shortage of beds at Wuhan's overstreched hospitals, over 4,300 patients with relatively mild symptoms have been sent to the city's seven fangcang. Mental health professionals regularly visit these facilities to offer counseling services, and have set up chat groups, online forums, and hotlines for use by both patients and medical workers who need to unburden themselves.
But there are still too few of these sorely needed specialists to go around, according to Xiao Jinsong, a senior counselor at Zhongnan Hospital.
"Psychological services are necessary to prevent post-traumatic stress disorder," Zhao Xudong, a professor of psychiatry at Tongji University in Shanghai, told Sixth Tone. "Some people cannot bear the lingering impact of their trauma."
So-called primitive fears — fear of strange surroundings, closed spaces, the unknown, or death, for example — can consume people's emotions, said Zhang Chun, director of the Nanjing Psychological Crisis Intervention Center. As a result, Zhang added, they may experience anxiety, general dissatisfaction, or even aggressive behavior.
To help mitigate such negative emotions, Wuhan's fangcang have established radio stations, book clubs, and counseling groups for their patients.
Xu Feng, a pseudonym for a patient at one of the shelter hospitals, described how the coronavirus has torn families apart. Some of those who are admitted may have lost a parent or a spouse to the epidemic, he said — but for the sake of their relatives who are still alive, they must remain strong.
"To society, we may be just a small part," he said. "To our families, we may be everything."
Contributions: Zhao Siwei and Zhu Wenbo.
(Header image: Medical workers lead a square dance activity for patients at a "shelter hospital" in Wuhan, Hubei province, February 2020. Xiong Qi/Xinhua)