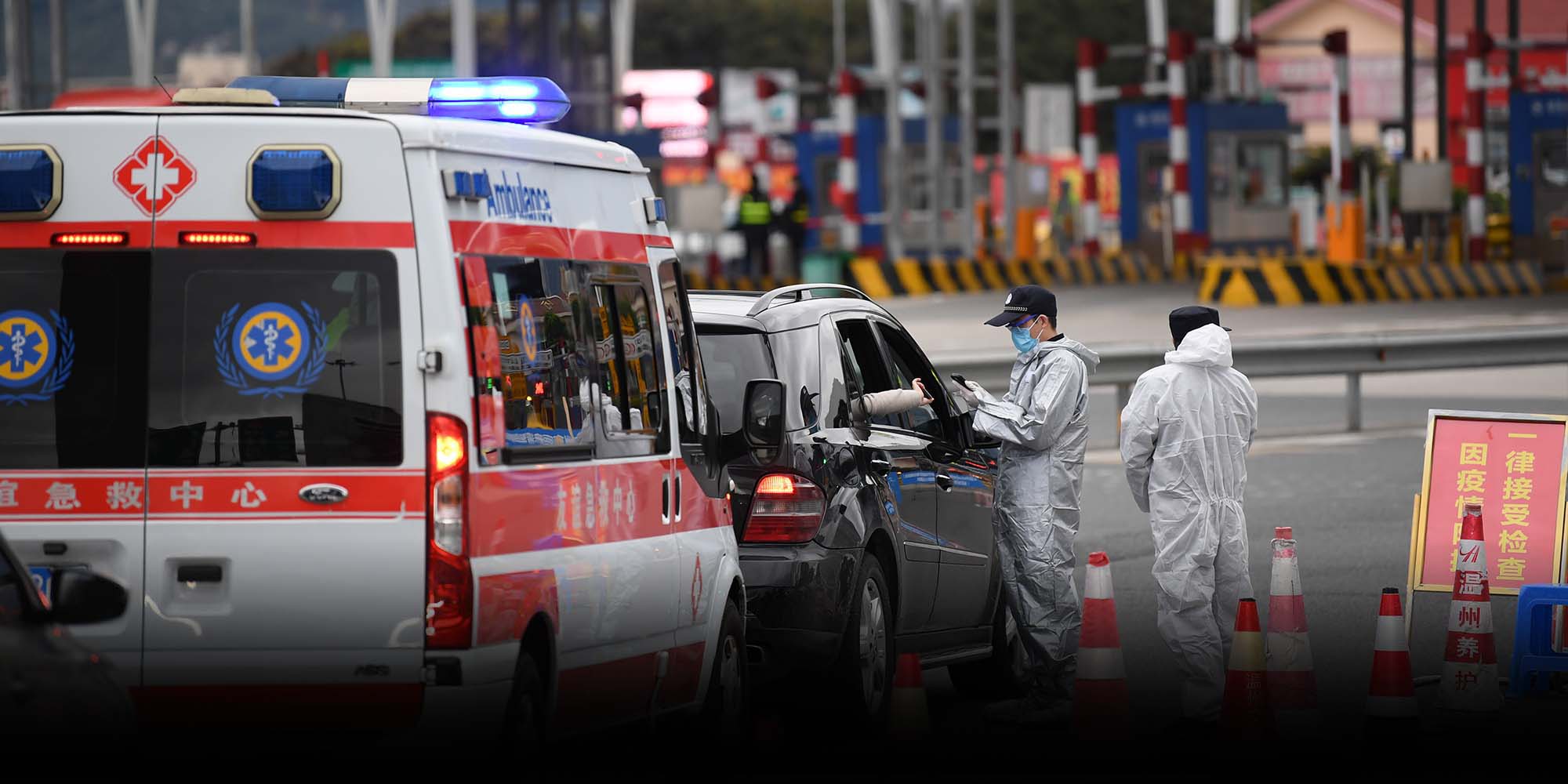 FEATURES
How Wenzhou, 900 km From Wuhan, Went Into Total Lockdown
Despite being halfway across China from the epicenter of the COVID-19 outbreak, the coastal city has been hit hard by the virus.
Lüzhang Village usually comes to life around the Lunar New Year holiday, with neighbors setting off firecrackers and gathering for mahjong games and boozy feasts. But for the past three weeks, Lüzhang's 100 or so families have kept their doors firmly shut. Only the occasional rooster crow breaks the silence.
The village, which sits on the edge of the eastern city of Wenzhou, is under a full lockdown as authorities take drastic measures to prevent the spread of the COVID-19 virus that has killed over 1,300 people in China as of Feb. 14. Residents are only allowed to leave their homes once every two days to buy groceries — and must present a specially issued pass to do so.
The atmosphere among locals is tense, and their anxieties are focused on one house in particular: a four-story structure with a shiny SUV parked outside. The car's license plate indicates it was registered in Wuhan, the city where the novel coronavirus emerged in December.
The SUV's owner is Xia Xiaochai, a 38-year-old Lüzhang native who has spent the past decade running a business in central China. His annual trips back to his hometown are normally filled with joyful reunions, but since Jan. 23, he and his family haven't left the house once.
"I know they (the villagers) are all afraid of me," Xia tells Sixth Tone.
Xia is part of an enormous tribe of traveling Wenzhou entrepreneurs who have unwittingly brought their hometown to a standstill, with the coastal city facing one of the most serious COVID-19 outbreaks outside Hubei province — the center of the epidemic.
Wenzhou is famous across China for its savvy businesspeople, who have moved across the world in vast numbers in search of new moneymaking opportunities. There are an estimated 1.6 million people from Wenzhou running businesses in other parts of China, and another 600,000 overseas.
And one of the largest magnets for the city's diaspora has been Wuhan. Migrants from Wenzhou set up a chamber of commerce in Wuhan in 1997, and within a decade there were an estimated 170,000 Wenzhou businesspeople working in the city. Xia made the move in 2009, setting up a beauty parlor in downtown Wuhan.
"The street is full of beauty salons that are all run by Wenzhou businesspeople," says Xia. "We also dominate the local shoe, garment, infrastructure construction, and hardware industries."
The thriving community, however, became a liability for their hometown after COVID-19 began to spread rapidly through Wuhan. As the situation deteriorated through January, thousands returned to Wenzhou to celebrate the Lunar New Year — or simply to escape the epidemic. The virus came with them.
By Jan. 29, there were 172 confirmed cases of COVID-19 in Wenzhou, the highest figure for any city outside Hubei province. Of the 58 people diagnosed with the disease that day, 60% were people who had recently returned from Wuhan.
"We've found that the incidence of virus infections has risen in direct proportion to the number of returning Wenzhou people," Tang Xiaoshu, Wenzhou's deputy mayor, told reporters at a Jan. 29 press conference.
The risks weren't difficult to foresee given the size of Wenzhou's diaspora. Wenzhou authorities started taking action to contain the risks of an outbreak Jan. 20 — the day Zhong Nanshan, the virus expert famous for his work during the 2003 SARS epidemic, revealed that COVID-19 was capable of human-to-human transmission.
Four days before the start of the Lunar New Year holiday, officials contacted the Wenzhou chamber of commerce in Wuhan, telling them to stop Wenzhou businesspeople from returning to their hometown.
"We did issue a notice on Jan. 20, encouraging Wenzhou people not to return home for the upcoming holiday," Yang Buqing, secretary-general of the Wenzhou chamber of commerce in Hubei province, tells Sixth Tone.
The message, however, appeared to have almost no impact. By Jan. 29, 33,000 people had returned to Wenzhou from Wuhan and its neighboring cities. The flood of returnees continued even after Wuhan imposed a lockdown Jan. 23, cutting off almost all air, road, and rail transportation, with 3,600 people arriving from Wuhan each day on average. According to Yang, most — if not all — the Wenzhou people she knows have left Wuhan. 
Xia got out the same day the chamber of commerce issued its notice. He, his wife, two children, and over a dozen relatives drove the 900 kilometers back to Lüzhang in a convoy of four cars.
At that point, Wuhan didn't feel like a city in the grip of a public health crisis, according to Xia. He was mainly concerned with getting home ahead of the holiday.
"The atmosphere in Wuhan was just like usual — nobody was wearing a mask," says Xia, who is also deputy chairman of the Wenzhou chamber of commerce in Wuhan. "My thoughts back then were that my elderly mother was waiting for me at home, and I hadn't seen her for a whole year. I had to go."
After arriving home, Xia's family started their traditional Lunar New Year routine: hosting big family gatherings. They ate and had fun together for two days. 
The next day, however, Xia heard about the lockdown in Wuhan. He realized that the issue might be more serious than he'd imagined. The same day, his brother-in-law — who had also just returned from Wuhan — tested positive for COVID-19 after going to the hospital, saying he felt unwell.
"I was paying attention to the issue and wasn't really worried (until then)," says Xia. "But I really freaked out after my brother-in-law was diagnosed. I started to receive numerous calls from disease control staff from the village, township, county, and city-level departments."
Lüzhang immediately banned all cars with Wuhan license plates from entering the village, and refused entry to almost all outsiders — a practice enforced in many rural areas across China. Xia and around 20 family members, who had attended a dinner with the confirmed patient, were ordered to stay indoors for a two-week observation period — later extended to three weeks.
Village officials came to disinfect Xia's car and his entire house. They told Xia to call an emergency number if any family members felt any form of discomfort. The local party secretary has been delivering food to Xia's home each day, to ensure the family doesn't go outside under any circumstances.
New cases of COVID-19, however, continued to emerge across Wenzhou. On Feb. 2, the city took the tough step of confining all of its 8 million residents to their homes, with just one person from each household allowed to go outside once every two days to buy food. Wenzhou was the second city nationwide — after Huanggang, which borders Wuhan — to implement this extreme policy.
Two days later, Wenzhou cut off all transportation connections with the outside world. Authorities began offering a 1,000-yuan ($140) reward for any tipoffs regarding the whereabouts of returnees from Hubei.
As other Chinese cities gradually return to work, Wenzhou still appears almost deserted. Cheng Lu, who lives in the city center, tells Sixth Tone she barely recognizes her hometown.
A few days ago, on her way to the supermarket, the 29-year-old passed Gongyuan Road — home to many of Wenzhou's most popular tourist attractions, including a Confucius temple. 
"Big crowds used to pack this street during festivals, but now the place is empty, though red lanterns still hang from the lampposts on both sides of the street," says Cheng. "There was a banner at the entrance of the street, saying, 'discover early, report early, quarantine early, treat early: Be responsible for yourself and others!'"
According to Cheng, there were no vehicles on the streets except for police cars and ambulances, and almost all the stores are closed, though many still have their LED advertising panels switched on. 
Wenzhou's businesses have to file an application to the local authorities to reopen. So far, however, the city is mostly granting permission only to companies manufacturing much-needed supplies, such as face masks and hazmat-style protective uniforms, local officials have said.
Some residential communities, meanwhile, have tightened restrictions even more. Community officials have started purchasing groceries on behalf of residents, so that they don't have to go outside at all. Photos have emerged showing hundreds of identical rations of fresh food laid out on housing complex courtyards.
On the whole, local residents are supportive of the restrictions, Cheng says. When she posted a photo of the empty streets to WeChat, many of her friends expressed sadness, but also left comments such as, "by staying at home, we can save the disease-control workers from extra worries," or, "everything will be OK if we follow the guidelines now."
Xia, the Wuhan returnee, agrees with this sentiment. "Wenzhou people are known for their business skills, but one key factor to our success is our unity," he says. "We're always united in the face of difficulties. The fight against the coronavirus won't be an exception."
On Thursday, Xia and his family finally completed the extended observation period. Luckily, no more family members have developed any abnormal symptoms.
Throughout the quarantine, a bright red sign hung on Xia's front door, announcing the date until which the family was required to stay inside. Lüzhang officials, however, refrained from sealing the house with tape or metal bars, as has reportedly happened elsewhere in the region.
"Self-discipline is very important in this period," says Xia. "If I were them (the other villagers), I'd be terrified as well. I experienced the 2008 Wenchuan earthquake, as I was doing business in (the southwestern province) Sichuan back then. But honestly, the fear brought about by that major earthquake was nothing compared with how this epidemic has struck me."
After a rapid increase in infections early February, the number of new COVID-19 cases in Wenzhou has slowed. There have been a total of 496 confirmed patients in the city as of Feb. 13, of which 140 have fully recovered. No deaths have been reported so far. Xia's brother-in-law is still receiving treatment at a hospital in central Wenzhou. 
"He kept coughing, but he feels lucky compared with those who are sick in Wuhan," says Xia. "In Wenzhou, one patient is taken care of by a team of medical workers. The entire hospital pays great attention to his condition. We all see what's happening to patients in Wuhan."
For this reason, Xia says he understands why many people evaded the lockdown in Wuhan and returned to Wenzhou, even though they ran the risk of bringing the epidemic with them.
"I'm totally with them!" says Xia. "Just imagine if I'd stayed there and contracted the virus — what could I do? The waiting times to get treated are too long, and it's making people desperate."
Xia has no idea when he'll be able to return to Wuhan. "But we'll definitely go back: Our entire business and lives are there," he says. His two children both attend school in the city.
The epidemic, however, has actually renewed Xia's love for Wenzhou. He may start investing more in the city in the future, he says.
"I take pride in my hometown," says Xia. "Even during such a big crisis, the impression I've had is that everything has been orderly, and people are complying with the government's policies."
Editor: Dominic Morgan.
(Header image: Two men perform quarantine at the highway exit to Wenzhou, Feb. 7, 2020. Xinhua)