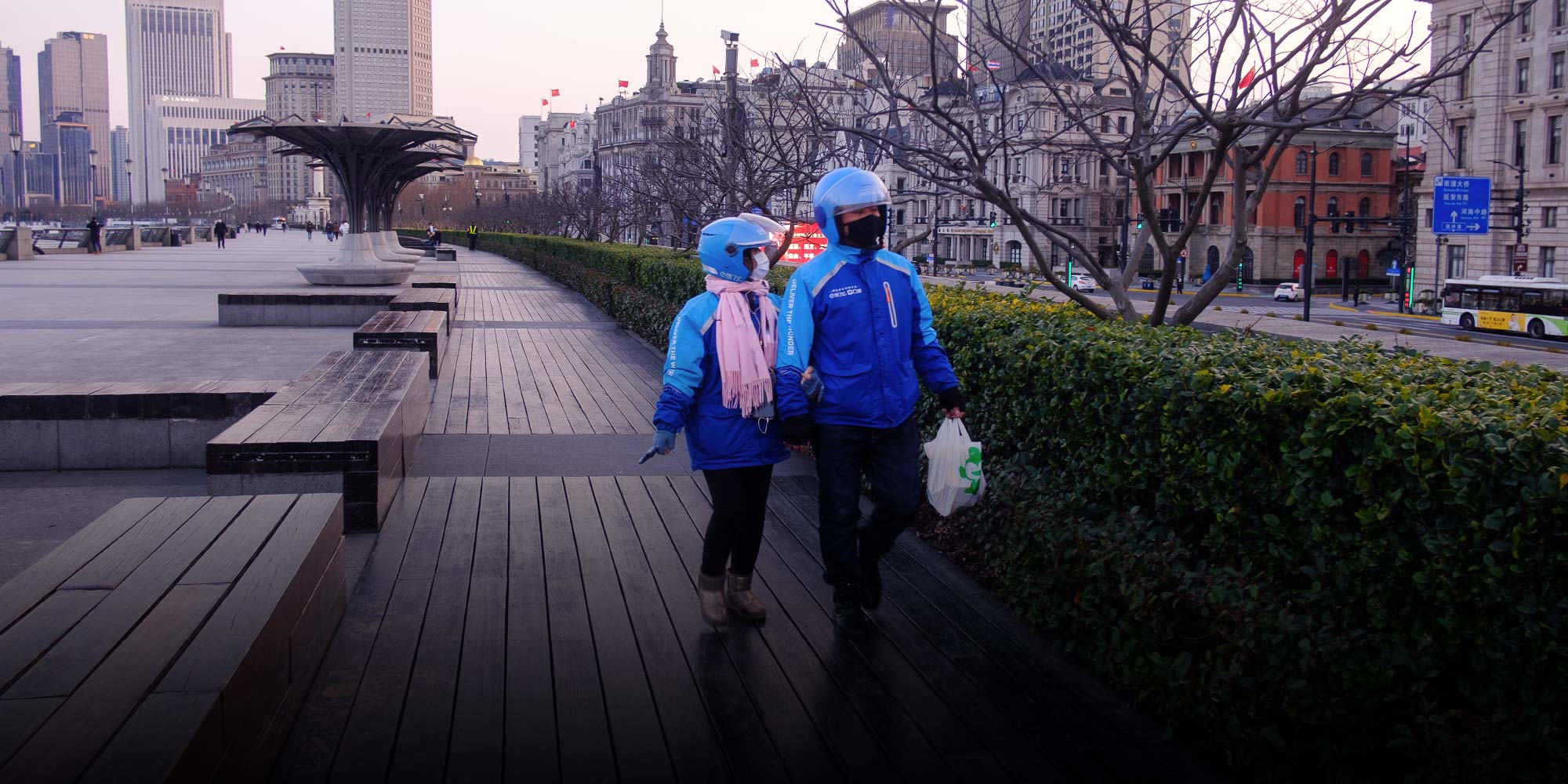 NEWS
Couples Go Long-Distance for Valentine's Amid Coronavirus Scare
People are showering their loved ones with virtual proposals and online gifts at a time when physical contact is discouraged.
This Valentine's Day, love is in the air — and so is a highly contagious virus.
But that hasn't deterred couples in China from rekindling romances on the holiday for celebrating love. Amid the COVID-19 epidemic, and the accompanying lockdowns and quarantines to contain the virus, couples have found creative ways to profess their love to their partners.
Zhang Xin and her boyfriend are among the couples who have been separated by the virus. Zhang, a nurse in the northwestern region of Xinjiang, has traveled to the outbreak's epicenter of Wuhan to volunteer at one of the converted "shelter hospitals" housing patients with mild symptoms of COVID-19. Her boyfriend, Li, likes to remind her that they will make it through this trying time.
Li told Sixth Tone he wanted to be with Zhang — if not in person, then at least in spirit. So he recorded a video.
"My little dumpling, it has been 10 days since you went to Wuhan," he says in the video. "I can't celebrate Valentine's Day with you this year. Please take care of yourself. Pipi (the dog) and I are waiting for you to return home."
"When you're back, we will do all the things that couples do," Li says suggestively, before quickly adding: "like getting a marriage license."
Zhang received the video the evening before Valentine's Day, while she was on night shift. According to her friend Ma, Zhang was "very touched" by Li's message.
"You guys made me so emotional," Ma recalled Zhang saying. "My night shift has already lasted 12 hours, but now I don't feel sleepy anymore … Though the proposal part is super cheesy, let's talk about marriage when I'm back."
For Xie Chen in Fuxin, a city in the northeastern Liaoning province, an effective lockdown in place since Feb. 3 has made it difficult to meet her boyfriend. The college student said she walked across a frozen river for a secret rendezvous, impervious to the risk of being caught by the guards keeping watch over the city.
However, the couple decided not to meet on Valentine's Day, instead sending their love by way of delivery.
"He gave me chocolate and I gave him a calendar, both through delivery services," Xie told Sixth Tone. "I don't think it (the lockdown) will influence our relationship too much. Being alive is the most important thing, after all."
On microblogging platform Weibo, thousands of couples have shared their stories of love and separation during the time of COVID-19. A hashtag translating to "This Valentine's Day, every relationship is a long-distance relationship" had been viewed over 220 million times by Friday evening.
"We live so close, but we've never felt so far away," one lovelorn user wrote on Weibo.
Many users on the site have also shared alternative gift ideas for Valentine's Day. Some replaced real flowers with virtual ones, while others shared photos of bouquets filled with masks, medicines, and other health- and hygiene-related products.
Eva Zhang, who had planned to celebrate her two-year anniversary with her boyfriend at Tokyo Disneyland, said fears of COVID-19 had dampened the mood. When her partner arrived in Japan from Shanghai, the couple instead lined up outside pharmacies to make sure they could buy enough face masks, a product in short supply across much of the country.
The couple was so busy fretting over the virus that their anniversary date slipped under their radars.
"This virus thing takes up too much space in my head," Zhang said. "But I bought (my boyfriend) a massage pillow and had it delivered to him for Valentine's Day."
Editor: Bibek Bhandari.

(Header image: A couple walk along the Bund in Shanghai, Feb. 4, 2020. Wu Huiyuan/Sixth Tone)