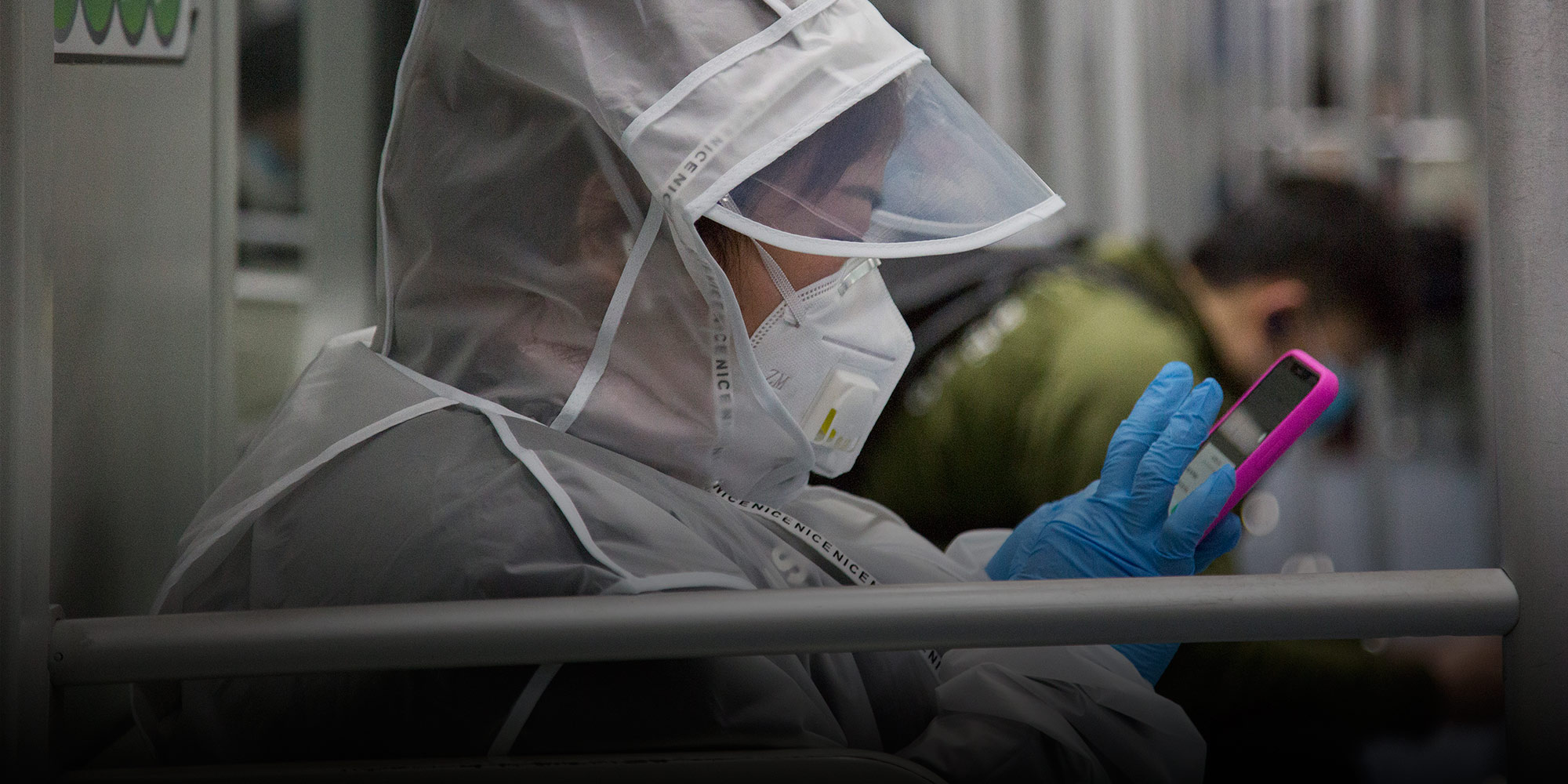 FEATURES
China's Cities Slowly, Gingerly Return to Work
Businesses are starting to reopen after the extended Lunar New Year holiday, but workers are taking extreme precautions.
SHANGHAI — Zhang Luo was supposed to go back to the office Monday, but the 27-year-old was too scared of the commute and decided to take a day of annual leave.
After locking herself inside her apartment for weeks to avoid catching COVID-19 — a disease that has killed over 1,300 people in China as of Feb. 13 — the thought of riding the metro to Hongqiao, one of Shanghai's busiest business hubs, was just too much.
"When I imagined the countless strangers I might run into during rush hour, I freaked out," says Zhang, who works for an internet finance company and whose name has been changed out of privacy concerns. "I just needed an extra day to mentally prepare myself."
People across Shanghai have been having similar internal battles this week as the city of 24 million gradually grinds back to life after an extended public holiday designed to contain the outbreak. The virus has reportedly infected 315 people in the city, with one death and of 62 full recoveries, at time of publication.
Monday was the first official workday for most companies in Shanghai — as well as other cities including Beijing, Chongqing, and Shenzhen — since the Lunar New Year break began Jan. 24. Many people, however, remain reluctant to return to their workplaces, fearing the reopening of businesses may produce a wave of new infections.
Around 40% of Shanghai's residents are originally from elsewhere, and large numbers of people have been coming back to the city in recent days to restart work. More than 158,000 people per day on average arrived at Shanghai's airports and train stations between Feb. 7 and 10, municipal officials announced Monday.
Zhong Nanshan, a virus expert renowned for his work during the 2003 SARS epidemic, has identified the days following the large-scale migration as a key moment that could determine whether the outbreak will soon reach a turning point.
Local authorities have been attempting to minimize anxieties, encouraging companies to stagger shifts to reduce rush-hour crowds and allow staff to work remotely. Public areas are required to be disinfected on a daily basis, while metro stations and office complexes have been ordered to ensure everyone entering wears a face mask and undergoes a temperature check.
The city is also continuing hard-line restrictions on those arriving from virus-stricken areas. Around 800 vehicles have been denied entry to Shanghai since Jan. 22, and any outsiders without a place of residence or job in the city will be "persuaded to leave," local officials have said. Returnees from high-risk regions are subject to a mandatory 14-day quarantine.
Shanghai's streets have become noticeably busier over recent days, though many restaurants, cafés, and small businesses remain shuttered. Several shopping malls are still closing early, while popular restaurant chains including Taier and Gelaoguan have announced their outlets will be closed until at least the end of the week.
At People's Square metro station, one of Shanghai's busiest connections, passenger volumes are less than 20% of their normal level, a manager from the station told Sixth Tone's sister publication The Paper Monday.
Those going back to work, meanwhile, are often finding the experience surreal, as their normal routines are disrupted by the extreme precautions enforced all over the city.
Chu Hao, who works for a Shanghai architecture firm, went back to the office Monday. He drove into work — arriving quicker than usual, because there were so few cars on the road — to find that only around 40% of his colleagues had joined him.
"Everywhere smelled of disinfectant," Chu says. "The company offered us around 10 face masks, alcohol wipes, and other protective products. For lunch, we weren't allowed to eat in the cafeteria. Instead, the company prepared designated lunch boxes."
By the afternoon, Chu says he'd had enough: The building management had shut down the air conditioning over fears the circulated air might spread the disease, and the office was freezing. He downloaded all the documents he needed and decided to work from home for the rest of the week.
Even after returning home, Chu's battle against the virus wasn't over. His wife — who had sent him dozens of reminders about safety precautions throughout the day — opened the door with a bottle of disinfectant in hand, and Chu took off his shoes and coat before entering the apartment. Chu then went straight for a shower, while his wife mopped the floor where he had walked past and put his work clothes in the washing machine.
"We do everything we can to seek psychological comfort," says Chu wryly. "But I know many people must have done the same thing."
Zhang, the internet finance worker, finally faced the music Tuesday and headed to Hongqiao, though she made sure to avoid riding the metro. Instead, she cycled for 30 minutes, before catching the bus.
"It was extremely cold — all the windows were open the whole time (to improve ventilation)," says Zhang. "I'm sure the sensor wasn't able to read my temperature when I arrived at the office building."
Unlike Chu's experience, Zhang found her office to be a frenzy of activity. The extended shutdown has cost her company dearly, and she expects her boss will have to take drastic action later in the year to balance the books.
"Facing such a crisis, this year's budget will be cut," says Zhang. "Quite a few temps and new employees will be at risk of being laid off."
Zhang's colleagues are also aware of the situation. The customer service team, which is on the same floor, has been making call after call, barely taking a break, she says.
"Most of them are temps, and there's a high possibility they'll lose their jobs," says Zhang. "So, they're hoping to make as much money as they can. But I feel like they should change their face masks every hour — they must be wet!"
The crisis has also affected Zhang's plans. Before the Lunar New Year, she'd been offered a new job at another company, but she'd delayed signing, hoping to use the offer as leverage to convince her boss to give her a bigger raise. Now, she suspects she might end up with nothing.
"I should have signed the paper," she says with a sigh. "But who knows?"
For many business owners, the outbreak has felt like a Catch-22 situation: They have to restart operations, since the shutdown has put them in dire financial straits, but returning to normal business is almost impossible due to the ongoing disruptions.
Ye Fang, who runs a chemicals company, went back to his Shanghai office Monday, as his clients want updates on the status of their orders. The 56-year-old, however, is still waiting for government approval to restart his factory in Anhui, a province to the west of Shanghai.
"We can't resume business unless we have prepared 'enough' face masks," says Ye, whose factory employs 300 people.
According to Ye, he stocked up on disinfectant, thermometers, and protective uniforms during the holiday. But there are shortages of face masks all over China, and he's having to turn to overseas buyers for help.
"All we can do now is wait," says Ye. "Once I receive the masks, I can ask for the local authorities' approval to resume operations."
For now, Ye is having his 10-strong sales team in Shanghai work in rolling shifts, two at a time, to minimize the risk of infection. He would normally be making regular trips to Anhui, supervising work in the factory. But given the circumstances, he says he doesn't dare risk the train journeys.
"If the first week has been so difficult, I can't imagine what the rest of the year will be like," says Ye. "I hope everything will recover soon."
Editor: Dominic Morgan.
(Header image: A woman in a full protective suit uses her smartphone on the subway in Shanghai, Feb. 12, 2020. Shi Yangkun/Sixth Tone)