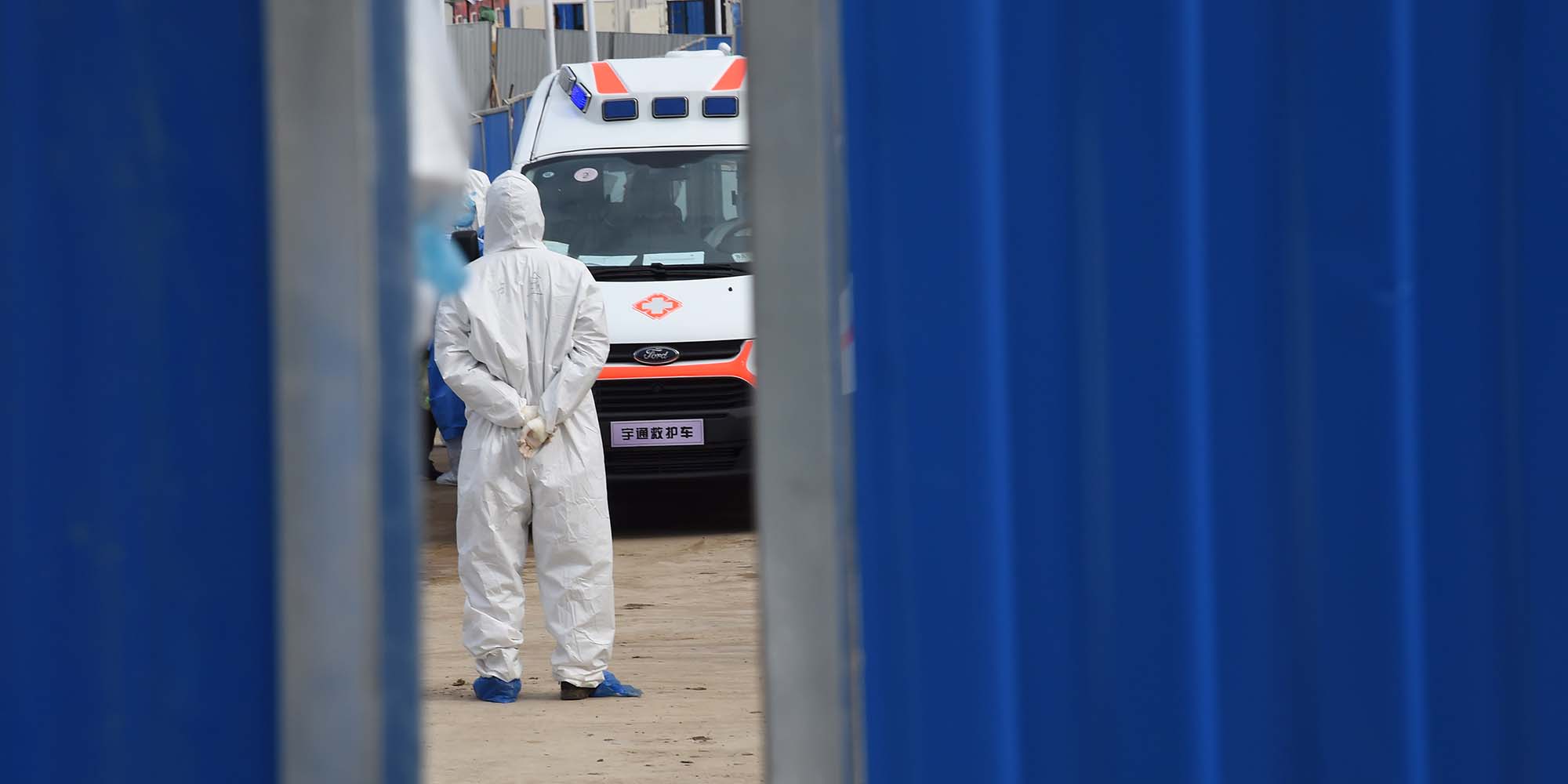 NEWS
Coronavirus' Assault on Wuhan Mental Hospital Alarms Experts
Despite the compounded challenge of having to treat patients for COVID-19 as well as mental illness, Wuhan's psychiatric facilities have largely been left to fend for themselves.
Experts are for calling for more stringent measures to protect people with psychological conditions after at least 80 patients and staff at a mental health facility in Wuhan contracted the coronavirus that has now killed more than 1,300 people in China and infected over 60,000 worldwide.
Domestic magazine China Newsweek reported last weekend that over 80 patients and medical workers at Wuhan Mental Health Center had been diagnosed with novel coronavirus pneumonia, or COVID-19. An employee of the center who declined to use her name because she was not permitted to speak with media told Sixth Tone on Wednesday that the hospital had stopped admitting new patients "for fear of cross-contamination."
"We have suspected patients, confirmed patients, and severely ill patients," the staff member said. "All of our (spare) rooms are being used to accommodate infected patients, and we have a shortage of protective gear."
Wuhan Mental Health Center, also known as Wuhan Psychiatric Hospital, is the largest mental hospital in the central Hubei province. Isolation wards comprise much of the hospital's facilities, posing a high risk of cross-contamination among patients and medical professionals alike.
A former patient who was hospitalized at the facility last year told Sixth Tone that the conditions in her ward were poor. She described how the primary and secondary care areas were kept segregated by a sturdy metal door: In the primary care area, most of the rooms had three beds, she said, while in the larger secondary care area, five or six people might share the same living space.
"One side of each bed was attached to the wall — otherwise they wouldn't all fit," she said, adding that most rooms did not have their own toilet.
A doctor at the facility told China Newsweek that some 10 inpatients developed fevers beginning around Jan. 12. The hospital's infection control personnel assumed the fevers were the result of a common cold.
"At first, we didn't know that the (coronavirus) disease could be transmitted from one person to another," an employee from the hospital's publicity office told online media outlet Pear Video. "We didn't have sufficient awareness of the disease."
The first symptoms were observed the day after Wuhan's health commission claimed on Jan. 11 that there was no clear evidence of human-to-human transmission, and that no new cases had been detected since Jan. 3. The city's health authorities also denied that medical workers were contracting the virus from their patients — though an investigation by domestic media outlet Caixin later found otherwise.
In a Jan. 27 interview with state broadcaster China Central Television, Wuhan's mayor admitted that his government had been slow to relay information to the public in the early stages of the coronavirus outbreak because, according to the country's epidemic prevention law, he had needed to "get approval" before making any public disclosures.
Meanwhile, among the first group of 10 or so patients, high fevers gave way to respiratory failure. According to China Newsweek's report from Saturday, at lease 50 patients have tested positive for the coronavirus since Jan. 20, along with another 30 medical staff, including the hospital's deputy director.
"Severe psychiatric patients do not have a firm grasp on reality and lack the ability to control their environment," Zhao Xudong, a professor of psychiatry at Shanghai's Tongji University, told Sixth Tone. "They don't realize when danger is coming and don't respond well to the threat of disaster. They might appear indifferent, without understanding what's happening. This group of people requires greater care from others."
However, a shortage of protective equipment has hampered efforts to provide this care while increasing medical workers' risk of exposure to the virus. On Jan. 24 and Feb. 3, Wuhan Mental Health Center appealed to the public for donated medical supplies. "Our hospital urgently needs protective suits," read a graphic the hospital posted online.
"Now two of our wards have cases of infection," a medical worker from the hospital posted on Chinese social media in late January, around the time several staff were trying to spread the word of their dire situation. "Due to the shortage of beds in designated hospitals (for treating COVID-19), we've had to clear out a ward to quarantine and save our own staff." The employee declined Sixth Tone's interview request because it was "not allowed" by the hospital.
In coronavirus-stricken parts of Hubei, hospitals face severe shortage of drugs, face masks, and protective suits. According to Zhao, mental hospitals are not a top priority when it comes to distributing emergency supplies.
"The prevention and control of infectious diseases is routine work at mental hospitals, but it's rarely done to the same standard as at other hospitals. The dearth of medical supplies is insufficient," Zhao said. "Some hospital buildings are old. According to strict disinfection and quarantine rules, certain wards have to be isolated, with the connecting channels strictly separated, which is hard to achieve at some hospitals. So it may be easy to have a large area of infection."
Another case of hospital-acquired infections among psychiatric patients has reportedly occurred at Wuhan Youfu Hospital, located within walking distance of the South China Seafood Wholesale Market, to which many of the first infections were traced. Some of these patients went to Youfu Hospital for health checks. As of Tuesday, 86 patients — including many with mental disorders and many who were turned away by other hospitals — were under quarantine at Youfu, according to a Shanghai-based health news outlet.
Wuhan Mental Health Center declined multiple interview requests, telling Sixth Tone it would provide updated information in an official statement via its public account on social app WeChat. That statement had not been issued by time of publication Thursday.
Elsewhere in the city, Wuhan Jinyintan Hospital, a designated facility for treating infectious diseases, has allocated 30 beds for psychiatric patients with COVID-19. This is far from sufficient, Zhao says, because such patients require treatment for both the disease and their disorder.
Because of the lack of beds in designated coronavirus hospitals, psychiatric care facilities like Wuhan Mental Health Center are largely left to fend for themselves when it comes to treating coronavirus patients. But their facilities don't meet industry standards for intensive care and lack life support machines, a doctor told China Newsweek.
A Jan. 31 report by the Wuhan government-controlled newspaper Changjiang Daily co-authored by an employee from the hospital's propaganda department praised the medical staff for working overtime to treat "undiagnosed fever patients" and handling a larger load of CT scans.
Medical staff at mental hospitals "should be well-protected just like at any other hospital," Zhao said. "If they fall ill, there will be no one left to take care of the patients."
Editor: David Paulk.
(Header image: Medical staff wait to receive transferred patients at Huoshenshan Hospital in Wuhan, Hubei province, Feb. 8, 2020. Xinhua)