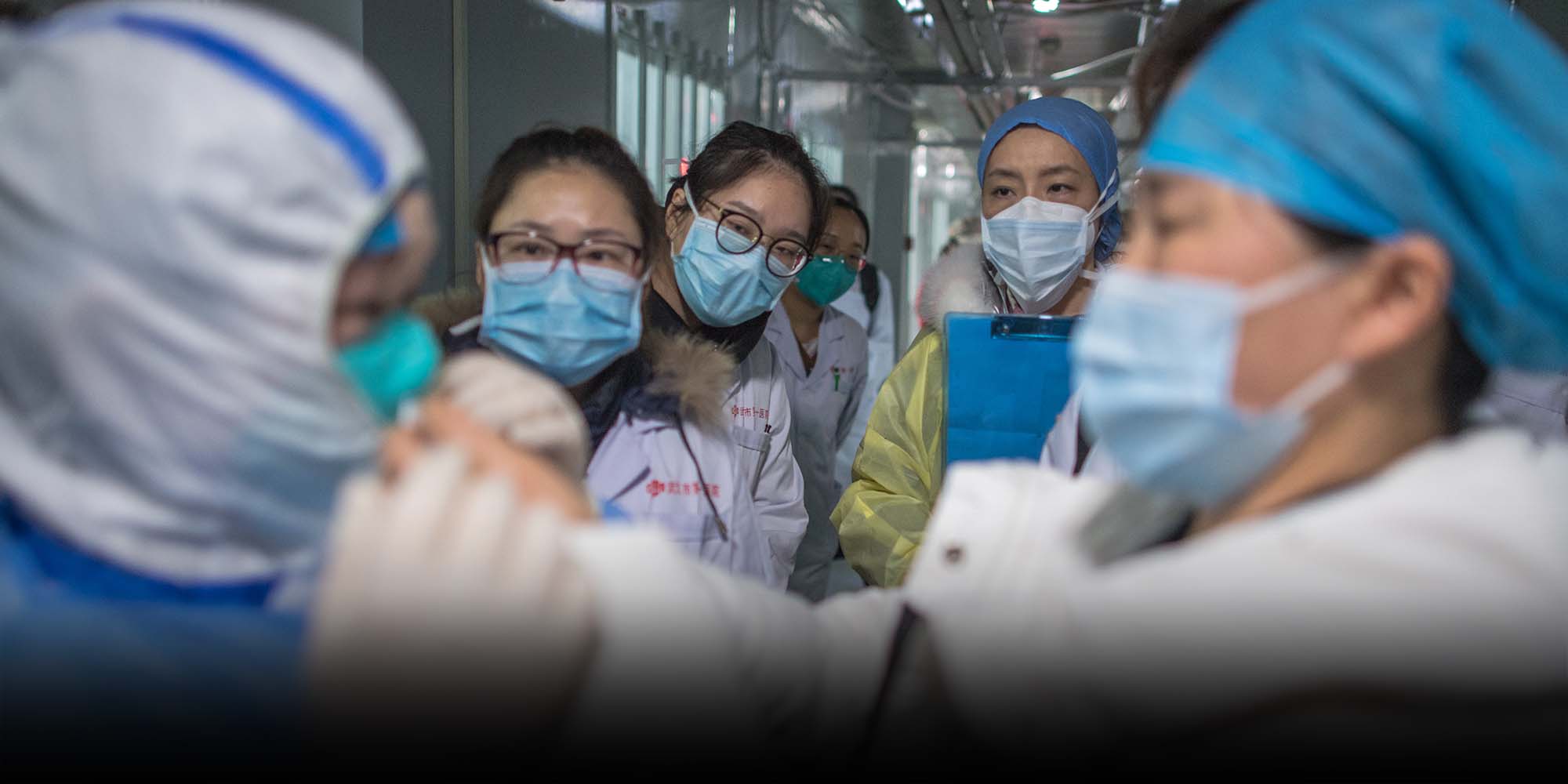 NEWS
Hygiene Product Donation Drive Puts Frontline Females First
While campaigns collecting sanitary pads for workers on the front line of the COVID-19 epidemic are making progress, institutions reluctant to receive them show women's needs are still being overlooked.
As millions of people are finding different ways to help the frontline medical workers battling COVID-19, a new campaign is solely focused on delivering something that's been largely missing: feminine hygiene products.
The campaign, Coronavirus Sister Support, collected over 2 million yuan ($280,000) in under 24 hours after launching Tuesday, according to its founder Jiang Jinjing. The money will be used to provide period panties and sanitary pads for female frontline doctors and nurses in Hubei province, the center of the COVID-19 outbreak that has so far killed over 1,300 people in China and infected more than 60,000 globally.
"I was watching a video of a female doctor instructing people to wear protective clothing," Jiang told Sixth Tone, recounting how the campaign materialized. "She said people needed an hour to put it on or take it off. I wondered: If it takes so long to get out of the protective clothing, what if they have their period? How can they go to the bathroom and change pads?"
Jiang said she immediately thought of donating period panties — special underwear designed to absorb menstrual blood without the need to wear a tampon or sanitary pad — to frontline medical workers. The 24-year-old then shared her thoughts on microblogging platform Weibo, where she now has over 270,000 followers.
In a matter of hours, messages from strangers started pouring in: "Can I help, too?"
With so many people reaching out to her, Jiang said she put together a volunteer team of 45 members to streamline the process. The team then contacted hospitals and factories producing sanitary products, as well as courier services that were still delivering to cities in the province, which has been under lockdown from as early as Jan. 23 to contain the epidemic.
"Over 140 hospitals in Hubei province have contacted us (through different means) saying they need sanitary products," said Jiang. "A lot of female medical workers, especially those from rural areas, did not prepare any hygienic products because they were less informed about the current situation."
"One female medical worker from Xiaogan (a city in Hubei) told me they were quarantined at the last minute and didn't have time to pack their belongings. The head nurse had to go out and buy pads for every female doctor and nurse."
According to Jiang, many hospitals weren't very aware of the needs of their female staff. One of the hospitals in the provincial capital of Wuhan even refused to receive period panties when Jiang's team proposed to deliver them.
"We need protective clothing and masks — these are not urgent," Jiang recalled the hospital staff saying.
"I was very disappointed … I know masks and protective clothes are important, but I think the needs of female medical workers also ought to be acknowledged," she said.
Other hospitals, too, have prioritized donations of protective gear, overlooking the basic needs of their female frontline workers.
Sakura Chan is a co-founder of the Firefly Plan campaign, which aims to deliver a range of products to hospitals, including disinfectants, hand creams, and period panties. However, she said that in the beginning of the campaign, most hospitals weren't interested in receiving women's hygiene products.
"They would tell me they needed disinfectant, ethyl alcohol, masks, or other supplies, but not period panties," Chan told Sixth Tone. "Probably because they hadn't thought of this, or the decision maker was a man so he couldn't understand such issues."
While many charities are focused on delivering medical equipment, there's been little to no focus on women's needs, Chan said. She added that those familiar with the matter inside the hospitals have told her team that they're desperately in need of feminine hygiene products.
Bai Meidaijia, a lecturer in gender and media studies, told Sixth Tone that neglecting such female needs is a classic example of gender discrimination.
"Women's menstruation should be the authorities' concern when it comes to policymaking," Bai said. "The media always describe women's contributions by emphasizing their gender — like women cutting their hair to go to the front line. But when it comes time to acknowledge their physical needs, those in charge fail to do so."
While most have supported Jiang's and Chan's campaigns, not all were thrilled about discussing feminism during a time of crisis.
"People are dying, why do you still care about what's in your underwear?" read a comment under Jiang's Weibo post.
Jiang said such hateful reactions point to a larger societal trend of snubbing women's contributions.
"People might think that combating public crises is just a 'man's thing,' while in fact there are so many female medical workers on the front line," she said.
According to the Shanghai Women's Federation, a quasi-governmental organization, more than half of the health care workers at frontline hospitals in Hubei are women, and 90% of all nurses there are women. Many of the project leaders and workers involved in the construction of Huoshenshan Hospital — a pop-up quarantine facility built in 10 days — were also women.
However, some Chinese media outlets seem to have turned a blind eye to their contributions.
In a now-deleted Weibo post, local media in the southwestern Sichuan province shared a photo of six male doctors from the province's 30-strong medical team — 21 of whom were women. In another case, Weibo's opening interface showing solidarity with the frontline police officers and medics had exclusively male representation, angering many and prompting one user of the site to design their own female version for the campaign.
According to Bai, the absence of representation is about more than fairness: It can also influence policymaking in the long run.
"Some people argue that it's not a good time for feminist critique, as we are fighting the coronavirus," Bai said. "But in fact, what media represents — the culture, concepts, and gender awareness of those in power — not only affects recognition of women's contributions but also leads to the policies and measures that we decide to take."
Editor: Bibek Bhandari.

(Header image: Frontline nurses are trained how to wear protective suits at Leishenshan Hospital in Wuhan, Hubei province, Feb. 8, 2020. Xinhua)