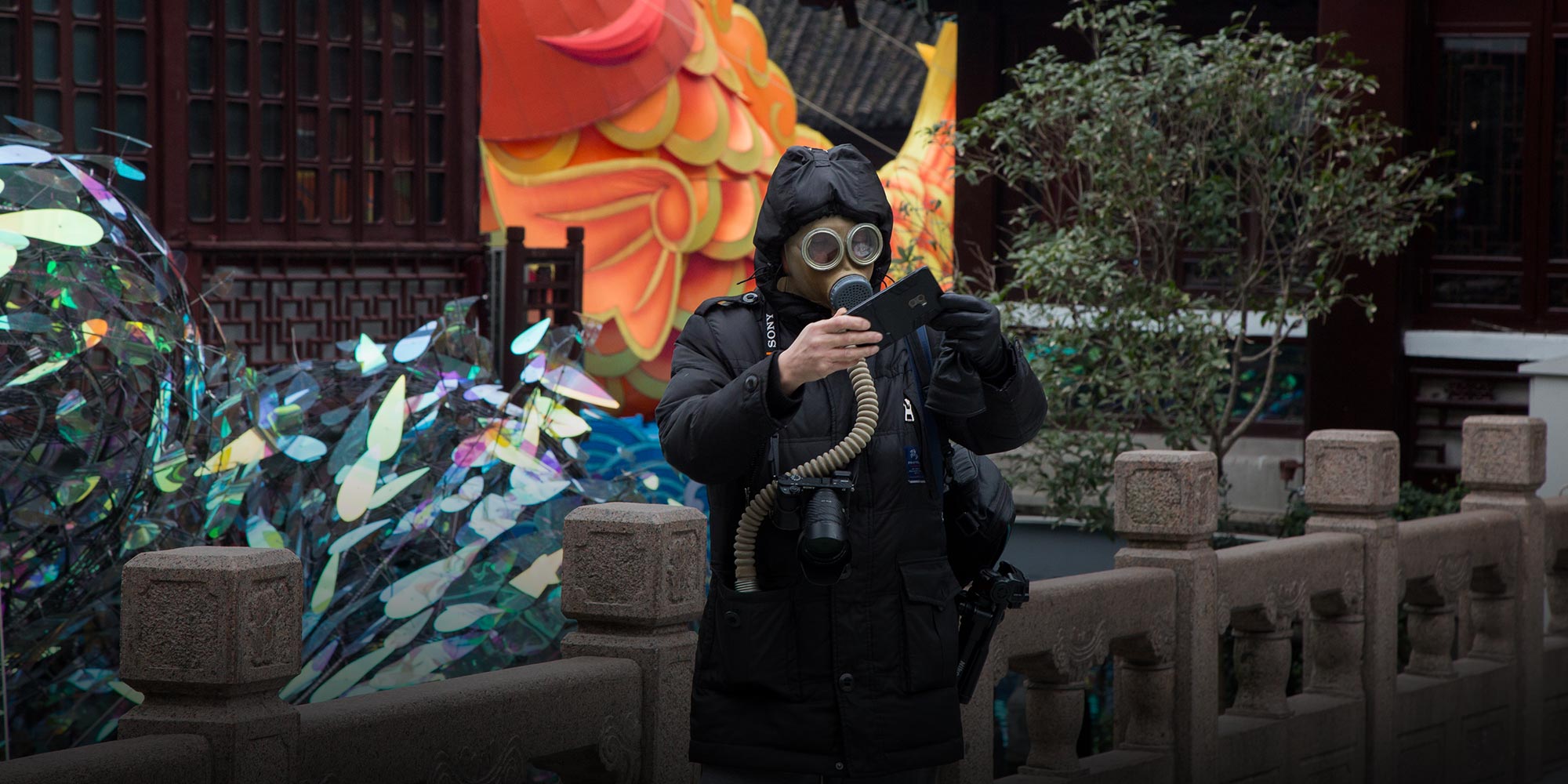 FEATURES
Racism in the Time of Coronavirus
Rising deaths and infections have been accompanied by a disturbing global surge in xenophobia against ethnic Chinese people and others of Asian descent.
These days, a Chinese person coughing or sneezing in public can incite panic among those around them. It's an unfortunate reality that Gu, a 20-something woman working in London, recently experienced firsthand when her friend came to visit from China.
In late January, Gu's friend had gone to a hospital in the British capital after developing a cough to make sure she hadn't contracted the novel coronavirus. Days before the medical check, the woman had stayed at Gu's home — so Gu thought she would relay word of the diagnosis to her roommates so they wouldn't worry.
The test was negative, but so was the reaction from one of Gu's roommates.
"He went crazy and verbally abused me," Gu told Sixth Tone, using a pseudonym for fear of further reprisals from her roommate, who wasn't satisfied with the test and demanded more evidence that the woman wasn't sick.
"At first, I thought he was just super scared, and I understand that," she said. "But later, when I found out he didn't want me to bring any of my friends (to the apartment), I realized it was racism."
In the two months since the novel coronavirus was first detected in the central Chinese city of Wuhan, more insidious symptoms have spread forth from the epicenter: anxiety, fear, and, increasingly, discrimination. In China, residents of Hubei province, where Wuhan is located, have become pariahs, while abroad, Chinese nationals — and even anyone who looks vaguely Asian — are being targeted with racist tropes and xenophobia.
Anti-Asian sentiment, both online and offline, has spread nearly as fast as the virus, which as of Thursday had killed over 1,300 people in China and infected more than 60,000 worldwide.
In Canada, a mother said kids at school had chased and cornered her half-Chinese son to "test" him for the coronavirus. And in the United States, the coronavirus is impacting Asian-owned businesses amid a surge in racial profiling and prejudice against people of Asian descent, even in cities with no confirmed cases of the virus.
In the city of Manchester in the United Kingdom, ethnically Chinese people have been maligned as "poisoned by the virus." In Rome, Chinese people were prohibited from entering a bar near the Trevi Fountain, one of the city's iconic tourist sites, supposedly due to "international security regulations."
Coronavirus-related discrimination is not limited to the West, either, with anti-Chinese rhetoric ramping up in South Korea and Japan, where some businesses have started putting up signs reading "No Chinese Allowed" in hopes of reducing infection risks. Some restaurants in Hong Kong are even refusing to serve Mandarin speakers as the number of coronavirus cases in the city soars.
According to Lyle Fearnley, an assistant professor of anthropology at Singapore University of Technology and Design, societies see the need to identify sources of disorder as a moral imperative — and this applies to more than epidemics.
"There's a lot of social science about how this takes place in all sorts of different domains such as disasters, environmental pollution … risk in general," Fearnley told Sixth Tone. "We respond to risk by wanting to turn it into a moral question of who might be responsible."
Historically, foreign powers have disparaged China as a breeding ground for infectious diseases. In the 1870s, San Francisco's squalid Chinatown was viewed as "a laboratory of infection," culminating in a deadly outbreak of bubonic plague in the city beginning in 1900. Over a century later, the SARS coronavirus killed nearly 800 people worldwide, fueling prejudice against Chinese people — especially regarding eating and hygiene habits.
Now, 17 years after SARS, the public eye is again trained on China's wet markets, with one in Wuhan believed to be the current epidemic's ground zero. Weeks after the first infections were officially reported, a video of a young Chinese woman devouring bat soup went viral, prompting many to blame the outbreak on exotic wildlife consumption in China and other parts of Asia. On Jan. 26, three central government departments in China announced the suspension of the country's wildlife trade for the duration of the epidemic.
On a recent trip to India, Cathy Li came across a nationally distributed magazine that she says made her feel "uncomfortable." In an interview with The Week, the president of India's Public Health Foundation said that "Chinese eat a variety of wild animals" — suggesting, Li felt, that this was the reason for the novel coronavirus outbreak.
"I find the 'Chinese people eat a lot of wild animals' thing to be a bit racist," Li told Sixth Tone. "It's a well-circulated magazine here, so it's also helping to (exacerbate) this blind panic."
Adia Benton, an associate professor of anthropology specializing in global public health at Northwestern University in the U.S., said there is a history of "scapegoating Chinese people with respect to disease," a problem that stems in part from immigration-related anxiety and perceived cultural differences.
"Those perceived cultural differences tend to be articulated in terms of the foods Chinese people eat, 'hygiene' practices, and interpersonal interactions," Benton told Sixth Tone. "Cultural difference is pathologized — in both literal and metaphorical senses."
Media coverage of the coronavirus may also have contributed to the emergence of racist tropes. The Wall Street Journal ran an opinion piece that described China as "the real sick man of Asia," a term rooted in imperialism and shame. And continuing to refer to the epidemic being caused by a "China virus" or the "Wuhan coronavirus" — a trap we at Sixth Tone initially fell into — risks unfairly stigmatizing entire communities, experts say.
Earlier this month, the German magazine Der Spiegel ran a cover story characterizing the coronavirus as "Made in China," a move that was widely slammed as insensitive. The Chinese Embassy in Berlin condemned the magazine, saying "epidemic outbreaks must not be used as an excuse for discrimination and xenophobia."
On Tuesday, the World Health Organization announced COVID-19 as the name for the disease caused by the novel coronavirus that originated in Wuhan. "Having a name matters to prevent the use of other names that can be inaccurate or stigmatizing," the head of the global health authority explained in an accompanying statement.
Christophe Hu, a member of an association for French people of Chinese descent, acknowledges that fears of the coronavirus are legitimate but blames some French media outlets for spreading inaccurate information and being quick to deploy racist labels from the past. For example, the French newspaper Courrier Picard used the phrase alerte jaune — or "yellow alert," a term referring to fear of Asian migration in the West — in a headline. The paper apologized following public backlash.
"Some media called it the 'Chinese virus,' which is confusing and might (suggest) that all Chinese people might have the virus," Hu told Sixth Tone.
Hu's association has received around 20 emails from people sharing their recent experiences with xenophobia — from students being called "Corona" to people being turned away from shops because of their appearance.
"Ordinary racism against people of Asian descent existed before, which is now enhanced by the coronavirus," Hu said.
Fearnley, the anthropologist, said that continuing to associate the outbreak with its place of origin is not only problematic from a moral perspective, but also because it isn't constructive for containing the virus.
"By now it has spread to other places. There's a problem with this idea of a close association with the origin point," he said. "It may distort efforts to (contain) the outbreak effectively, (causing us) not to respond to the changing nature of it."
Since Chinese authorities first reported cases of a mysterious pneumonia to the WHO in late December, more than two dozen countries and regions have reported some 490 cases, nearly half of which are on a cruise liner under quarantine off the coast of Japan.
Looking to stop the coronavirus from arriving at their doorstep, some foreign governments have imposed travel restrictions targeting China. The United States and Australia, among others, have advised citizens not to travel to the country, while also banning noncitizens from entry if they have been in China within the past 14 days.
Mongolia, Russia, and North Korea have sealed off their land borders with China, while India has canceled visas already issued to Chinese citizens, as well as other foreigners who recently visited China. India, which so far has three confirmed cases of the coronavirus, has also stopped accepting e-visa applications from Chinese people and foreign nationals applying from China.
Over 20 airlines have canceled all China flights as a precaution against the virus and to comply with reduced passenger volume to the country.
Benton of Northwestern University said that such barriers and travel restrictions "reflect the underlying martial politics of public health," and are a way for foreign governments to conspicuously assert their authority.
"I am not sure if they (travel restrictions) always heighten panic and discrimination, but it seems likely that this happens," Benton said. "Given the nature of the virus — there may be asymptomatic infections, mild cases, and so on — the restrictions may do little more than ease (some) governments' perceived loss of control."
Over a month into the epidemic, experts from around the world are racing to develop a vaccine for the novel coronavirus — a process that could take up to a year and a half, according to the WHO. In the meantime, many people are coming up with creative ways to combat the increasingly pervasive xenophobia and racism, such as through social media campaigns like #IAmNotAVirus.
Lina, an undergraduate studying in the German town of Marburg, said she hoped both the outbreak and the racism it has inspired will pass soon. In the past few weeks, the Zhejiang native said she has been called "Coronavirus" at least three times during her regular commutes.
"I was a little angry because I didn't feel good. I'm a person, not a virus," said Lina, who asked to be identified by the name she uses among her friends in Germany.
"But I really don't care much now," she said. "Most of my friends are really supportive and care about me and my family back home. There are many more people who are better than (a few racist ones)."
Editor: David Paulk.
(Header image: A man wearing a gas mask takes photos at Yu Garden during the Lantern Festival holiday in Shanghai, Feb. 8, 2020. Shi Yangkun/Sixth Tone)