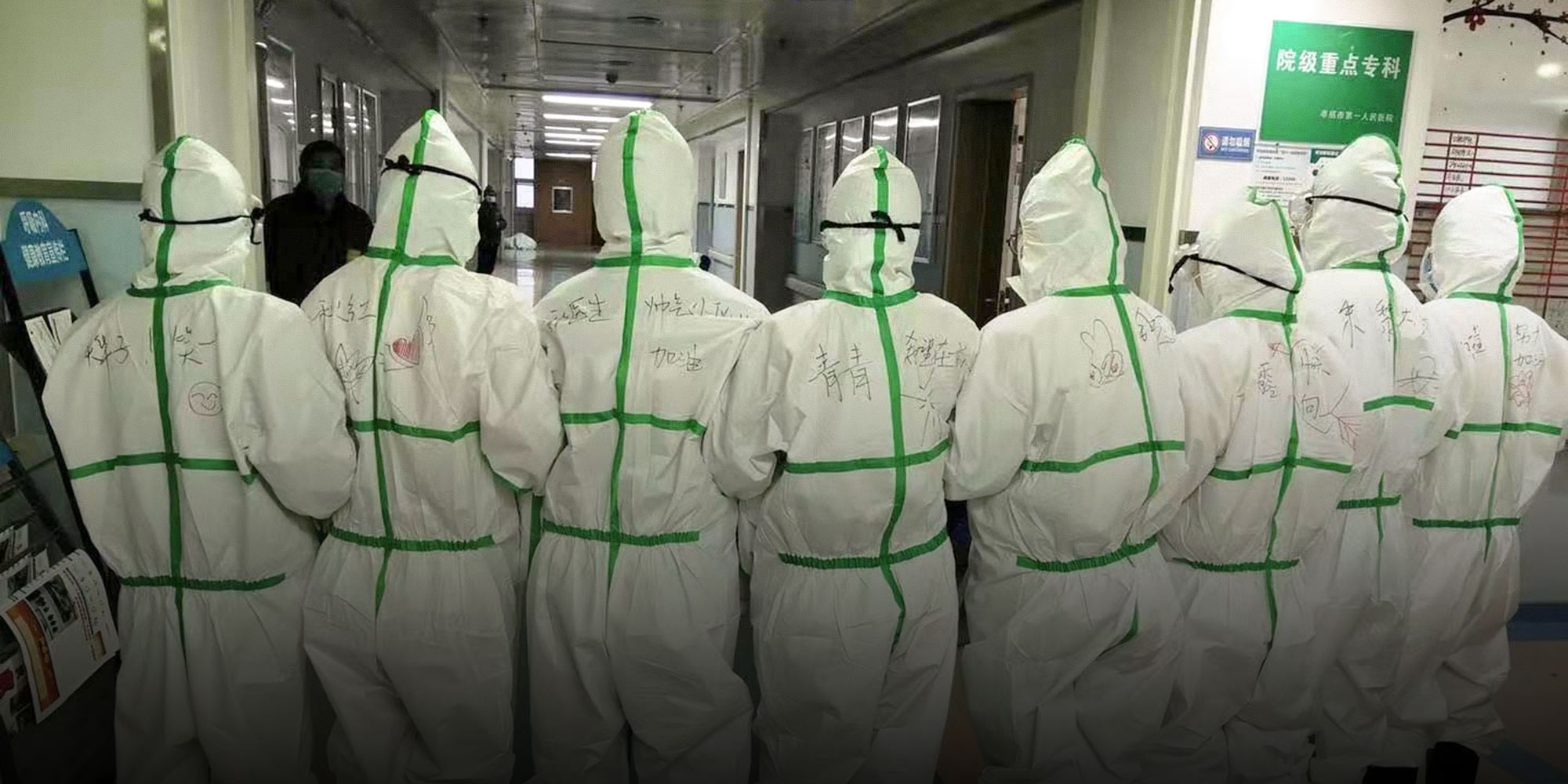 FEATURES
In Virus-Stricken Hubei, Locals Keep Hospitals Supplied
After citywide lockdowns brought much of Hubei province to a standstill, local volunteers provided overstretched hospitals with vital support. But the government is now starting to seize back control.
Wuhan, the Chinese city at the epicenter of the COVID-19 epidemic, has been under lockdown since Jan. 23, but local resident Du Xiaohu has spent much of the past three weeks on the road.
The 33-year-old hotel marketing manager has become an unofficial taxi driver during the outbreak, ferrying doctors, nurses, and medical supplies to overstretched and undersupplied hospitals across his hometown.
Du is one of thousands of local people in Wuhan and other cities in Hubei province who have mobilized to prop up the virus-stricken region's creaking health system, which is dealing with an unprecedented crisis. Of the 1,113 coronavirus-related deaths confirmed on the Chinese mainland as of Wednesday morning, 1,068 have taken place in Hubei.
The grassroots relief groups have played a vital role in helping hospitals deal with the shutdown of almost all air, rail, and road transportation in over 15 cities across Hubei, which has made it difficult for medical workers and supplies to reach local health centers. But local authorities are now starting to take back control from some of the small-scale teams as officials try to restore order.
Hubei's residents began organizing themselves within hours of Wuhan's lockdown taking effect, using social media platforms WeChat and Weibo, as well as the Google Docs-like collaboration tool Shimo to connect volunteers with in-need hospitals and medical staff.
Du joined one such group Jan. 24, the day after the lockdown, after seeing videos on Douyin — China's TikTok — of hospital staff struggling to return home after their shifts. In a couple of hours, he was driving to a toll booth outside the city center to pick up a nurse trying to enter Wuhan from Huanggang, a city 75 kilometers away.
"We arrived at the hospital and she wanted to pay me, but I refused," Du tells Sixth Tone.
Voluntary chauffeurs like Du have provided a vital supplement to the emergency measures enacted in Wuhan in the wake of the lockdown. Ride-sharing firm Didi Chuxing has made 200 drivers available to transport medical personnel for free, while local residential committees are organizing rides for residents.
Almost all private cars are banned from the roads in Wuhan as part of the government's efforts to prevent further infections. But traffic police are making exceptions for most volunteers carrying health workers and much-needed products like face masks, hazmat-style protective suits, and disinfectant, according to Du. He brings documents from donors and hospitals with him whenever possible, to convince law enforcement to let him pass.
The volunteers are taking real risks by being in constant contact with doctors serving on the frontlines of the outbreak. One volunteer driver died after being infected with the virus in early February.
Du tries to protect himself by wearing a face mask and protective suit — which a passenger gave him on his fifth day of driving — and disinfecting his car multiple times a day.
"People are worried about getting infected, but personally I feel it's fine," says Du. "I feel that I should do this."
Grassroots groups have been particularly important in Hubei's smaller cities, which have weaker health systems and have received less aid than Wuhan.
Guo Fei, a 27-year-old entrepreneur from Xiaogan, a city of 5 million some 60 kilometers northwest of Wuhan, knew that his hometown might struggle with the crisis as soon as he heard about the lockdown in Hubei's provincial capital.
Within days, reports began to emerge that hospitals across Hubei were indeed running low on supplies, as transportation systems ground to a halt all over the province. Doctors in Xiaogan told Al Jazeera that they had run out of protective gear and were resorting to covering their eyes with material torn from plastic bags.
Though he was stuck over 1,000 kilometers away in Shenzhen, the southern tech hub where he runs a business, Guo rallied his friends and family members to help hospitals in Xiaogan procure essential equipment.
"Initially, there was basically no deployment of supplies, and hospitals were having to rely completely on their reserves, which were insufficient," Guo tells Sixth Tone.
Guo created a group on WeChat and invited volunteers and doctors in the city to join. Within three days, the group had managed to acquire 770,000 yuan ($110,000) in protective suits and face masks.
The supplies were secured just days after the Xiaogan government launched its own response. The city made its first call for public donations Jan. 24, and formally launched coordinated emergency measures the next day, according to a Xiaogan official surnamed Song, who spoke to Sixth Tone on condition of anonymity.
The rapid proliferation of grassroots relief groups is part of a wider trend toward bypassing official charities during the crisis. Though the majority of the estimated 17.2 billion yuan in public donations raised to fight the outbreak as of Feb. 3 has gone to state-designated organizations, public anger over reports of mismanagement at Hubei's Red Cross Society has led a growing number of people to give to smaller organizations.
Luo Xin, a blogger and small business owner, tells Sixth Tone she chose to donate funds to Guo, rather than an official charity. She has also observed more donors giving directly to hospitals via digital payment apps.
"It might look a bit dull and troublesome this way, but we're connected with doctors and volunteers on the ground," says Luo, who lives in New Jersey. "We can see that our donations work."
Experts say civil groups like Guo's have been vital for plugging gaps in the government's relief efforts, especially in local communities where the lockdown has placed vulnerable groups — such as those with chronic health conditions — in difficult situations.
"The role civil society organizations have played has been helpful and urgently needed," Du Junfei, a professor of political communication at Nanjing University, tells Sixth Tone in a written statement. "The scattered civil relief forces have helped ensure the survival of some members of minority groups."
But organizations like Guo's are fighting an uphill battle as the number of people infected by the virus in Hubei continues to climb. There were over 33,000 confirmed novel coronavirus cases in the province as of Wednesday.
Guo's group works with around 50 volunteers and over 60 hospitals and health centers. He has suspended operations at his startup to focus exclusively on the relief effort and says he's barely had a good night's sleep since Jan. 23. Yet Xiaogan has the highest number of cases of any city in China after Wuhan.
Some volunteers are beginning to question how long they can go on. Liu Ming, a Wuhan resident, spent the past two weeks driving medical supplies around the city. Now, however, he says he plans to quit, citing burnout.
"I think the shortage of medical supplies has not eased but increased," says Liu, who manages local Airbnb venues. "There's really nothing further we're capable of doing."
Coordinating the efforts of a dispersed network of volunteers, most of which have no experience in professional charity work, has proved challenging for many. Some volunteer organizations have even faced accusations of mismanagement of their own. 
As the lockdown approaches its three-week anniversary, Chinese authorities are ramping up relief efforts and gradually easing out grassroots groups, particularly from hospital supply chains.
All the factories supplying Guo's group with medical equipment told Guo Feb. 8 that they had been ordered only to sell to official procurement agencies from now on. The group is currently in the process of transferring all its stock to a government-controlled storehouse.
"This was also our plan in the first place," says Guo. "My original intention was to provide help during an emergency situation. When the government didn't respond quickly, we civilians could help medical staff secure supplies. Now, I'm wrapping up my operation and passing the baton to the government."
Central and provincial governments are working with manufacturers to increase production of face masks and protective suits and ensure Hubei gets priority when it comes to distributing essential medical supplies, according to state-run Hubei Daily. Some hospitals in Xiaogan, however, remain short of protective equipment, which get quickly used up, according to Guo.
"The production capacity of the (medical equipment) factories and their efficient deployment by the government are the keys to solving the shortages," says Guo.
According to Jia Xijin, vice dean of Tsinghua University's Institute for Philanthropy, the government's decision to monopolize control of medical supplies is no surprise, given the widespread shortages and the nature of China's governance system.
"It (the government) definitely wants to impose unified distribution of limited resources," says Jia. "These grassroots volunteer groups can change their strategies in terms of how to play a role in it (the relief efforts)." 
Jia has concerns, however, that there haven't been enough discussions on how to make the management of the relief efforts more efficient.
"The response to the current epidemic has been mainly political," says Jia.
Du, the Wuhan-based volunteer, is still transporting medical equipment for now. He says he had a moment of frustration last Saturday, after traffic police refused to allow him to pick up a delivery without official papers. 
Minutes later, however, he received a message saying there were 100 protective suits in a storehouse across town. Du headed straight there.
Editor: Dominic Morgan.
(Header image: Medical staff wearing newly delivered protective suits supplied by Guo Fei's team pose for a photo at Xiaogan No.1 Hospital in Xiaogan, Hubei province, 2020. Courtesy of Guo Fei's volunteer group)