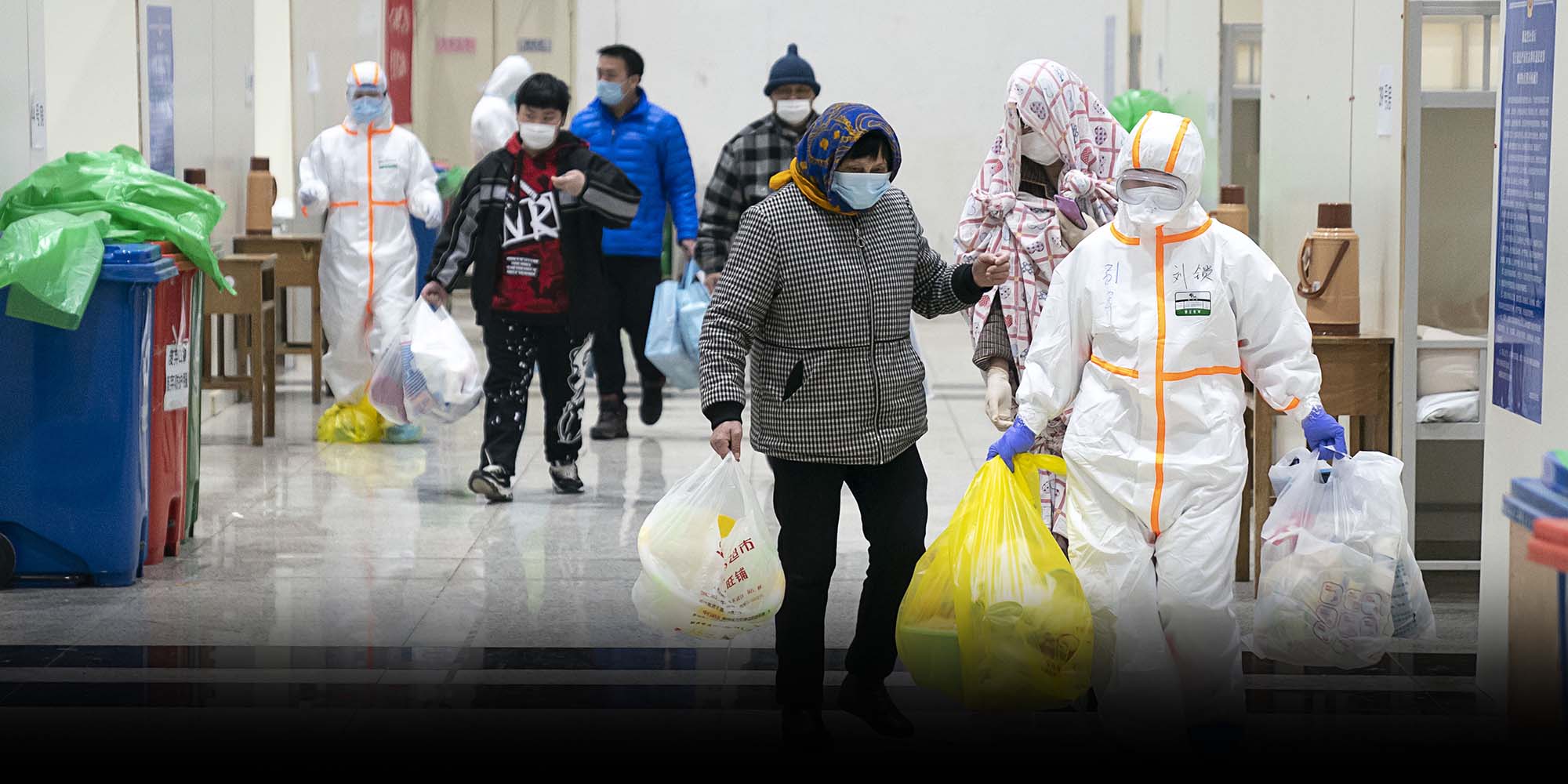 NEWS
Who Is Paying for Coronavirus Patients' Treatment?
The Chinese government has vowed that no one will be left out of pocket for coronavirus-related medical care, but is such a promise feasible?
It was a tense night for Lin Guihua and her family. On Sunday, the 56-year-old Wuhan resident finally managed to secure a hospital bed for her husband, who is gravely ill with the coronavirus that has ravaged the city. At around 11 p.m., the local neighborhood committee arranged for Lin's husband to be taken to Tongji Hospital in the city's Caidian District. Once there, Lin waited for over an hour, only to be told that her husband could not be admitted without a health insurance card, which he does not have.
In January, China's central government vowed to provide free medical care to people infected with the coronavirus — rhetoric that would be expanded to also cover suspected cases. The state, officials decreed, would cover 60% of local governments' treatment costs. Wuhan authorities, too, have stressed that diagnosed patients should expect to be relieved of all treatment costs: Hospitals in the central Chinese city now admit patients without charging upfront fees, instead keeping detailed records for future reimbursement.
With the herculean task of securing a bed at one of Wuhan's overstretched hospitals managed, Lin was crushed by the prospect of being bested by a wallet-sized piece of plastic. Fortunately, hospital staff informed her at around 5 a.m. that her husband's government ID card would suffice — though by that point she had already run home to fetch her own medical insurance card in case it might help with the formalities.
Though such rigid registration procedures are a source of unwanted headaches for Lin and people like her, they're essential for hospitals hoping to avoid headaches of their own in the months to come, when they will be seeking payment for endless medical procedures and overtime hours.
Treatment first, payment later
During the 2002-2003 SARS outbreak, the Chinese government mandated that hospitals should treat patients first and settle bills later, requiring local governments to pick up the slack. In Shenzhen, SARS patients were asked to pay 10% of their total treatment costs, while in Beijing, where the epidemic killed over 190 people, the municipal government offered full reimbursement to anyone under the urban health insurance scheme — though proof of a positive diagnosis was required.
According to the Hubei Healthcare Security Administration, the body that oversees the province's medical insurance system, confirmed coronavirus patients will be completely covered by a combination of standard medical insurance and government financial support.
"For confirmed cases, 100% of the treatment fees are reimbursed (to the patients), while suspected cases follow the normal medical insurance system," an official surnamed Li from the healthcare security administration in Wuhan, Hubei's capital, told Sixth Tone. She added, however, that any outpatient fees or medicines purchased prior to a patient being hospitalized would not be covered.
According to Li, reimbursement will be systematically carried out later, though no timetable has been set. For now, the chief responsibility of Li and her colleagues is simply to keep records.
However, another official from the Wuhan administration surnamed Zheng later said that both suspected and confirmed cases in the city would be eligible for free treatment, including having their outpatient fees reimbursed.
The administration's official website appears to confirm this, indicating that treatment costs for suspected cases are now included under standard medical insurance coverage. The site also says that the Wuhan government has allocated 700 million yuan ($100 million) in relief funding to local hospitals.
Jia Hu, the pseudonym of a 21-year-old college student in Wuhan, was diagnosed with the coronavirus on Jan. 29. He told Sixth Tone that because his symptoms were mild, he merely took the medication prescribed to him by hospitals.
"We paid for the drugs, and I'm sure we'll get reimbursed later — it's just that the channel hasn't been announced yet," said Jia, who is under quarantine at a hotel after slowly recovering from the infection.
According to Zheng, all medications stipulated by the National Health Commission should be covered. This list has been expanded, too, with official notices saying that additional drugs and medical procedures are now paid for in light of the current epidemic.
In most parts of China, full reimbursement for both diagnosed and suspected coronavirus patients appears to be the norm. At least nine provincial-level regions, including Beijing and Guangdong, have been unequivocal in promising free treatment for anyone affected by the coronavirus.
Housing Funds Can Go Toward Medical Fees — Or Can't They?
Despite the government's grand declarations of free treatment for all, some have their doubts about whether patients will still need to pay out of pocket.
Confusion arose after a central government agency announced on Feb. 3 that working people could withdraw housing funds from their social welfare accounts to pay for treatment costs. Most employers in China pay into a housing fund for their employees each month to help pay their rent or mortgage; occasionally, however, these funds can be allocated to help families cope with serious illnesses.
After the announcement, some online expressed what they viewed as a contradiction: Unlike medical insurance payments, which get reimbursed, the housing fund represents a person's "hard-earned money," one user argued on microblogging platform Weibo.
For her part, Li of the Wuhan Healthcare Security Administration said she was not aware of a directive to work with the local housing fund bureau, and a spokesperson from Beijing's medical security bureau told Sixth Tone that she hadn't heard of housing funds being used to pay medical bills.
Employees at two banks where Beijing residents can withdraw from their housing funds told Sixth Tone that while they had seen the official notice, there were no signs of it being enforced.
Payment policies may vary from province to province, but the same can be said for how patients are reimbursed through the standard medical insurance system.
"Treatment costs for pneumonia patients are completely covered in Jilin," an official surnamed Wu at the northeastern province's healthcare security administration told Sixth Tone. "We don't need the extra withdrawal of housing funds; we can fully cover their treatment costs."
According to Wu, Jilin pays for the treatment — including expenses for medication and outpatient fees prior to hospitalization — of its coronavirus patients, confirmed or suspected. The government disburses funds to designated coronavirus hospitals preemptively, Wu said, so there is no need for patients to settle any bills themselves.
Back in 2003, however, some overburdened hospitals faced financial crises after prepaying tens of thousands of yuan for treatment and then failing to receive government subsidies or payments from patients in a timely manner.
Although there is currently no policy in writing that delineates the scale of reimbursements for coronavirus patients, "free for all" may actually be realistic thanks to added medical relief funds, according to Chen Qiaoshan, a medical industry analyst at market research firm Analysys.
"They (local authorities) are heeding the call of the National Healthcare Security Administration," Chen told Sixth Tone. "It seems to be localized — that is to say, you address the bill at the hospital that admits you, and then you are reimbursed the specified proportion, with (the medical relief fund) taking care of the rest."
Editor: David Paulk.
(Header image: Medical staff and patients walking through one of the converted "shelter hospitals" in Wuhan, Hubei province, Feb. 5, 2020. Xiong Qi/Xinhua)