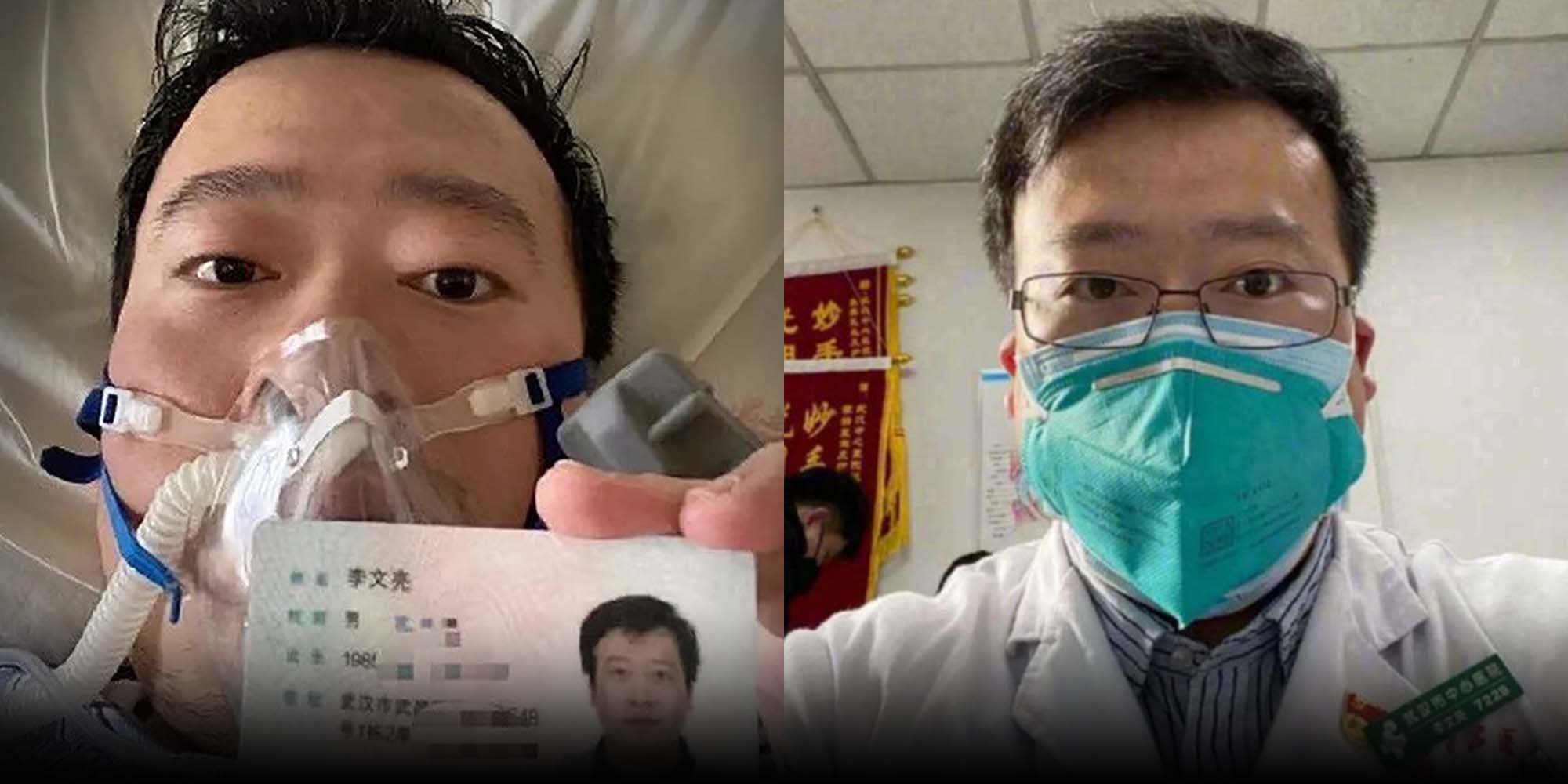 NEWS
Gone But Not Soon Forgotten: Li Wenliang's Online Legacy
One of the coronavirus whistleblower's earliest posts on Weibo was an expression of solidarity for a journalist who suggested that officials' negligence had contributed to a deadly train crash in 2011.
In the early hours of Friday morning, the novel coronavirus claimed the life of Li Wenliang, a 34-year-old doctor authorities had punished just over a month ago for raising the alarm about a mysterious SARS-like respiratory disease spreading around the central Chinese city of Wuhan.
Wuhan Central Hospital, where Li worked and had been receiving treatment, announced the doctor's death on microblogging platform Weibo. "An all-out rescue failed," the statement read.
Initial media reports announced Li's death at around 9:30 p.m. Thursday, though they were replaced hours later with new posts saying he was in critical condition receiving emergency treatment. Millions of sad, angry, and confused netizens stayed up late hoping for a miracle that never came, and the hospital's eventual confirmation of Li's death seemed to send a shockwave through the entire country.
Li is believed to be one of eight whistleblowers the Wuhan police summoned and formally reprimanded in late December and early January for supposedly spreading rumors about a virus that bore striking similarities to SARS, also a coronavirus. In the days and weeks that followed, Li would reflect on the farcical experience in his Weibo posts, growing his follower count to 1.2 million by time of publication Friday.
Hours after the doctor's death, the National Supervisory Commission, China's top anti-corruption agency, said it would send a team of officials to Wuhan to conduct a full investigation.
To get to know the man before he became a martyr, Sixth Tone has reviewed Li's Weibo posts, written in vivid and vigorous prose, from 2011 to about a week ago. The young doctor who studied in Wuhan and later made his home in the city had a penchant for posting photos of his daily meals and snacks. He posted about gifts he received from online lotteries, staying up late to watch snooker by livestreaming, and the latest gadgets he hoped to buy.
One of Li's first posts on Weibo came after a collision of two high-speed trains near the eastern city of Wenzhou left 40 dead and over 170 injured in July 2011. Wang Qinglei, a journalist for state broadcaster China Central Television, had been suspended for raising questions about preexisting safety concerns during an interview after the incident — a punishment Li felt was unjust. "Wang Qinglei is a responsible and excellent journalist," he wrote. "We should collect signatures and demand that he be reinstated!"
Like most everyone else, Li would sometimes complain about work. He wrote that he felt frustrated because he couldn't afford expensive imported fruit, and about how he forced himself to exercise to stay fit. Li's warmth and humanity shine through in these posts, which show how he treasured his multiple roles as father, husband, and son.
Li photographed food with all the enthusiasm but none of the skill of a high schooler hoping to spruce up his Instagram. Once, he posted a series of photos of Coca-Cola bottles with differently worded labels that amused him. One night in 2013, Li wrote that he suddenly had a craving for oranges; half an hour later, he posted again to say that he had left his home and was on a 1 kilometer adventure to find the citrusy goodness he so craved. In 2019, Li took to Weibo to compliment the chef at the Chinese fast-food chain Dicos who had made the scrumptious fried chicken he had ordered.
In a post on Nov. 27, 2019, Li half-joked, half-complained about Elevit, a multivitamin for pregnant women. "It's so expensive!" he lamented. After Li's death, some media outlets reported that his wife, who is pregnant, had left Wuhan with their first child and her parents.
Earlier in November, Li had shared a post with photos of the Great Wall in the fall. "It's so beautiful! I hope I can bring Li Junior there some day," he wrote.
Li rarely posted photos of his family on Weibo. His wife and son appear in just two pictures from November 2018. In the first, the boy is wrapped in a red blanket smiling wide at a toy in each hand, with Li's caption reading "hand in hand." The second photo shows the boy and his mother in the back of a car, the boy's face turning away as if to escape the stern expression on his mother's. "Ideological education is important," Li quips in the post's accompanying text.
On a few occasions, Li writes about arguments or tiffs between him and his wife. When smartphone maker Smartisan released its T2 handset, Li waited online for two hours to buy it — only to be thwarted, he claimed, by his wife at the last minute.
"We had a cold war on our hands the whole night, and even canceled our parting kisses in the morning," Li wrote. "You see, a man can't live without a secret stash of dough!"
In 2013, Li posted about a partial relaxation of the one-child policy that allowed couples in which one spouse was an only child to have an additional kid. Li was elated. "Holy crap! It's now possible to have two!" he cheered.
Once when Li was trying to lose some extra weight, he posted twice to complain about how his father seemed to be in better shape than he was. After Li's parents visited him in 2012 when he was working in Xiamen, a coastal city in the eastern Fujian province, he posted about how he was sad to see them go. "Dad and Mom are leaving…" he wrote, attaching a photo of a high-speed train at a railway platform.
As a doctor, Li closely followed the latest news and developments in China's medical and health care industry. He harbored no illusions about his profession: Unlike in other countries, doctors in China work long hours for relatively low pay and social standing. In 2013, he shared a screenshot of a paper in British medical journal The Lancet titled, "Appeal from Chinese doctors to end violence," after three doctors were killed and 10 medical staff were injured in a spate of seven attacks. Then in December of last year, Li shared an article about how Yang Wen, another doctor, was brutally killed by a patient's relative in Beijing, causing a public outcry.
One of the tougher times, according to Li's Weibo page, was around Feb. 7, 2014. "I don't want to work, I don't want to work," the young doctor wrote in successive posts. Five years later, he appeared to be out of the doldrums and intently focused on his calling. "Today is a busy day. With too many people to see, I inevitably felt myself becoming a bit impatient," he wrote in October 2019. "Thanks to all my patients for their understanding."
While Li's posts reveal a keen sense of humor, one of his jokes — about how the Mayan calendar supposedly predicted the end of the world on Dec. 21, 2012 — is now heavy with the weight of his death.
"Dear friends, after today you may lose contact with me because I'm going to save the world," Li wrote. "If you see the sun rise as usual on the 22nd, then it means I have succeeded. But don't thank me for it — it's merely my duty."
Editor: David Paulk.
(Header image: Photos of coronavirus whistleblower Dr. Li Wenliang, who died Friday. From @北京感恩公益基金会 on Weibo)