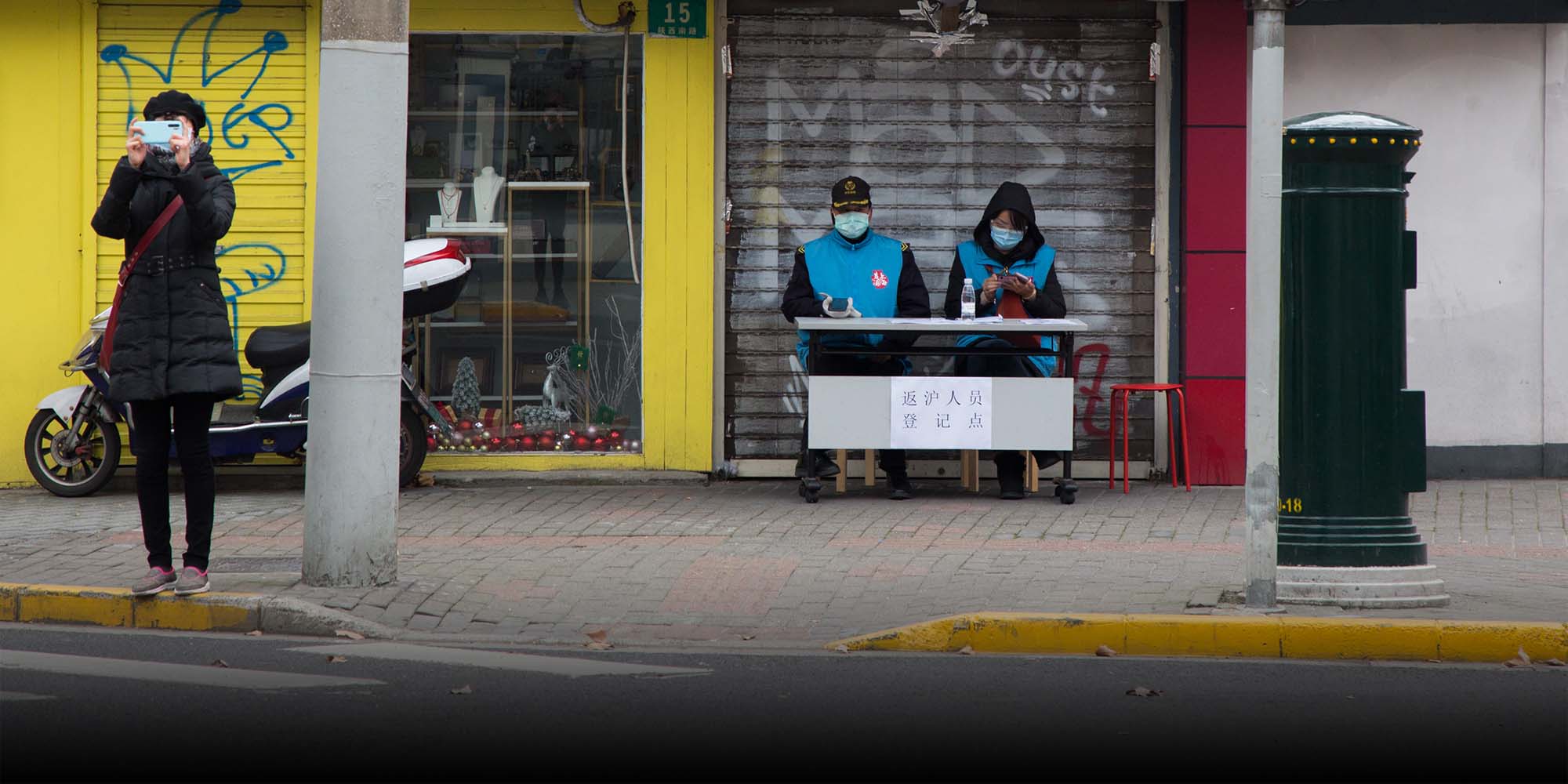 NEWS
Housebound Chinese Cope With Being Cooped Up
Parts of over 30 cities have limited residents' ability to leave their homes as China battles the novel coronavirus, but the effectiveness of such policies remains in question.
For many Chinese, the 2020 Lunar New Year holiday has been an exercise in boredom bordering on absurdity.
Almost three weeks into what was supposed to be a one-week break, there are signs that the country is gradually starting to creak back to life. But tens of millions remain under varying degrees of mandatory quarantine in their apartments, rural hometowns, and occasionally in between, while a number of provinces, cities, and businesses have announced plans to suspend work and school until at least March 1.
Faced with an epidemic of novel coronavirus pneumonia (NCP) that has killed over 800 people and sickened 40,000 across the country since December, local officials are under intense pressure to keep the disease from spreading further. This has led a number of cities and regions to adopt so-called hardcore containment measures, from shutting down public spaces and putting up roadblocks to effectively barring the vast majority of residents from leaving their homes.
On Feb. 1, the eastern city of Wenzhou, which had reported over 460 confirmed cases of NCP as of Monday, became one of the first localities outside of the outbreak's epicenter in the central Hubei province to effectively impose a curfew on its residents. That day, the city issued a directive limiting excursions out of doors to "one designated member per household, every two days."
In the nine days since, districts in at least 30 more cities, including provincial capitals Hangzhou, Harbin, Fuzhou, and Nanjing, have implemented some form of residential curfew. In an extreme example, the central city of Zhumadian announced that each household would only be allowed to send a designated representative outside once every five days.
Liu Shuiyi, a 24-year-old Harbin resident, told Sixth Tone on Thursday that she had not left her house in three days.
"It's hard to get groceries or walk the dog," Liu said in a telephone interview. On Feb. 4, city officials instructed neighborhoods to limit excursions to a maximum of one person per household every two days, though the details of implementation were left up to the neighborhood authorities.
While she sees the rules as an annoyance, Liu said she generally supports the policy, in part because she believes it can prevent the further spread of NCP.
"I guess we will have to be tolerant, because Harbin's coronavirus situation is quite serious," she said. Harbin, a city of roughly 10 million located over 2,000 kilometers from the outbreak's epicenter in Wuhan — or roughly the distance between Los Angeles and Dallas — had reported 128 NCP cases as of Monday.
For those like Liu who own their own home and stayed in the city for the holiday, the lockdown often means little more than being cooped up indoors. But for migrants returning from their distant hometowns, it can pose a far greater challenge.
Yuan Yaru, a 28-year-old native of the central Henan province who works in the eastern city of Hangzhou, told Sixth Tone that her neighborhood's quarantine policy has made it impossible for her to return.
"I was planning to go back on Jan. 29, but the public transportation in my hometown was shut down. Then I tried to return on Feb. 3, only to be told that I am not allowed to go back anymore," Yuan told Sixth Tone. "(My landlord) sent me the notice from the neighborhood committee."
When Sixth Tone called Yuan's neighborhood committee late last week posing as a tenant trying to return home, a woman who answered the phone explained that from Feb. 5, all tenants who had left the compound for the break, including those who had gone home for the holiday, would not be allowed back in until a later date.
When asked when that might be, the woman was unable give a definite answer. "The policy changes every day," she said. A search of publicly available records shows a number of Hangzhou districts have recommended that landlords and neighborhoods "strongly dissuade" or outright forbid residents from returning home until Feb. 9 at the earliest.
Yuan's district is telling landlords to keep renters from returning "in the near term." Yuan has an added reason to want to get back soon: She left her cat at home with only enough food to last for the planned duration of her trip. To resolve the situation, she eventually got in touch with a pet-loving volunteer in the city who agreed to help feed the cat for her. And while the provincial authorities rebuked local governments Sunday for adopting measures that "inconvenience" residents, she still doesn't know when she'll be allowed to return to Hangzhou.
Meanwhile, experts caution that the evidence in favor of extreme containment policies is questionable at best.
"The authorities are justifying their actions by claiming that they are the most effective means of controlling the spread of the virus," said Todd Meyers, director of the Center for Society, Health, and Medicine at NYU Shanghai. "It is an open question whether or not it (quarantine) is the most effective means of control."
Meyers also highlighted the potential social risks of quarantine and lockdown policies.
"I worry that the solution may be worse than the problem," he said. "It's not hard to imagine growing public resentment, which could ultimately undermine efforts to stop the spread of the virus."
Indeed, there are signs of a backlash brewing online, as residents complain of discrimination or even being locked in their homes without warning because they had previously traveled to regions hit hard by the epidemic. On Monday, the Hangzhou city government had to release a statement reminding neighborhoods and districts that "hardcore" containment measures such as blockading residential apartments or roads are forbidden.
"The most aggressive forms of compulsory treatment and quarantine often fail to realize their aim," Meyers said. "There is always a cost, not only to the individual but also to a society."
Editor: Kilian O'Donnell.
(Header image: A medical checkpoint along South Shannxi Road, Shanghai, Feb. 6, 2020. Shi Yangkun/Sixth Tone)