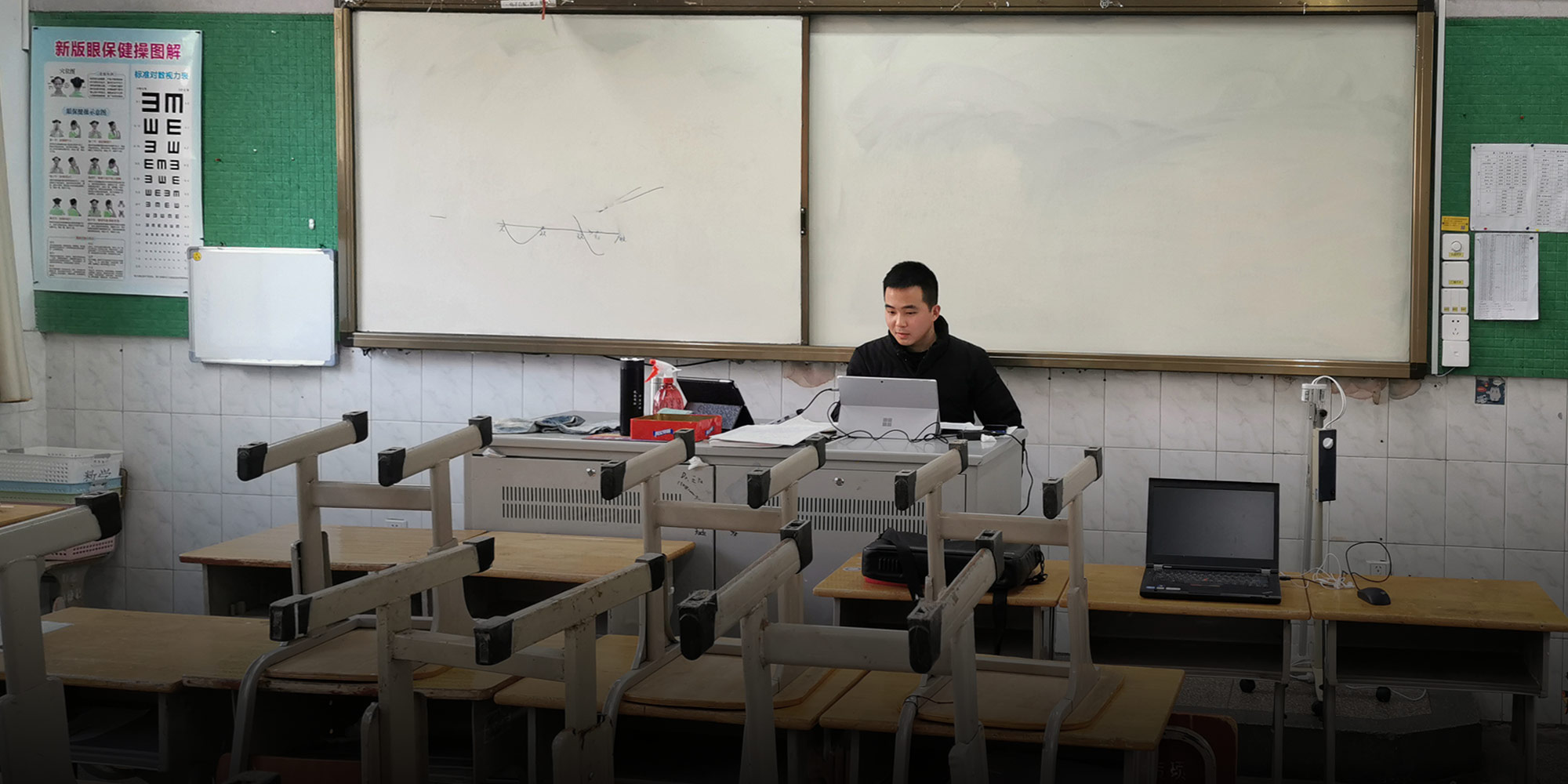 NEWS
Under Quarantine, Huanggang Students Fret Over 'Gaokao'
China's leaders have called the coronavirus crisis a "major test," but the high school seniors at the heart of the epidemic are preoccupied with a different sort of exam.
When 18-year-old Gan Jian heard last week that China's Ministry of Education was pushing back the start of the spring semester amid the ongoing novel coronavirus epidemic, he was more worried than relieved.
"I was a bit concerned about the gaokao (college entrance exam)," Gan says. "The epidemic will end. But for me, the gaokao is my priority. The clock is ticking, and we don't have much time left."
Gan is a 12th grader at Xishui County Experimental Senior High School in the central city of Huanggang. Located 75 kilometers from the outbreak's epicenter of Wuhan, Hubei's provincial capital, Huanggang has the third highest number of recorded cases in the country and has been on virtual lockdown since Jan. 24, with schools and most businesses closed and residents urged to stay indoors and "self-quarantine."
But with the all-important gaokao just 122 days away, many students, parents, and teachers in the region worry that lost class time now could mean lost points on the exam. On Jan. 27, the State Council, China's Cabinet, announced a nationwide extension of the Lunar New Year public holiday from Jan. 30 to Feb. 2. The same day, the education ministry empowered localities to extend the break further if needed.
For most students in Huanggang, school remains canceled, but the city is one of a number around the country allowing schools to make special arrangements for students preparing to take the gaokao.
Huang Tian, a 12th grader at Hubei Huanggang Secondary School, didn't get to enjoy the two-day extension of the Lunar New Year holiday: Her school announced that classes for seniors would be held via livestream starting Jan. 30.
"That's when our spring term was originally scheduled to begin," Huang says. "We didn't really get a longer break. It's too bad: I still had to finish my (vacation) assignments on time."
Huang received a detailed daily schedule from her teacher a week ago. Her days start at 6:30 a.m., when her subject teachers post review materials to the class's chat group on QQ, a popular messaging platform. At 8:35 a.m., the day's lectures begin. Huang has four 90-minute classes each day, all of which she watches from her bedroom. After a scheduled 35-minute dinner break, she starts wan zixi, the nighttime review session, when she does her homework and takes practice tests until 10:30 p.m.
"Given the epidemic, we've made disease control our priority," says Gong Dansheng, an official with Huanggang's board of education. "But taking into consideration the immense pressure 12th graders are under because of the gaokao, we're letting them start (online) classes slightly earlier. Other grades are not scheduled to start (online) until next week."
The city's decision to offer virtual classes is broadly in line with official policy. On Jan. 29, two days after authorizing an extension of the winter break, the Ministry of Education released a statement urging all schools to "suspend school but not learning" by hosting classes online. Wuhan, one of the only cities with more coronavirus cases than Huanggang, is also establishing virtual classrooms for seniors.
As China deals with the widening epidemic, a number of prominent digital education platforms have offered their services to schools that are unable to open regularly. In the coming weeks, as many as 5 million students at all levels of education are expected to attend livestreamed classes via Alibaba's free DingTalk conference call service, according to state media reports. Other schools including Gan's are using online courses designed by education companies.
The sudden switch to virtual classrooms and distance learning hasn't been entirely smooth. Li Xingchen, a 12th grader at Huanggang Secondary School, doesn't have a broadband connection at home. In order to watch his school's online lectures, he has to use around 2 gigabytes of mobile data every day.
"It's affordable so far, but I can imagine it being a problem for someone else," Li says. "For me, the biggest issue is all the time I spend staring at my phone screen. I feel like I'm almost blind by the end of the day."
The ongoing citywide lockdown also poses challenges. "I'm about to run out of pens and paper," Huang says. "And there's nowhere to get more because most stores are closed."
Students aren't the only ones struggling to adjust. Guo Xu, a math teacher at Huanggang Secondary School, says widespread travel restrictions in the province have stranded many teachers in their rural hometowns. "They don't have access to adequate equipment for livestreaming," Guo says. "So the few of us who remain in the city have to teach all the students." There are nearly a thousand 12th graders at Guo's school, he says, and only about two teachers for each subject.
Other teachers worry that having students attend class from home is ineffective. "We have to rely on parents and homeroom teachers to supervise students and make sure they upload their homework on time," says Yang Fan, a 12th grade Chinese teacher and the dean of pedagogy at Tuanfeng Secondary School in Huanggang. Yang's school isn't planning on livestreaming classes because many students and teachers lack the necessary equipment. They've been using pre-designed resources from an online education platform instead.
Yang's school is also telling students to be mindful of their health. "We remind our students all the time to take precautions against the novel coronavirus," Yang says. The school asks all students to report their health status every morning. According to Yang, none of the students or staff have contracted the virus.
"For most students, the gaokao is a bigger source of anxiety," Yang says. "They're still kids."
"I'm a bit nervous," says 12th grader Gan. "I'm still not very used to online classes, and some of my study plans have been disrupted by the epidemic. I need to catch up as soon as possible."
Other students have more practical concerns about the online course model. "I prefer having classes in an actual classroom to what we're doing now," Huang says. "Sometimes my teachers' internet connection is spotty, and we can't really hear them. There's also no bell to remind teachers when class ends, so they just drone on and on."
"I hope they can contain the epidemic quickly so we can go back to school," Huang says.
Editor: Kilian O'Donnell.
(Header image: A teacher during a livestreamed Chinese class for high school seniors at Nanjing No.9 Middle School in Nanjing, Jiangsu province, Jan. 31, 2020. Yang Zhe for Sixth Tone)