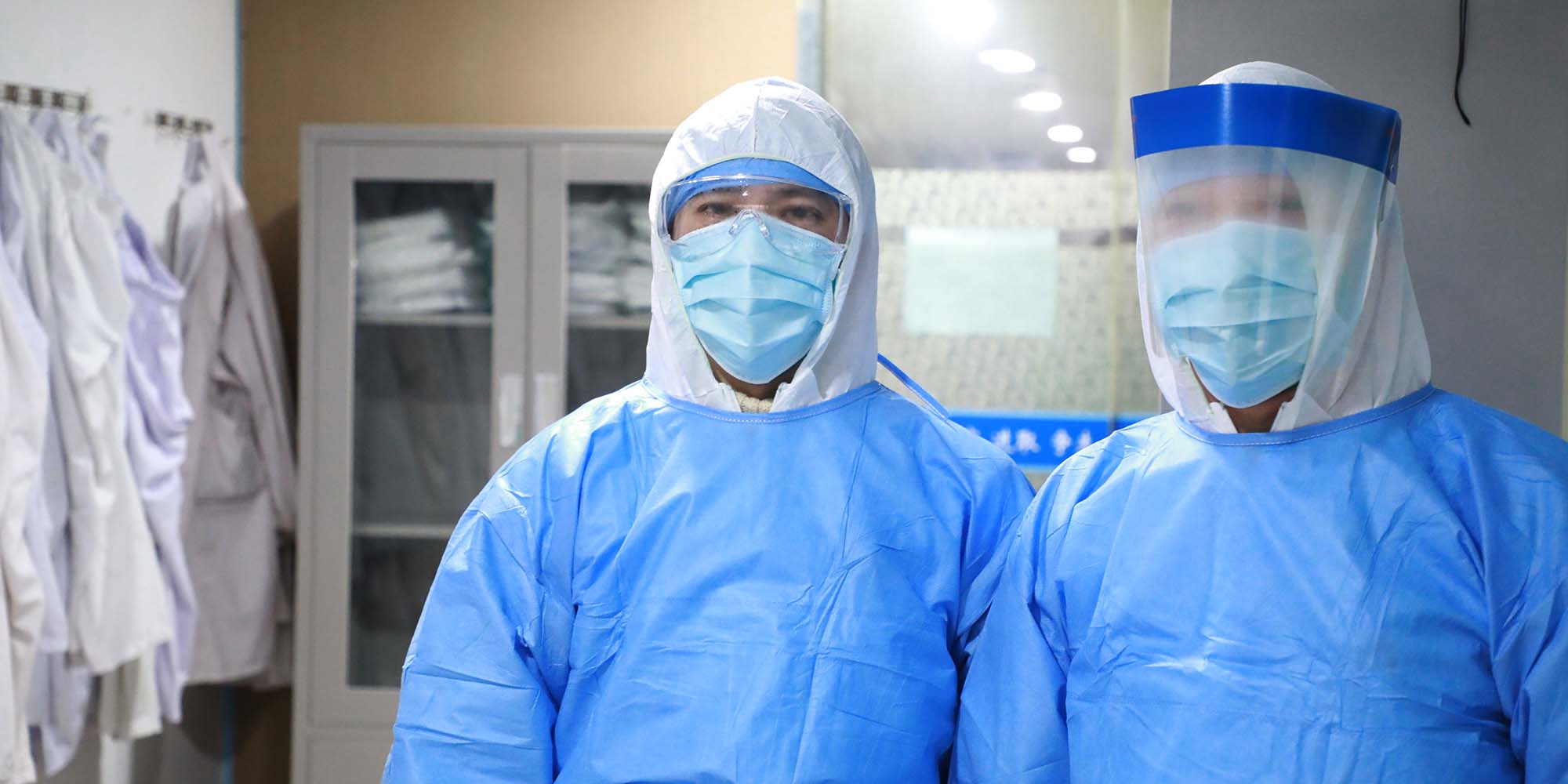 FEATURES
Life on the Coronavirus Front Line for Wuhan's Doctors
Overwork, stress, and the constant risk of infection have taken their toll on physicians at the center of the epidemic, but many are hopeful that the situation is starting to stabilize.
Since early January, Hu Sheng has been at the heart of the battle against the new coronavirus infecting thousands in the central Chinese city of Wuhan. In recent days, however, the 39-year-old doctor has been focusing on just one patient: himself.
Hu is one of dozens of physicians in Wuhan who have been infected with the virus they are trying to contain, as medical staff struggle to protect themselves and their families while dealing with an ever-growing number of patients. More than 3,000 new coronavirus cases were confirmed in Hubei, the province where Wuhan is located, on Tuesday alone.
The respiratory disease specialist's first encounter with the outbreak came Jan. 8. His employer, the Third People's Hospital of Hubei Province, reassigned Hu to the outpatient department, to help his colleagues deal with a sudden surge in fever and pneumonia cases.
The hospital is located just 7 kilometers from the South China Seafood Wholesale Market, where many of the first coronavirus cases reportedly emerged in December, and the number of patients was almost overwhelming. 
Doctors in the outpatient department were working 24-hour shifts and dealing with up to 100 patients each day, whereas normally they would see fewer than 50, according to Hu. Around 60% of the patients had pneumonia, he estimates.
The physician took all the usual protective measures, wearing a mask at all times while seeing patients. Yet after two weeks, he began to feel fatigued and developed a cough.
At first, Hu thought his intense workload was simply taking a toll on his health. But he decided to go for a CT scan anyway. Fifteen medical workers had been diagnosed with the novel coronavirus Jan. 21, and health experts had confirmed the disease was definitely capable of human-to-human transmission.
"I have a 3-year-old child and my parents are elderly. I had to be cautious, because I'd been working in an extremely dangerous environment," Hu tells Sixth Tone.
Hu took the scan Jan. 24. That evening, he was due to meet his family for a traditional Lunar New Year's Eve dinner. But he canceled his plans as soon as he saw the results.
The doctor had double pneumonia. After seeing dozens of patients with the same symptoms over the previous days, Hu knew that could only mean one thing: He was infected with the coronavirus.
"When I tried to figure out how I got infected, I realized the most likely reason was that I didn't wear any protective goggles," says Hu.
In late January, as more doctors became sick, Wuhan's hospitals ramped up protection measures, and medical staff began wearing hazmat-style protective uniforms, masks, goggles, and face shields.
The fear of infection, however, has weighed on junior doctor Ye Liwen's mind. She was transferred to the fever clinic at the Third People's Hospital Jan. 4.
The 27-year-old, who only began practicing medicine six months ago, tells Sixth Tone she didn't tell her parents what she would be doing in her new position. "I didn't want to worry them too much," she says.
Within days, Ye began experiencing chest distress and underwent a CT scan. Fortunately, the results showed no signs of infection
"It (the distress) might have been caused by anxiety," says Ye. "Who wouldn't feel nervous working in such a distressing environment, receiving so many fever patients and seeing your colleagues go down?"
Ye's supervisor, a more senior doctor, was diagnosed with the virus the same day she received the all-clear. At least two other doctors and several nurses on her team have also been infected, she says. 
According to Ye, it's difficult to estimate what proportion of the staff has contracted the virus. Her team has around five physicians on duty at a time, but the personnel are constantly changing as doctors recuperate from illness and long shifts.
But anxiety in the wards is starting to dissipate as staff members who had contracted the virus early on recover and return to work, Ye says.
"From feeling a lot of panic at the beginning, I think the general atmosphere at the fever clinic is calming down," says Ye. "We understand more and more about the virus … (and) this gives us a sense of security."
Hu says he's also feeling much better after over a week's rest at home. "I've regained most of my vitality," he tells Sixth Tone Sunday. "I'm exercising a bit more each day to prepare myself for when I go back to work."
Some doctors in Wuhan, however, still worry about the safety of their family members, fearing they may unwittingly infect them with the virus. Though most healthy adults have only experienced minor symptoms after contracting the new coronavirus, other groups are at greater risk — especially elderly patients and those with pre-existing health conditions. (Of the 400-plus deaths reported so far, 80% were patients over 60 and over 75% already had more than one chronic disease, the National Health Commission said Tuesday).
Hu has been living apart from his wife and child since being reassigned to the outpatient department, and his family remains healthy. But his wife, a doctor at a community hospital, is still working on the frontline, dealing with fever patients on a daily basis.
"She still lives with our young child," says Hu. "I've repeatedly told her to pay attention to every detail of protection at work, but I'm still deeply concerned about their health."
Diagnosing new coronavirus cases remains challenging in Wuhan, and this is increasing the risk that patients will infect loved ones without realizing it, experts have warned. 
Many pneumonia patients have complained about shortages of coronavirus test kits. Meanwhile, Zhang Xiaochun — a leading respiratory disease specialist at Wuhan's Zhongnan Hospital — has questioned the accuracy of the test kits and called for hospitals to rely on CT scans as the main method for diagnosing new infections.
"We have seen more infections happening at family gatherings in Wuhan, and many patients didn't show clear symptoms at the beginning," Zhang wrote in a post on social media app WeChat. "Their diagnostic test results came back negative in the early stages."
Zhang worries that hospitals' current policy of telling patients with mild symptoms to stay at home for observation is worsening the epidemic. The early-stage patients are more likely to infect family members, as well as other people at the hospital when they come to take tests or collect prescriptions.
"We have to immediately quarantine people in hotels or schools if their CT scans show typical signs of infection," says Zhang. "We should get volunteers to help give them medicine."
For Hu, the fear that has spread throughout Wuhan is also exacerbating the situation. People are rushing to the hospital as soon as they develop a fever, and this is straining the city's health system and increasing the number of infections.
"If you develop a fever in the morning and visit a doctor in the afternoon, there's no way a blood test can determine your real health condition," says Hu. "If you visit a fever clinic, there's a risk of cross-infection. You might contract coronavirus by making a non-essential hospital visit."
Though the Third People's Hospital is being patient and ensuring infected doctors are fully recovered before returning to frontline duty, Hu says he is keen to get back to work as soon as possible. He is urgently needed.
The hospital has quadrupled the number of beds in the inpatient department for respiratory disease patients and closed down several smaller departments — including ear, nose, and throat, as well as ophthalmology — reassigning staff to concentrate on treating people with fevers and pneumonia. 
"Some of the beds are designated for medical workers who got infected and are in a relatively severe condition," says Hu. "But most medical staff suffer only mild symptoms, like the majority of patients I have seen."
Few of the recently reassigned physicians are respiratory disease specialists, and doctors with Hu's expertise are therefore needed more than ever.
Hu hopes to be back on the ward within days. He has been taking two anti-viral drugs, umifenovir and oseltamivir, as well as the antibiotic moxifloxacin. On Monday, the doctor underwent a CT scan that suggests he has effectively recovered.
"I'll be given further tests for coronavirus," says Hu. "If two separate results in three days come back negative, I'll be considered recovered and can get back to work."
Though there are few signs so far that the epidemic is slowing down, doctors tell Sixth Tone they're hopeful most patients with non-severe symptoms can make an equally smooth recovery.
Ye hasn't witnessed a decline in the volume of patients visiting her department each day, but in recent days more of her consultations have been with existing patients coming for checkups, rather than new cases.
"As we see more people recovering, we're growing more confident that most people with mild infections can fully recover," says Ye.
Hu expects to see a greater number of patients declared healthy again in the coming weeks and says he's confident most patients with mild symptoms will make a full recovery with the recommended medication.
"The health authority has set a very high threshold for defining a recovery case: two negative coronavirus tests in a row over at least three days and apparent recovery shown on CT images," says Hu. "That's why the number of recovered patients has increased very slowly. Even for those with mild symptoms, the process takes two to three weeks."
In a press conference Monday, Qiu Haibo, a health expert working with the National Health Commission, said coronavirus patients in the recovery stage and those discharged from the hospital are no longer infectious and won't be at risk of contracting the virus again for at least half a year. 
Hu cautions, however, that Wuhan's medical workers should continue taking maximum measures to protect themselves — even those, like himself, who have already contracted the disease.
"We're still in the outbreak period of the epidemic," says Hu. "We have to take every step cautiously."
Editor: Dominic Morgan.
(Header image: Hu Sheng poses for a photo with his colleague at the Third People's Hospital of Hubei Province, Wuhan, Jan. 20, 2020. Courtesy of the Third People's Hospital of Hubei Province)