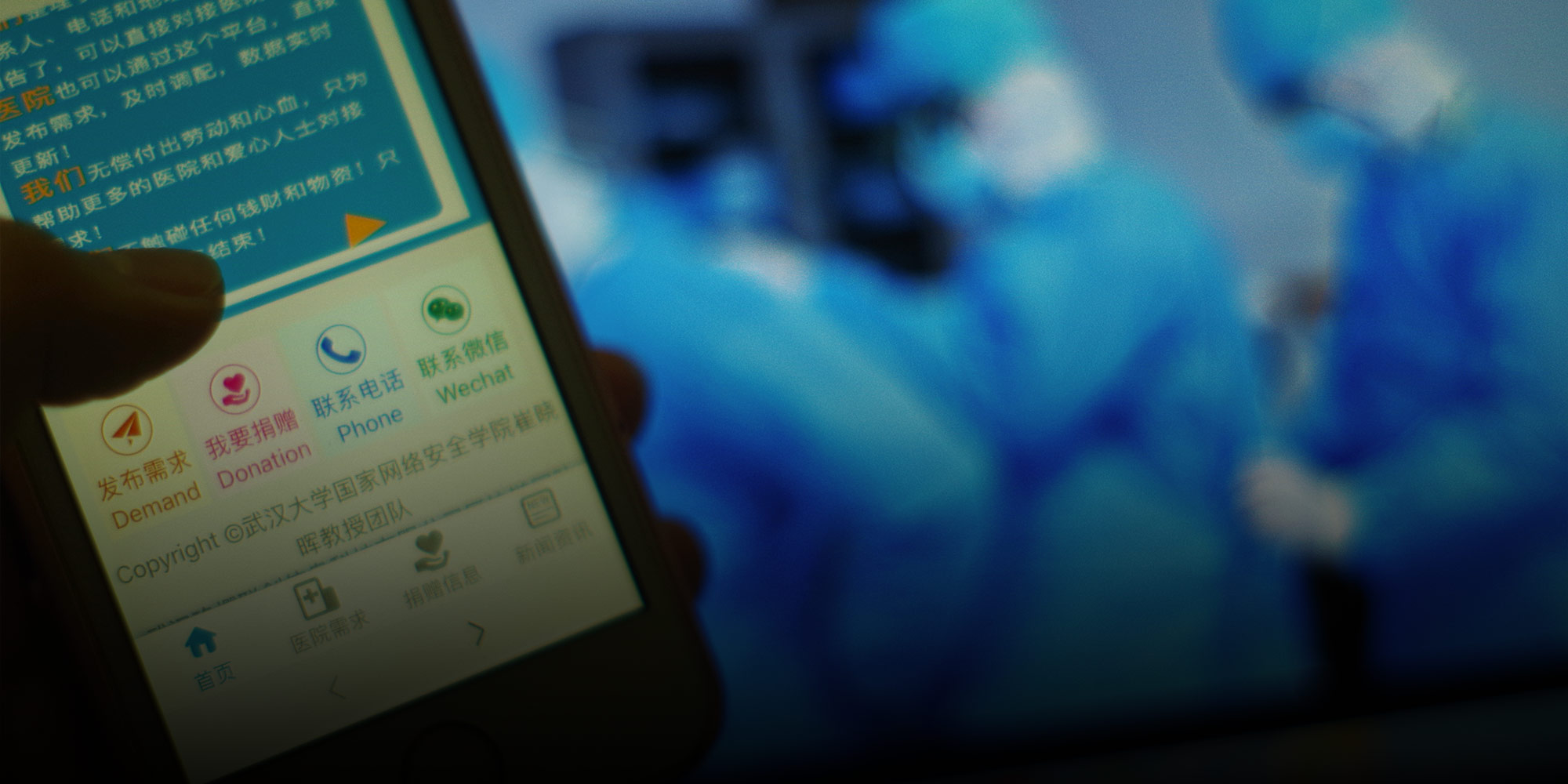 NEWS
China's Students Battle Coronavirus From Behind Their Keyboards
University students are coordinating online to solicit donations for hospitals needing medical equipment, fact-check what's being reported about the epidemic, and relay first-person accounts from frontline cities.
On Monday morning, a group of students from Wuhan University's school of computer science and engineering launched an online platform for connecting would-be donors with over 800 hospitals across China that are strapped for medical supplies.
The efficiency of the initiative is almost as impressive as its altruistic spirit: The group of 40 students and programmers needed just 40 hours to bring their project to life, and coordinated everything entirely online.
Their platform, Luoying Shanlian, lists people who have signed up as donors, along with the partner hospitals' contact information and details of the equipment they need.
The idea for the project came to Cui Xiaohui, a professor at Wuhan University's Big Data and Cloud Computing Lab, after he and his students realized how badly hospitals — and especially those in the countryside — needed certain medical supplies. Though the students also want to develop online platforms to serve their local communities, they decided their first project should prioritize frontline medical workers, Cui told Sixth Tone.
Cui and his students may be hoping to do even better than at least one well-established charity. On Tuesday, the discipline inspection commission of Hubei province, where Wuhan is located, dismissed the deputy head of Hubei's Red Cross Society for "misconduct" after the group reportedly distributed 3,000 protective masks to a frontline hospital and 18,000 masks to hospitals not treating coronavirus patients, and then offered an unconvincing explanation as to why.
"Many hospitals have urgent demand for supplies, but they don't know who to turn to; at the same time, many would-be donors don't know where to donate, and are just making inquiries through friends or on social media," Cui said. "So I thought that if we could create a public platform that connects all of these hospitals and donors, people would be able to easily see the hospitals' needs."
The project team consists of 40 people — half graduate students, half local programmers — as well as nearly 300 volunteers who help verify the information registered on the platform by both hospitals and prospective donors. But because most of Cui's students are housebound, effectively quarantined, all of their collaboration takes place online.
Yet the students and volunteers have still managed to work efficiently, dividing themselves into different groups tasked with customer service, system development, system maintenance, materials collection, and information screening.
In the first 24 hours after Luoying Shanlian's launch, the site received 150,000 visits, according to Cui.
Students at the epicenter of the epidemic aren't the only ones taking action. At Nanjing University some 500 kilometers away, Zheng Jiawen, a researcher at the School of Journalism and Communication, and the students she mentors have focused their well-known campus media platform, NJU FactCheck, squarely on the coronavirus epidemic and the misinformation surrounding it.
Founded in October 2017, NJU FactCheck has a reputation for debunking online rumors and rebutting inaccurate or misleading claims made by public figures. In the past month, it has published two in-depth reports about the coronavirus crisis. The first compared the current epidemic to that of the SARS in 2002-2003, focusing on how the official responses have dovetailed or diverged, and the role played by media outlets; the second analyzed the updates Wuhan's health department issued between Dec. 31 and Jan. 24, and identified a number of inconsistencies in the official narrative.
At a time when most Chinese media outlets are focused on reporting from Hubei and other frontline areas, platforms like NJU FactCheck offer valuable analysis and context to reporters in the field — including some from the same university.
Since Jan. 25, Nanjing University-affiliated public accounts on social app WeChat have been publishing a series of gripping first-person accounts by students from Hubei province who went home for the Spring Festival holiday and found themselves in the thick of the battle to contain the coronavirus.

The series was organized by six faculty members from the university's journalism school, who assembled a crack student reporting team as news of the epidemic began to break. On social media, the teachers recruited students from Hubei to record scenes from their daily lives at the heart of the outbreak. Around 30 students signed up, and have been sending a steady stream of reports back to the faculty-led editing department, which selects the best pieces for publication. By Tuesday, the team had published 11 articles in the series, each depicting a different reality on the front lines — from large cities like Wuhan and Yichang to lesser-known areas like Huanggang, Honghu, Xiantao, and Yangxin County.
"The reason we initiated this reporting is because we want our students to know that they're present in this life — they cannot detach themselves from it," Zhou Haiyan, one of the six faculty working on the project, told Sixth Tone. "The things they see will become the basis for their future thoughts and actions."
Contributions: Cai Xuejiao; editor: David Paulk.
(Header image: The user interface of the hospital donation platform developed by Cui Xiaohui's team. Sixth Tone)