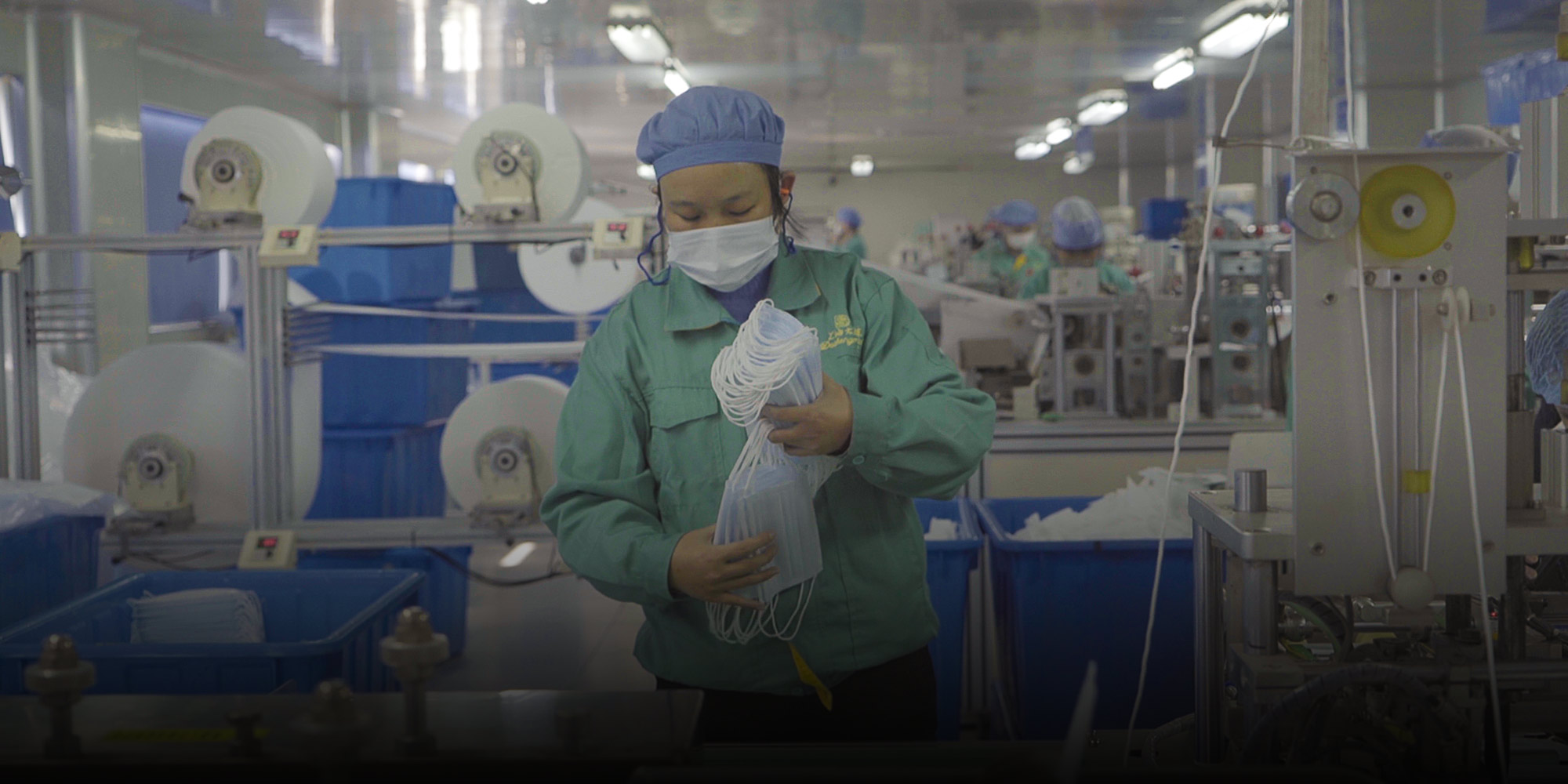 NEWS
Shanghai Asks Residents To Sign Up for Orderly Mask Distribution
With more coronavirus cases each day, the city is likely to see a surge in demand as people return following the Spring Festival holiday.
SHANGHAI — Cheng Xiumei was surprised to find that no one was lined up to buy face masks at her neighborhood pharmacy on Saturday. Dozens of residents had waited outside in the cold the previous day hoping to snatch up one of the hottest commodities of the public health crisis currently unfolding in China.
Instead, the 50-year-old elder care worker found a notice at her local pharmacy in the central Jing'an District asking would-be customers to register with their neighborhood committees beginning Sunday to receive vouchers for picking up masks from designated pharmacies the following day.
"I still have more than 30 disposable masks left, but I need to use one mask a day for hygiene purposes (when taking care of my client)," said Cheng, who hails from the northeastern Jilin province.
Cheng is among hundreds of thousands, if not millions, of Chinese who haven't been able to obtain new face masks, with demand driven up by the novel coronavirus that has spread to every provincial-level region of China, as well as dozens of other countries. Authorities have strongly urged — and in some cities compelled — people to cover their noses and mouths with a mask as a precaution against the virus, which so far has killed 259 people in the country and infected nearly 12,000 others.
Last week, Chinese health experts said disposable masks should be worn daily, and changed every two to four hours, in accordance with a new guideline from the Chinese Center for Disease Control and Prevention. However, amid dwindling supplies, some local disease control and prevention centers, including one in Beijing, have recommended that people reuse disposable masks if they aren't "wet or dirty."
To alleviate the mask crunch, Shanghai's city government has been collaborating with local mask manufacturers and pharmacies since Jan. 28, aiming to ensure that the supply chain to residents is not disrupted. From Saturday, the city temporarily suspended the sale of masks at pharmacies in a bid to prevent crowds and chaos.
The factory closures and suspended delivery services over the weeklong Lunar New Year holiday — which was further extended through Feb. 2 — have strained supply chains as demand intensifies in places like Wuhan, the epicenter of the outbreak, and other large cities across the country.
Products from popular mask suppliers to China such as the American brand 3M are constantly selling out online. Though anti-pollen and cloth masks are still available in some online stores, they're not as effective as N95 masks — which claim to block 95% of harmful particles in the air — or surgical masks, according to health experts.
Domestic mask makers have nonetheless moved to ramp up production during the holiday period, begging employees to cut their breaks short and attempting to lure them with overtime pay.
At Shanghai Dasheng, one of the city's mask manufacturers, there were nearly two dozen employees working 24-hour shifts until their colleagues returned, according to the company's founder, Wu Shengrong.
"We can produce 70,000 to 80,000 masks a day (now)," Wu said. "When more employees return, we will be able to produce 200,000 masks a day."
As of Thursday, all 17 mask manufacturers in Shanghai had resumed operations, producing a total of 1.5 million masks that day, according to Li Jia, an official with the Shanghai Municipal Commission of Economy and Informatization.
"Currently, we're not selling any masks on our own," Wu said. "The government is in charge of that."
Editor: Bibek Bhandari.
(Header image: A worker holds some masks on a production line in Shanghai, Jan. 31, 2020. Zhu Yuqing/Sixth Tone)