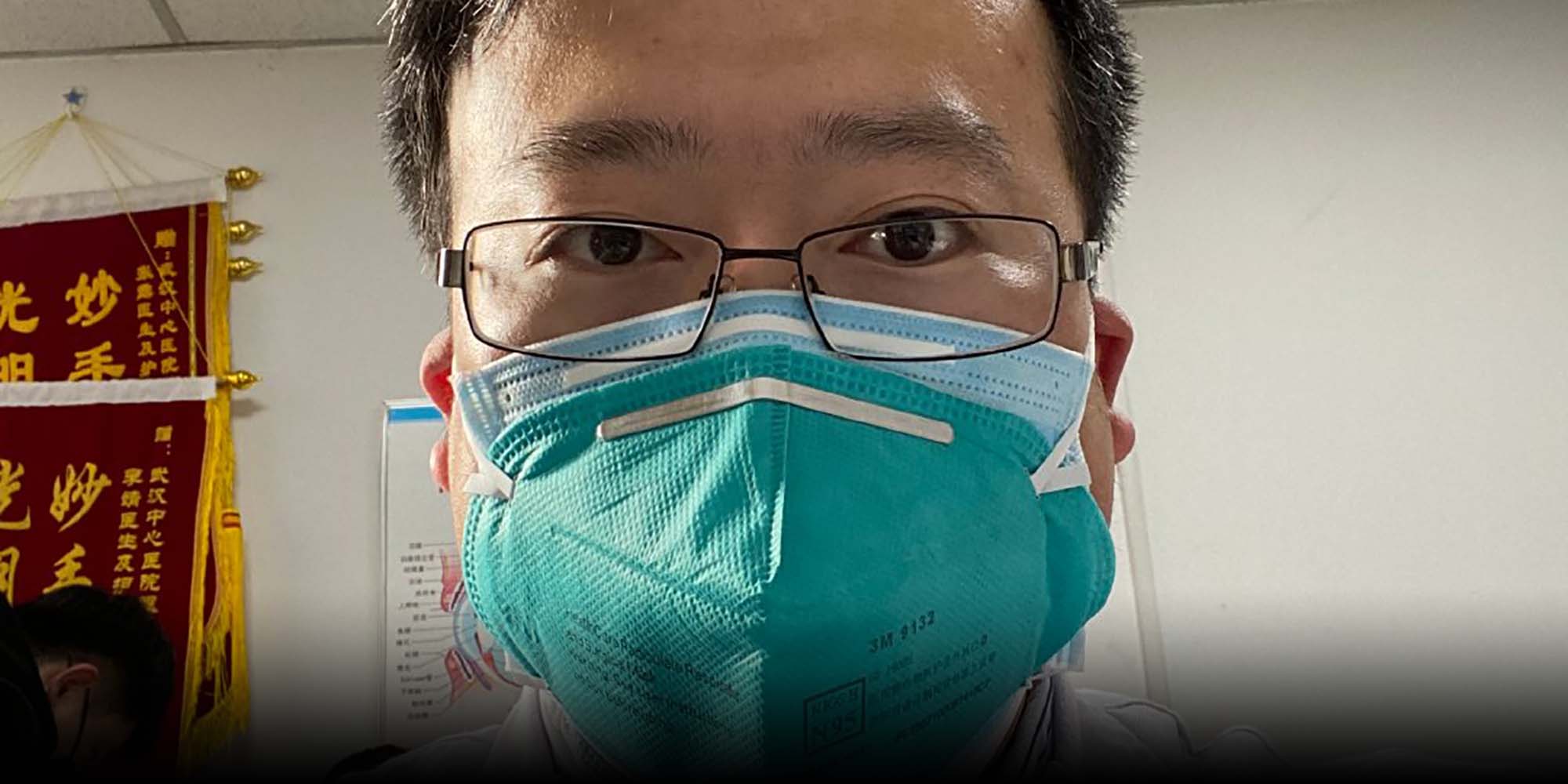 NEWS
'Rumormonger' Doctor Who Raised the Alarm Says He Has Coronavirus
Wuhan police had reprimanded Li Wenliang after the ophthalmologist warned a chat group of fellow doctors in late December of the possible return of SARS.
Update: Dr. Li Wenliang died in the early hours of Feb. 7 at the age of 34, according to the hospital where he worked and was being treated for the coronavirus. The subsequent outpouring of grief and anger catapulted the news of his passing to the top-trending topic on microblogging platform Weibo. Initial media reports cited conflicting times of death.
A doctor in Wuhan who is believed to be one of the eight whistleblowers police reprimanded in early January for "spreading rumors" about a mysterious pneumonia has become infected with the coronavirus that causes it.
"Today's nucleic acid (novel coronavirus) test came back positive. Everything is settled now — it's finally confirmed," Li Wenliang, an ophthalmologist at Wuhan Central Hospital, wrote Saturday morning on his Weibo microblog. His workplace, Wuhan Central, is one of the city's designated medical facilities for admitting and treating suspected and confirmed coronavirus patients.
By Saturday morning, the novel coronavirus had killed 259 people in China and infected nearly 12,000, over half of whom reside in Hubei province, where Wuhan is located.
Prior to his diagnosis, Li had been working on the front lines of the epidemic. Around Jan. 10, he developed a cough and fever, and later had to be admitted to an intensive care unit. His parents were hospitalized with similar symptoms.
In a separate post Friday, Li recounted how, on Dec. 30, he had examined the medical report of a patient whose condition seemed strikingly similar to SARS, also caused by a coronavirus. Li decided to share this discovery with his former medical school classmates so that they might take appropriate precautions. In their class WeChat group, he sent a message that read: "Seven cases of SARS confirmed."
"After I sent the message, the police found me and made me sign an official letter of criticism," Li said. According to a photo of the letter included in Li's post, the police chastised him on Jan. 3 for "making untrue comments" that had "severely disturbed the social order."
"The police hope that you can actively cooperate with us, heed our advice, and stop your illegal behavior. Can you do this?" Li writes, "Yes, I can."
"We hope you can calm down and reflect on your behavior. We solemnly warn you: If you keep being stubborn, with such impertinence, and continue this illegal activity, you will be brought to justice — is that understood?" Li answers, "Yes, I do." His signature and fingerprint appear at the bottom of the document.
On Jan. 1, the Wuhan police announced on Weibo that eight people had been summoned and punished for "spreading rumors" about the city's pneumonia patients. After China's state broadcaster reported on Jan. 9 that a new type of coronavirus was responsible for the unusual number of pneumonia cases, people began to question whether the "rumormongers" had been unjustly punished, prompting the Wuhan police to restrict viewing access to their Jan. 1 Weibo post.
On Tuesday, the Supreme People's Court, the country's highest judicial authority, criticized the Wuhan police for reprimanding the whistleblowers in an article published on the court's official WeChat account. The next day, the Wuhan police wrote on Weibo that the whistleblowers had only been "educated and criticized," and had not been "warned, fined, or taken into custody."
A leading scientist from the National Health Commission weighed in on the case during a livestreamed interview that evening. "Those eight individuals are admirable," he said. "Hindsight is 20-20, but these people had foresight."
Li has received similarly strong support online, with his posts garnering hundreds of thousands of likes and countless comments from people expressing their gratitude.
"Doctor Li, you are a great doctor with a kind heart and good conscience. I hope you're at peace," read the top comment under his Friday post.
Editor: David Paulk.
(Header image: A selfie of Li Wenliang. From @北京感恩公益基金会 on Weibo)