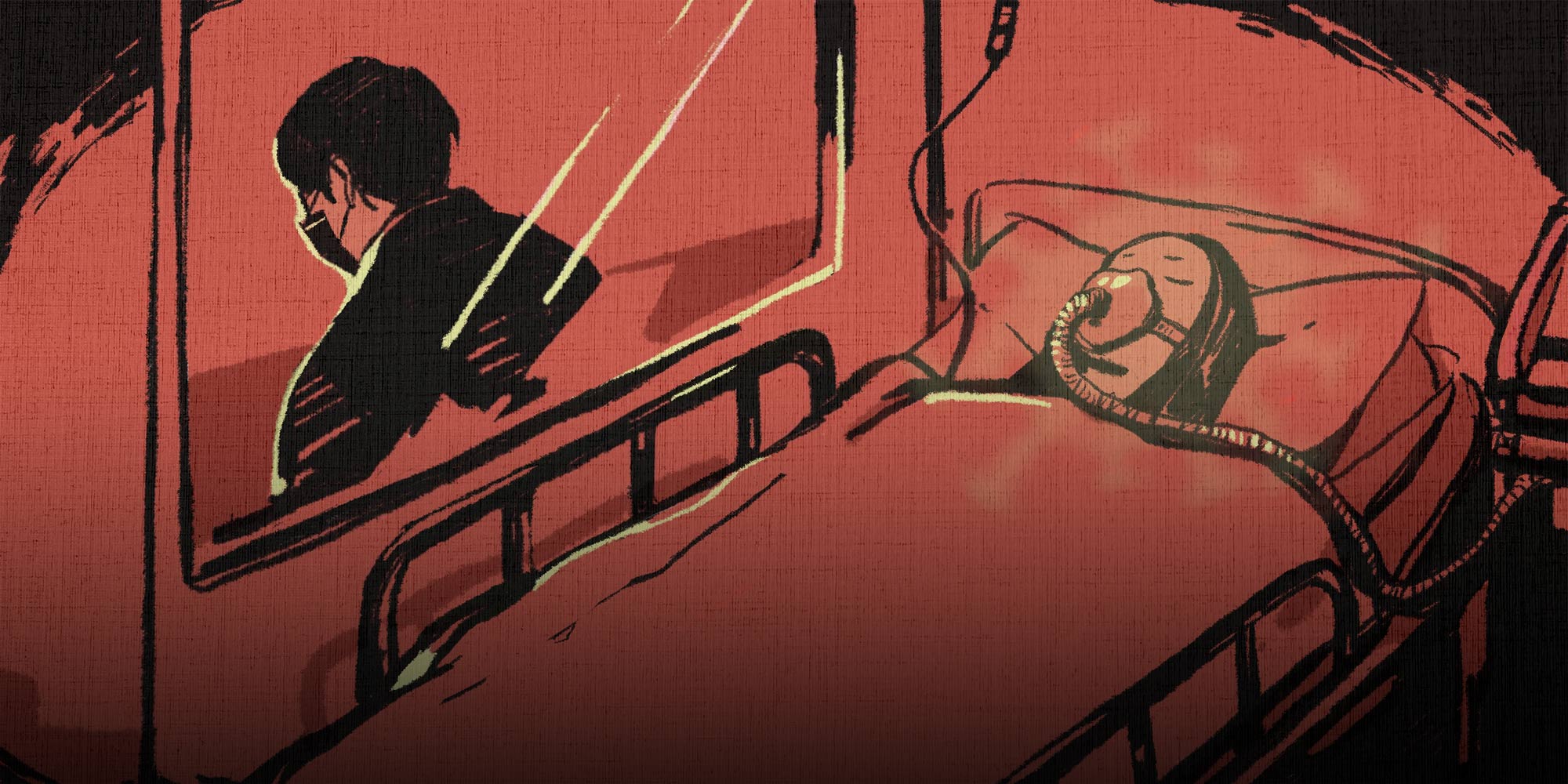 FEATURES
Dispatches From Hubei: Two Weeks Between Life and Death
A Hubei resident recounts his wife's final days, and his battle to save her.
Weng Qiuqiu never learned what killed her.
The disease moved fast. Over the course of just 12 days, the 32-year-old resident of Huanggang City in China's central Hubei province went from complaining of a headache and cough to being diagnosed with an "unknown" type of pneumonia and put on a respirator, says her husband Chen Yong. Finally, on Jan. 21, 2020, after burning through 200,000 yuan ($29,000) in less than two weeks — the totality of their life's savings plus everything they could raise from family, friends, and a crowdsourcing campaign — and with no sign of improvement, Chen agreed to take his wife off life support.
For weeks, Hubei has been wracked by a novel coronavirus epidemic that has sickened thousands and left over 100 dead, according to official figures. But even these numbers may not tell the full story. On Jan. 24, a research group affiliated with Wuhan University hospital warned doctors that the novel coronavirus' wide-ranging symptoms make it difficult to identify and treat.
Weng's death certificate says only that she died of "septic shock, respiratory failure, and severe pneumonia." Chen still doesn't know if she had the novel coronavirus, or if such a diagnosis could have saved his wife's life. Huanggang lies just over 75 kilometers away from the provincial capital of Wuhan, where the outbreak started, and it has been among the areas hardest hit by the epidemic, with almost 500 infections and 12 deaths.
As Weng clung to life, municipal and provincial officials belatedly escalated their response to the crisis. They have since ordered more test kits, given designated hospitals the authority to confirm cases on their own, and shut down public transportation in and out of a number of cities. And at 5 p.m. on Jan. 21, just hours after Weng died, the Wuhan city government announced it would cover the medical bills of all those infected.
None of that helps Chen when his young daughter asks where her mother went, however, nor does it soothe his thoughts of the second child Weng was carrying when she died. Instead he's wracked with guilt: Some of Weng's fellow patients have gradually started to recover, leaving him to wonder what might have happened if they'd been able to hold out just a little while longer.
The following is Chen Yong's story, as told to Sixth Tone's sister publication, The Paper, and edited for brevity and clarity.
Part 1
On Jan. 7, my wife went to a wet market to buy a fish head, chicken, and some vegetables to make hot pot. We all had dinner together and her appetite was good; she ate plenty.
The next day was our daughter's last day of school before the Lunar New Year holiday. My wife said she wasn't feeling well, and asked me to pick our daughter up. On the 9th, the two of them spent all day at home. Around noon, my wife messaged me and said she had a cold. She asked me to pick up some cold medication on my way home from work, as well as a pregnancy test.
I got off work a little after 5 p.m., and came home with the medicine and the test. A few hours later, at around 6 or 7 o'clock, she told me she was pregnant. I was happy. I made dinner that night: fried pork liver, pickled vegetables, and some greens. She had a big bowl of rice, but seemed a little off. Afterward, I went to wash the dishes and she returned to our room to sleep. I figured she had a cold and just needed some rest, and I soon followed her to bed.
But at about 3 a.m., she suddenly shook me awake and told me she didn't feel well. Her head and throat hurt, and she had a fever of 38 degrees Celsius. I quickly took her to Huanggang Hospital of TCM — one of the city's top-rated medical institutions. There was no one to watch our daughter, so we took her with us rather than leave her at home alone.
The doctors told us they couldn't give my wife an IV drip until the morning, so all we could do was pick up some cold medicine. On the way home it started to rain, and by the time we got back it was around 4 a.m. My wife was coughing nonstop and neither of us could sleep. Only my daughter got any rest.
It rained the whole day on Jan. 10. We got up at around 7 a.m. and went back to the hospital. The doctors ran some tests and told us her throat was inflamed. But they couldn't give her any medicine or injections because she was pregnant.
It was already noon by the time they finished, so we decided to go home first, then head to Huanggang Women's Hospital in the afternoon. I made my wife some millet porridge for lunch, but she could only manage a few bites.
That afternoon, we went to Huanggang Women's Hospital. The doctors there said the same thing: She was pregnant and couldn't take medicine or receive shots. So we went back to the TCM hospital — this time to the respiratory clinic. By that point, my wife was having trouble breathing; she was weak and could barely walk. She was also experiencing chills
The doctors gave her an electrocardiogram before telling us to go the municipal hospital downtown. When we couldn't get in to see a doctor there, we went to the smaller Huanggang Tongji Hospital instead. It was already late afternoon, and we'd been carrying our daughter around with us all day. I called my brother-in-law and asked him to come by and take the girl to her grandfather's house. I then sat on a stool and asked my wife how she felt about being admitted, rather than leaving and coming back the next day. She couldn't speak, but she kept nodding her head. It was painful to watch.
That was a long day. At 11 p.m., my wife was transferred to a top hospital in Wuhan. I'd heard a few days earlier that there'd been a pneumonia outbreak in that city, but there'd been no cases reported in Huanggang, so I hadn't given it much thought. The doctors also didn't say anything about it. My only concern was figuring out how to pay to keep my wife alive and how to get her into the best hospital possible.
After she was admitted to the hospital in Wuhan, the doctors there told me my wife had a germ infection. They said her lung scan came back completely white.
Part 2
My wife and I moved to Huanggang from nearby Qichun County about six months ago. We invested 30,000 yuan and opened a store that sold windows and doors with a few other people. We wanted to change our lives; we never thought something like this would happen.
The store had just opened, and we had yet to turn a profit. We took home about 3,000 yuan a month in salary, but with rent, living expenses, and our daughter's preschool bills, we'd been in the red for half a year.
In Wuhan, my wife was first admitted into the fever clinic, but at around 1 or 2 in the morning on Jan. 11 she was transferred to the ER, and then moved into an observation ward for those in critical condition. There were a lot of people in the hospital that night. Some of the patients' family members weren't wearing masks, but many of the doctors and nurses were. I asked a nurse for a few.
From the moment my wife went to the fever clinic, she was kept in isolation. The doctors told me she had an unknown type of pneumonia. The next day, they said her condition was critical, and they would need to revise her treatment plan. She needed some kind of machine, they said. All I knew was that it would be expensive: 20,000 yuan a day, and even then, there was only a 10% chance she'd survive. I was on the verge of a breakdown. I hadn't had any rest in days. Finally, on the morning of Jan. 12, I found a chair in the hospital and went to sleep for an hour.
My mom and I eventually got a room in a hostel nearby. Many of the other people staying there also had family members who were being treated for pneumonia.
I wasn't allowed to see my wife, so I spent every day cooped up in the hostel thinking of ways to raise money. While we were still in Huanggang, I'd borrowed 10,000 yuan from my brother, and I later made the rounds among both our families. I was scared: I only knew that she couldn't stop treatment. I had to get her back.
I called the mayor's hotline, the provincial governor's hotline, and the numbers of several media outlets. I also launched a crowdfunding campaign that brought in about 40,000 yuan. But it was nowhere near enough. In the first three days after she was admitted, her treatment cost between 50,000 and 60,000 yuan a day, and another 20,000 each day after that.
I wanted to see her. I wanted to talk to her and ask her how she was doing, what she wanted to eat, or if there was anything she wanted to do. But I couldn't. Every time I called her doctors, they told me she still hadn't woken up, and that her condition hadn't improved or that she'd gotten worse.
Her pregnancy made her more vulnerable. Her doctors said her hands turned purple, then her feet. It was necrosis. It all happened so fast. After she was put into an observation ward on Jan. 11, I wouldn't see her again until I picked up her ashes 11 days later.
Part 3
By noon on Jan. 21, I had exhausted every available resource, and my wife was showing no signs of improvement. Utterly heartbroken, I talked it over with my in-laws before signing a waiver agreeing to halt further treatment. An hour later, at 1:46 p.m., my wife died. She was cremated later that night. Her death certificate says she died of "septic shock, respiratory failure, and severe pneumonia."
I found out later that an elderly fellow patient of hers, one whose condition had also been very serious, has slowly recovered with treatment — though not yet enough to leave the isolation ward. It's hard to process. My in-laws don't blame me, but I feel guilty.
Sometimes I think she might have gotten better, but at the time there was just no hope. We had spent almost 200,000 yuan, almost all of it borrowed. We sold our stake in the door and window company, and our state-provided insurance for rural residents covered another 60,000 yuan.
When I was a migrant worker, I used to bring home between 10,000 and 20,000 yuan a year. My wife stayed at home and made curtains or clothes. We were married seven years but never saved much. We had no house, and we sold our car. Our only property is my parents' old house.
The day after my wife died, I went to the hospital to fill out paperwork, then to the crematorium to pick up her ashes. There were 10 or so other people there. Afterward, I took the bus back to my home village. I haven't been back to Huanggang since.
I can't sleep. I lie awake in bed, my mind racing. I can't put this pain into words. It's still the Lunar New Year holiday, but my home feels cold and cheerless. My neighbors are terrified, and almost everyone hides in their houses. My daughter's too young to understand what happened. Sometimes she asks me where her mother went and I don't know what to tell her.
Weng Qiuqiu and Chen Yong are pseudonyms. A version of this article was first published on the website of Sixth Tone's sister publication, The Paper.
Translator: Kilian O'Donnell; editors: Yang Xiaozhou and Kilian O'Donnell; visuals: Wang Zhenhao and Ding Yining.