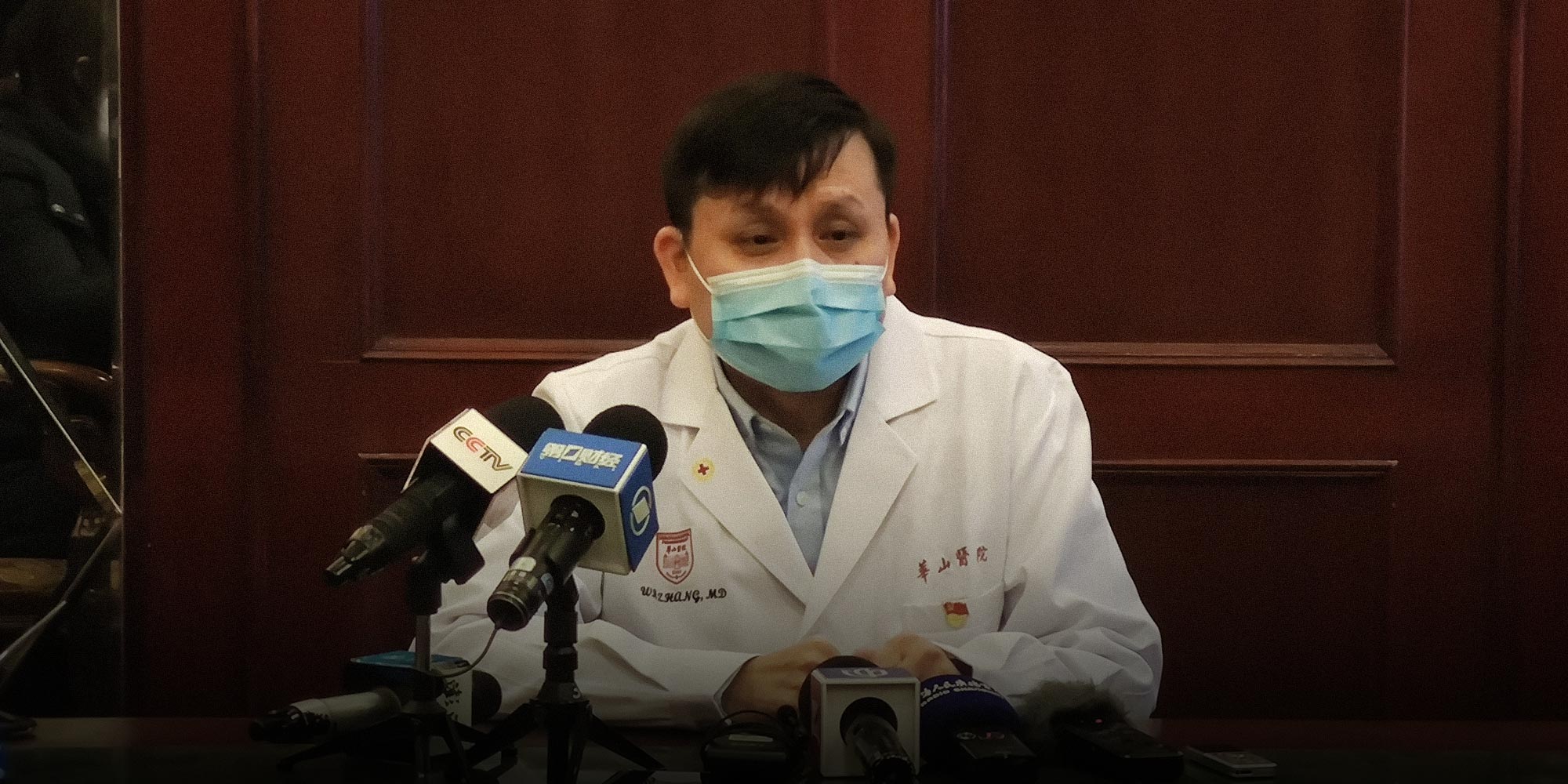 NEWS
Leading Expert on Epidemic Outcomes, 'Psychological Intervention'
Zhang Wenhong, the infectious disease expert tasked with managing Shanghai's response to the novel coronavirus, spoke to Sixth Tone about the epidemic's present state and possible future.
With the Wuhan coronavirus infecting thousands of people in China and growing numbers abroad, many provincial-level regions are appointing teams of doctors and scientists to manage emergency relief efforts and localized cases.
Zhang Wenhong, a leading infectious disease expert at the Fudan University-affiliated Huashan Hospital in Shanghai, has been tasked with leading such a team in the eastern megacity.
He spoke to media, including Sixth Tone, at a press event Wednesday morning. Here are our five takeaways from that meeting:
A spike in confirmed cases isn't inherently scary
One hundred thirty deaths and 6,000 confirmed infections are big, alarming numbers — but they should be considered within their full context, according to Zhang.
"The soaring number of confirmed patients these days, especially in Wuhan, is because of improved detection capabilities," the doctor said. Now, anyone who is sick or thinks they might be sick is being evaluated by medical staff, he said, and there's a greater likelihood they'll have access to test kits for the novel coronavirus. On Tuesday, China's National Medical Products Administration approved two more 2019-nCoV nucleic acid test kit products, adding to the four products already on the market.
"Wuhan is trying to ascertain the total number of existing cases," Zhang said. "This does not mean an exacerbation of the epidemic situation, but rather that adequate diagnostic measures are in place."
The novel coronavirus is incredibly virulent
According to current research, the Wuhan coronavirus is at least twice as virulent as Ebola and nearly as virulent as HIV, Zhang said.
He acknowledged that some scientists have expressed pessimistic outlooks for the coronavirus epidemic. "And they're right," Zhang said, adding that the virus would spread "very fast" if left uncontrolled.
"But such projections don't take external factors into account — they're purely mathematical," Zhang said. Earlier this week, Gabriel Leung and his peers at Hong Kong University's faculty of medicine estimated that there were 25,630 symptomatic patients in Wuhan, and that this number could double in less than a week, based on a mathematical model using available data. According to Zhang, however, external factors "always matter."
"China has taken unprecedented measures to fight the virus," he said, pointing to cities being put on lockdown, the Spring Festival holiday being extended, and health care workers and volunteers implementing "grid management" to uncover potential coronavirus cases in their local communities.
"Personally," Zhang said, "I feel that these considerable external factors would disrupt a mathematical model."
Containment outside Wuhan critical
Chinese health authorities have traced the novel coronavirus to a wet market in Wuhan that sold a variety of unusual animals, with the first patient showing symptoms as early as Dec. 12. Since then, Zhang said, nearly all coronavirus cases outside the central Chinese city have been found to be "imported," meaning the patients contracting the virus either in Wuhan or from people who had been to Wuhan.
"The chain of virus transmission is clear," Zhang said. "But we have to be very cautious: If a region suddenly has a number of cases whose source of transmission cannot be identified, or if the region has its own second- and third-generation viruses (with the initial virus having mutated), this would mean the infectious disease has started circulating internally in that region."
"This would be a very serious thing," Zhang said, referring to this possibility of new mini-epicenters. "If this happened, we would have to declare the failure of the 'defense campaign' in that region and move on to the next step: not just focusing on cases imported from Wuhan, but screening any patient with a fever."
'Psychological intervention' essential to prevent panic
Because the Wuhan coronavirus is "so ferocious," some people — and especially infected patients — might be tempted to panic, Zhang said.
"That's why, apart from medical treatment, psychological intervention is also very important," he said. "Luckily, we've already recognized this and taken action."
Shanghai has sent seven "psychological interventionists" to Wuhan, the doctor said, and the Shanghai Public Health Clinical Center has a psychiatrist on duty in its coronavirus ward to talk with or comfort patients who might be depressed or overwhelmed with unfounded fears.
Three outcome scenarios: one good, one bad, one ugly
Scenario 1: Win
"This would entail no patients still requiring treatment after two to four weeks, and controlling the epidemic within two to three months. This, of course, is the most optimistic situation."
Scenario 2: Hold
"This means we partially control the epidemic, with cases continuing to climb, but at a mild rate. The anti-epidemic measures (under this scenario) might last from six months to one year, as was the case with SARS."
Scenario 3: Failure
"This means the new virus would evolve to become a recurring seasonal disease," Zhang said, adding that such an outcome would be "so dangerous."
"What we want to do is erase the virus from the human realm, driving it back into nature, back to the wild, back into its cave," Zhang said. "When can we manage to do that? It's hard to tell. At present, we can only hear the clock tick without knowing what time it is."
Editor: David Paulk.
(Header image: Zhang Wenhong, the leader of Shanghai's coronavirus defense efforts, takes questions during a press event in Shanghai, Jan. 29, 2020. Jiang Haixiao for Sixth Tone)