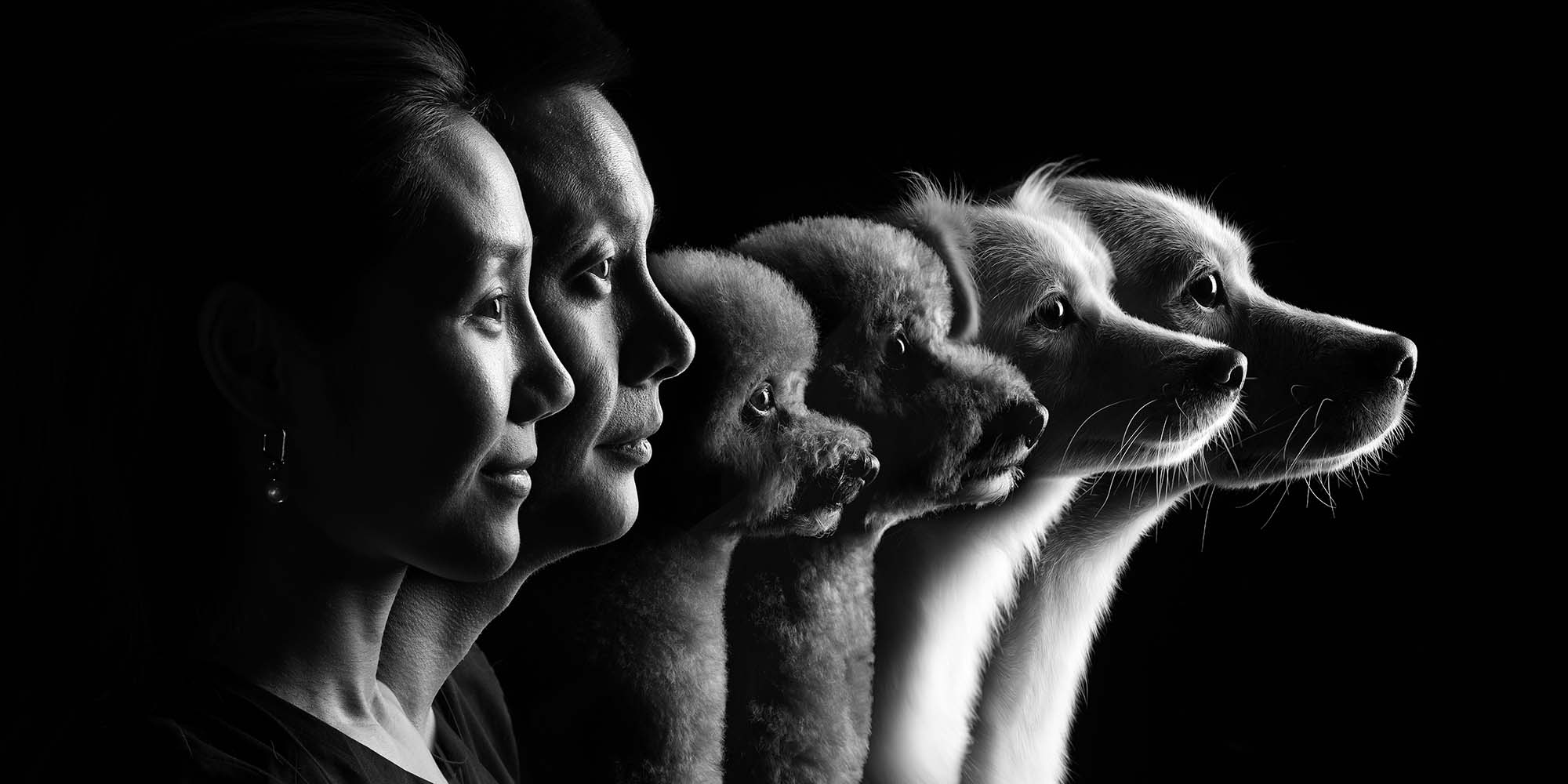 NEWS
Taking Pets for Holiday Photos Is an Emerging Fad in China
Chinese people's growing fondness for pets has led to an entire industry around the health and well-being of their fluffy companions.
After waiting nearly a month, Zhang Meng and her husband were finally granted an appointment at a boutique Shanghai photo studio for a family portrait consisting of them, their 3-year-old daughter, and their 8-month-old Welsh corgi.
"We take family photos for the (Lunar) New Year every year," Zhang told Sixth Tone on Sunday. "This year we adopted a dog, and we wanted to take pictures with our new family member."
While family portraits are a long-standing tradition in China, including pets is a relatively new trend in large cities like Beijing, Shanghai, and Hangzhou. In 2019, the number of pet photography studios nationwide increased by 291% year-on-year, with such businesses catering mostly to clients in their 20s and 30s, according to a survey reported by China Central Television earlier this month.
Gao Yang, a Shanghai-based photographer with over a decade of experience, opened his Collie Pet Studio in the city's suburban Hongqiao District in 2018. He told Sixth Tone that he and his team were especially busy during the Lunar New Year holiday, a peak season for families seeking photos with their pets, along with Christmas and Halloween.
"I think it's meaningful to take photos for the pet, as I want to use photos to capture good memories from their shorter lives," said Gao, who claims to have photographed over 1,000 pets since 2018.
Though the majority of Gao's animal clients are dogs and cats, he said he has also taken photos for families with turtles, lizards, rabbits, and snakes.
China's pet industry has rapidly expanded in recent years. In 2019, the country's pet market exceeded 200 billion yuan ($28.8 billion) — a year-on-year increase of 18.5% — while the number of pet dogs and cats reached 100 million, up 8.4% compared with 2018, according to an industry report published in August.
Gao said he began to notice a demand for pet photography beginning in the second half of 2019. But what started as only a couple of photo shoots on weekends has now turned into a full-time operation for him and his team, with customers needing to make reservations at least two weeks in advance.
"The fastest photo shoot might only take five minutes," he said, adding that an average shoot takes around two hours, depending on how cooperative the pet is.
One popular package Gao's studio offers includes four indoor scenes with people and their pets photographed together. Prices for a photo shoot range from 1,380 to 9,880 yuan, depending on the number of scenes and photos.
"When we first started the business, most of the clients chose pictures of just their pets, but now they want to take photos with the full furry family," Gao said.
Zhang and her husband opted for a 1,580 yuan package that included two indoor scenes and 60 shots. The couple, their daughter, and their corgi all wore traditional Lunar New Year accouterments for the occasion.
"My daughter and the puppy were so curious and excited about everything around them," Zhang said. "Taking photos with children and dogs together is a tough job, and I don't think I could have pulled it off on my own."
Wang Jiaqi, a Beijing-based pet photographer, predicts that traveling photo shoots with pets will become another fashionable industry in the coming years. He has been traveling with his clients to scenic areas in the southwestern Yunnan province and eastern Zhejiang province to document their journeys as families.
"Though the rates are much higher than for studio photography, I've had a growing number of clients request candid photos while they travel with their pets," Wang told Sixth Tone.
As for Gao, he's cooperating with pet hospitals, pet beauty shops, and other pet-focused institutions in Shanghai to market his services and expand his clientele.
"We're still trying to cultivate a market," he said. "We're encouraging pet owners to consider taking their pets for photos every year, just like they would for their children as they grow up."
Editor: Bibek Bhandari.
(Header image: Staggered side portraits of dogs and their owners. Courtesy of Gao Yang)