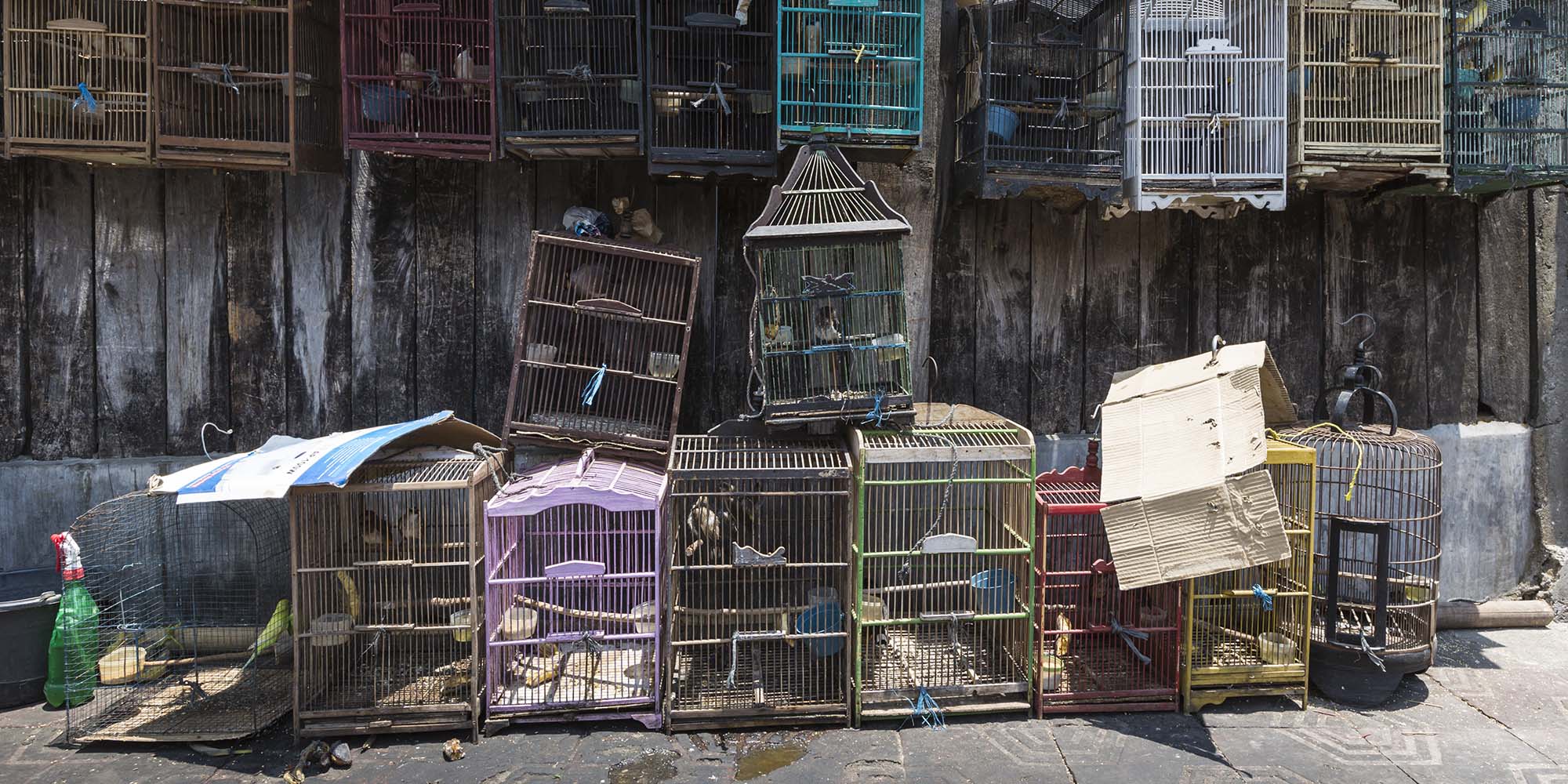 NEWS
Coronavirus Highlights Perils of China's Illegal Wildlife Trade
The country's leading scientists and scholars have called for an urgent crackdown on the trade and consumption of wild animals.
Updates: On Jan. 26, three Cabinet-level agencies announced a ban on domestic wildlife trade for the duration of the COVID-19 epidemic. On Feb. 24, the country's top policymakers, the Standing Committee of the National People's Congress, made the ban permanent.
A number of China's leading scientists have called for a crackdown on the country's illegal wildlife trade as well as legislation against the consumption of wild animals, amid the novel coronavirus outbreak that is believed to have originated at a wet market in the central city of Wuhan where dozens of unusual animal species were sold.
Nineteen scientists and scholars from China's leading institutions including the Chinese Academy of Sciences published a joint statement Friday proposing legislation against the consumption of wild animals as a grave matter of public health.
"Limiting or even prohibiting eating wildlife and related trades is not only important for ecological conservation, but also because of the great significance for controlling public health risks," the statement said.
China's illegal wildlife trade has been thrust into the spotlight following the outbreak of the novel coronavirus that, as of time of publication, had killed 41 people and infected over 1,200 in the country. The first infections were traced to a market in Wuhan that reportedly sold meat from a wide variety of unusual animals, including camels, kangaroos, masked palm civets, and the Chinese porcupine, among others. 
Lü Zhi, a professor of conservation biology at Peking University and a co-author of the open letter, told Sixth Tone that it is often difficult to verify the real source of the animals sold at such markets — whether they're from certified breeding centers or captured in the wild, for example. It's not uncommon for animals caught in the wild to be sent to certified breeding centers before being sold at market, and not all certified breeding center go through legal channels to obtain their licenses.
"How can one tell (the source of an animal) if it has already become meat? There are lots of situations where people might 'hang up a sheep's head while selling dog meat,'" Lü said, using a Chinese adage meaning doing wicked deeds under a banner of virtue. "Domesticating and breeding wild animals is expensive, while purchasing one caught from the wild is cheap. As long as this illicit market exists, the (trade) chain will persist."
According to a study published Wednesday by researchers at the Wuhan Institute of Virology under the Chinese Academy of Sciences, the natural reservoir host of the novel coronavirus is probably a bat. The SARS coronavirus — which originated in southern China and killed 774 people worldwide in 2002-2003 — is also believed to have been carried by bats.
A separate paper published Wednesday in the Journal of Medical Virology suggested that snakes are the "most probable wildlife animal reservoir" for the novel coronavirus — though some scientists have expressed doubts about the methodology and analysis that led the researchers to this conclusion. 
"To be honest, we don't know that much about wildlife," Lü said. "We've had domesticated poultry and livestock for thousands of years, yet there are still unknown viruses coming from these animals. Despite quarantine inspections for wildlife, there are many things we are unable to prevent."
Wild animals are often connected to disease outbreaks, including Ebola and Middle East respiratory syndrome, which are linked to bats and camels, respectively. The SARS coronavirus was detected in masked palm civets sold at a wet market in Guangdong province. The civets, which transmitted SARS to humans, are believed to have contracted the virus from bats.
Just months ago, a man in Inner Mongolia became infected with pneumonic plague in November after skinning and eating a wild hare.

As the novel coronavirus spreads, China's State Administration for Market Regulation, Ministry of Agriculture and Rural Affairs, and National Forestry and Grassland Administration have vowed to tighten restrictions over the country's wildlife trade and suspend the trade of potential virus vectors, including bamboo rats and badgers. Several provincial-level administrative regions including Hubei, Guangdong, Henan, and Inner Mongolia have completely suspended all wildlife trade.
Lü, meanwhile, is hoping the Chinese public will become more aware that consuming wildlife is "shameful" and "risky." She's also urging authorities to accept their responsibility to put an end to such practices.
"If government departments do not cooperate, our concern is useless. We cannot police it ourselves," Lü said. "In fact, we have tried a lot of methods but ended up with nothing (to show for it) because of a lack of scrutiny and law enforcement. I hope this big disaster will attract sufficient attention and lead to more impactful results."
Editor: Bibek Bhandari.
(Header image: Tuchong)