With the Lunar New Year holiday already on China's doorstep, Shanghai has launched its highest-level emergency response against the novel coronavirus that had infected 20 people in the city and at least 865 in the country as of noon Friday, according to official notices. Beijing had issued its own Level 1 emergency response just 15 minutes earlier.
Shanghai's public spaces — including subway stations, city buses, airports, train stations, and temples — have been carrying out daily disinfection measures since Wednesday, and staff at such locations have been ordered to wear face masks. Mandatory temperature screenings have been introduced at local hospitals, highway toll stations, and tourist sites.
Local nursing homes have been encouraged to establish reporting mechanisms for possible cases, as the estimated average age of the infected individuals is 50 years old, according to research by Sixth Tone's sister publication The Paper.
The Shanghai Disney Resort has closed indefinitely. Schools have been barred from hosting events that might draw large crowds. And Shanghai authorities are calling for tighter controls over wildlife-related businesses, including banning the sale of wild animals and shutting down companies that provide close encounters with wildlife.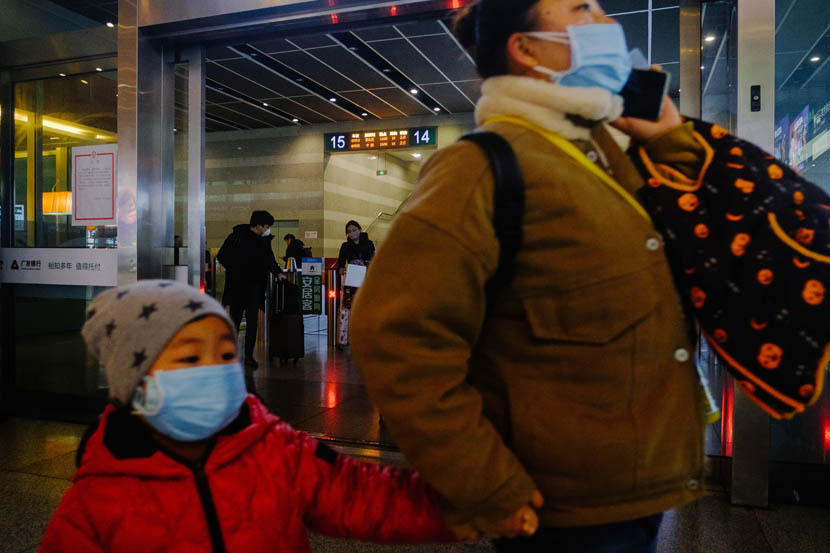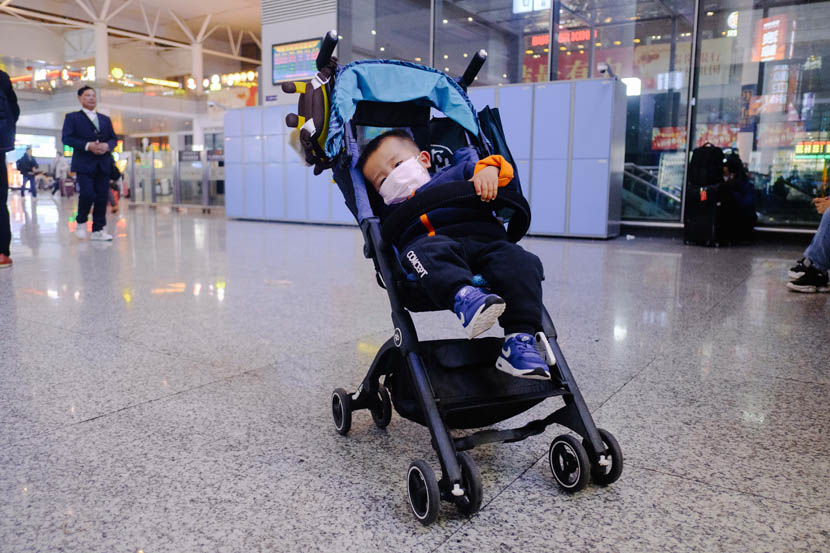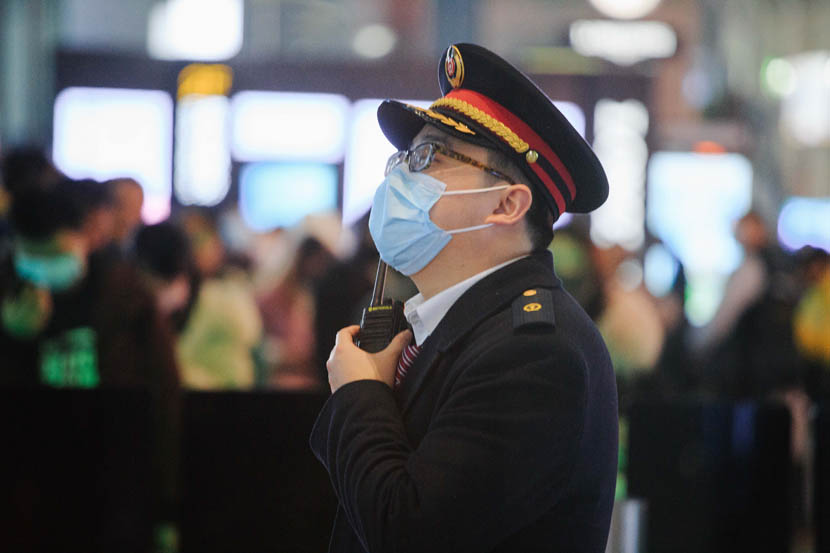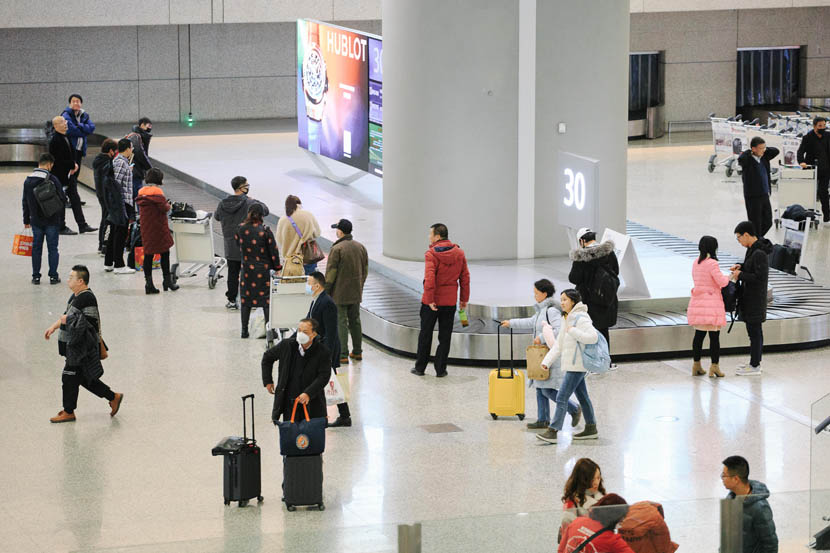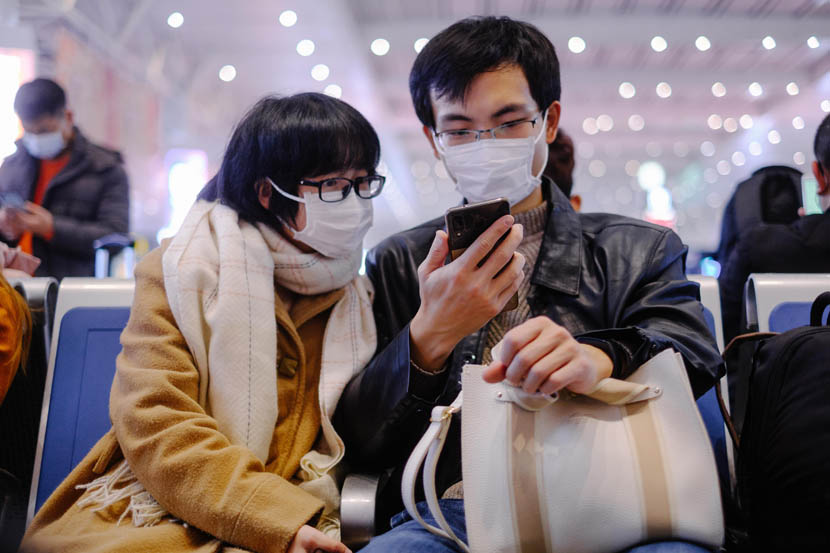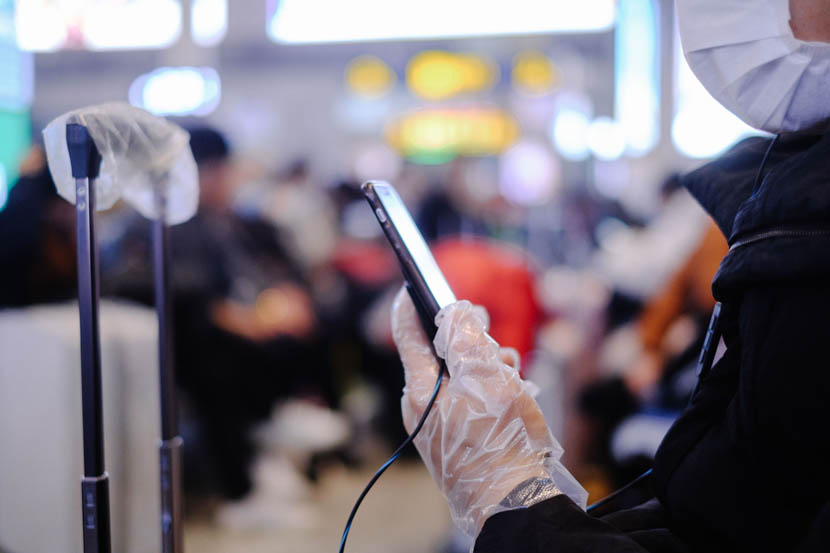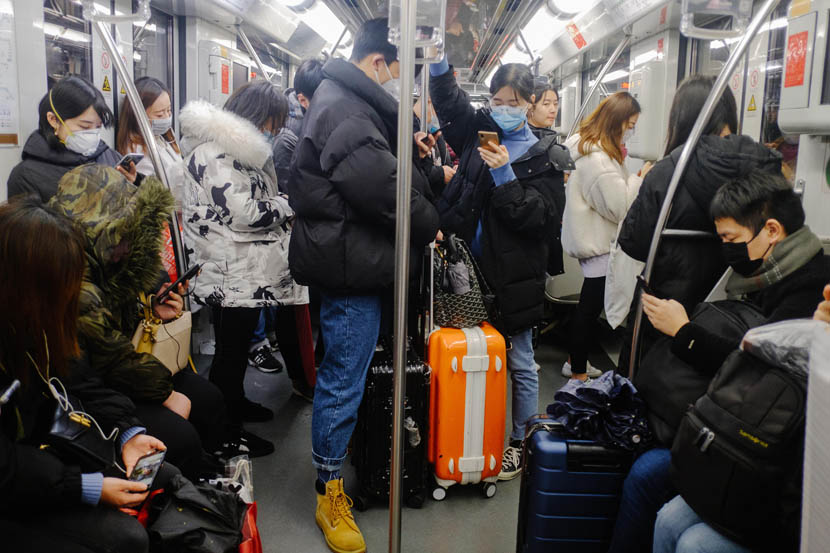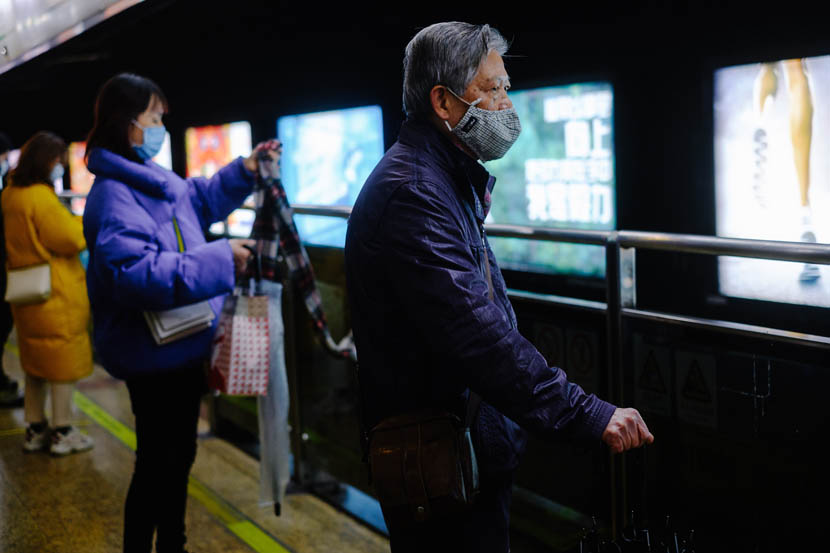 Face Masks and Protective Supplies
Face masks are now ubiquitous among workers at Shanghai Hongqiao Airport and Shanghai Hongqiao Railway Station, two of the city's largest transport hubs. When asked when they had decided to wear masks, several passengers told Sixth Tone that they began doing so around Monday, amid news reports of the virus spreading outside Wuhan, the site of the first infections.
A security employee working in the Hongqiao Airport arrivals hall told Sixth Tone on Wednesday that, though staff were previously discouraged from wearing masks because "it doesn't look good," the facial accessories are now compulsory, and in most cases freely provided by state-affiliated transport authorities.
Hongqiao Airport reportedly began conducting temperature screenings of passengers arriving from Wuhan on Wednesday. However, no mandatory screening could be observed at either the airport or the train station, with rail passengers arriving from Wuhan on Wednesday afternoon telling Sixth Tone they were not subjected to health screenings.
As the epicenter of the coronavirus outbreak, Wuhan has been under lockdown since Thursday morning. Many residents were reportedly scrambling to leave the city before the 10 a.m. deadline.
A Wuhan resident told Sixth Tone that she has remained in the city with her family but is worried about the precarious situation, especially since her father works at a train station.
"Even though I was (initially) supportive of the action taken, when I actually saw that the city had been sealed off, I nearly broke down," the woman wrote on microblogging platform Weibo. "I believe the decision-makers are thinking cautiously," she told Sixth Tone later.
Medical workers walk through an outpatient IV ward at Ruijin Hospital in Shanghai, Jan. 23, 2020. Wu Huiyuan/Sixth Tone
One of the last trains from Wuhan to Shanghai arrived at Hongqiao Railway Station Thursday afternoon. A passenger surnamed Gu told Sixth Tone that when he got on the high-speed train midway through the journey, in the eastern provincial capital of Hefei, he found an almost entirely empty carriage, with no one from Wuhan appearing to be onboard. The man said that at no point was his temperature checked.
With a sharp rise in confirmed cases of the new coronavirus, concerns are growing among Shanghai residents. By noon Friday, the city had reported 20 patients, compared with 26 in Beijing.
A 45-year-old Shanghai resident surnamed Chen told Sixth Tone that her family has cancelled their planned trip over the Spring Festival holiday because of the coronavirus outbreak. "We wanted to buy the (best) face masks … but they are basically out of stock now," said Chen, who was wearing two disposable surgical masks, one over the other.
While mask-making factories are working overtime and paying higher wages to stop supplies from running dry, many pharmacies in Shanghai have sold out of even basic disposable masks, leaving some people with little or no protection.
Zheng, an Anhui native who works as a baggage porter at Hongqiao Railway Station, is among those in the city who have failed to obtain protective masks. "Sure, I'm worried. This is a matter of life and death," Zheng said. "But what's the use in worrying? I'm going back to Anhui in a few days and will definitely get masks there."
Patients and Hospitals
While around 110 fever clinics in Shanghai have received patients seeking help, the vast majority of the confirmed coronavirus cases have reportedly been transferred to the Fudan University-affiliated Shanghai Public Health Clinical Center in the city's suburban Jinshan District.
Shanghai has designated the Jinshan hospital as the city's quarantine site for all confirmed patients and their close contacts, as well as any "highly suspected" cases, according to Caixin. The hospital has staff on duty 24 hours a day, and each patient is allotted their own room, with couples receiving double rooms, a patient at the facility surnamed Liu told the outlet.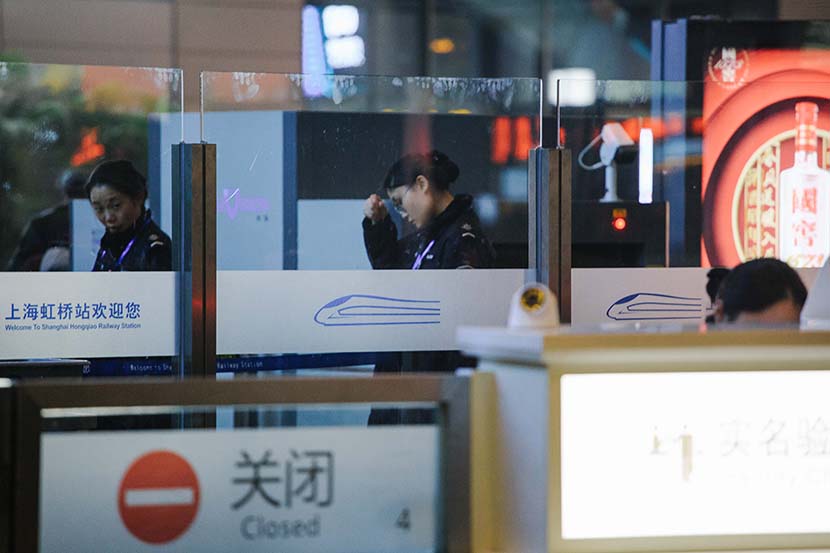 A security guard passes through a temperature screening checkpoint at Shanghai Hongqiao Railway Station, Jan. 22, 2020. Wu Huiyuan/Sixth Tone
Liu, a 52-year-old Wuhan resident who came to Shanghai to visit her daughter over Spring Festival, made headlines this week after unconfirmed online posts framed her as a high-level Wuhan health official who had fled from a Shanghai hospital after showing symptoms of infection gone into hiding. Wuhan's health commission on Wednesday debunked this rumor, which had assumed the woman was Liu Qingxiang, the commission's vice director.
According to Caixin, Liu was identified as a suspected case Tuesday, a day after she sought medical attention for a high temperature. When Ruijin Hospital in central Shanghai was unable to contact Liu the morning after examining her, they requested assistance from the police, who located Liu in a residential compound that afternoon. Liu was taken back to the hospital for further checks, and the rooms and surfaces with which she came into contact were disinfected. Both Liu and her daughter have now been quarantined.
When Sixth Tone visited Ruijin Hospital on Thursday, a few patients were quietly lined up at the fever clinic. Prominently placed signs requested that patients inform doctors if they had traveled to Wuhan within the past two weeks. Doctors in direct contact with patients were equipped with protective suits and eyewear.
Gu Zhijian, a senior physician at Shanghai Tongren Hospital, told Sixth Tone's sister publication The Paper that an increasing number of people — up to around 400 per day — have been coming in for fever checks. Those with ties to Wuhan are prioritized for treatment by the facility's most experienced doctors in a separate room, Gu said.
Editor: David Paulk.
(Header image: People in face masks leaving Ruijin Hospital in Shanghai, Jan. 23, 2020. Wu Huiyuan/Sixth Tone)