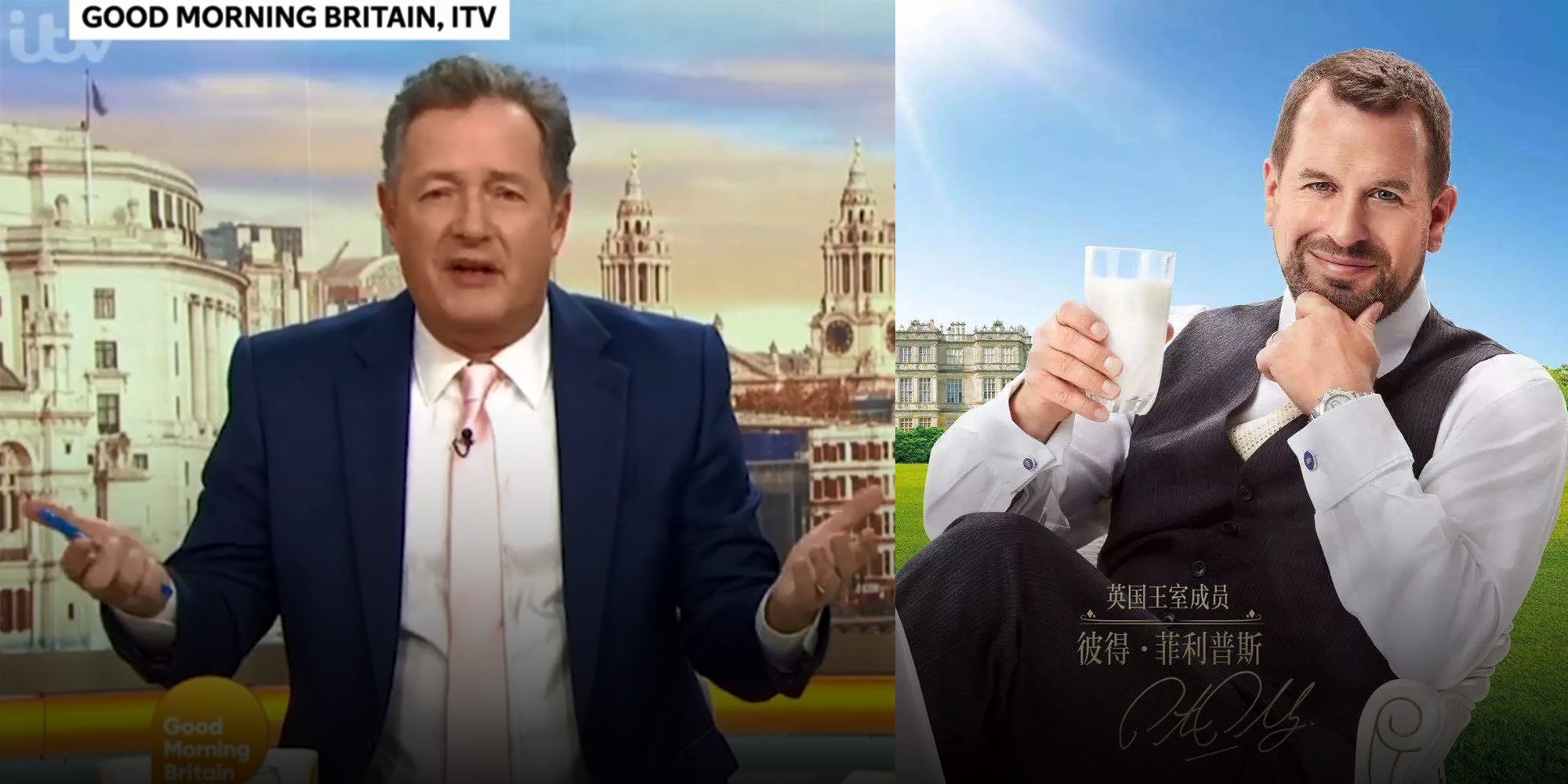 NEWS
TV Host Piers Morgan Panned for Mocking Chinese Language On-Air
The polarizing personality claims he was trying to insult a member of the British royal family who appeared in a commercial for a Chinese dairy company.
British TV presenter Piers Morgan is under fire for mocking the Chinese language during a live broadcast.
During a Tuesday segment of the daily news program "Good Morning Britain" about a member of the British royal family being featured in a commercial for a Chinese dairy company, Morgan mimicked the Chinese narrator's speech, saying "ching chang chong milk."
In the commercial — which airs on the Shanghai-based network Dragon Television — Queen Elizabeth's eldest grandson, 42-year-old Peter Phillips, is seen raising a glass of milk while looking out from a room at the Shanghai skyline. He says, "This is what I drink," and the ad ends with a text insert identifying him as "British royal family member Peter Phillips."
"At the next royal event, can you imagine Christmas at Sandringham is like, 'I'm sorry Your Majesty, but I only drink yang yang yong (unintelligible monosyllables) milk,'" Morgan said. He laughed as the ad continued before finishing with a foul flourish: "Ching chang chong — OK, I got it."
Morgan's co-host, Susanna Reid, appeared uncomfortable as she reprimanded him. "For God's sake!" she said. "Taking the mickey out of foreign languages is rather 1970." But Morgan doubles down, speaking over her: "Surely you can take the mickey out of it! He's drinking ching chang chong milk from the Chinese state — that's what they just said in the advert!"
Many on Twitter and other social media platforms have lambasted the host's remarks as racist, and the U.K.'s broadcasting regulatory authority, the Office of Communications (Ofcom), reportedly received hundreds of complaints following the broadcast.
Morgan insists, however, that it wasn't the Chinese language he was insulting.
"I was mocking a member of the British royal family appearing in an advert for Chinese state milk, not Chinese people," he tweeted Tuesday afternoon.
China's nationalist newspaper, the Global Times, posted clips of the broadcast with Mandarin subtitles on Weibo, the country's equivalent to Twitter, where they were met with round condemnation.
"This may not be racism, but it must be stereotyping, right?" one user commented under the post. "The female host is nice — she has the correct moral values."
Others were less diplomatic. "Saying 'ching chang chong' is so discriminatory!" another user commented under a related media post. "Intentionally or not, he's showing that he feels some special privilege as a Briton."
The outspoken television personality is no stranger to controversy. In September of last year, Morgan was responsible for Ofcom receiving 950 complaints of alleged transgender discrimination after he said he identified as a penguin during a live debate on "Good Morning Britain," in response to a story about two female penguins at the London Aquarium supposedly raising a fledgling to be gender-neutral.
And last week, a group of 100 black British women called for a boycott of "Good Morning Britain" in an open letter, accusing Morgan of "besieging" a guest — biracial journalist and former barrister Afua Hirsch — with "accusations, hostility, and badgering."
Editor: David Paulk.
(Header image: Television presenter Piers Morgan (left) and the Chinese milk ad featuring Peter Phillips of the British royal family. From Weibo)