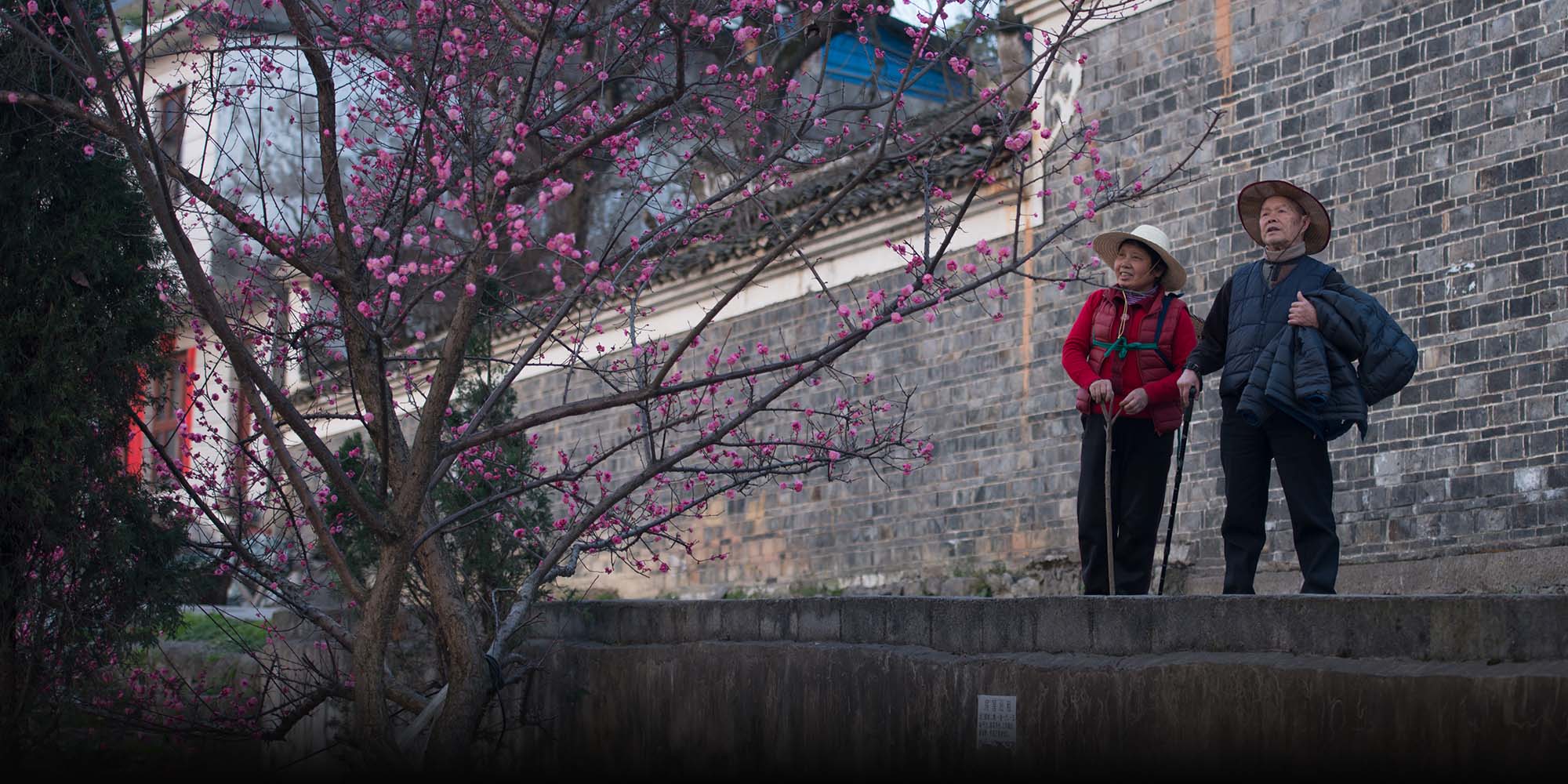 MULTIMEDIA
A Billion Homes: How a Small Town Family's Tale Captivated China's 'Cultured Youth'
Lu Qingyi discusses 'Four Springs,' his award-winning documentary charting the fortunes of his own family across multiple Lunar New Year holidays.
This is the first article in a three-part series exploring the meaning of the Lunar New Year holiday for Chinese families across the world.
BEIJING — In 1989, Lu Qingyi left his home in Dushan, a remote county in southwestern China, and traveled more than 2,000 kilometers to start a new life as a migrant worker in Beijing. He was 15 years old.
Over the next 30 years, Lu worked all kinds of jobs. He dabbled in advertising, publishing, and photography. He spent time on a crystal mine in his home province of Guizhou, and even had a brief career as a soccer player.
Like many of China's 288 million urban migrants, he only got to see his parents during Spring Festival — when the whole country rushes home to celebrate Lunar New Year with their families.
The weeklong holiday is the most important festival of the year in China. But for Lu's family, it was always particularly special: not only for the traditions — the big meal, the couplets on red paper scrolls, the tributes to ancestors — but above all, the music.
In Dushan, culture is at the center of local life. "It's the arts that make people noble; those who don't entertain themselves are just dumbbells," run the lyrics of a Dushan folk song.
Lu's mother, Li Guixian, is the lead singer of the household, a free spirit who sees the funny side of everything. She is often accompanied by Lu's father, Yunkun, who plays a variety of musical instruments that he made himself, including a DIY musical saw.
Despite being separated for nearly the entire year, the impromptu performances helped the family feel as though they'd never been apart.
By 2012, however, Lu's parents were in their 80s, and Lu became increasingly aware of how quickly time was passing. He decided to create a digital album collecting photos that he'd taken during his visits home over the years. He posted the album, titled "Homecoming," to the popular website Douban.
To Lu's surprise, the photos generated an enthusiastic response. Users praised his ability to capture the humor and tenderness of everyday scenes in his hometown. Some even reacted by sharing sausage-making recipes from their native regions, after seeing images of Lu's father making the snack.
The positive experience inspired Lu to launch a more ambitious project, which would propel him to cult status as a writer and filmmaker. For the next four years, he furiously documented his Spring Festival stays in Dushan, shooting videos of small town life, creating more photography albums, and writing essays about his experiences.
Lu almost abandoned the project during the third year, after his older sister — Qingwei — died of lung cancer. But his mother convinced him to pick his camera back up and carry on shooting.
In 2016 and 2017, the 46-year-old edited the footage he'd taken over the previous four Lunar New Years, interspersing it with home videos from as far back as the '90s.
The finished film was released under the title "Four Springs." It was nominated for Best Documentary and Best Film Editing at the 2018 Golden Horse Film Festival and won the Best Documentary award at the 2018 FIRST International Film Festival.
In January 2019, "Four Springs" went on general release in the Chinese mainland — a rare honor for a documentary film about an ordinary family. Though the box office takings of 10.5 million yuan ($1.5 million) was disappointing — in Lu's words, the film hasn't chuquan, or gone mainstream — it has received nearly 100,000 ratings on Douban with an average score of 8.9 out of 10, making it a cultural phenomenon.
For the many Chinese migrants who left positive reviews, Lu's work presents a familiar and heartwarming version of a simpler life that they left behind in search of opportunities in the city.
This is Lu Qingyi's story, as told to Sixth Tone and edited for brevity and clarity.
I don't really believe in astrology, but weirdly, my parents, my brother, and I are all Sagittarius. We're all very fond of art and focus on things beyond the everyday. In general, people in Guizhou tend to be into singing.
My parents got married in 1963. Life was difficult back then. But despite this, they went to have photos taken at a studio in the county town at least once a year. So, I have all these photos from the years when I still lived at home. It's not just me; it's my brother and sister as well: We all like to document everything.
My father was among China's early generations of college graduates. He was a physics teacher, but he was always obsessed with music. He taught himself more than 20 instruments.
My mother dropped out of school when she was little, but she possesses a natural sensibility, talent, and passion for the arts stronger than most people I know. So, she fell in love with my father at first sight.
Mom adores reading, but there wasn't much opportunity to do so in such a small place. Luckily, in around 1976 — when I was about 2 years old — she became the only librarian in our town. During that period, she read a lot, and she gained a wider perspective of life than most locals. 
My parents never restricted our thoughts. They always told us that the world was big, and that we should go out and see it.
My older brother was so gifted, he attended college at age 10. He studied music, and that was exactly what my parents wanted. Children are usually required to study so-called useful subjects, but for my family everything was OK.
By the time I was 14, however, I'd become a reckless, troubled teenager. My mother said one day, "Your wings are fully grown now; you won't be contained. But there are a few things you need to remember: Don't embarrass or trouble others, don't commit crimes, and be responsible for all your decisions." She'd been obeying those rules all her life. 
Over the past 30 years, they've never made comments about me drifting about. They've only concerned themselves with how I live my life.
My older sister took the college entrance examination three times. She had a strong personality. The second time, she gained admission to Guizhou University. But she wanted to go farther away, and eventually she left for the Northeast. Her desire to see the world probably came from my parents' influence.
During my sister's funeral, everybody more or less zoned out. I couldn't believe that this was happening. From 1978 to then (2015), our family of five had only gathered together around 15 times, and each time we'd cherished it. I hadn't expected my sister's hospitalization to be so short. It was all of us together, so I filmed it. It was a lot of sadness, and the sadness became part of my life.
The moment the coffin lid was lifted was when it all hit home. I'd previously imagined that she would wake up. At times like this, you realize the importance of society. People of all ages came to pay tribute and offer support, and it raised my spirits. The two elderly men who sang, they came carrying their own drums, having walked for miles across the mountains. No one even knew how they'd heard the news.
Dushan has no natural resources. Its biggest advantage is its position as the "southern gate" connecting southern Guizhou with Guangxi Zhuang Autonomous Region and Guangdong province via rail and road. It became a commercial center in southern Guizhou. Even today, Dushan retains an open mind, a spirit of trade, and a thirst for culture. But this era is different from the past. With the rise of e-commerce, trade in Dushan has dwindled.
Development is supposed to be step-by-step. But in Guizhou, there was a sudden influx of funds, construction took off, and everyone got a piece of the pie — moving into new apartments with better facilities. This economic growth, however, is unsustainable. The disruption it's caused to the natural and cultural landscape is changing people's way of life. When everyone's hope is to make money in the city, traditions like singing folk songs are at risk of being lost, because they have to be passed on by word-of-mouth.
In the past, people saved money just to eat a good meal on Lunar New Year's Eve. I was shocked when I first learned that, in Beijing, some families go to a restaurant, or spend the Spring Festival traveling abroad in countries like Thailand. Nowadays, the New Year's Eve dinner is no longer the highlight; the meaning of Spring Festival is all about reunion. 
In the beginning, I just wanted to shoot my family's preparations for Spring Festival, but I wasn't focusing on the festival itself. I wanted to film my family. I enjoy time with my family, but I can't stay with them, because there isn't a job for me in Dushan. And if I'd stayed, there wouldn't have been a movie called "Four Springs."
Many people who watched the film have told me they were inspired to film their families using their phones. I was moved by being able to do something that makes people aware of the passage of time and cherish the time they spend with their families. Even the simplest life is worth documenting, because everyone's understanding of life is absolutely unique.
After the general release in early 2019, I received lots of direct messages from Douban users showing me clips they'd edited together from Spring Festival. The judge from this year's FIRST International Film Festival told me they'd received at least 40 feature films and 40 documentaries inspired by "Four Springs." Many people say I'm a "common hero," because I had the courage to do this without any professional background in filmmaking. It's encouraging many other people to have a try, too.
I might make a feature film next. I'm not necessarily just into filming documentaries. I just went ahead and did it. For me, there are several different types of film that I want to explore.
You can watch the full film here.
Editors: Qi Ya and Dominic Morgan.
(Header image: "Homecoming." Courtesy of Lu Qingyi)