On Nov. 5, 2019, French President Emmanuel Macron attended the grand opening of the Centre Pompidou x West Bund Museum Project in Shanghai, a collaboration between the famous Paris museum and the West Bund Group, a Shanghai-based state-owned enterprise better known for its land development and infrastructure projects than its artistic ventures.
The partnership opened with a bang. The initial exhibitions, which were curated by Pompidou and featured artwork from its own collection, showcased works by modern and contemporary masters such as Alexander Calder, Robert Delaunay, and Christian Boltanski, as well as Chinese artists like Zao Wou-Ki, Cai Guoqiang, and Ding Yi — many of whom were or are closely connected to the French art scene. Despite controversy over content regulation, the grandiose opening festivities could generally be seen as a win, both for France's so-called museum diplomacy strategy, and for China's own attempts to bolster its profile in the international art world.
Moving past the initial fanfare, however, the long-term prospects of both the West Bund Museum and its partnership with Pompidou remain difficult to rate. Despite the latter's desires, the two sides were unable to reach an agreement that would establish a permanent French curatorial presence at the new institution. This is unfortunate, because past examples of collaboration between Chinese commercial entities and international museums suggest West Bund's lack of experienced local staff could potentially create a significant hurdle for sustaining the opening's magic.
Possibly the best-known example of a museum expanding internationally is the Louvre Abu Dhabi, a gargantuan project that opened in November 2017. In addition to shouldering construction costs in excess of $650 million, the United Arab Emirates paid the French government over $1 billion for the right to use the Louvre name for 30 years and six months, as well as the creation of temporary exhibitions drawing on the collections and curation expertise of the Louvre as well as 15 other institutions in France.
The Pompidou is also expanding its presence around the world, but its projects are far more modest in scope. Prior to its West Bund collaboration, it opened a small exhibition space in the Spanish coastal city of Málaga in 2015. Looking ahead, it has plans to launch another satellite in Brussels, and there are negotiations for outposts in other countries underway.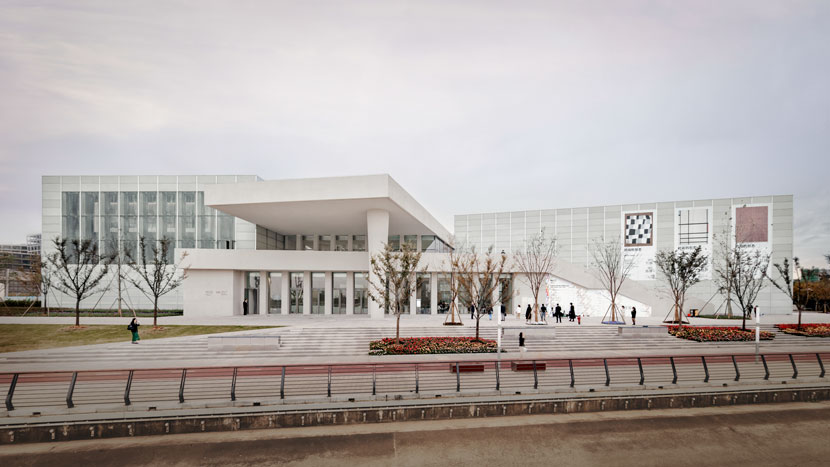 An exterior view of the West Bund Museum in Shanghai. Courtesy of Simon Menges/West Bund Museum
Rather than lock themselves into long-term deals, the Pompidou's leadership has stressed the experimental nature of these partnerships — in both Málaga and Shanghai, it signed agreements for just five years. According to museum director Bernard Blistène, this initial period is about both parties exploring "where you are and where you want to go."
Five years is not a long time to reach a consensus in the museum world — organizing a single exhibition can take one-fifth of that time — though the Málaga outpost was judged successful enough to extend the agreement through 2025. But at least at West Bund, the real issue may be what happens in the interim.
Blistène emphasized that Pompidou had hoped to post members of its curatorial team in Shanghai on a permanent basis, where they could both train their local counterparts and be involved in museum operations.
"Since the beginning, we thought we should provide Shanghai some curators, some people who will collaborate with the local team at West Bund," he said. "It would definitely be an important statement to give my team in France a possibility to develop quite a lot of rotations and changes and to be part of the development of the everyday life of the institution."
Instead, Pompidou's curatorial and management team will be responsible for selecting and designing three permanent exhibitions and 10 special shows for West Bund Museum. They won't be involved in its day-to-day operations, and it's difficult to say whether their local counterparts will be able to maintain the same standards. A Pompidou proposal to fly West Bund staff to France for training was also nixed.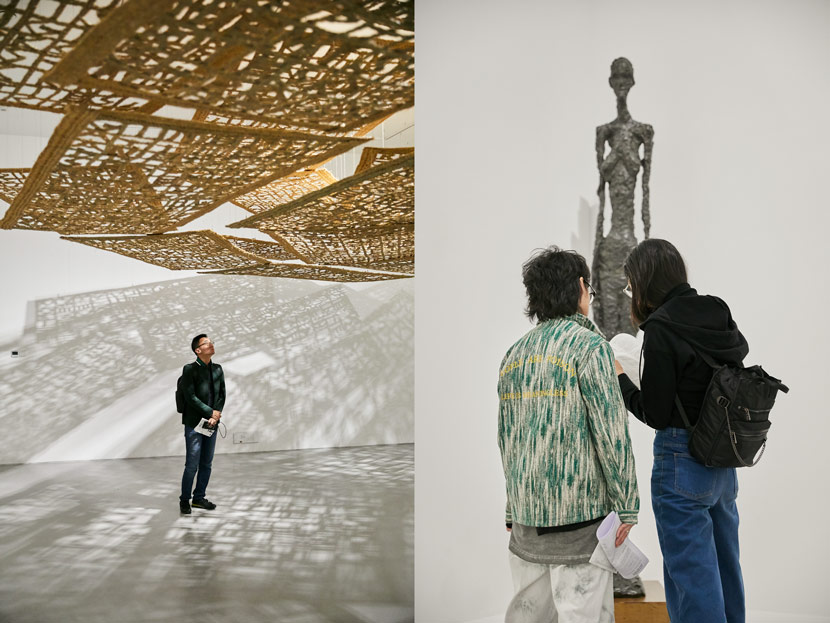 "Untitled (Passage II)" by Cristina Iglesias and "Femme nue debout" by Alberto Giacometti (right) on display at the West Bund Museum in Shanghai, 2019. Courtesy of the West Bund Museum
The Design Society, a design-focused institution in the southern megacity of Shenzhen, offers a window into some of the problems that can arise from this kind of arrangement. Three years prior to its 2017 opening, the Design Society's backer, the state-owned enterprise China Merchants Shekou, signed a five-year cooperative agreement with the Victoria and Albert Museum in London. V&A stationed a team of museum professionals in Shenzhen to develop an understanding of the local art and design scene in preparation for what was a stunning opening exhibition: "Values of Design."
But as early as the eve of the museum's opening, cracks were already beginning to show. While V&A's work on the "Values of Design" exhibition was finished ahead of time, in the Design Society's other main exhibition space, a locally led team was still racing against the clock to put together their show. The resulting effort was a muddled pastiche — admittedly novel, but obviously rushed.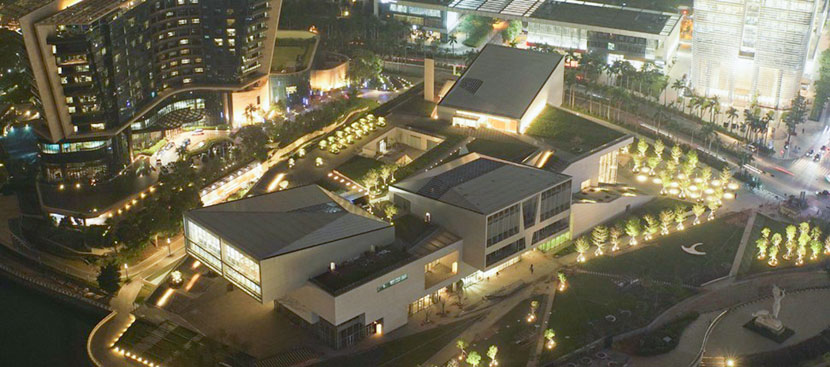 A night view of the Sea World Culture and Arts Center in Shenzhen, Guangdong province, 2017. The building was designed by Fumihiko Maki and is operated by Design Society. From the website of Design Society
Atypical by global standards but commonplace in China, this art institution, like West Bund, started without a collection of its own and has a young management team. Despite continuous efforts to incorporate novel and chic elements — such as augmented or virtual reality immersive art, graphic design, domestic manga, and AI — the institution's short existence thus far appears to have peaked at its opening. And while V&A and Design Society supposedly intend to continue working together, their formal contract expired last year, and they have yet to renew it.
Whether or not the Pompidou and West Bund decide to move forward with their collaboration after the initial five-year period will depend on a lot of factors, including West Bund's willingness to continue paying for the Pompidou brand and the state of Sino-French relations at the time. For his part, Blistène was cautiously optimistic. "I do hope there would be more than five years," he said. "The time at a museum space should be long."
China's flourishing art scene can benefit from cooperation with overseas institutions like V&A and Pompidou. These collaborative projects can ensure fledgling institutions a steady flow of visitors, stimulate local economies, and boost cultural awareness and appreciation.
But no contract will last forever. China has witnessed a museum boom in recent years, but all too often, these institutions are treated by their corporate owners as mere ornaments or built with only short-term goals in mind, like bolstering nearby real estate values. Teaming up with a famous institution is a good way to build initial buzz, but too many Chinese museums have no collections to speak of, no experienced staff, and no real interest in holding themselves to a consistently high standard. Such a situation is unsustainable and undesirable.
It's too early to say how collaborations like Pompidou's with West Bund Museum will shape the future of China's art scene and the nature of its cooperation with international institutions. At any rate, it will take far more than five years to cultivate a generation of creatives capable of building the kind of institutions the country covets. To paraphrase a saying popularized during the reform era, perhaps the only way to cross the river is by feeling the stones.
Translator: Lewis Wright; editors: Cai Yineng and Kilian O'Donnell; portrait artist: Zhang Zeqin.
(Header image: A workshop at the West Bund Museum in Shanghai, 2019. Courtesy of West Bund Museum)