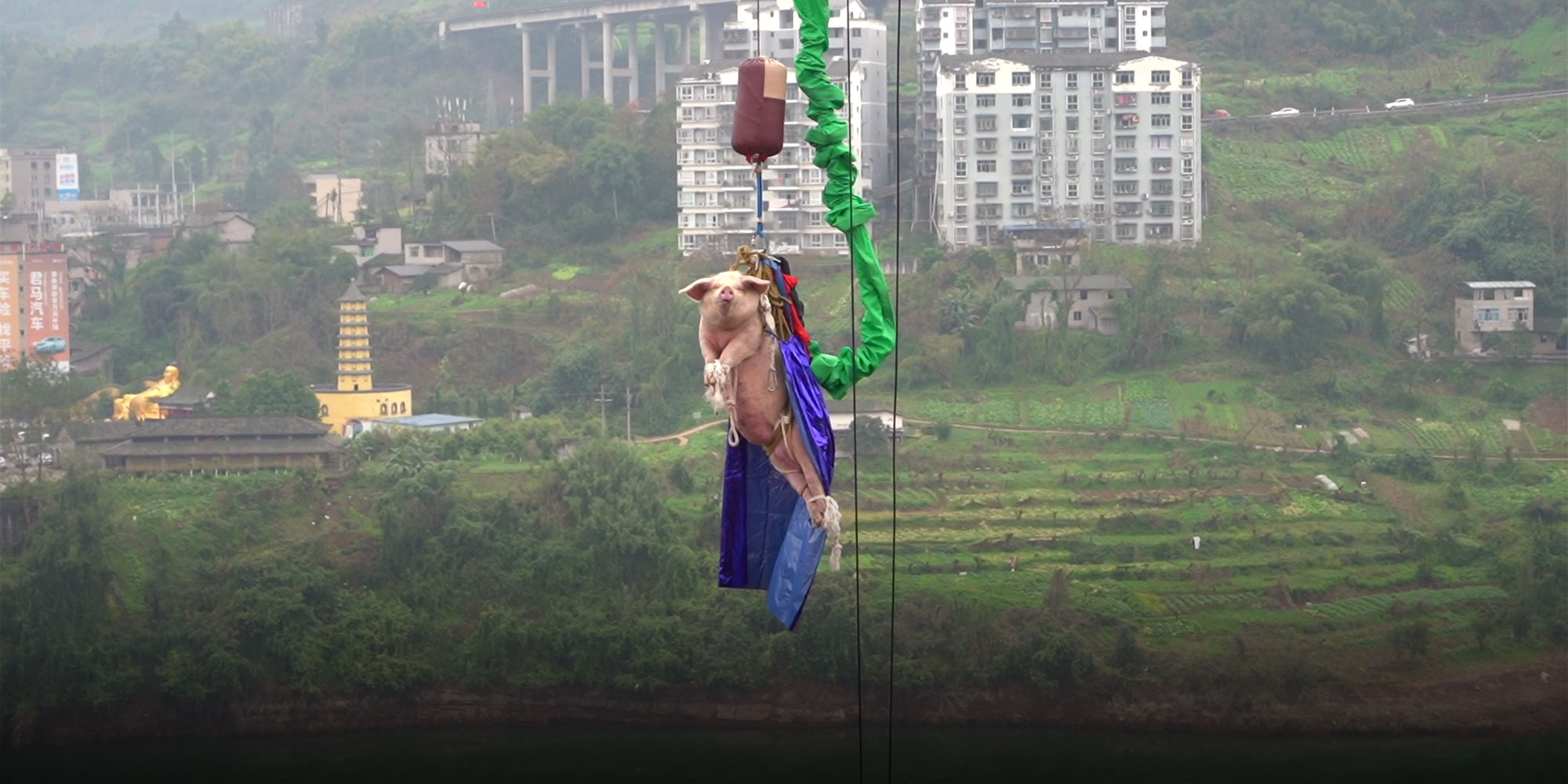 NEWS
Chongqing Park Roasted Over Bungee-Jumping Pig Stunt
An amusement park employee claimed the animal wasn't hurt, and that staff had hoped making the animal jump would serve as a good luck charm to drive pork prices down.
An amusement park's publicity stunt involving a pig bungee jumping to attract more visitors has backfired, with critics accusing the venue of animal abuse.
Meixin Wine Town in the southwestern municipality of Chongqing attached a pig to a bungee cord and sent the animal plummeting hundreds of feet down to mark the opening of the adrenaline attraction Saturday. The video, which has since gone viral on the Chinese internet, has angered animal lovers and welfare activists.
"For people who saw it (the bungee-jumping event), it might be entertaining," Sun Haiyang, legal adviser at the AITA Foundation, a Beijing-based animal welfare organization, told Sixth Tone. "However, for the pig — which was not able to understand what was going on — it was mainly torture, both physically and emotionally."
The person who created and shared the video on microblogging site Weibo can be heard saying the pig looks "calm and unresponsive." But many online have slammed him for being insensitive and criticized the park for terrorizing the animal.
"The pig was not 'calm' at all; it was terrified, and that's why it couldn't move," one Weibo user commented under the video. "How can they be proud when they were actually torturing animals?" wrote another.
The director of the park's publicity department, surnamed Yang, confirmed to Sixth Tone that the park had decided to use the pig stunt to attract more tourists, and that the activity had been "well-intentioned."
"Firstly, since we are coming up on the end of the Year of the Pig, we thought that having the pig bungee jump could be a symbol of bidding farewell to the year and welcoming the upcoming Year of the Rat," Yang said. "Secondly, since pork prices have been very high recently, we hoped that, by making a pig jump from the sky, pork prices might go down."
Responding to the resounding anger over the animal's treatment, Yang said the park took all safety precautions, and that the pig was "healthy and alive" after the jump.
However, he told The Paper, Sixth Tone's sister publication, that the pig was later sent to a slaughterhouse.
There are currently no laws explicitly prohibiting the mistreatment of animals in China, and a draft of an animal protection law is still pending approval from lawmakers.
Sun Quanhui, a scientist at international nonprofit World Animal Protection's China office, told Sixth Tone the country's animal protection law is only aimed at safeguarding wildlife and birds that are considered rare or at risk of extinction.
"For livestock like pigs, their abuse is not prohibited by the law," he said.
Yang Bohua, a Guangdong-based lawyer, said abusing animals in China only remains a moral issue, meaning the abuse of dogs and cats is largely unpoliced. In 2018, there were calls to better protect pets from abuse after a police officer beat a golden retriever to death, and last year a man was criminally detained for killing his neighbor's dog, which a court deemed to be private property.
Meixin Wine Town, which was nominated as one of 2019's "socially responsible" tourist enterprises by China's official tourism news outlet, had previously made headlines for other outlandish activities, including mahjong games in swimming pools and hammocks hanging high in the air for World Sleep Day.
Editor: Bibek Bhandari.
(Header image: A pig hangs from a bungee cable at the Meixin Wine Town amusement park in Chongqing, Jan. 18, 2020. The Paper)