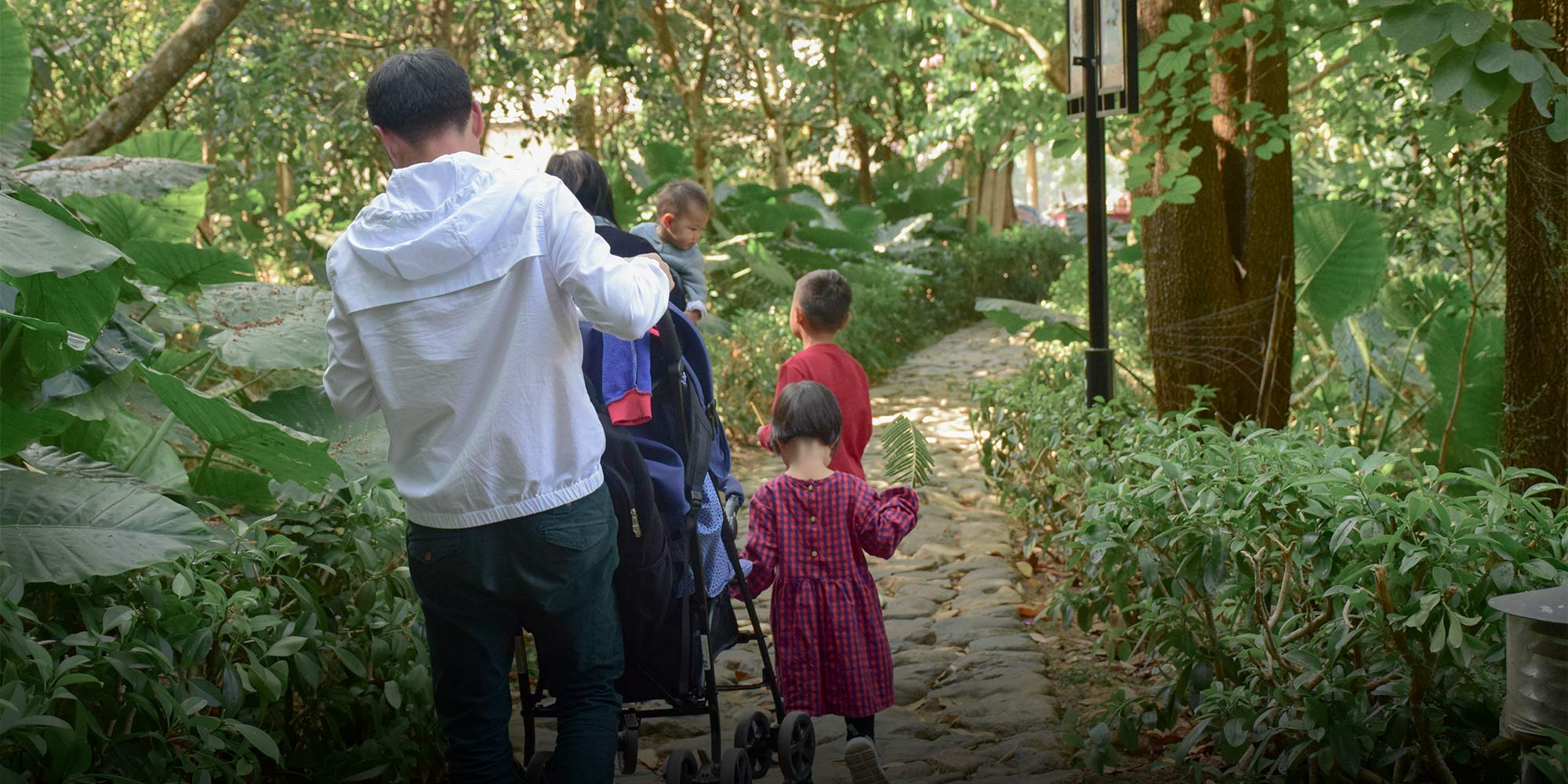 FEATURES
The Chinese Couple Who Dared to Have a Third Child
After China ordered local authorities to relax their birth-control policies, a couple thought it was safe to have a third child. They were wrong.
GUANGDONG, South China — Xue Ruiquan follows the same routine each morning. After a 7 a.m. jog, he prepares breakfast for his wife and three children and then drives his eldest son — Chongchong — to school. "OK, off you go," he says as he drops off the 7-year-old. "Dad needs to go to work now."
But Xue is lying. The 44-year-old and his wife, Xie Zhengning, have been unemployed for nearly a year. The family is struggling to make ends meet, relying on savings and loans from friends and relatives to meet their mortgage payments.
In December 2018, Xue was fired from his job as a public security officer in the southern Chinese city of Yunfu, Guangdong province. Then, three months later, the local primary school where Xie taught mathematics terminated her contract.
Both lost their jobs for the same reason: breaking China's birth restrictions by having a third child.
The firings have left the parents shocked and angry. For decades, Chinese workers faced dismissal for violating family-planning rules, but the pair had been assured such draconian measures had been abolished.
Xie and Xue have been affected by the ambiguity surrounding China's family-planning regime as the country gradually — but unevenly — relaxes punishments for those having more than two kids, leaving parents and local officials uncertain about the rules.
The Chinese government started to introduce large-scale birth controls in the 1970s to curb population growth, and from 1980 the measures hardened into a nationwide one-child policy. Penalties for violators were harsh, ranging from large fines, to forced abortions and sterilizations.
The policy prevented more than 400 million births over the ensuing 35 years, the government claims. It also accelerated a steep fertility decline, leading to a rapidly aging society and a severe gender imbalance, with men outnumbering women by more than 31 million.
In a bid to mitigate these demographic issues, the government ended the one-child policy in 2016 enabling all couples to have two children. Xie gave birth to her second child, Lele, the same year.
But the reform has failed to reverse the country's falling birth rate. Only 14.65 million babies were born nationwide in 2019, the lowest recorded figure since 1961. There has been growing speculation in China that the government would further relax family-planning rules, with some experts calling for birth limits to be abolished altogether.
In 2017, China appeared to take another step in this direction. The Standing Committee of the National People's Congress, the nation's top legislative body, urged seven provinces — including Xie and Xue's home region of Guangdong — to revise regulations telling state employers to fire staff with more than two children.
The local governments responded swiftly. In May 2018, Guangdong published revised family-planning regulations. The clause stating that public entities should "dismiss or terminate the contract" of employees who had exceeded the country's birth limits had been removed.
Xie and Xue heard about the policy change a month later, via a post on the Twitter-like social media platform Weibo from the Guangdong Federation of Trade Unions, an official labor organization. The couple were thrilled: Just weeks before, they had found out that Xie was pregnant with a third child.
Until that moment, the pair had assumed they would have to schedule an abortion. Breaking the two-child limit would incur a heavy fine and cause both of them to lose their state-sector jobs. Given that they had a mortgage to pay and two young children and aging parents to support, the costs appeared simply too great for the family to bear.
The couple began intensively researching the regulatory situation. Xue went to his district's family-planning bureau to ask the officials whether his job would be secure if the couple kept the child, but he didn't receive a clear answer. The pair followed government policy updates and related media analyses closely.
In July 2018, the Guangdong High People's Court published a document stating that employers who terminate employees' contracts for breaking family-planning rules would bear legal liability. To the couple, the announcement seemed a clear and positive signal. They decided to take the risk and go through with the pregnancy. As long as at least one of them kept their jobs, they'd be OK, Xue recalls thinking.
Xie told her colleagues at Yunfu No. 1 Primary School that they would not be having an abortion days later. At first, everything seemed to go smoothly. The school's management congratulated her personally, according to Xue. But when the summer vacation ended in September, there was a complete turnaround.
Yunfu No. 1 Primary School informed the Yunfu Public Security Bureau, Xue's employer, of the couple's plan to have a third child. The bureau told Xue that his wife would need to give up the child, or he would have to quit his job.
Xue refused to terminate their unborn child: Xie was already four months pregnant.
"She was almost ready to be born … We could hear her moving inside the belly," says Xue. "I brought papers (about the new regulations) to my section chief, but he just wouldn't listen."
Xue visited the local family-planning bureau again and again, asking for clarification. At last, he secured a response. In October, an official told him that having a third child wouldn't result in the couple getting fired, according to video footage recorded by the former officer.
But the official's statement wasn't enough to change the employers' minds. Xue was fired on Dec. 28. Three weeks later, Xie gave birth to a girl. The couple named her Nuannuan. Then, just two months later, Xie's school also let her go. The decision was taken within Xie's 98-day maternity leave period, a move prohibited by Chinese labor laws.
In a November statement, the Yunfu Public Security Bureau said it fired Xue in accordance with family-planning regulations and China's civil servant law. When questioned about the case by domestic media, the bureau also claimed there were "derivative problems" with Xue's performance, without elaborating. The former principal of Yunfu No. 1 Primary School, who was in charge at the time Xie was dismissed, declined Sixth Tone's interview request, saying only that the school had acted under orders from Yunfu's education bureau.
Xue finds the reference to "derivative problems" hard to take seriously. Prior to losing his job, he had served as a public security officer in Yunfu for 19 years, winning numerous internal awards for his contributions to important operations, such as drug busts. He was also selected to teach at the People's Public Security University of China in Beijing — a prestigious honor that reflected his vast experience.
Throughout the pregnancy, the couple had to endure countless lectures from colleagues tasked with enforcing family-planning rules. The teacher experienced hair loss and lost her appetite as the emotional pressure mounted.
"Many people tried to persuade us to succumb and give birth to another child later," says Xue. "But that wouldn't be the same girl."
Chinese officials are still incentivized to strictly enforce birth limits, since their performance in this area plays a major role in determining their score in internal assessments, says Wu Youshui, a lawyer based in the eastern Zhejiang province who specializes in family planning-related cases. As a result, state employers are inclined to take tough measures against staff who have more children than allowed.
"It's the safest way," says Wu. "(If they don't deal with a case strictly), the employer might be viewed as performing poorly in family-planning work and have their bonuses vetoed for three years or more."
Despite the 2018 regulatory changes, the fate of Guangdong's three-child families remains hazy. Though the province's guideline revisions had removed the clauses calling for rule-breaking state employees to be fired, it had included a line stating that "employees should be subject to administrative discipline." Under China's civil service law, disciplinary measures can include dismissals.
In November of last year, the Health Commission of Guangdong Province told Sixth Tone's sister publication The Paper that breaking family-planning rules is still a firable offense.
Xue has spent months seeking justice for what he perceives as the highly irregular handling of his family's case, but has made little progress. Between March and June of 2019, he repeatedly petitioned Yunfu's education and organization departments for information about his case, without success.
In September of last year, the former police officer tried to file a lawsuit for unfair dismissal at a local court, but the staff refused to take the case. (The administrative decisions of state apparatuses do not fall under the scope of acceptable litigation cases handled by Chinese courts.)
The most frustrating moment of all came this past August, when officials from the local family-planning bureau visited Xie and Xue at home. Included in the party was the civil servant who, less than a year previously, had assured Xue that his job would be safe once Nuannuan was born. When the couple confronted her about this, however, she denied the conversation had ever taken place.
At the end of the meeting, the officials informed the couple they would have to pay a "social-maintenance fee" — a de facto fine — of 153,000 yuan ($22,200).
For Wang Feng, a sociologist and demography expert at the University of California, Irvine, the continued harsh treatment of families like Xie and Xue makes no sense at a time when a rapidly aging population threatens China's future prospects.
"The government has to recognize that the fertility level is very low," says Wang. "The remaining control over individuals' reproduction is counterproductive to the larger goals of society and also to the changed mentality of young people these days."
According to Wang, the remaining controls over reproduction remain to help the government "save face," and because the country's massive family-planning bureaucracy — which is now integrated into the National Health Commission — is disincentivized to push through reforms rolling back birth controls.
"All bureaucracies have inertia: Their tendency is not to do things," says Wang.
Further reforms are likely to happen only on the initiative of the country's leaders, but such a move appears a distant prospect with the government focusing on other urgent issues, says Wang.
Xue finds it difficult to accept the way he has been treated. Prior to his dismissal, the bureau ordered him to sweep the streets as a form of punishment, which Xue found humiliating. Most painful of all, he has been ostracized by his fellow officers — he says he has no reason why.
"After all that's happened, no one has even called us to see if we're OK," says Xue. "I feel very sad. All of my colleagues, I considered them my brothers."
Running out of places to appeal his case, Xue is left with no choice but to try and carve out a new career — no easy feat in today's tough job market. Xie remains at home looking after the children and recovering from her ordeal, which has taken its toll on her health. The couple haven't told the children anything about what has happened yet.
"When Nuannuan grows up, when she's resilient enough, we may tell her what we've experienced so she can see it from a distance," says Xue.
For now, Xue is trying to support the family by taking odd jobs, including tutoring local children. But it's not enough to cover the mortgage payments and the children's school fees — let alone the 153,000 yuan fine. Last month, he sold his guqin, a traditional musical instrument, to raise some much-needed cash.
When he feels under pressure, Xue slips off to a local park by himself. There, he sits and quietly draws, facing a small pond.
"The most basic thing about being a good person is that we should cherish life, right?" says Xue. "The leaders only care about their promotions and their jobs, but do they have this spirit?"
Editor: Dominic Morgan.
Note: This article has been updated with China's birth figures for 2019.
(Header image: Xue Ruiquan's family walks in a park in Yunfu, Guangdong province, Nov. 24, 2019. Yuan Ye/Sixth Tone)