A group of 19 elderly gangsters who ruled their hometown in eastern China with an arthritic fist have each been sentenced to up to 16 years in prison.
Authorities in Jiangxi province announced Tuesday that the geriatric thugs, who collectively called themselves the Liu Family Elder Society, were convicted last month in the city of Yingtan for a variety of crimes including extortion, gang violence, attacking state organs, illegal detention, and picking quarrels and provoking trouble.
According to Yingtan Daily, the local paper, the Liu Family Elder Society acted as an illicit police squad that would also mediate disputes within the community. The ringleader, surnamed Liu, received the longest sentence at 16 years. His 18 henchmen — whose average age is reportedly 79 years old — received between one and 11 ½ years each.
The name Liu carries weight in Yingtan, according to the Jiangxi authorities' report, which claimed that "when locals heard the name Liu, the color would run from their faces." For a new housing development, for example, even if the local government had already approved the construction, the Liu gang might come in and demand a "grandparents' business fee" from the project.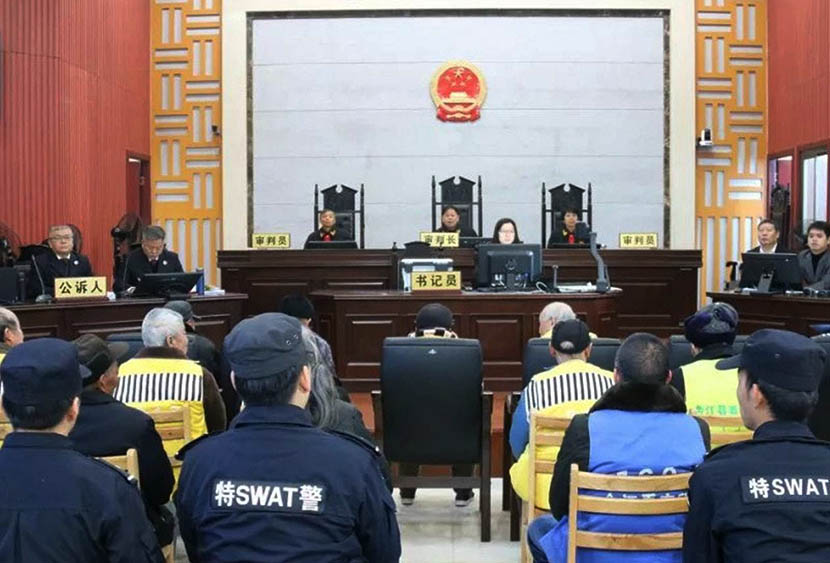 Members of the Liu Family Elder Society (in yellow vests) appear in court in Yingtan, Jiangxi province, Dec. 31, 2019. From @侠客岛 on Weibo
The geriatric gangsters, active since 2002, were finally apprehended in March 2019. According to Yingtan Daily, the city became a more peaceful place afterward, with one local merchant telling the paper: "Before, when Liu's gang would come to my shop, if they wanted to buy a rice cooker that cost 150 yuan ($22), they'd just throw 100 yuan on the counter and take the rice cooker."
"In all my years of work, my general impression is that Liu and his fellow gangsters were involved in almost every single physical fight," Yingtan Daily quoted the local police chief, Qiu Yuanming, as saying. According to Qiu, his officers' caseload dropped by half after the Liu gang was off the streets.
But dealing with elderly detainees hasn't been easy for the Yingtan authorities. According to the provincial government's notice, the Liu gang members have used a litany of excuses to stonewall their police interrogators, claiming to be sick, deaf, mute, short of breath, or simply forgetful. "How can I remember things from so long ago?" one gangster reportedly complained. "Do you still remember what you ate a few days ago?"
One of the central figures in the gang has been diagnosed with a serious illness, according to the provincial notice — so when the police asked him to take them back to a crime scene, they had to arrange for an ambulance to follow them the entire way as a precaution.
"We are the perpetrators, but we are also the victims," Liu reportedly said during a court hearing. "I tried to find a job, but once the company found out who I was, they wouldn't hire me."
Liu added that his gang once extorted a planned school, causing the project to fail. "Now our children have to go study at a school far away," he lamented. "It's far more expensive for us."
Editor: David Paulk.
(Header image: Tuchong)