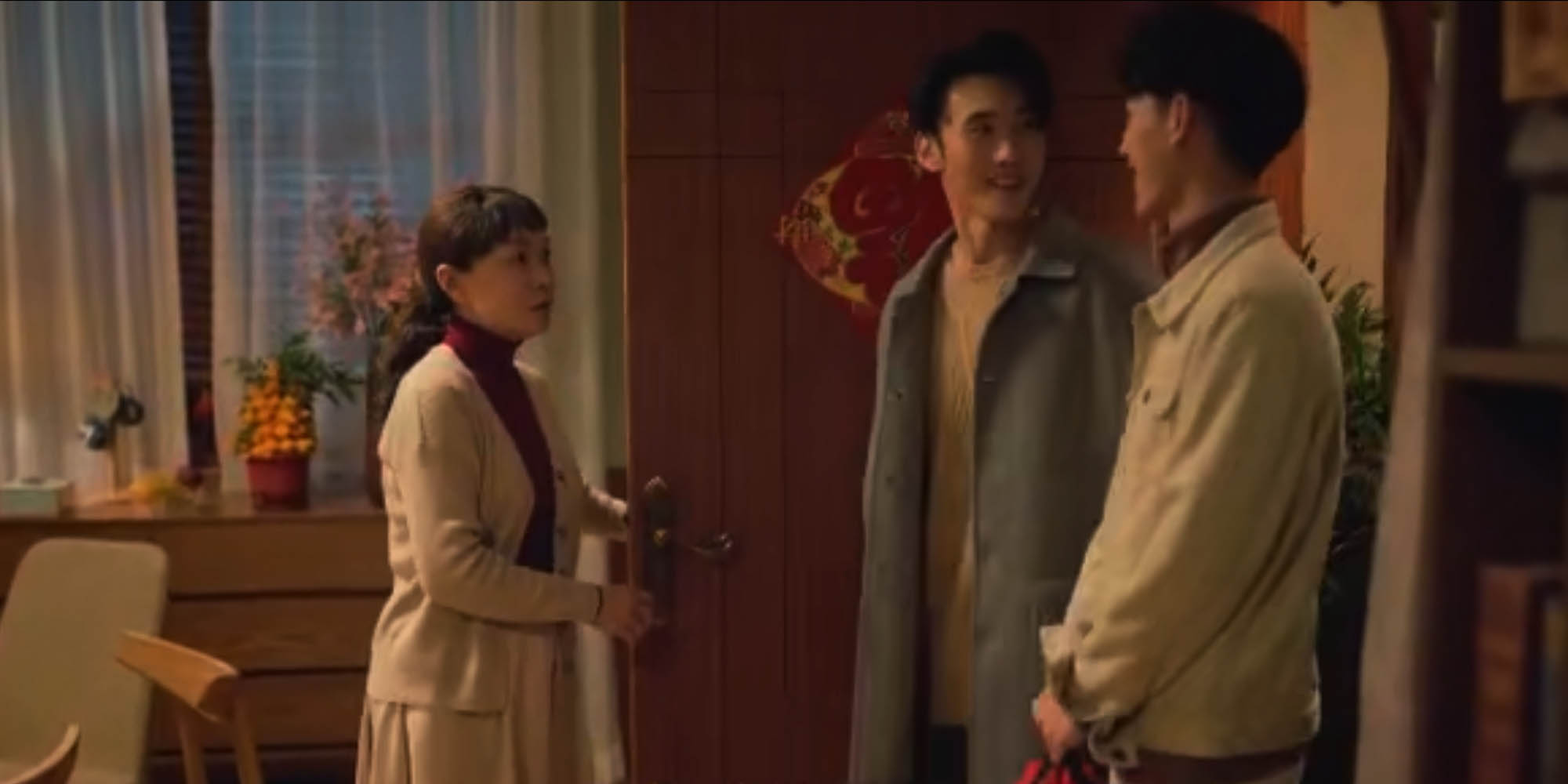 NEWS
Ad Featuring Same-Sex Couple Wins Hearts and Minds in China
Activists say the rare LGBT-friendly commercial is a step toward acceptance and equality.
In China, it's not every day that you see a man on TV bring another man home to meet the parents — but that's precisely what many viewers have been talking about this week.
The 23-second clip, part of a longer commercial produced by Alibaba subsidiary Tmall, features a man introducing his boyfriend to his family over dinner. During the meal, which appears to be a family reunion over the Spring Festival holiday, the father warmly welcomes his son's guest, telling him to "feel at home."
The ad is a departure from the host of similar promotions featuring heterosexual couples. According to activists, the video has made an effort to promote LGBT acceptance in a country where same-sex relationships are still largely taboo.
Yang Yi, a program officer at LGBT Rights Advocacy China, a domestic nonprofit, said the ad is a good example of normalizing a relationship, irrespective of sexual orientation. He added that such portrayals help to increase visibility of the LGBT community at a time when they're increasingly overlooked in mainstream media coverage.
"In recent years, news, TV series, and films dealing with LGBTQ+ issues are becoming more and more invisible," Yang told Sixth Tone. "Media shapes public opinion. … If we want to achieve a friendly and inclusive social environment, to change the law and social norms, then we need much more LGBTQ representation on TV and in newspapers."
According to an annual media monitoring report form the China Rainbow Media Awards, domestic news outlets published 762 articles about LGBT issues in 2018. Though this was nearly double the previous year's figure, Yu said the coverage was heavily focused on lighter topics like celebrities and entertainment rather than the overarching LGBT rights movement.
Since 2017, LGBT-associated symbols have been blurred on TV, and films for the Chinese market have faced unexpected edits and delayed premieres. Yet over the same period, dozens of foreign and domestic films touching on LGBT issues have managed to reach Chinese audiences, albeit not always in their entirety.
Despite persistent hurdles, the country has made some progress toward increasing acceptance of the LGBT community in recent years.
In December, an official from the National People's Congress, China's top legislative body, acknowledged that the legalization of same-sex marriage was among the most popular requests for revisions to the country's civil code. And in a landmark case in August, Beijing's government said it would legally recognize mutual guardianship between two people of the same sex, conferring some benefits previously only enjoyed by married couples.
The new ad has received mixed reactions on Chinese social media. Many have agreed that it promotes equality and acceptance. A user on microblogging platform Weibo who claims to be one of the male actors in the ad described it as "an attempt to make progress."
"I think featuring this theme on domestic screens can bring progress to LGBTQ rights," the user wrote. "The attempt to make progress is progress in and of itself."
Other users, however, have said they are uncomfortable seeing same-sex relationships depicted onscreen.
"They shouldn't be degraded, but they shouldn't be promoted either," one Weibo user commented under a related media post.
Editor: David Paulk.
(Header image: A screenshot from the video ad produced by Alibaba subsidiary Tmall shows a mother welcoming her son and his male partner into her home. From Weibo)