Starting this spring, Beijing will become the second Chinese city to impose a compulsory household waste-sorting policy, affecting some 21 million residents.
The capital's top policymaking body unveiled a set of new rules Dec. 18 to take effect May 1, requiring all households to sort trash by method of disposal, such as incineration, landfill, and recycling. The move follows similar rules imposed since July 2019 in Shanghai, the eastern financial hub.
Both cities are responding to a nationwide push to address rising mountains of domestic waste produced by Chinese metropolises. Data from Beijing's urban management commission showed that from January to October, the nation's largest city by area produced more than 7.9 million tons of household trash, or 26,000 tons a day. The State Council, China's Cabinet, set a target to apply compulsory garbage sorting in 46 major Chinese cities by the end of 2020.
According to the Ministry of Housing and Urban-Rural Development (MOHURD), which oversees China's waste management, domestic trash should be divided into four categories: recyclable materials, hazardous waste, "wet" or organic garbage, and "dry" waste. A complete chain of waste disposal should start with household sorting and run through collection and sorting by communities and businesses, and then on to final disposal.
Achieving these goals will be tough, as it will require an overhaul in the habits of millions of households and the operations of businesses and government departments. Most Chinese cities still rely on waste-pickers to rummage through bins and pluck out plastic bottles and cardboard to sell to recycling plants, leaving the remaining waste to be mixed and transported by sanitation departments for incineration or landfills.
Yet waste sorting isn't a new concept for many Beijing residents, as the city has initiated waves of campaigns to deal with mounting urban garbage over the years. The latest effort came in 2017 when many households were encouraged by community managers to sort garbage into different bins for recycled, organic, and other materials. But most of the efforts have faded over time partly because of the absence of an effective and official system putting the entire chain of trash sorting, transportation, and disposal under scrutiny.
"The best strategy is to reduce trash production at the source and then turn the waste into resources," said Wang Weiping, deputy chief engineer at the Beijing Municipal Commission of Urban Management.
Several analysts interviewed by Caixin said the types of trash disposal will determine the methods of sorting. Different regions should therefore work out plans that fit local conditions. There is no one-size-fits-all solution, they said.
"Waste sorting is not a one-off campaign, but a long-term effort," said Chang Jiwen, a senior environment policy expert at the Development Research Center of the State Council. Beijing still has months to prepare for the new policy to ensure all conditions are ready, Chang said.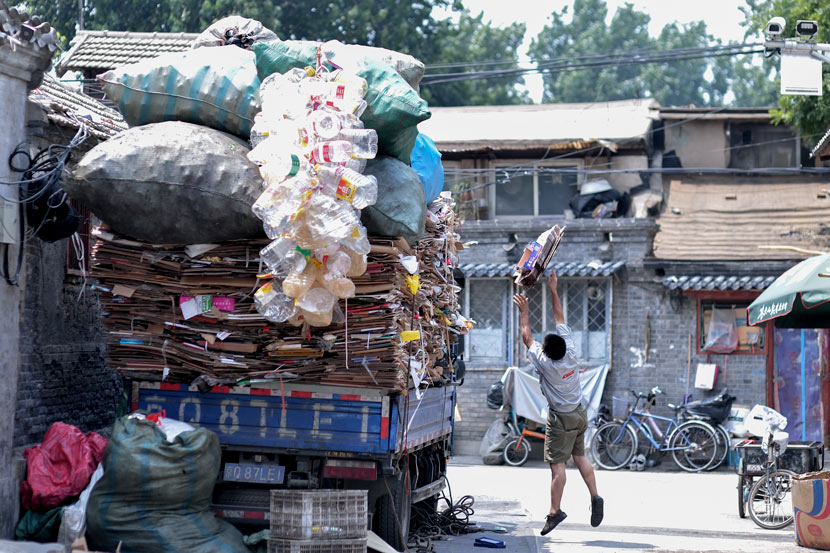 A recycler throws cardboard onto his truck in Beijing, June 10, 2018. Tuchong
Beijing's battle against trash
The first time waste sorting entered the public consciousness in Beijing was in 1957, when the city government-backed newspaper Beijing Daily published an editorial calling for residents to sort their household waste for recycling. Rather than for environment protection, the piece sought to encourage people to save at a time when the country was poor.
Waste disposal was simple at that time, as recyclable materials were sent to government-run disposal stations and the rest was moved to the countryside for fertilizer. But as the city grew and people's lifestyles changed, waste full of nonbiodegradable substances like plastic and rubber piled up outside the city, triggering a public uproar.
A city government survey in 1983 found that Beijing was surrounded by 4,700 garbage-dumping grounds, each covering at least 50 square meters. No regulation or law concerning dumping and disposal existed at that time. The massive waste piles also fueled a new business for waste-pickers, attracting hundreds of thousands of farmers migrating from across the country to Beijing's suburbs in search of profits from garbage dumps and trash bins.
In 1995, China inaugurated its first law on solid waste disposal and constructed several large landfills nationwide, including one in Beijing, as burial became the main approach to trash disposal.
But the problems of landfills started to show over time, as they can severely pollute the soil and produce toxic gases, according to Wang. In 2008, Beijing opened its first waste incineration plant as the country started to shift from landfills to incineration. That year, the city also achieved the goals it set in 2000 to properly sort more than 50% of the city's household garbage and turn 30% of it into resources.
Although mushrooming trash incinerators across the country have sparked a public outcry and even protests over pollution concerns, a consensus has gradually formed that incineration is a better way to dispose of waste, according to Wang. By the end of 2019, Beijing set up 11 incinerators, up from two in 2010. The plants handle more than 40% of the city's waste, according to government data.
But massive construction of facilities also puts a burden on the city government. Since 2017, Beijing authorities started to rethink the city's waste management strategy and focus on controlling the sources, Wang said.
"Rather than dealing with the garbage at the end, it is better to work from the beginning to reduce waste production," he said.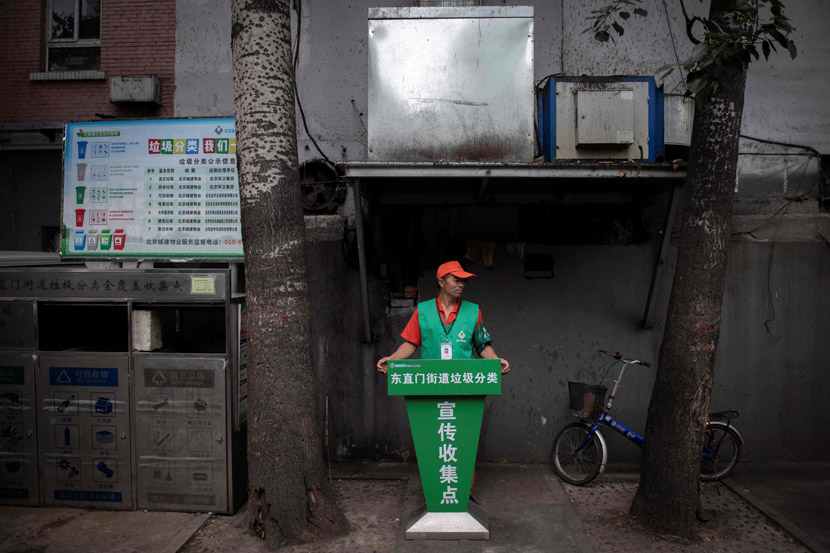 A neighborhood volunteer supervises a compulsory waste-sorting site in Beijing, Aug. 14, 2019. Nicolas Asfouri/AFP
Controlling the sources
One of the most difficult parts of Beijing's previous garbage-sorting campaigns was to deal with the massive amount of kitchen waste. Chinese cuisine produces lots of so-called wet food waste — such as fruit peels, vegetables, and food leftovers — that is perishable and hard to incinerate. Such trash can be used to make biogas and fertilizer, but only if it exceeds a certain level of purity.
A 2019 survey of 96 residential communities in Beijing found that domestic waste contained about 65% kitchen garbage, 10% recyclables, 1% harmful materials, and 24% classified as other.
Many communities in Beijing started encouraging residents to sort kitchen waste into separate bins as early as 2012. But flaws in the subsequent disposal process often nullified these efforts, said Xu Shaomei, property manager of a residential community belonging to MOHURD.
"Sometimes residents found waste they carefully sorted was mixed again (by the sanitation department when it was removed)," Xu said. Wet garbage that can't be removed from the community because of inadequate transport capacity often causes fumes and pollution concerns during the summer.
The 3,100-household community managed by Xu produces more than 600 kilograms of kitchen waste every day and 14 tons of other trash. To ensure that the perishable garbage can be removed on time, sanitation workers have to mix it with other waste in transportation, Xu said.
Beijing's new rules on waste management stipulate that different types of trash should not be mixed in collection and transportation. Violators will be subject to fines ranging from 20,000 yuan to 100,000 yuan ($2,900 to $14,400).
But the implementation of the rules will require an estimate of whether waste transportation and processing capacity can meet the demands, Xu said. "Otherwise, it won't succeed."
There hasn't been any official figure for how much kitchen waste Beijing families produce. In Shanghai, separately packed food waste totaled 9,200 tons per day in late August — 1,000 tons more than the amount before the sorting rule started and 130% higher than at the end of 2018.
Calculations by Caixin showed that daily kitchen waste produced in Beijing could exceed 10,000 tons. But all of the city's biomass facilities can only process 5,750 tons of kitchen waste a day based on public information.
Some Beijing communities have been testing measures for disposing of kitchen garbage on-site using new technologies to produce fertilizer from the waste or degrade it. The new rules also encourage communities to install subsidized trash-disposal facilities.
But the small-scale pilot tests of on-site waste disposal have only limited effects, experts say. One reason is that the high content of salt and oil in Chinese kitchen garbage is not suitable for fertilizer, according to one disposal expert. Using special equipment to turn normal food waste into usable fertilizer is time-consuming and costly.
Some have tested more innovative methods such as breeding black soldier flies, insects that eat organic waste, to facilitate composting. But such projects are still in the pilot stage, and it is hard to assess economic feasibility, said Liu Hua, a project manager at Greenpeace.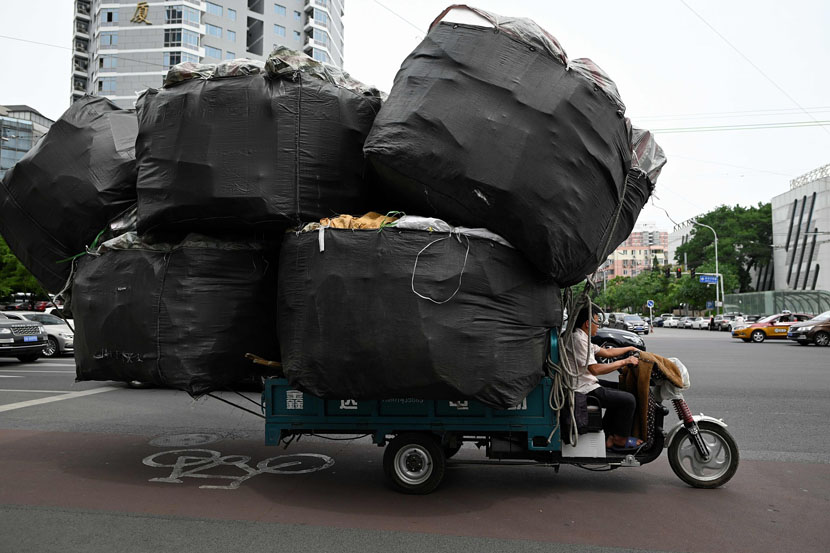 A man drives an electric tricycle loaded with lightweight recyclables in Beijing, June 5, 2019. Wang Zhao/AFP
The trash business
Apart from households, business players in the long chain of trash disposal are also expecting changes brought by tightening waste-sorting rules.
Xu Yuanhong, whose father moved from the central Henan province to Beijing in the early 1990s to earn a living from waste collection, is trying to adapt the family's small trash-trading business to the changes. Since 2014, the family has been gradually shifting its business focus from collecting and reselling recyclable garbage to waste sorting as the expanding city forced out private trash collection centers.
While waste-pickers like Xu's father played a major role in Beijing's trash-disposal ecosystem over the past decades, their efforts are uneven and the lack of efficient official disposal networks often results in serious pollution and under-recycling.
In 2017, the Xus developed a mobile app called Aifenlei allowing households to reserve a door-side pickup of dry trash such as glass, electronics, dishware, and clothing as well as other recyclable materials or harmful materials. For giving the garbage to Aifenlei, residents are paid in coupons that can be used to purchase daily necessities. The waste is sent to Aifenlei's sorting center for further processing.
According to Xu, more than 95% of the dry waste collected can be recycled. Aifenlei has also started to collect kitchen garbage in some communities and send it to a trash plant for disposal.
Li Changjun, a researcher at Fudan University in Shanghai, said businesses like Aifenlei can help cities reduce waste production, but in a very limited way, as recyclable trash is more valuable and can always find a way to be collected and disposed. A better system to deal with kitchen waste will require an overhaul to China's garbage-sorting system, Li said.
Changes in trash sorting will also affect the final segment of the waste-disposal industry. In Shanghai, the implementation of stricter sorting rules led to a 33% decline in dry waste sent to incinerators in three months as more wet garbage was sorted out for separate disposal. Less incineration means less income to the plants. According to China International Capital Corp., a 20% decline in domestic trash incineration will lead to a 9% revenue slump for incinerators.
Meanwhile, incineration plants are also facing tougher environmental rules. A policy issued by the Ministry of Ecology and Environment requires the country's 400 domestic waste incinerators to disclose details of major pollutant emissions for public scrutiny starting Jan. 1.
For Beijing to handle its 26,000 tons of domestic trash every day, the city has 30 disposal sites including incinerators, landfills, and biomass facilities, with total a waste disposal capacity of 30,300 tons a day. Sun Xinjun, director of the Municipal Commission of Urban Management, said all the facilities are running at close to full capacity with little leeway.
According to the commission, Beijing plans to increase incineration capacity to 35,800 tons a day by 2025, plus 5,750 tons a day of biomass capacity, while reducing landfill use to zero.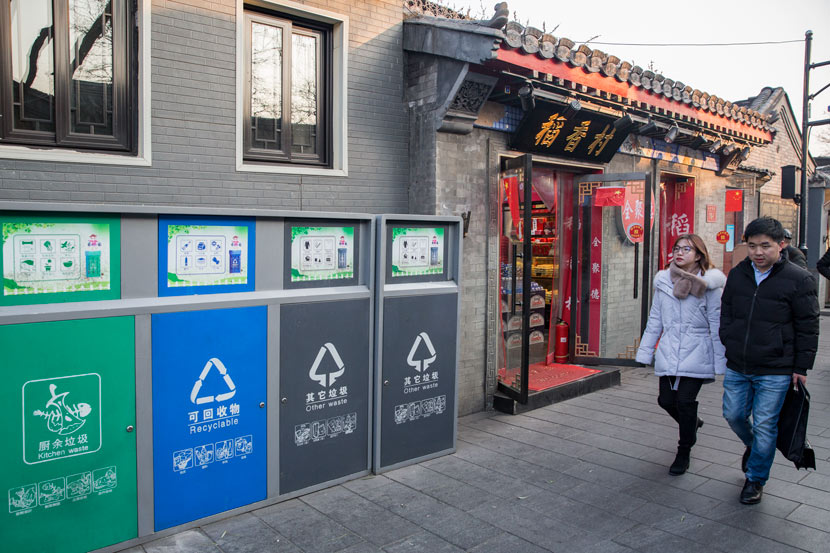 Pedestrians walk past trash cans in Beijing, Dec. 6, 2019. Newic/Tuchong
Analysts questioned whether this will be adequate for disposing of the rising volume of kitchen waste. But Wang said that with better public awareness, the amount of food waste produced by households will gradually decline.
"Reduction is the best way to manage domestic waste," Wang said.
The more sustainable future of waste disposal lies in biomass treatment, although the technologies are still imperfect now, according to Greenpeace's Liu.
"Landfill and incineration are both compromise methods," Liu said. "We shouldn't stop exploring better solutions."
This is an original article written by Yang Rui, Huang Yanhao, Zhan Kun, and Han Wei of Caixin Global and has been republished with permission. The article can be found on Caixin's website here.
(Header image: A recycler collects trash in Beijing, Nov. 30, 2019. Ayanz/Tuchong)