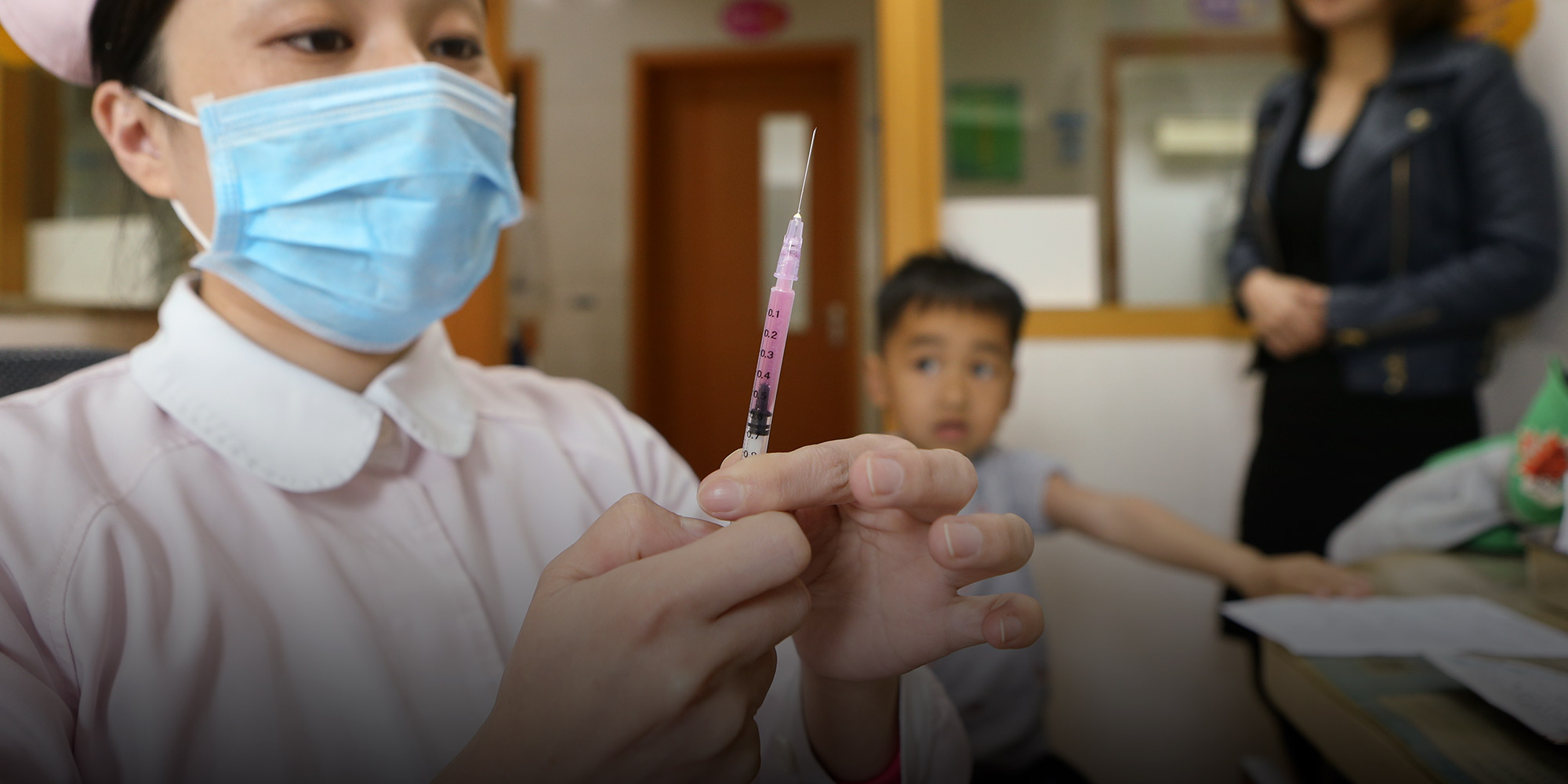 FEATURES
How a New Law Turned China's Vaccine Industry Upside-Down
China is trying to inoculate itself against future faulty vaccine scandals with strict new legislation. But the changes have led to complications.
SHANGHAI — Three years ago, Meihua Clinic was an underground phenomenon. The small downtown health center was famous for giving patients access to the latest foreign-made vaccines before they'd been officially approved for use in China. Even doctors at top public hospitals would suggest parents take their children to Meihua to get certain shots.
Today, however, it's a different story. The private clinic refuses to administer any vaccines on its premises, instead referring patients to other local health companies.
"We haven't acquired a vaccination permit," a staff member from the clinic — whose full name is Shanghai Meihua Gynecology Outpatients Department Co. Ltd. — told Sixth Tone mid-December. "Those who purchase vaccines from us these days are our old customers."
The company's transformation is just one example of the sweeping changes that have taken place in China's health sector in recent years as the Chinese government cracks down on irregular practices in the health supply chain. 2019 saw an acceleration of the reforms. 
The regulatory tightening was particularly intense in the vaccines industry, with the country struggling to move on from a major safety scandal. In July 2018, a company named Changchun Changsheng Life Sciences Ltd. was found to have sold hundreds of thousands of faulty vaccines, leaving young children with permanent disabilities and sparking a wave of public anger.
In response, the government passed its tough new Vaccine Administration Law, which went into effect Dec. 1, 2019. Under the new law, any organization administering vaccines without authorization would be shut down, fined up to 1 million yuan ($145,000), and have its leaders punished — though the law doesn't specify whether they would face criminal charges.
The vaccine law aims to bring peace of mind to Chinese parents by increasing scrutiny of vaccine makers and preventing substandard products from making it to the market. But the tighter oversight is also creating supply issues, as vaccine companies shut down, unlicensed clinics stop administering shots, and products get recalled on a large scale.
The clampdown on clinics like Meihua is a case in point. For years, the private operator essentially filled a gap in provision in China's health system by offering highly in-demand vaccines that the country's regulators had yet to greenlight.
Li Wen, a mother based in Shanghai, took her newborn son to Meihua to receive a series of shots in 2011, even though she knew the treatments were technically illegal. She wanted her child to receive DTaP-IPV-Hib — a then-new vaccine immunizing against five diseases, including diphtheria, tetanus, and polio. 
The combined vaccine protects against all five conditions with just four shots, whereas previous treatments required a total of 12. It also allows patients to avoid receiving the traditional oral polio vaccine, which comes with possible side effects — including developing polio in extreme cases.
Li contacted Meihua about the vaccine on the recommendation of a public hospital's obstetrician. "Back then, public community health service centers didn't have DTaP-IPV-Hib vaccines in stock," said Li. "Meihua was my most convenient choice, unless I planned to fly to Hong Kong."
Meihua had been in operation since 2006 and had provided similar services to many patients. Li said she wasn't concerned about the potential safety issues associated with using black-market vaccines, though she admitted nowadays she might think twice.
"I never doubted the authenticity of the vaccines they provided, but honestly I didn't consider how they'd been transported to Shanghai and whether the effectiveness of the vaccines was impacted during the process," said Li.
In the end, the course of shots went well, and Meihua went on to supply thousands more patients with vaccines not yet OK'd by Chinese authorities. But over time, Chinese officials became less tolerant of firms operating outside the law.
In 2011, Meihua received an "administrative punishment" for using unapproved imported vaccines, court filings show. Then, in 2017, the company's founder, Guo Qiao, was arrested and prosecuted. 
The following year, a Shanghai court found Guo guilty of distributing more than 13,000 doses of vaccines smuggled into China from Singapore during 2015 and 2016, and sentenced the businessman to seven years in prison. Most of the products involved were doses of Prevenar 13, a new vaccine for immunizing against 13 types of pneumococcal bacteria.
Guo appealed the verdict, arguing that Meihua was doing a public service by supplying a highly in-demand treatment. According to Guo's legal team, none of the children injected with the vaccine experienced any complications. Dozens of Meihua's clients petitioned the Shanghai government, urging officials to be more lenient.
On Nov. 27, the Shanghai High People's Court ruled that Guo's case should be retried, since further investigation was necessary. The announcement was made just days before the implementation of China's new Pharmaceutical Administration Law, which relaxed penalties for those selling unapproved foreign medication. Then, on Jan. 4, Guo was released from prison, after his sentence was reduced to two years. When reached by Sixth Tone, communications staff at Meihua refused to comment on the company's legal issues.
The softening of China's stance toward unapproved drugs reflects ongoing supply issues in the health system, which has generated public sympathy for patients and clinics turning to irregular channels to source treatments. Though DTaP-IPV-Hib and Prevenar 13 were approved for sale in the Chinese mainland in May 2011 and November 2016 respectively, they haven't always been easy for patients to access.
In 2017, the Shanghai disease control authorities advised parents to seek alternatives to the DTaP-IPV-Hib vaccine, as supplies would be suspended for a long period. Eight batches of the vaccine had failed a safety inspection, forcing a large-scale recall. In 2018, the vaccine was unavailable in the eastern city of Nanjing for as long as eight months because of another safety issue.
With vaccine supplies at public health centers often unstable, some parents continue to seek out private — though not necessarily unlicensed — clinics, which guarantee the desired products will be available. 
Fang Chenxuan, a 28-year-old new mother from Shanghai, booked a series of vaccines for her infant son at a private clinic in November, spending more than 20,000 yuan — a far higher price than she would have paid at a public facility.
"I learned from other young mothers that shortages occasionally happen at community health service centers," said Fang. "I'm quite concerned about that. That's why I eventually chose a private clinic. Most parents (I know) choose private clinics, because it saves us from worrying about supply issues."
Like many Chinese parents, Fang said she preferred clinics to use imported, rather than domestically manufactured vaccines. But she added the stricter regulation of the vaccines industry in recent years had given her more confidence in domestic products.
The Vaccine Administration Law is designed to force vaccine companies to improve their operations. It requires all producers to introduce strict quality control systems, comply with legal requirements on all aspects of the production process, and accurately record data on production and inspections. It also encourages firms to increase investment into research and development and new production technologies.
Insiders expect the new rules to cause a major industry shakeout. In November, Changchun Changsheng went bankrupt, after receiving a 9.1 billion yuan fine and having its production license revoked in the wake of the vaccine scandal. Many other companies are expected to follow suit.
Huang Zhen, vice president of the Chinese vaccine producer Walvax Biotechnology Co. Ltd., told local media the law could eventually drive as many as two-thirds of domestic vaccine companies out of business.
"With the implementation of the vaccine law, the cost for businesses will significantly increase. All the enterprises must invest heavily into quality control," he was quoted as saying by The Beijing News.
The tougher rules have been welcomed by one group in particular, however: The parents whose children were injured by substandard vaccines. 
Yan Jiao, a mother from Siping, in China's northeastern Jilin province, told Sixth Tone her son lost the ability to walk along with his sight in one eye after receiving a rabies vaccine produced by Changchun Changsheng in 2017. She said her family was delighted to hear about the new law, though they are still waiting for news regarding how it can help them obtain justice.
"So far, I've noticed no real changes for us," said Yan. "We still have no clue to which department we should file our requests for compensation."
The vaccine law introduces a mandatory liability insurance system to ensure victims are compensated more efficiently. Whereas compensation was previously paid to victims by the government, the new system will require vaccine producers and insurance companies to pay.
Experts predict the new policy will benefit the large number of people still waiting for compensation payments, though the system remains in its early stages.
"Such a system can ease the financial burden on the government and at the same time protect the rights of victims," said Wang Yuedan, a professor of immunology at the Peking University Health Science Center. "It requires the combined efforts of insurance companies and disease control authorities."
Editor: Dominic Morgan.
(Header image: A nurse prepares to administer a vaccine to a young patient at a hospital in Shanghai, April 8, 2019.)
Note: This article has been updated to include Guo Qiao's Jan. 4 release from prison.