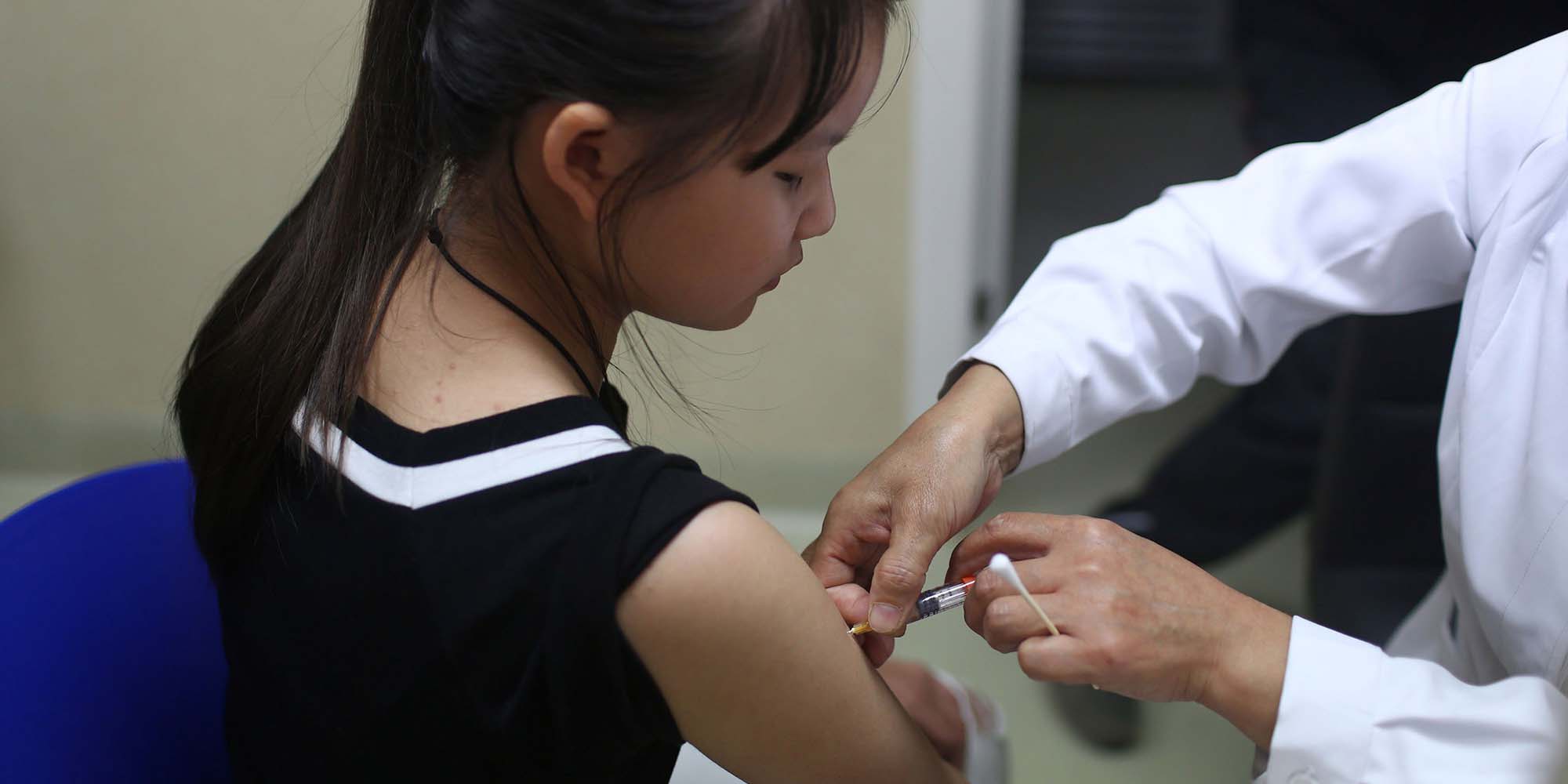 NEWS
China Approves Production of First Domestic HPV Vaccine
Experts say the low-cost vaccine will be accessible to a large population and help prevent cervical cancer.
China's first domestically made vaccine against the virus that causes cervical cancer has been approved for production, the country's drug regulator announced Tuesday.
The National Medical Products Administration (NMPA) said that Cecolin, a vaccine against human papillomavirus, will help prevent infections with HPV types 16 and 18, which cause 80% of cervical cancer cases. The vaccine is targeted toward girls and women aged 9 to 45.
Co-developed by Xiamen Innovax Biotech Co. Ltd. and Xiamen University, Cecolin is the first domestically developed HPV vaccine to secure production permission from the NMPA. However, Innovax has not yet set a timeline for the vaccine's availability on the Chinese market.
HPV infection is the leading cause of cervical cancer, the fourth most common cancer in women, according to the World Health Organization. HPV is sexually transmissible and has also been linked to cancers of the anus, vulva, vagina, and penis.
Over 111,000 new cases of cervical cancer were reported in China in 2015, accounting for one-third of cases globally and half of all cases in Asia, according to a report published in the Chinese Journal of Oncology in 2019. However, until a few years ago, a lack of access to HPV vaccines on the Chinese mainland drove many "medical tourists" to places like Hong Kong to get vaccinated.
HPV vaccines were first available on the Chinese mainland in August 2017, a year after British pharmaceutical company GlaxoSmithKline gained approval for its Cervarix vaccine from Chinese authorities in 2016. Two years later, China's State Drug Administration approved Merck's Gardasil 9 vaccine protecting against nine strains of HPV.
But high prices and limited supply of imported HPV vaccines — which are not covered by Chinese health insurance — remain a burden for many in the country. A single injection of Cervarix costs 580 yuan ($83), and the total cost for a complete course of three adds up to 1,740 yuan.
Experts say that successful approval of the domestically made HPV vaccine could make it accessible to a large population. Innovax told domestic media outlet China Economic Net that the company plans to price Cecolin at 329 yuan per shot, almost half the price of imported vaccines.
The total cost of a course of Cecolin is 658 yuan for those aged 9 to 14, while people over 14 will need to pay 987 yuan.
"It (Cecolin) could considerably reduce the cost of vaccination, benefiting not only China but also other low- and middle-income countries, and thereby advancing the prevention of cervical cancer worldwide," Zhao Fanghui, deputy director of the cancer epidemiology department at the National Cancer Center in Beijing, wrote last year in the British medical journal The Lancet.
Xiamen Innovax has applied for the World Health Organization's "prequalification of vaccines" in hopes of taking its homegrown HPV vaccine global, according to financial news outlet Caixin. The WHO has set a goal of having 90% of all girls under 15 vaccinated against HPV by 2030 — an aim that, if achieved, would greatly reduce the virus' impact as a global public health concern.
Editor: Bibek Bhandari.
(Header image: A girl is injected with an HPV vaccine at a hospital in Kunming, Yunnan province, Aug. 15, 2017. Kan Yunnan/IC)