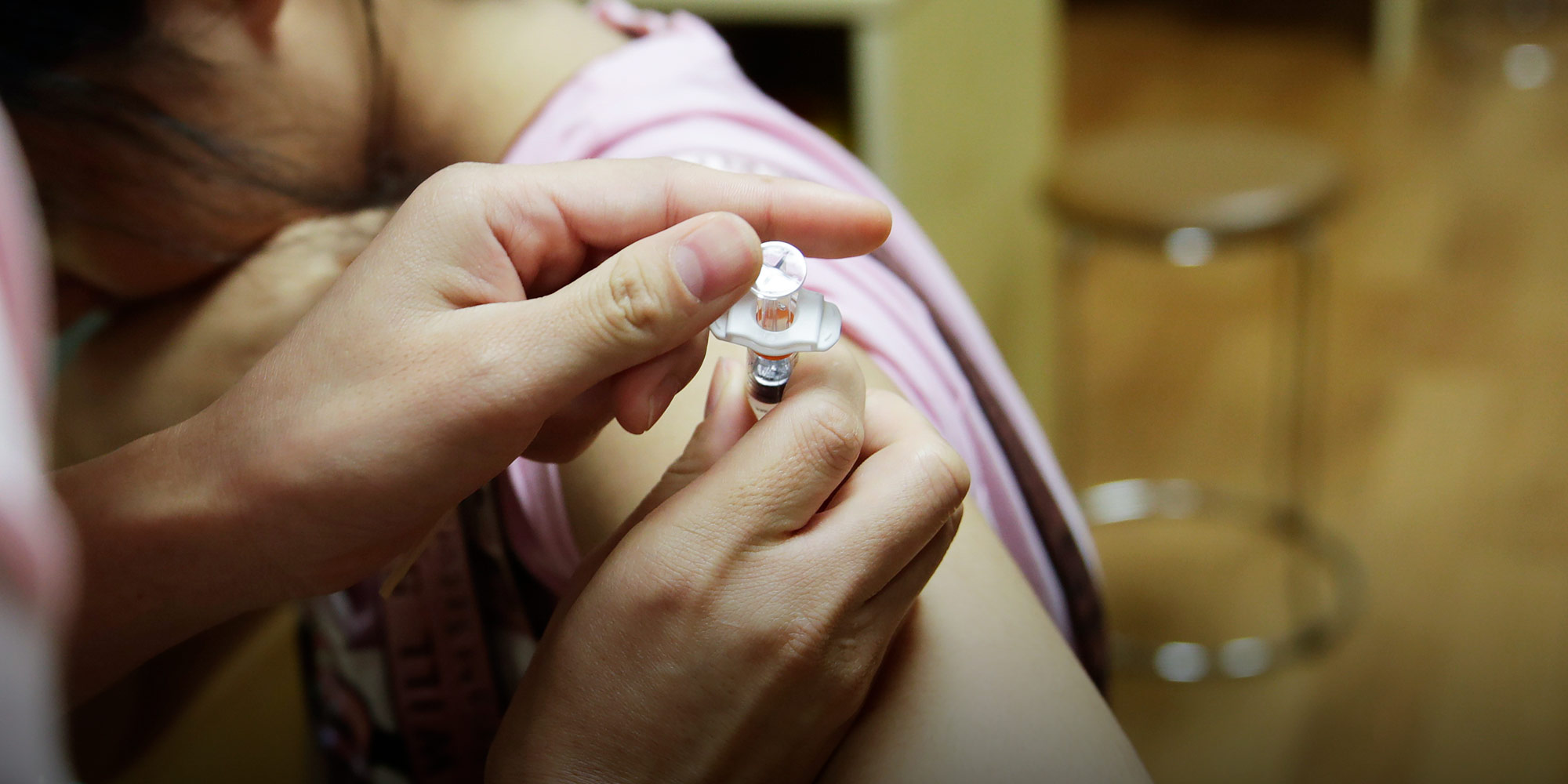 VOICES & OPINION
The Problem With China's Medical Tourism Boom
Millions of anxious women have traveled to Hong Kong in search of peace of mind, but local clinics and insurance agents aren't always reliable health partners.
I met Liu two years ago at a private medical clinic in Hong Kong, where the 29-year-old had come with her husband, daughter, and parents. All of them — except her daughter, who was only 6 at the time — were there for the same reason: to receive a shot of Gardasil 9, the most comprehensive HPV vaccine currently on the market.
"A lot of people in my company have gotten Gardasil 9 (shots)," Liu told me in a rapid-fire staccato. "At first, my husband didn't want to get the injections, but I sent him some of the information I found on the internet and told him he has to get them. My daughter's still young, but I'll bring her back in a couple of years. My parents are older, and the vaccine probably won't be as effective for them. But once you know it can prevent cancer, how can you not consider getting it for your parents?"
Liu and her family are among the millions of Chinese who have traveled to Hong Kong over the past three years for the express purpose of getting the latest 9-valent HPV vaccine. Together, they form part of a broader trend of anxious middle-class Chinese using their newfound economic clout to assert their bodily autonomy and safeguard the health of themselves and their families.
But after interviewing nearly 100 of these medical tourists, I discovered their lack of access to fact-based health information, combined with a general distrust of the Chinese mainland's medical system, left them vulnerable to exploitation by unscrupulous agents and clinics peddling unnecessary or ineffective treatments.
Awareness of HPV and its connection with cervical cancer was nearly nonexistent in China prior to 2016, when the country's Food and Drug Administration announced it had approved Cervarix, making it the first HPV vaccine legally available on the Chinese mainland.
Many of my interviewees told me they'd never heard of HPV before the regulator's announcement, and they'd known next to nothing about cervical cancer. All of a sudden, a flood of articles, some fact-based, others fearmongering, appeared online and on social media warning women that cervical cancer is the second most common type of cancer among women in China and that anyone could be infected with HPV.
Demand for the vaccine surged, causing nationwide shortages. In 2018, the southern megacity of Shenzhen decided to allocate its limited initial stock of the recently approved Gardasil 9 vaccine through a lottery system, and last year a clinic in southern Hainan province was closed after giving 38 women unauthorized injections.
Equally frustrating, many women soon realized their country's strict vaccine rules effectively made it impossible for them to do anything about this terrifying new risk.
Unlike the recommended vaccination ages typically used abroad, HPV vaccinations in the mainland are only available to those who fall within an officially sanctioned age range. Gardasil 4, an HPV vaccine approved there in 2017, is only authorized for women aged 20 to 45. Access to the newer Gardasil 9 is even more restricted: It's legally available only to women between the ages of 16 and 26. As for the country's first domestically developed HPV vaccine, Cecolin, although it was approved in early 2020 for use in women aged 9 to 45, it only provides protection against two HPV strains associated with about 70% of cervical cancers. This means many women on the Chinese mainland are effectively unable to receive what they've been told is not only the most effective anti-HPV vaccination, but also a vital means of preventing cancer.
Those able to afford it often choose to go to Hong Kong instead, which is close, enjoys a better reputation for medical services than the Chinese mainland, and most importantly does not have strict rules limiting who can get vaccinated. Reports suggest as many as 2 million medical tourists make the trip every year, and they've bought so many doses of the vaccine from local health clinics, the price of Gardasil 9 jumped from 4,000 Hong Kong dollars ($515) for the full three-shot course in early 2017 to roughly 9,000 Hong Kong dollars today.
In a sense, it's these clinics — rather than the women themselves — that have been the biggest beneficiaries of the Chinese mainland's HPV vaccination boom.
The HPV vaccine requires three shots over a period of months. Clinics see this captive audience as a potential gold mine, and recently a massive consumer health industry capable of taking advantage of the anxieties of middle- and upper middle-class women from the mainland has emerged in Hong Kong. As early as 2018, many medical institutions began requiring appointments for Gardasil 9 vaccinations to be bundled with other medical services like health checkups.
Fear of cancer can be a powerful motivator, especially since China's patchy health insurance system means one serious illness can be financially ruinous for even well-off families. Hong Kong-based health firms, including clinics and insurance companies, use this anxiety to sell a wide range of expensive services ranging from the above-mentioned checkups to genetic testing for cancer risks and nutrition supplements.
"For all of you just starting out, the easiest to sell is critical illness insurance," the instructor of a Hong Kong insurance sales training seminar told students at a class I attended. "If you know anything about cancer and medical conditions in China, you should understand no one's unafraid of getting cancer or contracting a serious illness."
Indeed, among the nine women I observed on their clinic visits, eight ended up purchasing commercial insurance covering them for a sum of over 1 million Hong Kong dollars.
"The thing with health is, the more you get into it, the more you want to know," said 26-year-old Lili. "Then you start seeing more risks. So, what do you do? Just like getting the HPV vaccine prevents cervical cancer, don't you get health checkups and insurance as a precaution?"
To expand their reach, clinics also recruit clients to promote their services within their social circles. This is highly effective on the Chinese mainland, where trust in official channels is generally low, and many women rely on informal sources of information for medical advice, including friends and family. Nearly one-quarter of my interviewees participated in such schemes, collecting discounts or commissions in exchange for referrals — some even started selling insurance themselves.
Lili signed her parents up for a health checkup package after her clinic-assigned health advisor explained she could earn 1,000 yuan ($140) for each person she referred. Liu, who brought her whole family to Hong Kong for HPV vaccinations, first heard about the service from her boss and colleagues, some of whom had gone to the same clinic.
Unequal or limited access to health care and accurate health information is a serious issue. But those who go to Hong Kong for peace of mind often wind up even more anxious than they were before, as clinics there prey on their fears to get them to spend more.
Some of these health centers have spotty records of their own. In 2017, the Hong Kong vaccination industry expanded so rapidly that it, too, had severe shortages, and many clients were booked for injections they were later unable to receive. And this July, Hong Kong customs seized 76 boxes of suspected counterfeit HPV vaccines.
The rise of China's middle class has empowered women to invest more in their health and bodies. But in the absence of comprehensive, systematic, and authoritative information, their empowerment risks being turned into another form of exploitation by unscrupulous medical care providers.
To protect the identities of research participants, the author has given them all pseudonyms.
Translator: David Ball; editors: Cai Yiwen and Kilian O'Donnell; portrait artist: Zhang Zeqin.
(Header image: Tuchong)