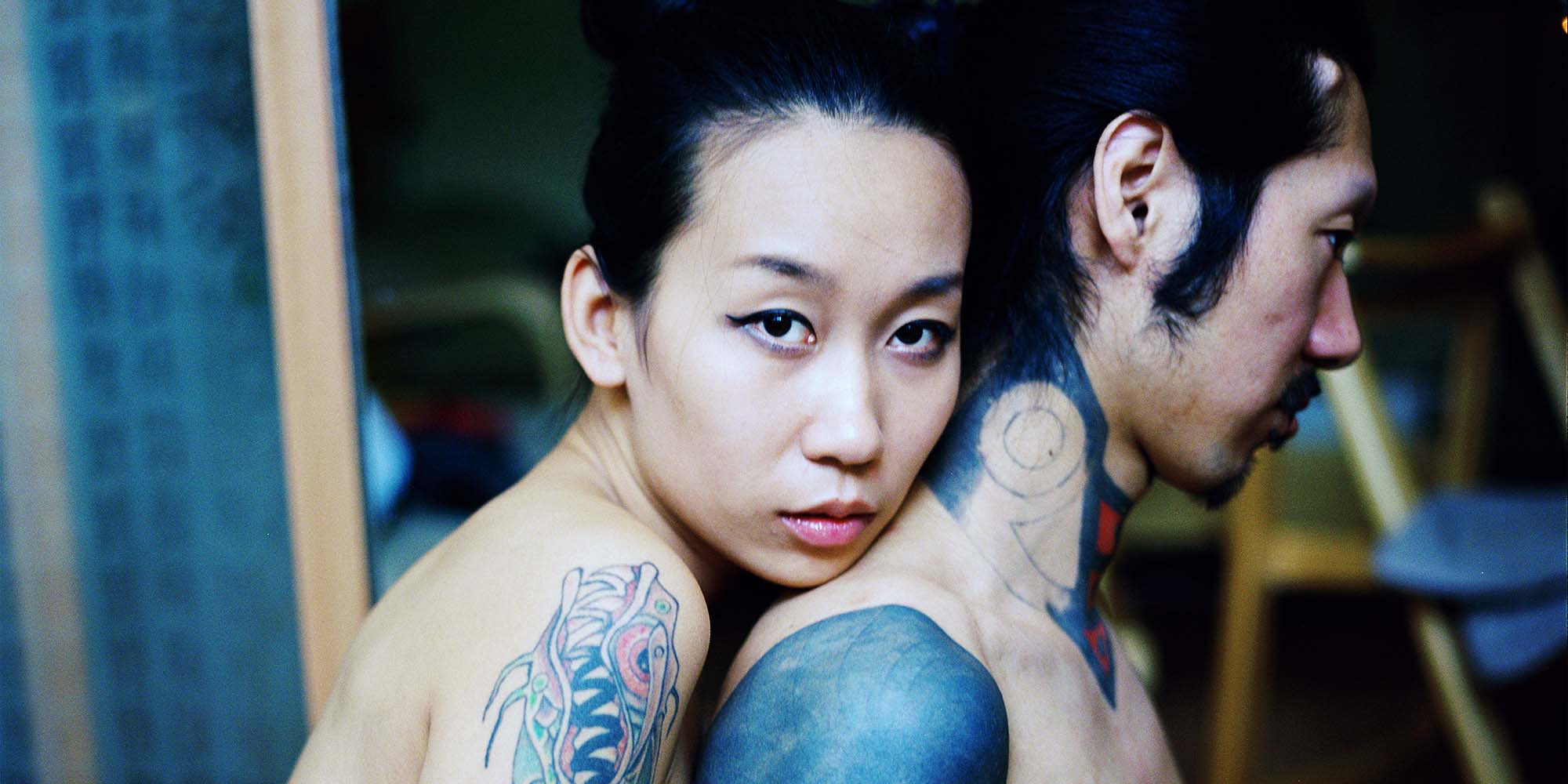 MULTIMEDIA
Exploring the Many Faces of Beauty in Modern China
Photographer Luo Yang challenges traditional norms with her portraits of young Chinese.
SHANGHAI — A young woman leans forward across a white table, gazing steadily at the camera. Bathed in soft summer light, she appears relaxed, her lips curling upward in a "Mona Lisa"-like smile. The viewer only gradually notices the angry red scars covering her arms, cheeks, and shoulders.
The subject of the photograph, whose name is Zhou Yan, is a familiar face to many in China. Eight years ago, the then-16-year-old was the victim of a shocking attack that made national news. After Zhou rejected the advances of a classmate, the jilted teenager doused her in kerosene, then set her on fire. Zhou suffered third-degree burns covering 30% of her body and lost an ear in the blaze.
In this shot, however, Zhou appears transformed. Though she's making no effort to hide her scars, they don't define her. Instead, her natural beauty is what catches the eye. The effect comes down to Luo Yang, the Beijing-based photographer who has spent more than a decade capturing the beauty of today's young Chinese.
"I was touched by the innocence in her (Zhou Yan's) eyes the first time I saw her," says Luo. "Besides being a well-known figure, she's also a normal young girl. I didn't want to view her with prejudice. So, I decided to shoot her just like any other girl I'd worked with before."
A native of Shenyang in China's frigid Northeast, Luo has built her reputation on her ability to upend traditional aesthetic norms and empower her subjects. She first gained fame for her long-running project "Girls" — a series of portraits of young women she began in 2008 while studying graphic design at Shenyang's Lu Xun Academy of Fine Arts.
Born in 1984, Luo was part of a generation of artists that grew up as China's economy and society were undergoing extraordinary transformations. Like many of her contemporaries, she was eager to document the youth counterculture emerging at the arts school, and she began snapping her college dormmates in her spare time.
"I'm drawn to women who are judged to be less than perfect by mainstream values," says Luo. "Maybe they've been through something bad, or they're vulnerable, but you can see they go about their lives so honestly and bravely. It's interesting to feel this kind of energy."
After graduating in 2009, Luo moved to Beijing to begin a career as a photographer, and she began to hone the aesthetic for which the "Girls" project would become known.
In the series, viewers encounter the female gaze both in front of and behind the camera's lens. From fully dressed to completely nude, Luo's subjects are perched on rooftops or motorway overpasses, with expanses of the sky or waves of concrete unfolding behind them. Other portraits feature women immersed within the privacy and intimacy afforded by the home — eating, resting, smoking, bathing, or simply observing.
"Whether standing in an abandoned road or on a rooftop, or even wearing very little, in many of my photographs, I aim to depict girls in a state of freedom," says Luo. "When I photograph girls at home, I'm trying to capture part of their own private world, since the home is an extension and reflection of their personalities and who they are as individuals."
Over time, Luo's work has come to focus on depicting physiques emancipated from traditional beauty standards: bodies scarred by acne; bodies unfolding in layers of flesh; bodies with hair; tattooed bodies; pregnant bodies. In 2016, she began working on a series of portraits of women who had suffered injuries, and it was this work that led to her encounter with Zhou.
The photographer confesses to being nervous during the shoot. On a practical level, the stakes were high: Luo had recently decided to cut back on commercial work to focus on her own projects, so she was feeling pressure to make the series a success. More importantly, she worried whether she'd be capable of expressing Zhou's beauty and inner strength through her work.
The meeting came at a strange time for Zhou. Just four months previously, a judge had finally issued the verdict for her case against Tao — over five years after the attack. The ruling granted her over 1.8 million yuan ($276, 300) in compensation. Zhou had passed out during the hearing, and Luo was uncertain what mental state the young woman would be in on the day.
On a beautiful summer's day, Zhou arrived to meet the photographer while accompanied by her mother. Luo says she remembers the room being particularly quiet, but a candid moment allowed her to get the shot she wanted. Zhou was leaning against a table beside the window, the sun on her body.
"She looked so relaxed, and I didn't see how terrible the scars were," says Luo. "I simply thought she was beautiful at that particular moment, and the conditions resulted in something real."
Soon after, Luo posted the shots to her social media feeds, and the photos generated a huge response. In The Paper, Sixth Tone's sister publication, one article about the photo shoot alone received thousands of comments offering support for Zhou. "There's no need to say your heart or soul is beautiful — just that you truly look beautiful just as you are," wrote one user.
Luo left behind "Girls" in 2017, but she's been continuing to explore the fluidity of gender roles and the complex particularity of women's voices in China's fast-changing society.
In a stand-alone project shot in 2016, the photographer turned her lens on Wang Yanyun. Born in 1991, Wang was a nude model while studying at Renmin University of China in Beijing and caused controversy by exhibiting the photos in public. Later, she dropped out of college and married a middle-aged artist.
"Wang is one of the bravest," says Luo. "She's never afraid of making tough choices in life."
When Luo met Wang for the first time, her subject had just ended her marriage and had started a new relationship. She was also pregnant. During the shoot, her new boyfriend shaved her head as a symbol of a new beginning.
"She had no clear plan about the new relationship," says Luo. "But she was determined to get a fresh start then."
In one striking image, Wang stands naked on a balcony, encased in windows and dark gray brick. Standing in profile, her pregnant belly adding to her curves, she appears lost in thought among the copy-paste high-rise buildings stretching into the distance.
"Being a mother is such a special life experience," says Luo. "Giving birth to a new being means women have an opportunity to better understand the mysteries of life."
Motherhood is also the theme of another recent project — "Yumo" — a series of nude portraits of a mother and her young son. The intimate shots were criticized for being too graphic by some Chinese commentators, but Luo insists the works are far from obscene.
"They're normal scenes in a mother's daily life," she says. "I'm always moved by human nature."
Throughout her career, Luo has often won praise for empowering her female subjects. When asked whether she considers herself a feminist, however, the photographer demurs.
"First thing's first, I'm not a feminist," she says. "I didn't say I would specifically promote women's empowerment. I want to shoot from a neutral angle. Many men can convey a very gentle side, and many women can convey a very strong side. I care more about people than gender, and I think human emotions are our common ground."
"Youth," Luo's most recent project and winner of the 2019 Jimei x Arles Women Photographers Award, often plays with these ideas. In the series, she captures the urban cool of young Chinese born in the 1990s and early 2000s. For the 35-year-old, there is a gap even between her generation and today's young adults, who appear more comfortable expressing a greater variety of styles and sexual identities.
"They are different from my generation," says Luo. "Compared with the first subjects (from "Girls"), these young girls can easily get plenty of information from the internet and are also easily distracted by this overwhelming volume of information. It's hard to say which generation is better."
The social environment in which today's young Chinese grow up is almost unrecognizable from a decade ago. Image reigns supreme, and teenagers grow up absorbing a kaleidoscope of fashion and lifestyle trends promoted by their favorite online influencers. For Luo, however, some things will never change.
"Adolescence is always full of confusion and restlessness," she says. "Time changes, but human emotions do not."
Editors: Qi Ya and Dominic Morgan.
(Header image: "Girls," 2008-2016. Courtesy of Luo Yang)