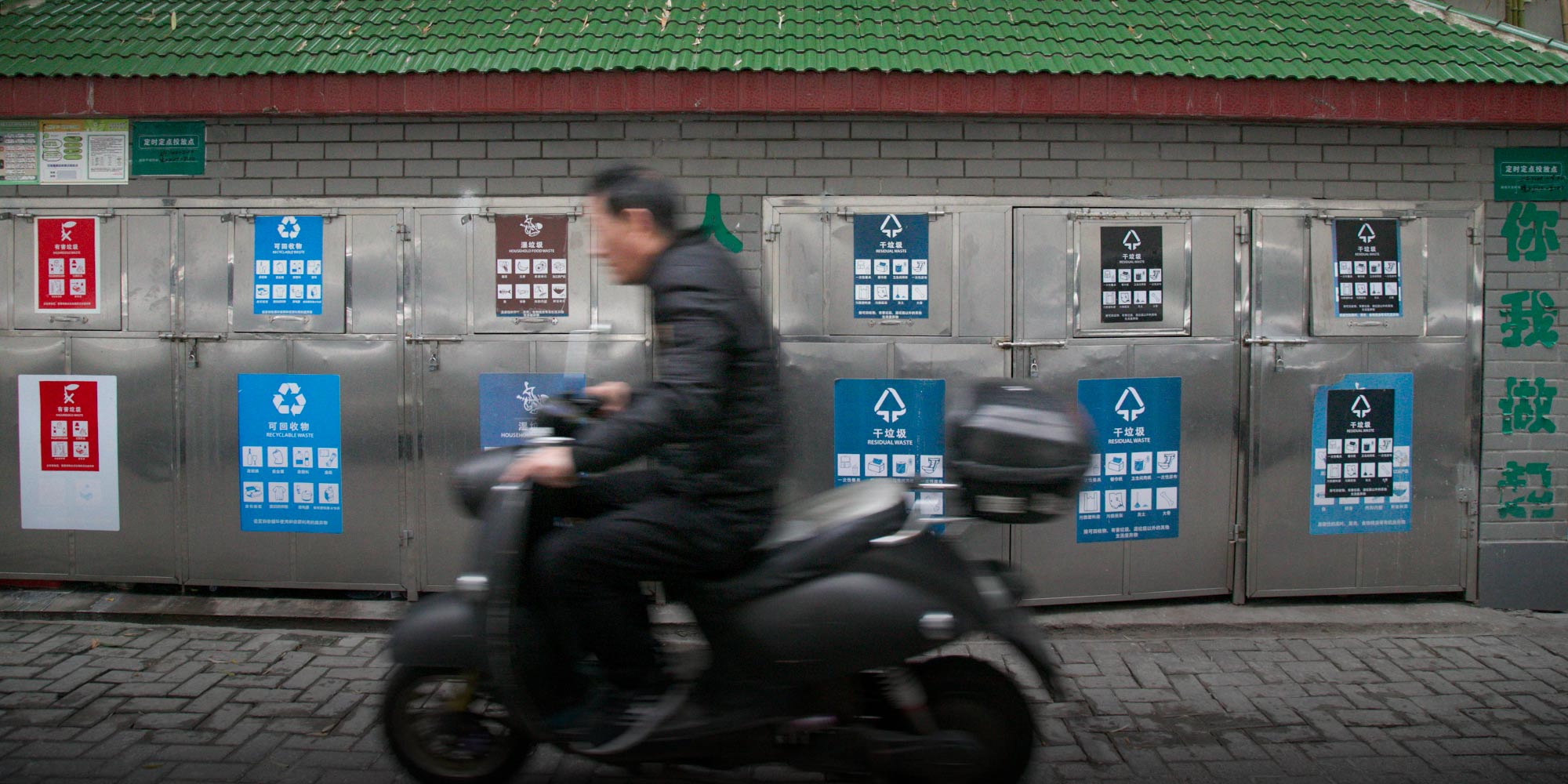 FEATURES
2019: The Year China Went to War on Garbage
In China's major cities, people started talking trash with the introduction of strict — at times baffling — new waste-sorting schemes.
SHANGHAI — Since July 1, Mao Defeng and her husband have had to work from before dawn until well after sunset every day. Employed as sanitation workers by a residential complex in downtown Xuhui District, the couple spends hours rummaging through their neighbors' garbage and throwing each item into one of four color-coded trash cans.
"We don't have any time off now," says Mao, while delving into a large gray bin. "I work round-the-clock."
The cause of the couple's increased workload was the implementation of Shanghai's new waste-sorting scheme, which requires every business and household in the city of 26 million to divide their garbage into four categories: hazardous materials, recyclables, and so-called wet and dry waste — referring to kitchen and residual waste, respectively.
Anyone failing to correctly sort their trash can be fined as much as 200 yuan ($29), while companies can face penalties of up to 500,000 yuan — a policy that has led to much grumbling among local residents, especially overworked young professionals. 
In reality, however, the people who have been most affected by the new rules are sanitation workers like Mao. Her community, which contains 600 households, produces as much as 16 trash cans full of residual waste and another four of kitchen waste per day. But many residents still don't sort the trash correctly, leaving the 46-year-old and her husband to do the dirty work for them. 
The couple has no choice but to finish the sorting themselves: If they don't, the municipal garbage truck will refuse to collect the community's trash the following morning. "Now around two-thirds of people can sort their waste," says Mao. "The rest still does things their own way."
The strict new trash regime is part of a massive campaign by the Chinese government to tackle a growing garbage problem. The country generates around 600,000 tons of urban household waste daily, and the figure continues to rise. Local infrastructure is groaning under the pressure: In some cities, landfills are filling up years earlier than expected, and space for new sites is running out. Plans for new incinerators, meanwhile, face strong public opposition.
Compulsory trash sorting is designed to mitigate these issues by raising the recycling rate — thus reducing the burden on landfills — and removing kitchen and hazardous waste that can cause severe pollution if not treated properly. Forty-six cities across China are scheduled to roll out policies similar to the one in force in Shanghai by the end of 2020.
China has tried and failed to persuade urban residents to sort their trash several times over the years. Shanghai piloted waste sorting in 600 residential communities as early as 2000, but the scheme failed due to a lack of supervision. In the past, even state media hinted that the city's 400 million yuan annual investment in separating trash was itself wasteful.
Mao Defeng first heard about household waste-sorting rules when she started her job five years ago. "Back then, nobody took it seriously," she tells Sixth Tone.
This time, however, local officials in Shanghai made a point of showing residents they meant business. In Mao's compound, the garbage disposal area underwent a total overhaul in early 2019, with new lights, wash basins, and surveillance cameras installed. The communal trash cans are now kept locked away except for a few hours each morning, afternoon, and evening, when trash-sorting volunteers are often on hand to help residents dispose of their waste correctly.
Some residents get angry when Mao reminds them about the rules, she says. It doesn't help that the classification system is surprisingly complex, with many locals expressing bewilderment over how to sort their leftovers. Overall, however, individuals are treated relatively leniently under the new regime. Between July and November, of the more than 3,000 penalties handed out for breaking waste-sorting rules, 93% went to businesses and public institutions.
Early data suggests the new rules have been effective. The volume of waste Shanghai sent for incineration decreased by around 25% between June and August, Xu Zhiping, director of environment and sanitation management in the Shanghai municipal government, told reporters in October.
"Shanghai's waste-sorting scheme has achieved gratifying results … though victory has yet to be achieved," said Xu.
By the end of August, Shanghai was also collecting more than 9,000 tons of food waste per day, up 130% compared with the previous year, according to Xu. Separating out food from other garbage reduces pollution, as incinerating mixed waste produces higher levels of dioxins — highly toxic particles that can cause cancer in high doses.
But the volume of food waste has increased so quickly, the city is struggling to cope. Shanghai has a shortage of specialized trucks that can control leachate and odor from kitchen waste, as well as a lack of treatment facilities. 
"The rising amount of wet (kitchen) waste has way exceeded the city's planned treatment capacity," says Xie Bing, professor at East China Normal University, estimating the gap to be as high as 2,000 tons per day.
The kitchen waste treatment center in southern Minhang District, operated by Shanghai Wenxin Biotechnology Company, has been running at full capacity since July, Lü Changhong, director of the facility, tells Sixth Tone. The plant takes in 300 tons of waste daily and converts it into soil conditioner and biodiesel. But the volume of waste collected in Minhang has tripled during the past two years, and the center cannot handle it all, Lü says.
"There's too much waste, and the treatment facilities can't keep up — lots of food waste still ends up in landfills or incinerators," says Lü. "But you have to take the first step: Sort out the waste first, and then deal with the other issues."
The facility plans to double its capacity next year, but Lü admits that profit margins remain slim for food waste treatment companies. Shanghai Wenxin generates revenue by selling soil conditioner and biodiesel, while a 46 yuan-per-ton subsidy from the local government just barely pays for the firm's electricity bills.
Shanghai's enormous expenditure on trash sorting has raised eyebrows, with experts questioning whether other, less prosperous cities will be able to follow a similar model. The eastern municipality invested 20 billion yuan to set up its waste-sorting system, according to party newspaper Jiefang Daily. Chinese researchers estimate the cost of rolling out similar policies nationwide to be more than 100 billion yuan.
"A significant problem is the high cost of operating current waste-sorting schemes, which mainly rely on government financial inputs with relatively poor sustainability," the authors wrote.
Others question the wisdom of focusing on trash sorting, rather than reducing the amount of trash produced in the first place. As Chinese consumers get wealthier, they produce more and more garbage each year. If current trends continue, China will produce twice as much household waste in 2030 as it did in 2011. 
The result: Despite all China's recent progress on recycling and waste treatment, the amount of waste cities are sending to landfills and incinerators is rising, not falling. Though much of Shanghai's 20 billion yuan investment was spent on eight food waste-treatment centers, it also paid for seven new incinerators and a huge new landfill site.
China aims to keep more garbage out of the ground by raising its recycling rate to 35% — in line with current levels in the United States — by 2020. But this is also proving to be an uphill battle, as changes in the economy make life tougher for recycling firms.
At the height of China's economic boom, recycling in major Chinese cities was handled by an informal network of private trash collectors and processing companies. The system was highly efficient and lucrative for market players: Land and cheap labor was plentiful in the 2000s, and materials were in high demand.
In recent years, however, the informal trash economy has started to break down, according to Wang Tao, a researcher at the Institute of Circular Economy under Tongji University. As prices for commodities such as oil have fallen, so have recyclable waste prices. Urban gentrification, meanwhile, has forced recyclers to move farther outside city centers. As a result, trash pickers are less willing to remove recyclables, especially low-value items, leading to more waste ending up in landfills and incinerators, says Wang.
Mao and her husband have noticed the change. The couple used to supplement their income by selling waste to recycling firms, but this is becoming more difficult. "No one wants glass bottles anymore," says Mao, adding that recycling glass is hardly profitable these days. 
The Shanghai government has reacted by attempting to formalize the city's recycling ecosystem. Since July, the sanitation bureau has been responsible for sorting, collecting, and transferring all waste, including recyclables, and the commerce bureau has been in charge of waste recycling.
Yet significant problems remain unsolved, according to Wang. "Recycling companies face difficulties in land acquisition, strict environmental assessments, and rising labor costs," he says. The government could solve this by giving subsidies to companies recycling low-value materials, as well as collaborating with neighboring regions to handle recyclable waste, adds Wang.
In Mao's community, local residents have found their own ways to profit from the waste-sorting campaign. Local officials have installed a terminal in the complex, which allows people to claim "green fortune" points each time they sort their trash. They can then use the points to buy household items, such as soap, toilet paper, or toothpaste.
A 75-year-old resident surnamed Hu says she appreciates the waste policies, but points out it does nothing to discourage wastefulness itself.
"Every time I see how much waste is generated every day, I can't help but wonder if there's some way to recycle or reuse it," says Hu. "As people get rich, we should really keep in mind some good virtues from the past: Don't waste."
Editor: Dominic Morgan.
(Header image: A man rides past a waste-disposal area in Shanghai, Dec. 26, 2019. Li You/Sixth Tone)