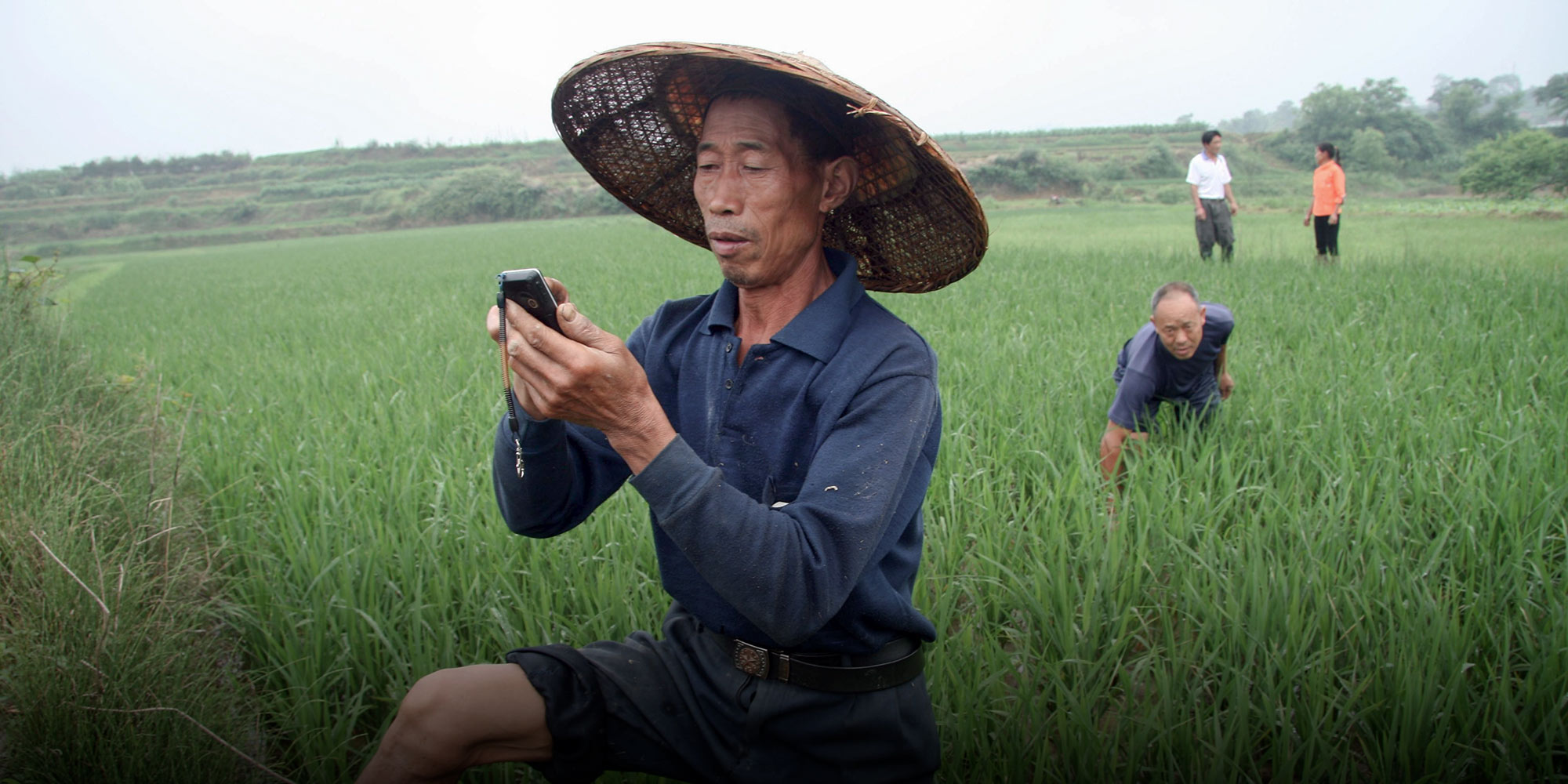 FEATURES
Can a Chinese App Fix Poverty? Netizens Doubt It
Millions of people have downloaded a government-run app connecting well-off city-dwellers with China's poorest communities. But many did so against their will.
SHANGHAI — It started as a clever tool enabling middle-class Chinese to make donations to some of the country's poorest families with just a few swipes on their smartphones. But in recent days, a government-run charity platform has been mired in controversy amid accusations of fake accounts, dubious donations, and pointless box-checking by local officials.
The online platform and mobile app Shehui Fupin — or Social Participation in Poverty Alleviation and Development — launched in 2017. Created by a nonprofit under the administration of the State Council, China's Cabinet, it allows low-income households to register and post donation requests, while others can send money or arrange to mail items to those in need.
Officials have hailed the service as a model of smart governance and an effective way to get ordinary citizens involved in the Chinese government's campaign to eliminate poverty nationwide by the end of 2020. As of Dec. 13, the platform had handled donations worth 800 million yuan ($114 million) to people in more than 377,000 villages.
A growing number of Shehui Fupin users, however, claim that not everything is as it seems. Its page on the Apple App Store has been flooded with one-star reviews, and in early December the app's average rating dropped to just 1.8 out of 5.
Most of the negative reviews make the same complaint: The user was forced to download the charity app by their employer or school.
"It's all just a show," a user named Danluoshang521 wrote. "Participation in poverty alleviation isn't voluntary, but compulsory. I don't know when things will change."
Earlier this month, domestic media outlets noted the app's unpopularity, sparking a heated debate over the "formalism" that prevails in many Chinese government institutions. The term refers to a habit of blindly completing assigned tasks and meeting targets, without concern for whether the work really improves anything.
China still has 16.6 million people living in absolute poverty — defined as having a net annual income below 2,300 yuan per person — and local officials are under pressure to do everything they can to lift these households above the poverty threshold ahead of the 2020 deadline.
In some cases, local officials' performance is reportedly being evaluated based on how many new users they sign up to Shehui Fupin — leading some to artificially inflate the number of fresh accounts.
On the Quora-like Q&A platform Zhihu, a user claiming to be a local official in the central Hubei province wrote they were given a quota for new account registrations on Shehui Fupin in 2018. Unable to convince enough local residents to sign up, the person contracted a private company to create the required number of accounts for a fee, according to the post.
Vendors on the secondhand trading platform Xianyu offer to register new users on Shehui Fupin for as little as 2 yuan per account. One such vendor, who spoke to Sixth Tone on condition of anonymity, said he uses a software program to "batch register" users on the app. He added he once earned more than 10,000 yuan from just one order.
The practice of assigning new account quotas to promote Shehui Fupin was banned last year by the State Council Leading Group Office of Poverty Alleviation and Development, the body administering the platform. Yet evidence suggests authorities continue to set targets.
An official document from the poverty alleviation bureau in Nanyang, Henan province, states that all employees in certain government institutions must be registered on the app. Moreover, lower administrative bodies will be ranked based on their engagement with Shehui Fupin each month, with awards and punishments handed out accordingly, according to the document.
Local officials have questioned the app's effectiveness as a poverty alleviation tool. Liu, head secretary of a village in Henan province, told Sixth Tone he was required to register every poor household in his area on Shehui Fupin. The villagers, however, never used the accounts.
"Most poor households fell into poverty due to severe illness or injury," said Liu, who refused to give his full name due to the sensitivity of the topic. "And the current poverty alleviation polices can already take away much of their burdens. Even if they have other needs, local governments can help with most of them."
Experts worry the government's heavy-handed approach to promoting Shehui Fupin is actually harming the app's effectiveness, generating negative publicity and preventing it from organically attracting users.
"These kind of quotas to some extent hurt the credibility of poverty alleviation projects," said Guo Chunfu, an associate professor of management science at Southwest University of Political Science and Law in Chongqing. "The app is good, but the success of a policy depends on many factors."
The app's reputation has also been dented by the many odd requests submitted by low-income users, which have stirred up discussions on social media. Fried dough twists from Tianjin, power banks, and Nike sneakers were among the proposed "needs." Most of these posts have since been deleted. A customer service representative for Shehui Fupin told Sixth Tone that users can question the validity of a request through the app if it appears inappropriate, and local officials will reexamine the post.
Yet the recent controversies have also served to generate enormous publicity for the app. Downloads of Shehui Fupin on the Apple App Store reached an all-time high on Dec. 10 since its launch in 2017.
Though the government's involvement with the app has created problems, it also provides a major advantage: Shehui Fupin is the only charity platform administered by the State Council Leading Group Office of Poverty Alleviation and Development, and all registered donation recipients are cross-checked with China's national poverty alleviation database.
A pervasive lack of trust has blighted China's charity sector since 2011, when a series of fraud scandals caused donations to plummet.
Mu Hongyan, a recent graduate from the southern city of Shenzhen, told Sixth Tone she had just donated some children's books to a child in need through Shehui Fupin. She said she chose to use the platform because she considers it trustworthy: It's backed by the government and was promoted by a social media influencer she likes.
Until recently, Mu made donations through the crowdfunding site Shuidichou, which is often used by Chinese patients to raise money for their medical bills. The platform, however, was recently found to be encouraging patients to raise funds unnecessarily. As a result, Mu said she no longer trusted the site.
Ren Beini, a freelance writer based in the eastern Fujian province, said she preferred to use Shehui Fupin because it provides more information than other platforms regarding how recipients use her donations. She used to give via a charity platform run by the Chinese tech firm Sina, but the site provided no feedback whatsoever on what happened to her money, she said.
Like many others, Ren is wary of charities misusing funds — an all-too-common problem in China. Earlier this month, a high-profile official charity was foundto have spent funds earmarked for promoting female education on male students.
On Dec. 11, Ren sent several books to a student via Shehui Fupin. The platform sent her an electronic certificate confirming the donation and also said she would be updated when the books arrived. She is still waiting for the message, but a friend recently received photos of a family holding the winter clothes and blankets she had donated.
"If I get an update like that as well, I'll make a donation on this app every month," said Ren.
Editor: Dominic Morgan.
(Header image: Tuchong)