For China's tech sector, 2019 was a year marked by upheaval. Trade tensions between the U.S. and China deepened, expanding into more tech-related industries; next-generation 5G mobile technology got an early rollout in the home of Huawei; facial-recognition applications of AI prompted more serious discussions about privacy; and a few ugly labor disputes cast some of the country's top tech companies in a less-than-flattering light.
Here are some of the most important tech tech stories Sixth Tone covered in 2019:
China-U.S. trade tensions boil over into tech
If 2018 marked the beginning of chillier diplomatic relations between the U.S. and China, then 2019 has only upped the ante. In May, the U.S. government added Chinese telecom giant Huawei and 67 of its affiliated companies to its so-called Entity List, barring them from acquiring components and technology from American firms without explicit approval from the U.S. government. After the blacklisting, several American companies including Google, Facebook, and Intel severed ties with Huawei.
The move was a major blow to the Chinese telecom giant. During a keynote address at the 2019 CES Asia consumer electronics expo, Huawei's chief strategy officer conceded that the company's goal of becoming the world's largest smartphone maker by the end of 2019 may require a bit more time, given this year's setbacks.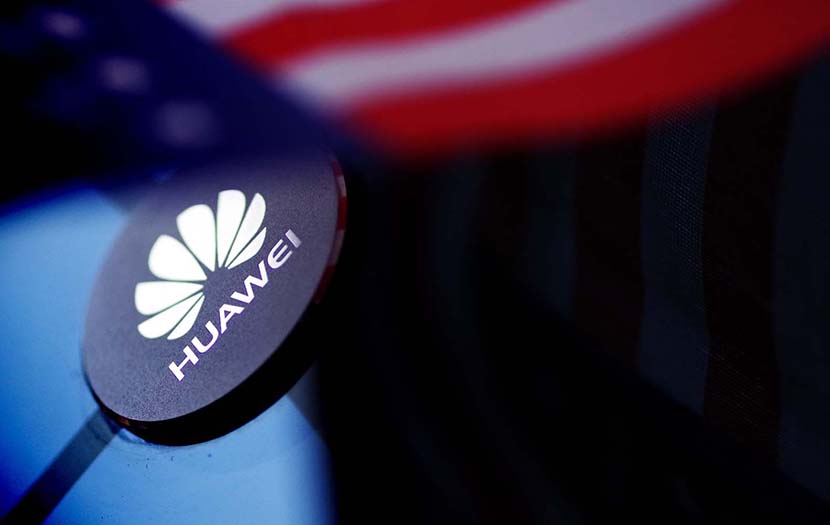 IC
Meanwhile, surveillance tech companies Hikvision and Dahua, along with artificial intelligence companies SenseTime and Megvii, were among the Chinese firms added to the U.S.'s list of sanctioned entities. A U.S. regulatory committee also reached out to ByteDance to express concerns that its viral video app TikTok could potentially pose a national security threat.
In academia, the Institute of Electrical and Electronics Engineers (IEEE), one of the world's leading professional associations, banned Huawei-affiliated scholars from editings its journals and peer-reviewing papers in order to "comply with U.S. government regulations," the group said. Chinese scholars widely condemned the restrictions as a violation of the universal value of borderless research. Ten Chinese academic institutions in engineering-related fields issued a joint letter protesting IEEE's decision, which led to the institute lifting the ban in June.
5G waiting on new apps to show off its power
The ultra-fast fifth generation of mobile technology is undoubtedly the tech buzzword of the year — for its potential to revolutionize a wide range of industries from transport to health care as much as for being caught up in the Sino-U.S. trade war.
With China determined to win the race for 5G supremacy, the country has spared no expense to roll out 5G infrastructure at a blistering pace. China introduced commercial 5G plans on Oct. 31, two months ahead of schedule. At the time, 5G networks covered some 50 Chinese cities, with mobile plans for the advanced technology starting at 128 yuan ($18).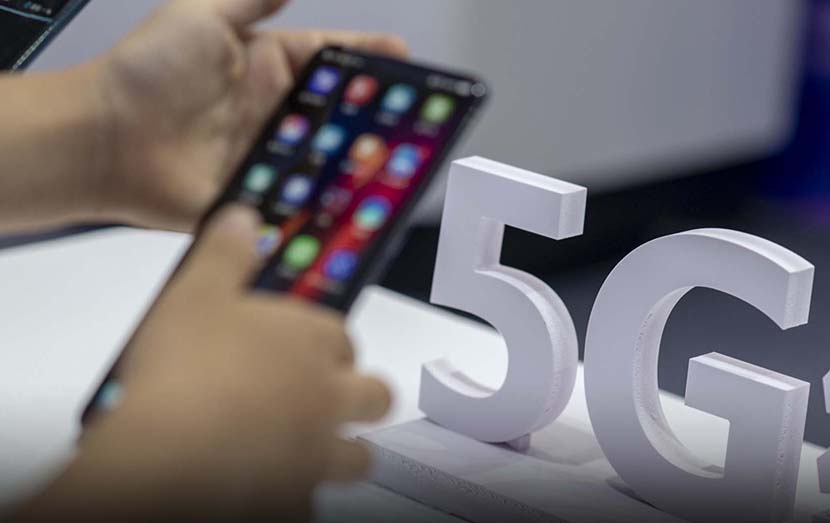 5G mobile phones are displayed at a telecom exhibition in Guangzhou, Guangdong province, June 25, 2019. IC
This year, 5G base stations have been sprouting up faster than bamboo forests, as Chinese smartphone makers Huawei, Xiaomi, Oppo, OnePlus, and ZTE have all introduced 5G-ready handsets. As of September, over 40 5G-related policies had been introduced at or below the provincial level. Beijing, Hebei, Shanghai, and Zhejiang, for example, have all introduced 5G action plans to spur on the technology's domestic development.
For now, high costs and a lack of head-turning applications continue to keep consumers from seeing 5G phones as necessities. However, China is predicted to become the world's largest 5G market by 2025, with an estimated 30% of the global market share and 816 million total 5G users. Buoyed by China's lofty 5G ambitions, domestic smartphone shipments are expected to improve in 2020 after three consecutive years of market contraction.
Encroaching facial recognition raises privacy concerns
Since the central government unveiled a three-year plan to achieve greater face-reading accuracy by 2020, the technology has become widely adopted in a host of industries. This year saw more discussion surrounding facial recognition, as well as a government-led push for regulation of the technology, in response to a few high-profile cases that revealed ethical and security issues and raised awareness among the public.
In March, a Sixth Tone investigation found that facial-recognition cameras were being used in Chinese classrooms to track students' attention levels, often without their knowledge or their parents' consent. In September, a viral face-swapping app called Zao came under fire for reserving the right to sell user-generated content, including photos and videos, to third parties. And in October, a group of fourth graders found that they could hack into facial-recognition "smart lockers" operated by China's largest supplier of express-delivery lockers using only a printed photo of a parcel's intended recipient.
People attending the Consumer Electronics Expo Asia are identified using facial-recognition technology in Shanghai, June 11, 2019. Aly Song/Reuters/VCG
In November, a professor in eastern China's Zhejiang province filed the country's first-ever lawsuit against an application of facial recognition, accusing a local zoo of violating his consumer rights by making facial-recognition registration a compulsory requirement for annual members. The following month, a report from a think tank affiliated with a state-run newspaper found that Chinese people are increasingly unnerved by facial recognition, by the possibility of their personal data being leaked or sold by apps, and by the potential for "deepfake" videos to be used to extort or smear innocent people.
With the widening scope of AI, a group of 27 Chinese companies in late November began drafting the country's first facial-recognition standard, in an effort to regulate and improve the technology's applications in China. The following week, the country's cyberspace regulator for the first time imposed restrictions on deepfakes and other AI-enhanced online content that could potentially be used to spread "fake news."
Long hours, long detentions: Tech workers fight for labor rights
Some Chinese employers have reputations for grueling workplace cultures characterized by long hours and endless demands. Some have argued that such high-pressure work environments were largely responsible for the rapid rise of China's tech sector. But a few recent cases of ordinary workers fighting against the corporate machine and alleged unfair treatment have raised questions about the sustainability of notoriously rigorous workplace cultures, especially when a slowing domestic economy and Sino-U.S. trade tensions may exacerbate the "freezing winter" of capital flight and downsizing in China's tech sector.
In March, hundreds and thousands of Chinese programmers contributed to a GitHub project called 996.ICU to protest against the pervasive, and illegal, "996" work schedule: 9 a.m. to 9 p.m., six days a week. The movement even prompted Jack Ma to weigh in, with the former Alibaba boss' endorsement of 996 during a public speech sparking a fresh wave of backlash on Chinese social media.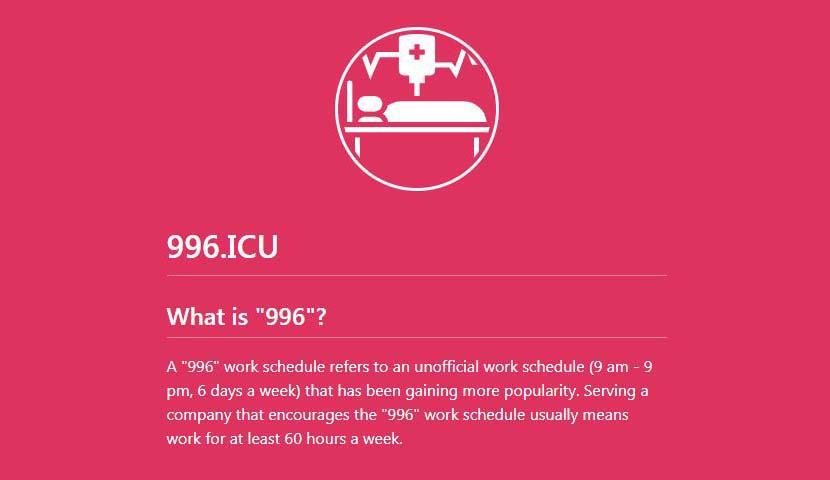 A screenshot of the 996.ICU page on code-hosting site GitHub.
Tech employees' labor concerns haven't stemmed solely from overwork. In November, game developer NetEase was roundly criticized for dismissing an employee after he was diagnosed with a potentially fatal heart condition, allegedly without justification or proper compensation. After going to the media and filing a lawsuit against NetEase, the plaintiff eventually won an apology from his former employer.
A second case involving tech giant Huawei was perhaps the most contentious labor dispute of the year. In early December, domestic media reported that Li Hongyuan, a 12-year employee at Huawei, had been set free after 251 days in police detention. He had supposedly been apprehended on suspicion of trying to extort his employer but was ultimately released due to a lack of evidence.
Amid mounting discussion about the case online, Huawei issued what many viewed as a combative statement, saying Li had every right to sue the company if he felt he had been wronged. The unapologetic response further outraged the Chinese public, who were already sympathetic toward the victim, an average Joe like themselves, and 251 along with 996 became synonymous online for the poor treatment of China's tech workers.
Artificial meat winning hearts and minds
The term "artificial meat" — imitation meat made from plant or even animal cells — became a phenomenon in China almost overnight after the U.S. company Beyond Meat debuted on the Nasdaq Stock Market in May. The listing sparked an investment frenzy in China, with several domestic food companies claiming to be on the cutting edge of research into artificial meat.
The market potential for artificial meat in China is enormous — not only because the African swine fever epidemic has devastated the country's pork supply over the past year, prompting businesses and consumers to search for safer and cheaper alternatives to pork, but also because of China's large population of Buddhists, many of whom have adopted vegetarian diets.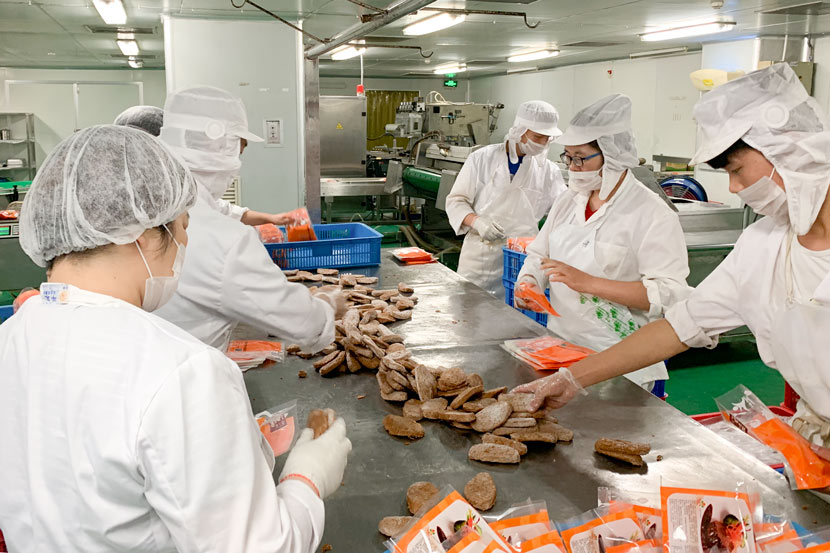 Workers at Hong Chang Biotechnology package frozen plant-based steaks at a factory in Suzhou, Jiangsu province, July 19, 2019. Xue Yujie/Sixth Tone
Some of the country's leading mock meat producers, including Shenzhen-based Whole Perfect Foods and Suzhou-based Hong Chang Biotechnology, have introduced new plant-based meat products that they hope will be a hit with taste-sensitive consumers. A university professor in the eastern city of Nanjing also claimed in November to have developed the country's first lab-grown meat using animal cells.
Foreign food firms, too, are jockeying for a slice of the Chinese market, with U.S. artificial meat giants Beyond Meat and Impossible Foods preparing to launch on the Chinese mainland in the next year or two. Though Chinese state media have warned of another investment bubble because of the ambiguity of the term "artificial meat" and overly optimistic speculation about market demand, the competition should only heat up with more players joining the fray.
Editor: David Paulk.
(Header image: Tuchong)