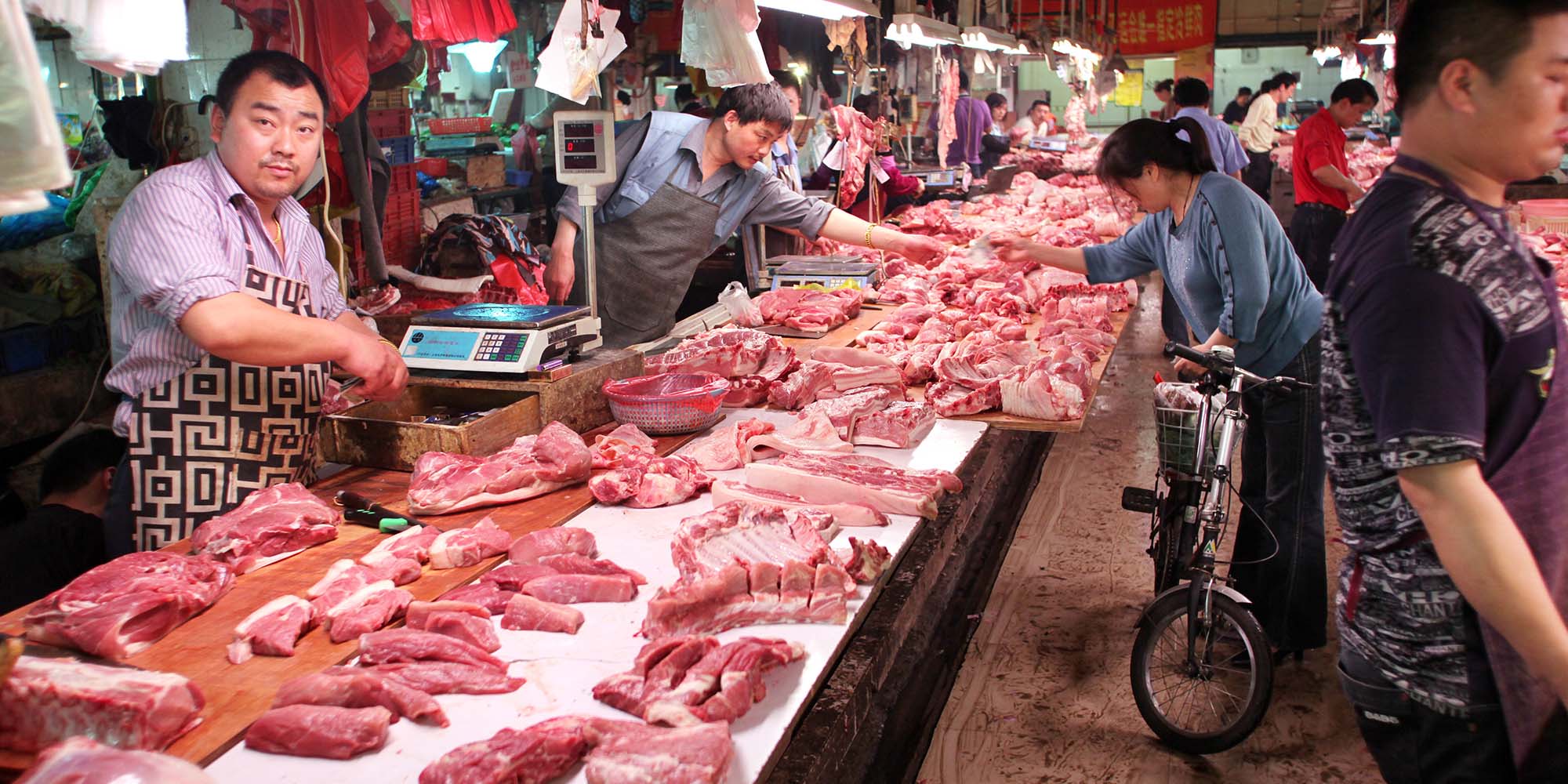 NEWS
China To Crack Down on Gangs Profiting From Diseased Pork
Criminal syndicates are reportedly spreading African swine fever at farms in order to buy sick hogs at a discount and sell their meat as having come from healthy animals.
Chinese authorities will "firmly crack down" on criminal gangs illegally profiting from the African swine fever crisis by buying infected pigs and selling contaminated meat, a top official said at a press conference Tuesday.
Wang Junxun, a senior official from the Ministry of Agriculture and Rural Affairs, urged provincial-level authorities to conduct regular farm inspections and effectively dispose of diseased pigs, as well as strictly punish any gangs profiting from the pork crunch. The ministry had issued a directive in July urging local authorities to combat "pork gangs" that were hindering epidemic prevention efforts.
"Such acts violate China's laws on animal epidemic prevention and are considered a serious offense," Wang said Tuesday, responding to media.
Since the first reported case of swine fever in the northeastern Liaoning province last August, farms across China have seen sporadic outbreaks of the disease, which is fatal to pigs but harmless to humans. Over 1 million pigs were culled in the following year, causing pork prices to skyrocket from 16.89 yuan ($2.52) per kilogram last July to 24.99 yuan a year later.
The shortage has provided an opening for criminal gangs to exploit the situation, according to media reports.
Gang members first spread rumors of the virus, before infecting the pigs and forcing farmers to sell the sick animals at a cheaper price or dispose of the carcasses, which the gang puts on the market as healthy pork, domestic media outlet China Comment reported Monday. Workers at an unnamed farm in the central Hubei province even saw a drone dropping a "foreign object" on their premises, which tests showed was infected with the disease.
To contain the virus, the central government barred certain provinces affected by the disease from transporting pigs to the rest of the country in September of last year, a month after the disease was first reported. However, such efforts haven't been entirely successful in deterring the criminal gangs.
Authorities in the southwestern Yunnan province, where the ban was enforced in September, have since seized more than 10,000 live pigs, according to China Comment. In the neighboring Sichuan province, which introduced the ban in November 2018, local traffic police last month seized four vehicles transporting 79 live pigs.
China's meat production is likely to "decline substantially" until next year before beginning to recover from 2021 onward, according to a 10-year projection from the Ministry of Agriculture and Rural Affairs. As prices soar amid shrinking demand, cities have been offering discounted pork for residents.
In September, officials from six central government agencies assured the public they would stabilize the market by releasing frozen pork reserves and increasing imports of pork and other meats to ensure a steady supply during the holidays. The government will release 40,000 additional tons of pork on Friday, the fifth and final disbursement of the year.
Editor: Bibek Bhandari.
(Header image: Tuchong)